Click here to download the Case Study (PDF)
Summary
From primitive flip-phone games, to console mega-titles like Madden NFL, Kevin King's wide-ranging career in game programming has spanned more than a decade.
Yet it wasn't until King founded his own mobile game studio in 2008—Neon Games—that the true significance of paid user acquisition and attribution became apparent.
The company's casino titles saw 4.5-star ratings and were featured in Apple's "What's Hot Now" list. But King recalls how leaning too heavily on the promise of organic appeal and not focusing on paid user acquisition, eventually caused key metrics to "tank," as he describes it.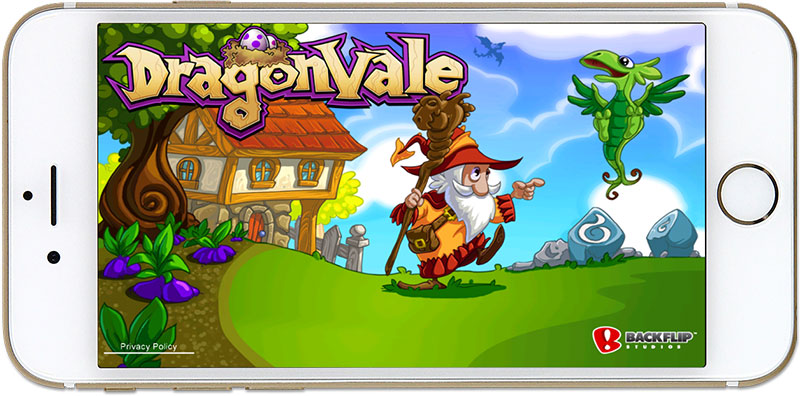 Fast forward to 2015 and King, a developer-turned marketing manager, is using the lessons he's learned to spur significant growth at Backflip Studios, a Boulder, Colo.-based iOS and Android game developer and publisher. Its portfolio includes hits like Paper Toss, DragonVale and NinJump.
A key component of that growth, King says, is paid user acquisition and insight from mobile attribution analytics and optimization firm Kochava, which first partnered with Backflip studios in 2013. Kochava measures mobile attribution for 80 Backflip Studios games, including multiple iterations across varying app stores and geographies.
"Any company that wants to be able to rapidly acquire users or just perform at any type of scale, needs an attribution partner," said King, who has tried other leading platforms, but recommends Kochava above all others.
To drive effective mobile ad spend and inform campaigns, King funnels data from Kochava's API into Backflip Studios' in-house business intelligence software. About once a week, King slices and dices that data—which is managed locally, a key privacy consideration—to track the quality of users originating from each ad network, mapping app installs to in-game purchases and even segmenting installs by device, geography and operating system.
"Kochava's ability to offer operating system-level optimization has alone doubled gross revenue attributed to paid acquisition," King said, noting that Backflip Studios fashions whole campaigns around that data.
One SDK, 1,200 networks
Another key differentiator, King says, is Kochava's industry-leading selection of 1,200-plus ad networks and publishers, enabling Backflip Studios developers to use just one SDK across all 80 apps.
According to King, Backflip Studios currently works with as many as 10 ad networks at any given time, including UnityAds and Chartboost. Kochava makes adding more networks a breeze, King says.
"Kochava has more partners than any other attribution service," he said. "It's pretty much guaranteed that if you want to work with a new provider or traffic source, they're already integrated with Kochava. You don't have to jump through those hoops."
Fast when it matters most
Backflip Studios likens its all-important game launch weeks to Hollywood premieres, in which the majority of promotional budgets are aimed at making a big opening splash.
And because of Kochava's infrastructure investment, customers like Backflip Studios can track the performance of multiple campaigns in real-time as they unfold, allowing King's team to adjust on the fly.
"We'll notice that during certain campaigns, we'll be underperforming or over-performing," King said. "We'll redirect funds. We'll call campaign managers when things aren't going as expected, and they appreciate that we're able to just generate reports dynamically and give them the data instead of saying, 'Things are going wrong, fix them.' We give them real results."
And from a user perspective, Kochava's impressive speed means news users will be less likely to notice the multiple redirects occurring between Kochava and an ad network.
"The longer that call takes," King says, "The more likely it's going to either time-out on the device, or get stuck in a Safari or Chrome re-direct loop. We want the ad delivery to feel as native as possible."
Fraud monitoring
The sophistication of Kochava's platform, including the ability to timestamp installs and segment by device, allows its customers to look for suspicious activity that might indicate fraud.
King says Backflip Studios has been able to "recoup a significant amount of money" by spotting irregular traffic patterns in short periods of time, or traffic patterns that seem unlikely based on the similarity of devices they originate from.
"Fraud is becoming more and more of a discussion point, where it used to be that very few of us were actively looking for that," King said. "The amount of validation you're able to do through Kochava makes the process of detecting fraud possible, whereas previously it was impossible."
White glove approach
When questions come up for King, and invariably they do, he knows that the emails he sends will be received by four dedicated account managers, one of whom is likely available to help immediately.
King appreciates that each account manager is well-versed in Backflip Studios' apps, goals and account history, which is particularly impressive, given the company's number of games and unique approach.
"When I get a return email or a phone call, it's not someone knowing nothing about my product and having to re-ask several questions," King says. "We can just get right to the case. It's almost like having your own concierge."
And he's found that those account managers take feedback seriously. So much so that several of his product feature suggestions have been implemented, including changes to the API, SDK and website.
It's the kind of experience King has come to expect from Kochava.
At the end of the day, this is your job on the line, King said of his choice of mobile attribution platforms. This is what will determine the success of your product. If you don't have a good attribution solution, you're going to be quite limited in the amount of advertisement options and acquisition strategies you can implement. You want to have the full toolbox available. And that's what Kochava provides.