The Kochava Collective now offers marketers the ability to create rich custom audiences and lookalike segments from a dataset of over 1.4 bil smartphone and tablet devices.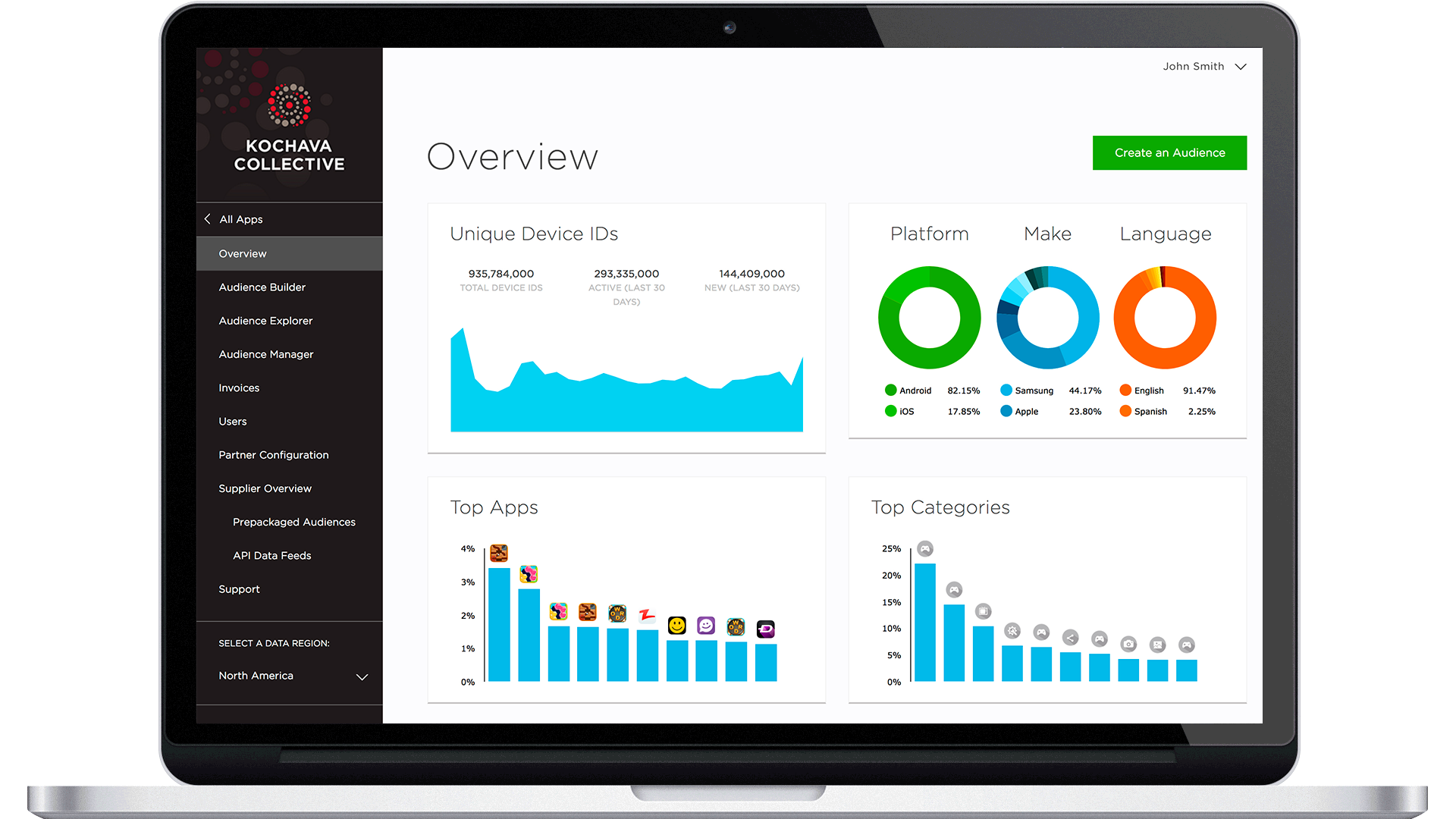 SANDPOINT, Idaho, August 30, 2017— Kochava (www.kochava.com), the industry leader providing holistic measurement solutions for connected devices, announces the amplification of their independent data marketplace, the Kochava Collective, where marketers can utilize self-serve tools for crafting dynamic mobile audiences and activating them across leading DSPs, networks and social platforms. While Kochava platform customers have the advantage of smooth, intuitive integration, any mobile marketer can access the Kochava Collective to build custom audiences for lookalike audiences targeting.
Some publishers have rich mobile user data. And some networks and DSPs have a wide reach of mobile users. But outside of the major walled gardens, marketers have not had a single solution for utilizing rich mobile user data at scale. The Kochava Collective now gives savvy marketers a much-needed solution for curating robust audiences at scale that can be activated on the media platform of their choice.
"For our clients, we're able to deliver optimal programmatic and social campaign performance when we can experiment and optimize across the maximum array of audiences," said Garrett Dale, SVP of Optimization & Innovation at Kepler Group, a leading digital media and database services provider. "That's why we're so excited to be partnering with the Kochava Collective to create deterministic custom segments we can target at scale across the media ecosystem."
"This is the next step in the evolution of the Kochava Collective DMP (data management platform) into a full-blown data marketplace with self-service tools for marketers and data supply partners alike," said Grant Cohen, GM of the Kochava Collective. "Right now, most of the really interesting mobile user targeting takes place in a closed environment. Kochava is democratizing that. We give marketers the ability to choose who they want to target and where they want to target them—an option that doesn't exist anywhere else."
A unique data collection
Kochava amasses the data available in the Kochava Collective from four sources: first-party data collected from the Free App Analytics SDK which touches over one billion devices globally, integrated mobile networks, direct app and game publishing partners who choose to contribute their data and other third-party data providers who are able to provide unique enrichment to the Kochava Collective data-set.
The data set that makes up the Kochava Collective is entirely separate from the Kochava Unified Audience Platform, where enterprise customers measure their campaign activity and manage their own user data. At no time does Kochava share or license the data of their enterprise customers with the Kochava Collective.
Marketer's ability to create their own audiences
The Kochava Collective simplifies audience creation through its Audience Explorer, Audience Builder, and Audience Manager options where marketers can browse the most popular pre-packaged segments, create custom audiences based on a host of data elements and build lookalikes from their own seed files.
"Marketers have the ability to create custom audiences based on a variety of data elements. This includes locations (where the device goes mapped to POIs), as well as what apps are on the device and what people are doing inside an app, plus device-level detail such as language settings, carrier, OS version and more," said Cohen.
A true marketplace for data suppliers
The Kochava Collective enables data supply partners to monetize their inventory in a secure environment where they can control which advertisers have access to their data and which platforms it can be activated on.
With most data marketplaces, the data providers must first map all data themselves and then submit pre-built audiences designed to fit into the taxonomy created by the marketplace. However, the new Kochava Collective makes it easy and secure for data partners to upload pre-built segments or deliver their raw data via a real-time API feed or a daily S3 bulk uploader. All raw data submitted to the Collective gets vetted through the industry-leading Kochava Fraud Console and Blocklist and then mapped against key data sets to help match lat/longs to POIs, user agents to device details, app bundle IDs to app store names and categories and more.
This means that partners who make their data available in the Kochava Collective are able to not only monetize their segments, but also generate incremental revenue when their data elements are utilized for informing custom segment creation and lookalike modeled audiences. All delivered data is programmatically displayed in the data supply partner's Kochava Collective dashboard where they can check on the health of their data feeds at any time.
"The Kochava Collective is tremendously beneficial as it enables us to monetize both our audience segments as well as our raw data—all within a secure environment, which is key for us. The Kochava Collective enables us to conveniently distribute our datasets to a wide variety of organizations in need of mobile audience data, and also includes a robust reporting and analytics component, which makes it easy to track the performance of our data and make continuous improvements," said Brandon Bennett, CEO at AreaMetrics.
A clear-labeled DMP for all
An additional unique feature of the Kochava Collective is the ability for publishers, SSPs, DSPs and networks to give their customers access to a clear-label version of the platform which can host their own unique data that has been enriched by the broader Kochava Collective data set. This makes first-party data available privately where it can only be activated against a partner's own media inventory, resulting in a complete solution for any large scale mobile inventory owner who seeks to deliver a rich set of audience solutions for their advertising partners to better enhance their campaign effectiveness on their supply.
Explained Cohen, "As we were developing this new version of the platform we were struck with the lack of great DMP solutions out there for large scale data owners to effectively ingest, map, visualize and activate against their own data. So, we made a point of developing the platform in a way that makes it easy for us to roll out completely private labeled versions for partners who seek to utilize these tools to manage their own data either internally or by providing their clients with direct access to building audiences and activating on their inventory."
About Kochava
Kochava (www.kochava.com) offers a unique, holistic and unbiased analytics platform to plan, target, measure and optimize media spend. The Kochava platform for mobile and connected devices combines potent features and global coverage with thousands of network and publisher integrations, allowing advertisers to target audiences and measure campaign performance with precision. Real-time customizable visualizations give users fluid access to a full spectrum of data points, providing robust segmentation capabilities and real-time actionability. Yielding the most powerful tools in the ecosystem, Kochava is chosen by brands across industry verticals to measure the largest and most sophisticated ad campaigns.
Media Contact:
Ben Stein, VP of Marketing
+1 (855) 562-4282
press@kochava.com