Kochava has a full support system for working with SKAdNetwork ad partners and measuring iOS 14.5+ campaigns
Since Apple announced its new User Privacy and Data Use policy last year, Kochava has done extensive work to support the AppTrackingTransparency (ATT) framework and the attribution data provided to advertisers through the SKAdNetwork. This support extends to our Free App AnalyticsTM (FAA) platform as well. 
SKAdNetwork is fully supported through FAA
SKAdNetwork is how Apple will perform attribution for iOS 14.5+ in an anonymized and aggregated way to protect the privacy of its users. Start measuring your iOS 14.5+ growth campaigns with our SKAdNetwork Certified Partners as IDFA-based attribution becomes limited under the ATT framework. You can search our Kochava Media Index ad partners page for SKAdNetwork Certified partners.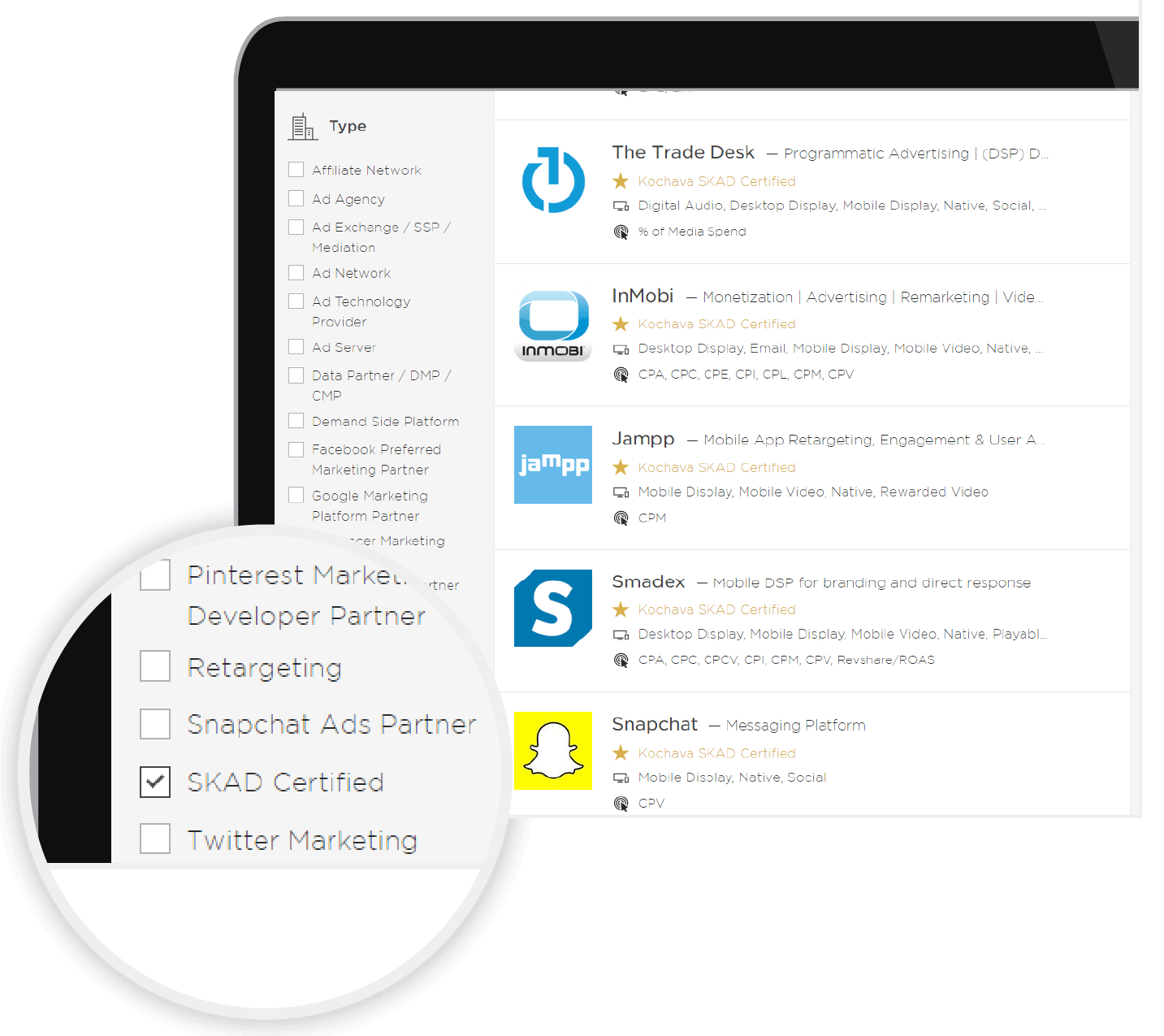 SKAdNetwork Certified Ad partners are reviewed by Kochava for their ability to accept and send SKAdNetwork data to us so that you receive the most accurate and granular attribution data possible. 
Learn more about Free SKAdNetwork attribution, or see support documentation on SKAdNetwork setup.
Implement your ATT prompt strategy
To run campaigns for iOS 14.5+, you'll need to prompt users for consent to ad tracking. Be sure you're maximizing opt-in rates by optimizing your ATT prompt strategy. Read our related blog and view support documentation on how our software development kit (SDK) interacts with your ATT prompt timing. 
Expect a decrease in non-SKAdNetwork attributed installs
FAA will not report on install or event activity from iOS devices that have not opted into tracking through the ATT framework in your app. While attributed activity from such devices will surface in SKAdNetwork reports, it will not be found in FAA analytics or non-SKAdNetwork reports. 
Why are we making these changes?
As part of your Free App Analytics service agreement, you have granted a first-party data license to the Kochava Collective, our privacy-first data marketplace, in exchange for use of our free platform. In keeping with our privacy-first data policies, devices that do not opt-in to tracking via Apple's AppTrackingTransparency Framework are not eligible to be included in the Collective data marketplace.
Users who do opt-in, enabling access to their Identifier for Advertisers (IDFA) device ID, will continue to be measured and attributed to your campaigns as before, with data available in analytics, non-SKAdNetwork reporting, and SKAdNetwork reports where applicable.
Is there a way I can still measure my opted-out users on iOS 14.5?
Yes. Contact us to discuss plans that offer continued first-party measurement via the Identifier for Vendors (IDFV) in the absence of the IDFA.
Have more questions about iOS 14.5?
If you have any questions, please email us at support@freeappanalytics.com.