Reach your ideal audience more precisely by tapping into diverse data sources within the Kochava Collective
Digital advertising has been undergoing significant changes over the past few years, and marketers no longer have the same resources for audience discovery and measurement. User privacy requirements from Apple, Google, and regulatory policies are shifting how marketers identify their audiences. Diverse, vetted datasets, such as the Kochava Collective, however, are becoming more important than ever for discovering new audiences or gaining a deeper understanding of existing ones while being respectful of user privacy.
You've heard the adage, "don't put your eggs in one basket", right? The same holds true for your data sources for audience discovery and consumer identity. Until more recently, marketers have been accustomed to obtaining consumer data more easily from web sites, mobile ad campaigns, or data vendors. With the industry entering a privacy-first era where consumer data is not as accessible, broad advertising tactics are going to become more challenging to execute.
Audience discovery in a fragmented advertising landscape
By now, marketers are likely familiar with the changes announced by Apple and Google. Apple continues to develop user consent requirements to give iOS users control of the data collected about them through their devices. These changes include their AppTrackingTransparency (ATT) framework, which requires user consent via an opt-in prompt for tracking and thus, limits access to the Identifier for Advertisers (IDFA) device ID with iOS 14+. More recently with the announcement of iOS version 15, Apple has announced protective measures regarding user IP and email addresses through the features Private Relay and Hide My Email.
Similar to Apple, Google is also offering more control to Android users over the Google advertising device ID (ADID or GAID) through an opt-out feature with Android 12. This announcement is in addition to its deprecation of the third-party cookie next year which will limit consumer insights from web activity. 
Lastly, but certainly not least, current and developing regulatory requirements, such as the California Consumer Privacy Act (CCPA) and others from the US as well as the General Data Protection Regulation (GDPR), further protect user data with respect to how it is collected and used.
All these protective measures are changing and fragmenting the advertising landscape. The good news is that data solutions exist that comply with these changes in the ecosystem and help marketers diversify their audience sources securely.
The importance of data diversity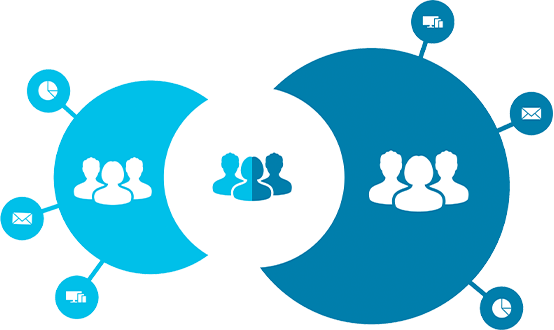 In today's changing landscape, marketers can't and shouldn't rely on a single source for audience data, be it device IDs, cookies, or other types of identifiers. Through the Collective, marketers have access to first-party data sourced from Free App Analytics® as well as second-and third-party data from select partners. All of it has been vetted using a variety of checkpoints and contains records of user consent.
Currently, data points gathered by the Collective are deterministically associated with device IDs, email addresses, phone numbers, households/addresses, people, and other matching keys, that have been authenticated by users. In response to industry changes, however, the Collective has been diversifying its data sources for some time so that if one data point is limited (eg, iOS device IDs), there are other points to connect to and securely solve for identity. It also has been gathering identifiers used by major platforms, such as The Trade Desk, Roku, and Google, to identify users active on those platforms. Whereas each user has a different ID depending on the platform, the Collective can tie the IDs to a single user using a match key (eg, email address, phone number, mobile advertising ID [MAID], cookie, addresses, etc.) for one-to-one advertising. Between match keys and these unique identifiers, marketers can decrease their reliance on a particular match key and experience fewer disruptions from their data supply.
Create your own walled garden
Numerous mergers and acquisitions have occurred this year which has consolidated the first-party data of several major companies. As a result, there are more walled gardens emerging that have substantial datasets, and that means less transparency to marketers. However, they can essentially create their own sourced dataset by ingesting data they need in-house from the Collective and build their own holistic user profiles. 
Obtain a 360-degree perspective of users
With device IDs becoming more challenging to collect, marketers must go beyond the typical types of data points they have come to rely on to understand identity. Marketers can go beyond the match key and understand what data points are behind it (ie, if you have an email address to know what other data points are behind it) to produce a 360-degree identity profile.  
The Collective can also show behavior perspectives in terms of what users like or visit through points of interest (POI) and interests and behaviors as well as persona tendencies based on actions taken. Data points are also available to build holistic household and business profiles. 
Gain access to a validated, diverse dataset
The Kochava Collective eliminates the need for marketers to procure additional data points from unknown sources or rely on a single source of data. We not only validate the data in the Collective, but we use it ourselves in products as well as apply device scoring for advanced measurement investigations done by the Kochava FoundryTM team. 
Amidst a shifting ecosystem, marketers need to maximize their first-party data and also diversify their data sources. We've built the Collective to offer a validated, consented dataset to fulfill the needs of today's marketer and remain sustainable in the future.
For more information about the Kochava Collective, please contact us or ask your Client Success Manager.
Note: The Kochava Collective is a separate dataset from the Kochava Marketers Operating System (m/OS). No data is shared between the two datasets.