Find new audiences outside the tech giant ad platforms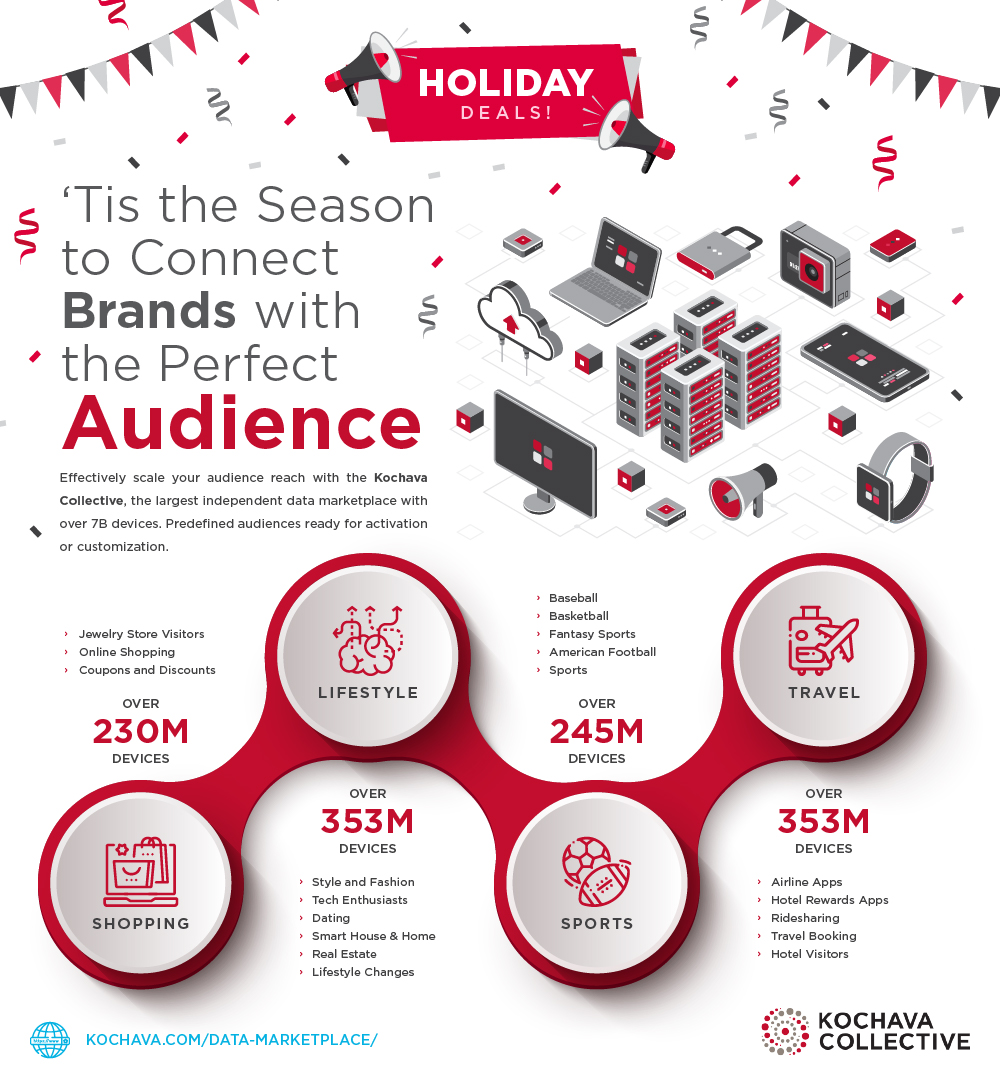 When a direct-to-consumer women's apparel brand wanted to expand their audience, they created a new ad campaign to target potential consumers who had visited women's clothing stores.
And, when they wanted to cast their net beyond brick and mortar stores, they built an audience based on devices that had purchased women's fashions on mobile. 
The brand effectively scaled their audience reach using the Kochava Collective, the largest data marketplace with over 7B devices profiles—and a relatively untapped treasure trove of potential audiences. The Collective simplifies the audience discovery process and gives marketers more control over their traffic. 
Target interests and behaviors
The brand had previously been running pay-per-click ads on the mobile web but wanted to expand their marketing to gain a competitive edge in the niche world of subscription eCommerce sales. When they discovered the Collective, they saw limitless audience discovery solutions, but decided to start with consumers who had previously purchased women's apparel from other mobile apps. Using Audience Builder, they selected "interests and behaviors" and "women's fashions" and received a list of millions of devices to target—not a bad place to start a campaign. They selected their preferred ad partner, sent the audience and  instantly activated an acquisition campaign. 
Build based on points of interests
For their next campaign, they built their audience using the same interest and behavior (Style and Fashion>Women's Clothing) and added points of interest (locations) to receive device IDs that had been observed at department stores, clothing stores, and shoe stores. To ensure that the brand was only targeting new users, the marketing team took the device list from the previous campaign and suppressed it and included suppressing consumers with the DTC brand's app as well.
Conquer competitors' audiences
When they were ready to scale their audience even further, they used Audience Builder to search for devices that had clothing apps similar to theirs and selected some of their primary competitors (and suppressed their own). 
Make the Collective your secret weapon
The number of ways to build an audience using the Collective's filters is limitless and ranges from selecting a predefined audience to creating lookalikes of your best users. Contact us today to see how we can help you build your next audience.