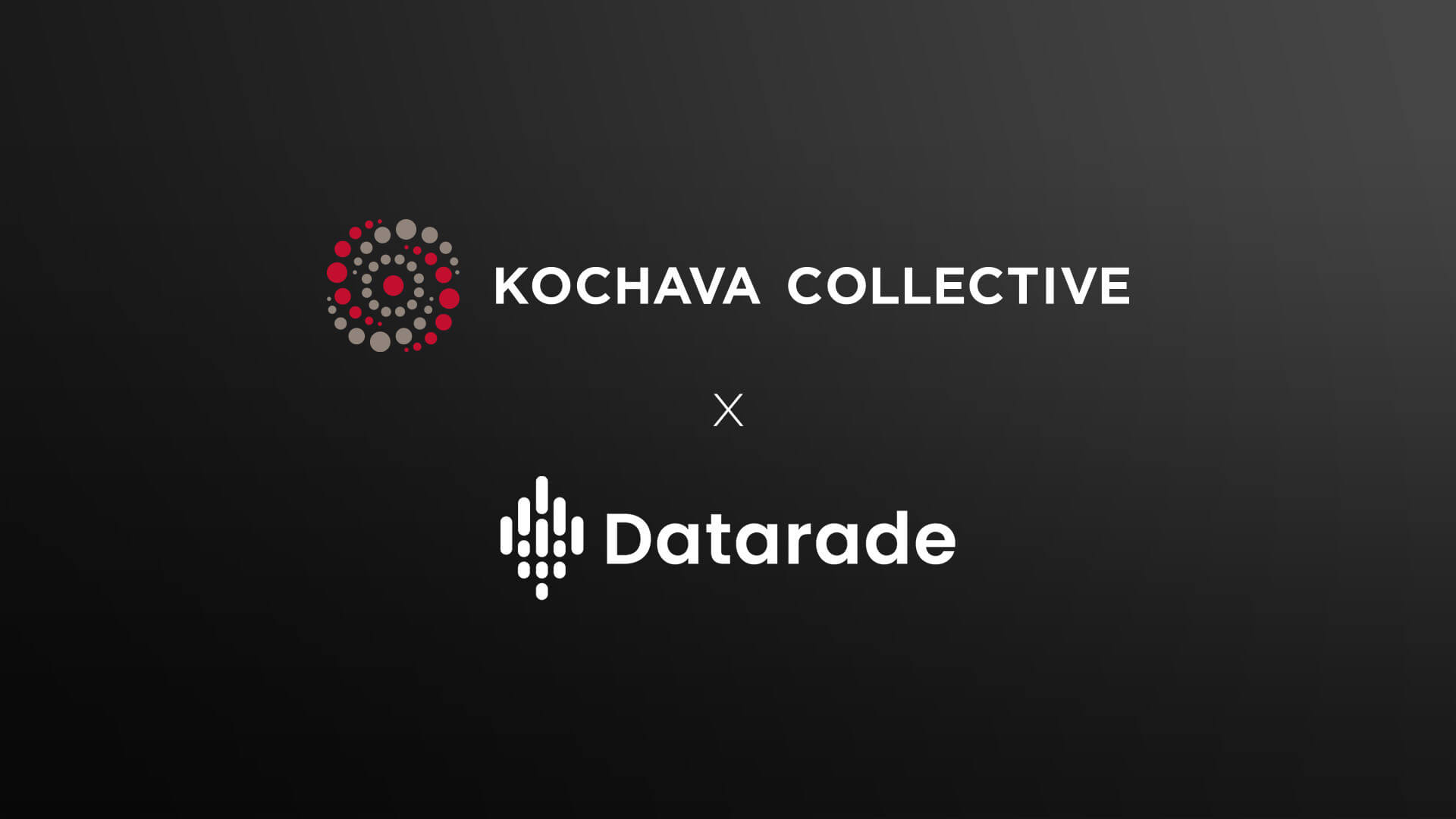 Sandpoint, Idaho / Berlin, Germany. March 3, 2021 – The Kochava Collective, the world's largest independent mobile-first data marketplace, has joined Datarade, the fastest-growing global e-commerce platform for commercial data sets. Datarade's tens of thousands of data buyers from every industry can now effortlessly discover, compare, and get access to the Kochava Collective's data products including data feeds, audience data enrichment, identity graph, and competitor conquesting.
The Kochava Collective provides privacy-first data sets with more than 9 billion unique devices globally. Data in the Collective is sourced from the company's Free App Analytics® (FAA) solution and from premium third-party data suppliers who provide unique enrichment spanning precision geo, points of interest (POI), hashed emails, device attributes, demographic, Interactive Advertising Bureau (IAB) interests and behaviors, and app activity. 
Prior to onboarding, all third-party Collective suppliers are vetted for data quality and contextual relevance through a comprehensive fraud review, metadata validation, and addressability verification. The Kochava Collective's privacy certifications include Privacy Shield Framework; they are also part of the IAB Europe and IAB US. Through the Collective, marketers can gain more insights about their audiences through data enrichment, create lookalike audiences, or discover new ones. Depending on the data type, the Collective's data has historical coverage stretching back to 2018.
"Data has become the new oil for organizations and protecting the data and ensuring quality and reliability is of the utmost importance. Partnering with Datarade has helped us expand the offering of our privacy-first anonymized data sets for growth marketers to efficiently maximize their reach." – Brian Cox, General Manager, Kochava Collective.
Companies from various industries use the Kochava Collective's data products, including gaming and entertainment, retail, travel and hospitality, transportation, security, lifestyle, and pharmaceuticals. The Collective's data is used to build out custom audiences for targeting, as well as for data enrichment use cases. Businesses enrich their first-party data with additional signals from the Collective's data sets to get a richer, holistic understanding of users. The Collective's raw device-level data is also used for internal business and identity processes.
Success stories from the Kochava Collective include a national quick service restaurant (QSR) brand that used the data for consumer behavior analysis. Using the Collective's points of interest visitation data, the QSR chain discovered an 18% increase of visitors from direct competitors after a specific conquesting product was launched in a two-week period. This enabled the brand to identify the success of the product launch and curate content geared toward converting the former competitor's customers to ongoing patrons.
"The Kochava Collective is supplying our clients with quality and transparency when it comes to mobile data sourcing. Working with the Collective means Datarade can help meet global demand for validated POI and behavioral data sets, for use cases from marketing to identity verification. We're glad to have the Kochava Collective onboard our data marketplace and look forward to our partnership developing." – Richard Hoffmann, Co-Founder & CCO, Datarade.
As the adtech industry moves toward increased transparency, the Kochava Collective offers privacy-first anonymized first-party data for audience enrichment and target market segmentation with seamless activation options on both the supply and demand sides.
About Kochava
Kochava Inc. is a real-time data solutions company offering the leading omni-channel measurement and attribution solutions for data-driven marketers. The Marketers Operating System® (m/OS) from Kochava empowers advertisers and publishers with a platform that seamlessly integrates and manages customer identity, measurement and data controls. Unlike the complicated, siloed tech stacks employed today, the m/OS takes the next step: unifying all of your data and critical omni-channel solutions into a cohesive, operational system that goes beyond data aggregation and reporting. The m/OS provides the foundation for limitless advertiser and publisher tools, including the option to build third-party solutions onto the platform. By design, m/OS facilitates success by making data accessible and actionable to maximize ROI.
With a culture of customer-driven innovation, dedication to data security, and the most powerful tools in the ecosystem, Kochava is trusted by top brands to harness their data for growth. Kochava also hosts the largest independent mobile data marketplace, the Kochava Collective. Headquartered in Sandpoint, Idaho, the company has offices globally. For more information visit their website www.kochava.com. Follow Kochava on social media: Facebook, Twitter, and LinkedIn
Contact:
Leslie Amadio
lamadio@kochava.com
208.610.1650
About Datarade
Datarade is the world's fastest-growing e-commerce platform for data. With a persistent focus on crafting the ultimate data shopping experience, Datarade has helped thousands of data buyers find the right data for their business, effortlessly. More than 2,000 data providers across 300+ data categories are already listed on Datarade, enabling organizations across industries to connect with trusted providers and access the best datasets and APIs. Datarade was founded in 2018 and is headquartered in Berlin, Germany.
Contact:
Lucy Kelly
pr@datarade.net
+49-30-3119-8087
Brunnenstr. 196, 10119 Berlin, Germany
https://datarade.ai/