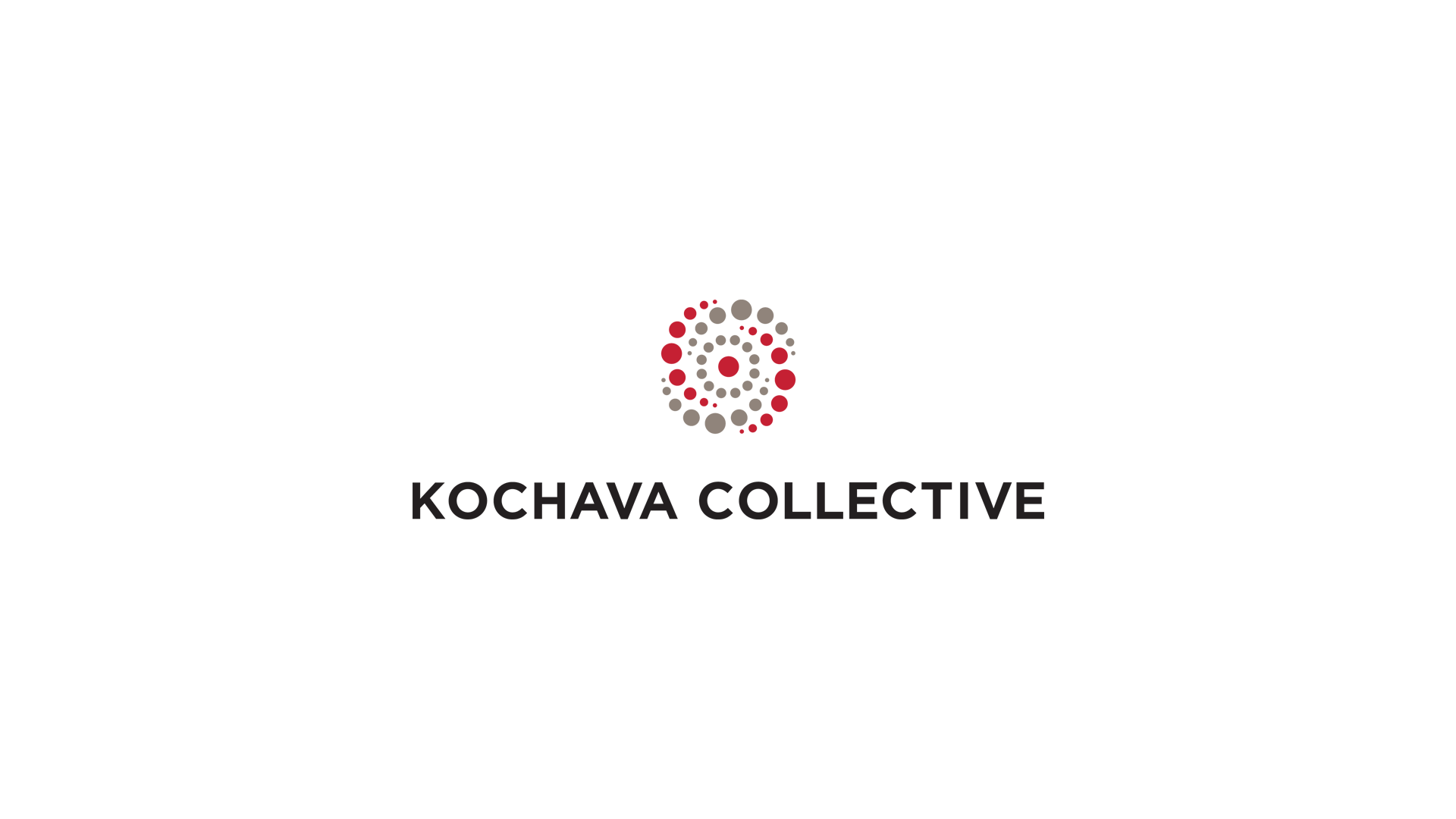 The Kochava Collective is the world's largest independent mobile data marketplace offering precise audience targeting capabilities across all major platforms, networks and DSPs. It has more than 1.5 billion unique device profiles, with millions added daily. While Kochava platform customers have the advantage of a smooth, intuitive integration with the Collective, anyone can access the Kochava Collective to build custom audiences or generate lookalike audiences.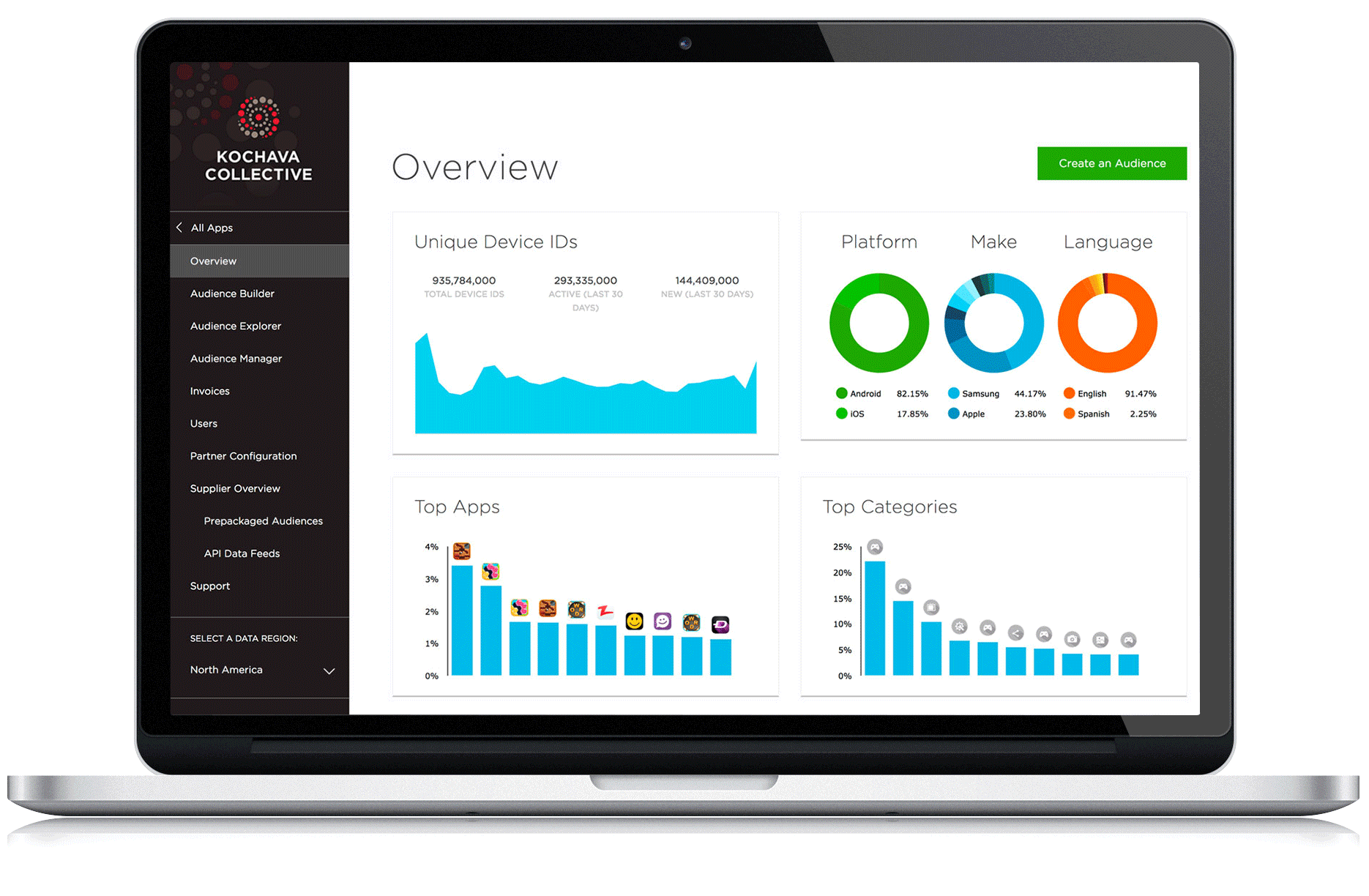 How it Works
Kochava amasses the data available in the Kochava Collective from four different types of sources: first-party data collected from the Kochava Free App Analytics SDK which touches over 1 billion devices globally, integrated mobile media networks, direct app and game publishing partners and other third-party data providers who are able to provide unique enrichment to the data-set.
The Kochava Collective is entirely separate from the Unified Audience Platform where enterprise customers measure their campaign activity. Kochava does not share or license the data of their enterprise customers.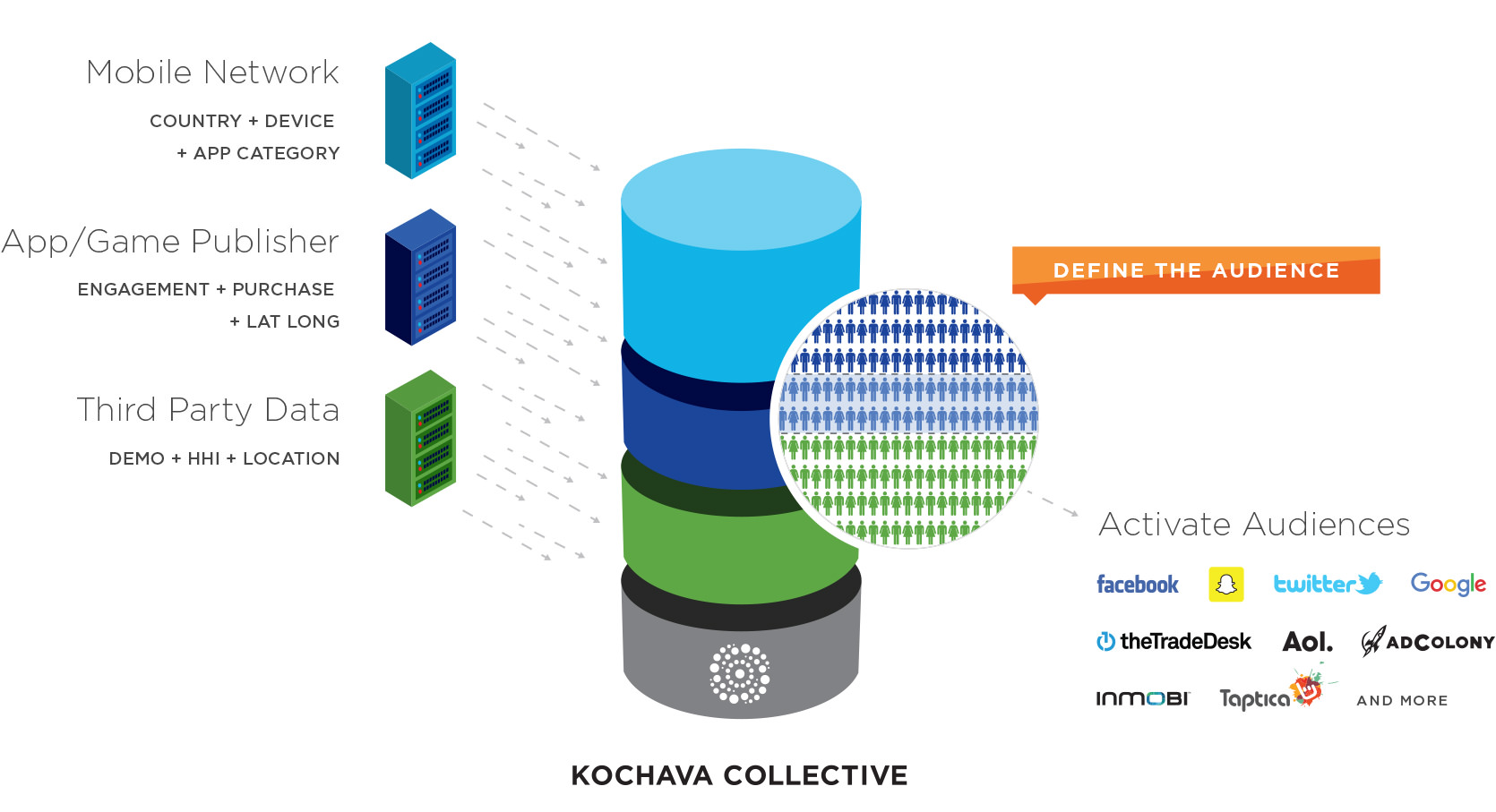 How it Works
Use the links below to navigate to the top audiences within the Kochava Collective.
Take the next step!
Want to explore the multitude of rich audiences available in the Kochava Collective? Contact us for more info!
Learn More
Simplifying Audience Creation
With the Kochava Collective self-serve user interface it is easier than ever to build, manage, and activate your audiences.The Kochava Collective simplifies audience creation through its Audience Explorer, Audience Builder, and Audience Manager tools where marketers can browse the most popular pre-packaged segments, create custom audiences based on a host of data elements and build lookalikes from their own seed files.
Audience Explorer
Browse the most popular curated segments built by data experts and supply partners from within the Kochava Collective. Audiences are searchable by category, geo, and activation partners. As an admin or data supply partner, you can control the visibility of who can view these pre-built audiences to ensure your data is only being activated by the marketers of your choice.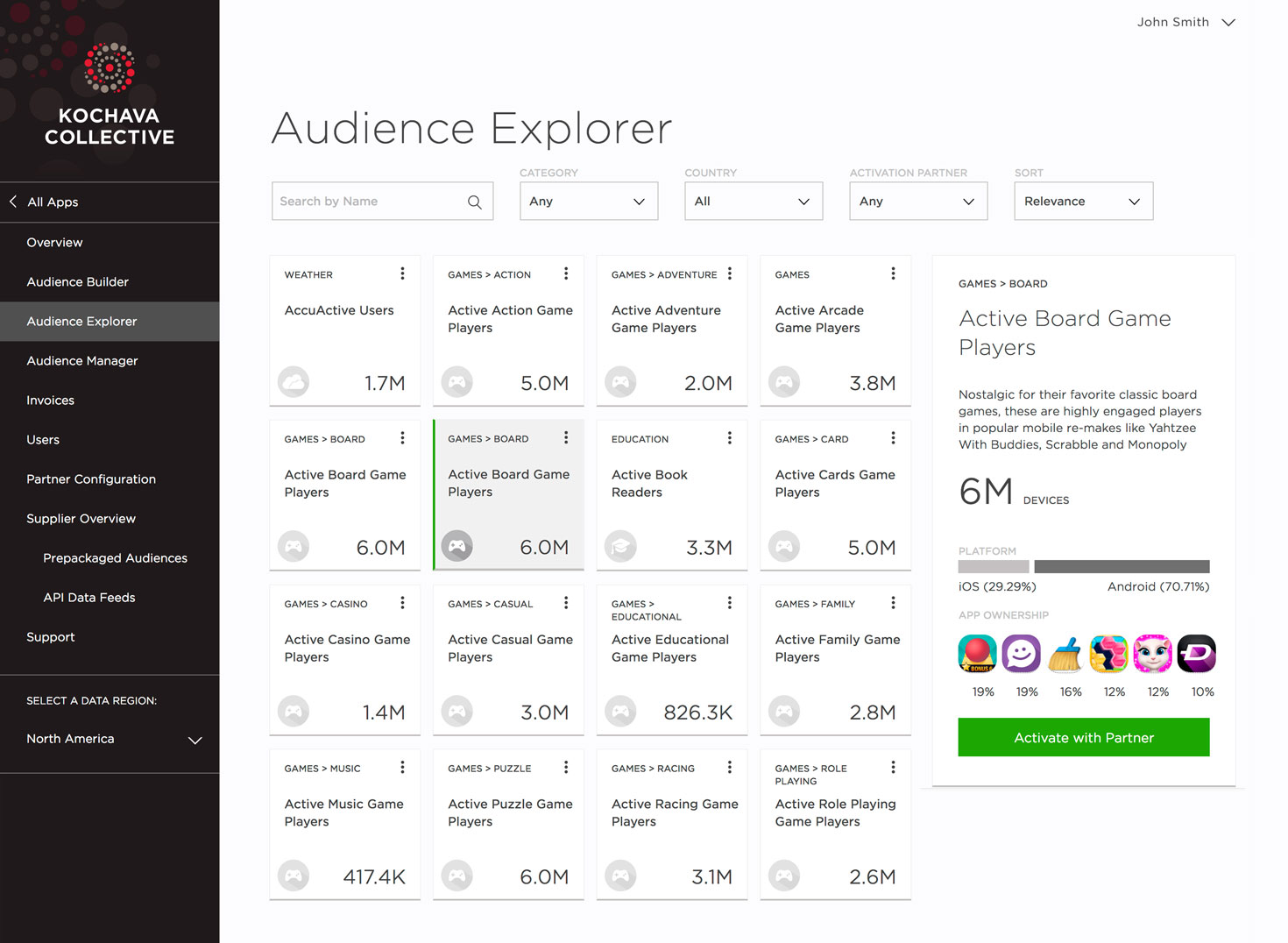 ---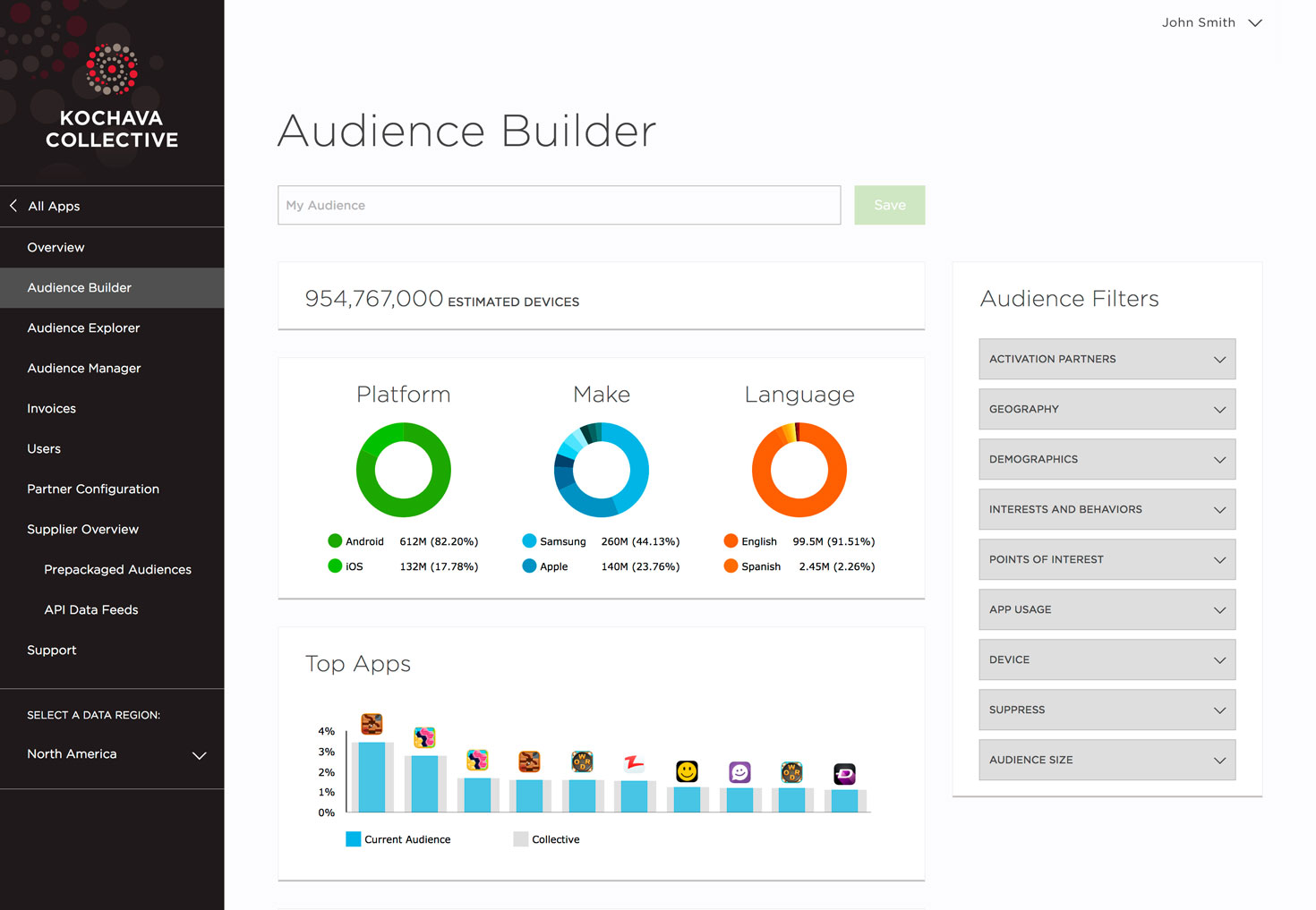 Audience Builder
Create custom audiences with our new self-serve user interface. The Audience Builder gives you the power to define target audiences with rich criteria, including recently visited locations, application usage, audience interest and device details. As you filter data, your estimated devices to target will be updated in real time, providing key attributes of that data to help inform your marketing decisions.
---
Audience Manager
Access all the audiences you have created in one simplified view. Manage custom built, pre-packaged, and imported first party data right from the Audience Manager. From here, activate your audience with a partner or generate lookalike audiences from your own seed files. Once you've applied filters and suppression data, the Kochava Collective algorithm takes all the matched devices to your criteria and finds the most similar devices to meet your target audience size, which can then be delivered to the media platform of your choosing for activation.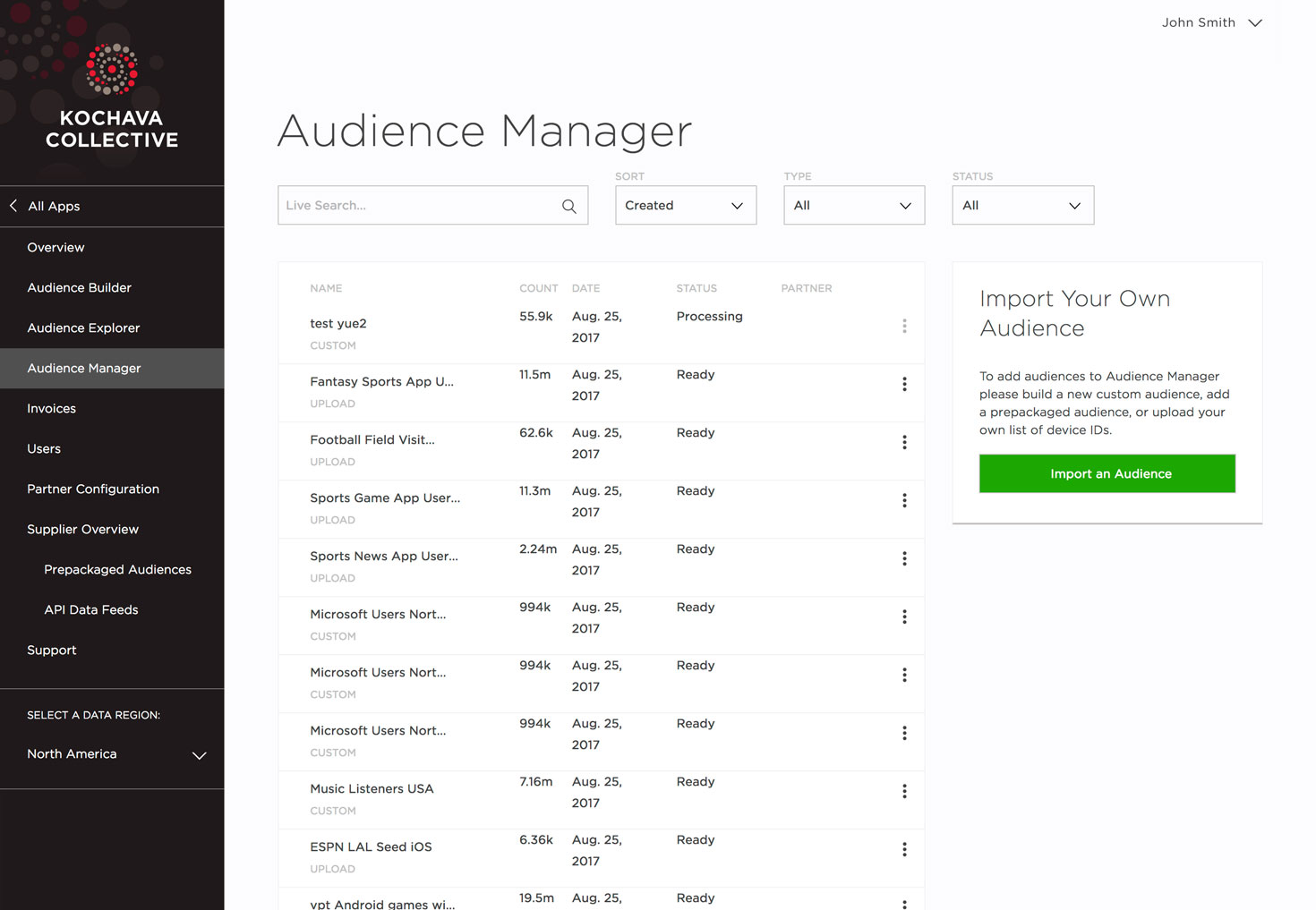 ---
A True Marketplace for Data Suppliers
The Kochava Collective enables data supply partners to monetize their inventory in a secure environment where they can control which advertisers have access to their data and the platforms where it can be activated on.

The new Kochava Collective makes it easy and secure for data partners to upload pre-built segments or deliver their raw data via a real-time API feed or a daily S3 bulk uploader. All raw data submitted to the Collective gets vetted through Kochava's industry-leading fraud solutions and then mapped against key data sets to help match lat/longs to POIs, user agents to device details, app bundle ID's to app store names and categories and much more.

This means that partners who make their data available in the Collective are able to not only monetize their segments, but also generate incremental revenue when their data elements are utilized for informing custom segment creation and lookalike modeled audiences. All delivered data is tracked in the data supply partner's Kochava Collective dashboard where they can check on the health of their data feeds at anytime.