The 1% Challenge
Industry-leading innovations from Kochava have saved advertisers millions of dollars. What would it look like for you to save even 1% of your ad budget by using fraud mitigation tools from Kochava? Or to recognize a 1% lift in your campaigns via our Configurable Attribution, Influencer Reporting, or View-Through Attribution features? Take a look at the following examples of advertisers' real experiences using Kochava attribution and analytics, then decide if you're ready to take the 1% Challenge.
---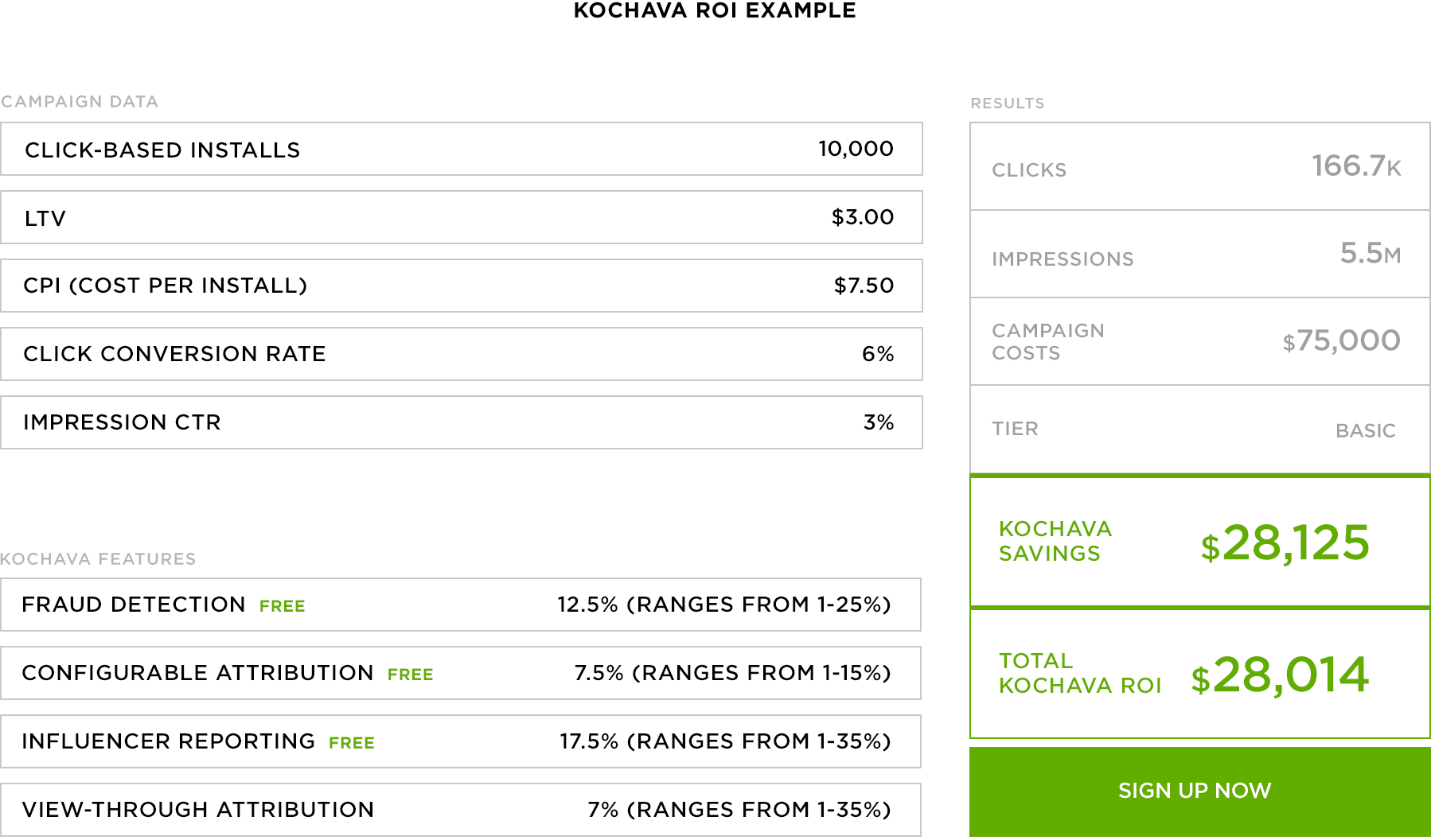 ---
Fraud Detection & Traffic Verifier
Save money by eliminating fraud
Example: 12.5% Savings
An advertiser ran a CPI (cost per install) campaign for 10,000 installs and agreed to pay $7.50 per install. During the course of the campaign Kochava was able to identify 12.5% of the traffic as potential fraud. The first identified source was one publisher site ID that was re-brokering traffic that they claimed was exclusive. The advertiser worked with the network to shut down this site and the advertiser was not charged for the installs. The advertiser was targeting iOS devices but identified a large number of clicks from non-iOS devices. The vast majority of these clicks originated from a specific site ID which also included some iOS clicks. This fraudulent activity was identified by Traffic Verifier in real time and the network shut down the site as well as crediting the cost of the fraudulent installs. Additionally, through MTTI (mean time to install) analysis, they discovered that there were two site IDs that were mixing incentivized traffic with non-incentivized. The advertiser identified and was not charged for these installs either. The advertiser then instrumented a 4-minute delay in the postback configuration for that partner to ensure that any other incentivized traffic mixed with non-incentivized would be deprioritized based on the lack of immediate feedback. These two fraudulent instances accounted for 12.5% of the total traffic of the campaign. At a $7.50 CPI over 10,000 installs, this brought the total campaign cost down from $75k to $66,375 for $8,625 savings. Learn more about Fraud Detection or Traffic Verifier



Configurable Attribution
Match your attribution logic to your goals
Example: 7.5% lift
Configurable Attribution is one of the most powerful tools at the advertiser's disposal. Campaigns may be optimized to fit a variety of goals. An advertiser may configure campaigns for increased return on ad spend (ROAS), to earn more traffic on a given network, or reduce ad spend by attributing only to the highest-intent users. In this example, the advertiser only wanted to target high-intent users and was not worried about conversion rates suffering based on tighter attribution rules. They identified the MTTI for their app on each of the 3 networks they were running with, and set the lookback window for each network accordingly. Further, they turned fingerprint attribution off to ensure that all installs matched exclusively on device ID. This configuration did yield a lower-than-average conversion rate for their app. However, by only attributing installs for clicks with a matching device ID within the MTTI-based lookback window the advertiser was able to ensure that they were acquiring only users that matched their targeting criteria. In this case, the increased RPI (revenue per install) from their high-intent users yielded a $5,625 lift. Learn more about Configurable Attribution



Influencer Reporting
Reduce spend by eliminating traffic overlap
Example: 17.5% savings
Most advertisers run traffic across a variety of networks, while relying on the reporting from each of these networks. Kochava does the heavy lifting to deduplicate installs across all standard networks. Self-attributing networks function differently in that their claims win against other networks. The influencer report allows the advertiser to understand which networks are highly influential to driving an install but are not winning attribution. The advertiser can then funnel budget accordingly. In this example, the advertiser was running with Facebook, which is self-attributing, as well as two other networks. When they started paying attention to the data in the Influencer report they found that while Facebook was claiming the majority of installs the other two networks were driving clicks for the same installs and were significantly less expensive than Facebook. The advertiser was able to reduce their spend by $13,125 while keeping a steady rate of installs. Learn more about Influencer reporting



View-Through Attribution
Increase conversion rate by considering every engagement
Example: 7% Lift
Hundreds of advertisers are taking advantage of Configurable View-Through Attribution by Kochava. Lifts associated with adding view-through attribution to a campaign have averaged 5–25% depending upon the campaign and network. In the following example the advertiser saw an average user LTV (Lifetime Value) of $3 based on a 7-Day RPU (Revenue Per User). The campaign drove 166,700 installs with an average conversion rate of 6% through typical last-click attribution, yielding 10,000 attributed installs equal to $30,000 in LTV. This is a typical last-click attribution scale for this advertiser and normally this is the level to which the advertiser could optimize. However, by adding view-through attribution the advertiser was able to look at the impact of their campaigns beyond click attribution and see the lift driven by impressions as well. In this case, the campaign served approximately 5.5 million impressions to drive the 166,700 clicks. View-through attribution revealed an extra 700 installs attributed to the campaign, meaning an additional $2,100 in revenue. This gave the advertiser a more complete view of the ROAS (Return on Ad Spend) as the campaign drove $32,100 in revenue (rather than the original $30,000). This added insight now informs the advertiser's buying habits. Learn more about View-Through Attribution


Take the next step!