Updated: August 6, 2020
Game-changing potential of SKAdNetwork depends on industry adoption.
What is SKAdNetwork?
SKAdNetwork is a recently announced storekit capability provided by Apple to help advertisers determine the efficacy of their ad campaigns, while preserving the privacy of Apple users to a new level. Apple gave SKAdNetwork a formal announcement at this year's Worldwide Developers Conference (WWDC) on June 22nd, which is more attention than it offered when first launching it a couple of years ago.
SKAdNetwork v1.0 was first released in March 2018 with iOS 11.3 and wasn't met with significant adoption. However, SKAdNetwork v2.0, releasing with iOS 14 (Sept 2020), adds new parameters for 'source publisher' and 'conversion value.' As this provides a new depth of insight over v1.0, some have argued it will make use of SKAdNetwork more feasible and likely cause a boost in adoption.
SKAdNetwork relies on functions integrated into the source app where the ad is being displayed by an ad network, as well as the advertised app being promoted in the ad. The ad network itself must also play a role in signing ads and receiving install notifications when their ads result in campaign conversions. This means that the ad network, source app, and advertised app must play their part for the process to work end-to-end. Further, the architecture doesn't appear to provide a scalable way for agencies or buying aggregators (DSPs or SSPs) to participate—making adoption a key hurdle to widespread use. 
If SKAdNetwork does reach widespread adoption, it could be a major change in the way advertising is bought and sold on iOS in that it upends the traditional method by which advertisers have performed campaign planning, media activation, or facilitated measurement for app install or app reengagement campaigns. Nonetheless, many issues and questions remain that would make sole reliance on SKAdNetwork unexpected in the near term.
MMP vs. SKAdNetwork
Advertisers running at any scale outside of Facebook and Google integrate with an MMP. An MMP enables an advertiser to integrate one SDK into their mobile app that can track installs and post-install events. Then, rather than the advertiser integrating a new SDK for every ad network or publisher they want to run a campaign with, the MMP provides postbacks of conversions to the ad networks through certified integrations. Advertisers can then use the MMP's ad network integrations footprint to create impression and click tracking links that are delivered to the ad networks. Through these links, the ad networks send all campaign impressions and/or clicks to the MMP. This allows the MMP to collect multi-channel campaign activity across all of the advertiser's media mix and then perform attribution. The result is the MMP as a single source of truth on what drove install and in-app conversions for the advertiser.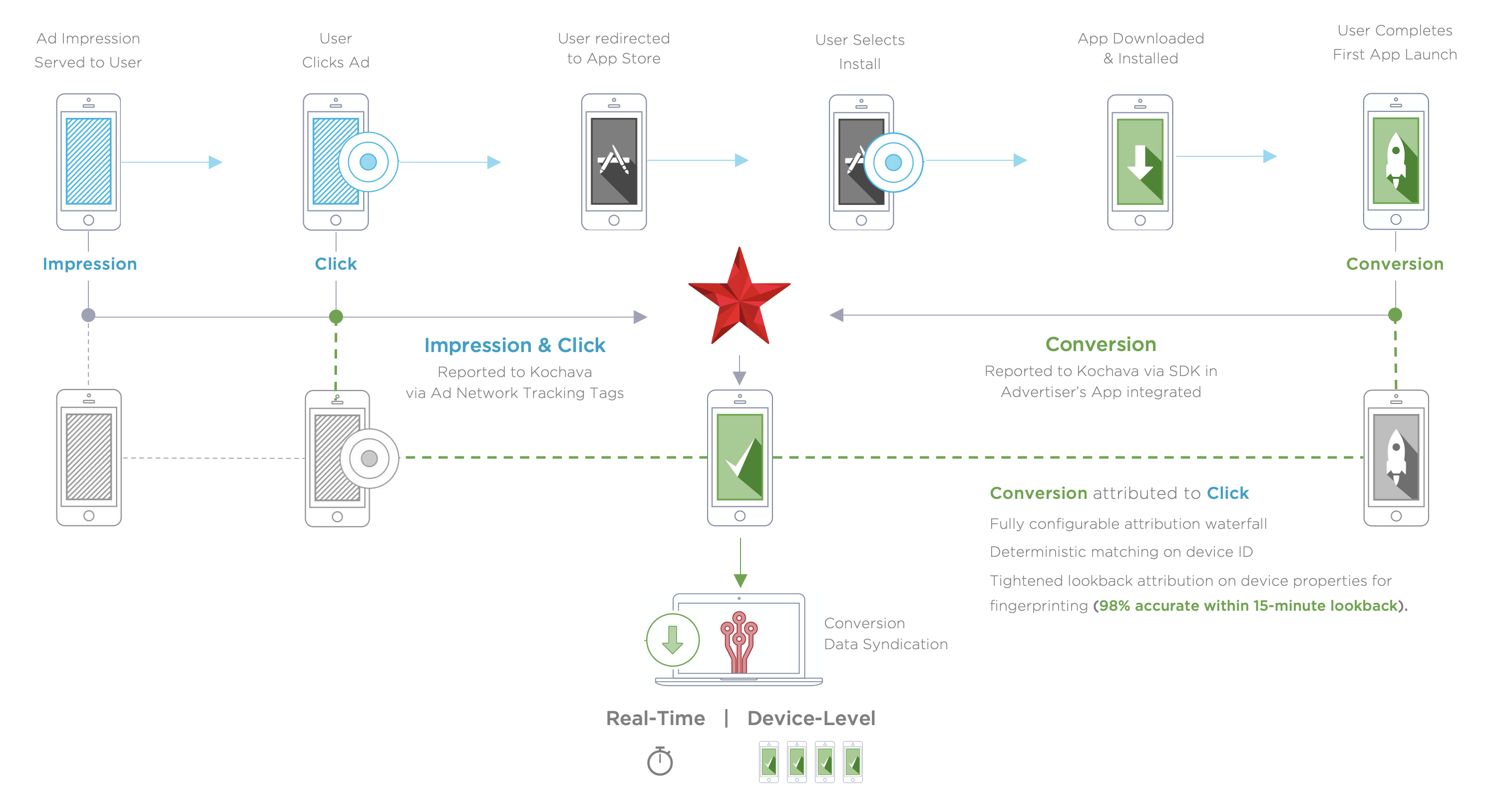 The SKAdNetwork operates outside of this spectrum. Instead, the advertised app and source app implement functionality that allows direct communication from their apps to the App Store client, which logs and validates each step in the process from display of the ad and click, to download and install, and postback of the install conversion to the source ad network that served the ad in the first place.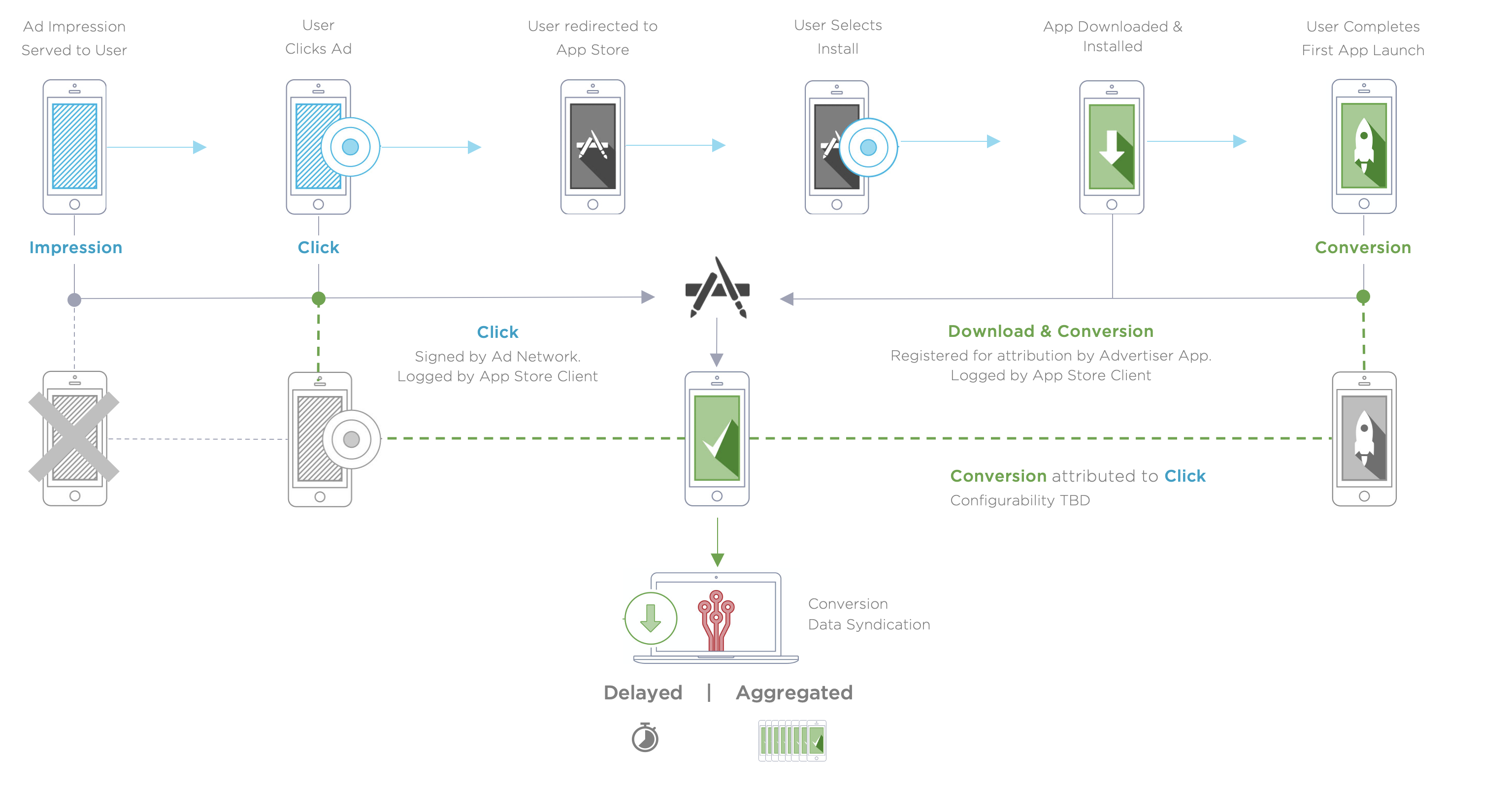 SKAdNetwork and the loss of real-time feedback
Mobile advertising is built on an expectation for real-time data signals. Kochava, as a leading MMP for instance, ingests billions of impressions, clicks, installs, and post-install events daily. When an install occurs in an advertiser's app, attribution is determined in a matter of milliseconds, based on impression and click data across the advertiser's entire media mix. Once attribution is awarded, postbacks are triggered to the winning ad network to alert them of the campaign conversion. Similarly, other ad networks presently running campaigns for that same advertiser can also be sent a postback, helping them suppress further targeting of ads to the consumer in question, as they have already been converted. Down-funnel post-install events can also be syndicated to ad networks to help drive specific app event optimization and lifetime value (LTV) goals. All of this happens at scale and feeds the algorithms of ad networks as they optimize campaigns on behalf of their advertiser clients. 
SKAdNetwork does not send real-time conversion postbacks to ad networks. Instead, a series of timers are leveraged to obfuscate and delay postbacks that consist of aggregated conversions. The goal again is privacy, but the implications to the ability of an ad network to effectively optimize campaigns are profound. 
Here's how the SKAdNetwork actually handles the postback of conversions to ad networks. 
The advertiser app is launched and calls the registerAppForAdNetworkAttribution() method. 

If Apple determines an attribution applies, a timer starts ticking down from 24 hours (Timer 1). 

If the user completes a pre-selected conversion before Timer 1 expires, the app can call the updateConversionValue(_ conversionValue: Int) method. Calling this method resets Timer 1 back to 24 hours and sets a conversionValue. If the user completes another pre-selected conversion, that can also be added to the conversionValue, thus resetting Timer 1 yet again. This can continue up to 64 times or until Timer 1 expires. 

After Timer 1 expires, a randomly assigned waiting period between 0 and 24 hours, called Timer 2, must expire before a postback to the winning ad network can be triggered. 
In effect, this means that postbacks of conversion feedback to ad networks could be delayed anywhere from 24 hours, to as far out as ~63 days. The far-reaching implications of such a departure from the real-time feedback loop of mobile advertising are likely yet to be realized.
Should you integrate SKAdNetwork?
Kochava is taking steps to incorporate the SKAdNetwork knowing that certain advertisers will adopt it to provide deterministic attribution insights against their campaign efforts albeit in a latent and aggregated reporting model. 
Nonetheless, the maintenance of a parallel mobile measurement partner relationship to facilitate the real-time feedback loop of conversion outcomes on your campaigns will remain paramount for driving ad network optimization that produces the highest return on investment (ROI). This is the case even in the face of the upcoming IDFA opt-in mechanism that Apple announced at WWDC. 
The future of the MMP
One could argue that the lifespan of the traditional black box MMP as a single-point solution may be nearing its end in the face of SKAdNetwork and the possibility of Google following in Apple's footsteps. Further, an MMP that still relies solely on the IDFA and ADID for attribution and measurement is certainly in uncharted waters, as both identifiers have a bleak outlook. 
On the other hand, Kochava is not a commodity single-purpose attribution tool. Kochava has long-since evolved beyond measurement and attribution confined to mobile and reliant on platform-provided identifiers. Kochava delivers flexible attribution configurability, advanced attribution without reliance on deterministic identifiers like an IDFA, and provides a suite of capabilities around identity solutions. 
Kochava has developed highly sophisticated attribution controls that are used to attribute a majority of the conversions for many enterprise brand apps even today. With lookback window scalability that narrows down to the minute and traffic verification rule logic that factors device language, country, state, geo, DMA, and zip code, plus minimum time-to-install (TTI) requirements into attribution logic, accuracy of 98% or higher can be achieved in an IDFA-less context. 
Brands leverage Kochava today to measure across the full spectrum of connected devices (mobile, OTT & Connected TV, VR, digital out-of-home, game consoles, and beyond). Online consumer engagement can even be correlated to out-of-home billboards and linear TV ad spend.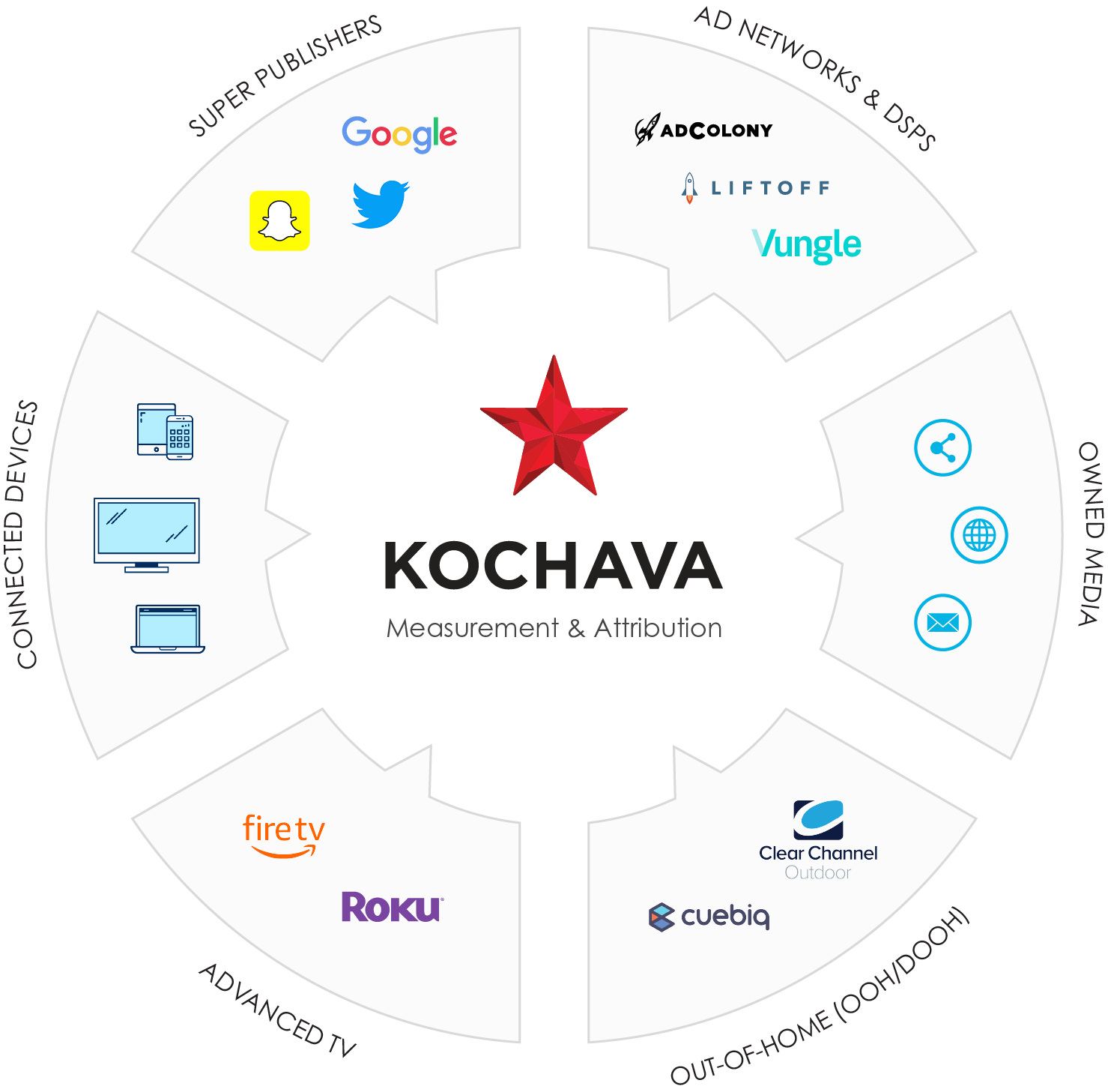 Kochava Identity Solutions are continually expanding to allow advertisers to leverage privacy-safe, first-party identifiers to determine efficacy of ad spend. Be on the lookout for forthcoming announcements from Kochava.

Other Questions about SKAdNetwork 
Many questions remain for advertisers, publishers, and ad networks alike. 
How will deferred deep linking be supported?

What's the future of multi-touch attribution (MTA) in light of SKAdNetwork?

Will Apple allow MMPs to use registerAppForAdNetworkAttribution() or updateConversionValue() to get an install postback? 

What, if any, configurable attribution options exist with SKAd? Can advertisers configure lookback windows on clicks vs. impressions?

How will reengagement work?

How will Apple detect and prevent ad fraud?

How will SKAdNetwork account for mobile web inventory where ads are served outside of an app?

Will SKAdNetwork involvement become obligatory in the future or remain optional?
As a long-time Apple partner, Kochava is in close communication with their team and will have more insights to come. 
If you're looking for an enterprise solution that can ensure you have campaign visibility—please contact us with your questions at sales@kochava.com.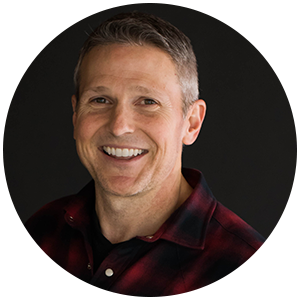 Brian Wilson – Director of Product Management
Kochava