Accessing Your Data Shouldn't Be a Struggle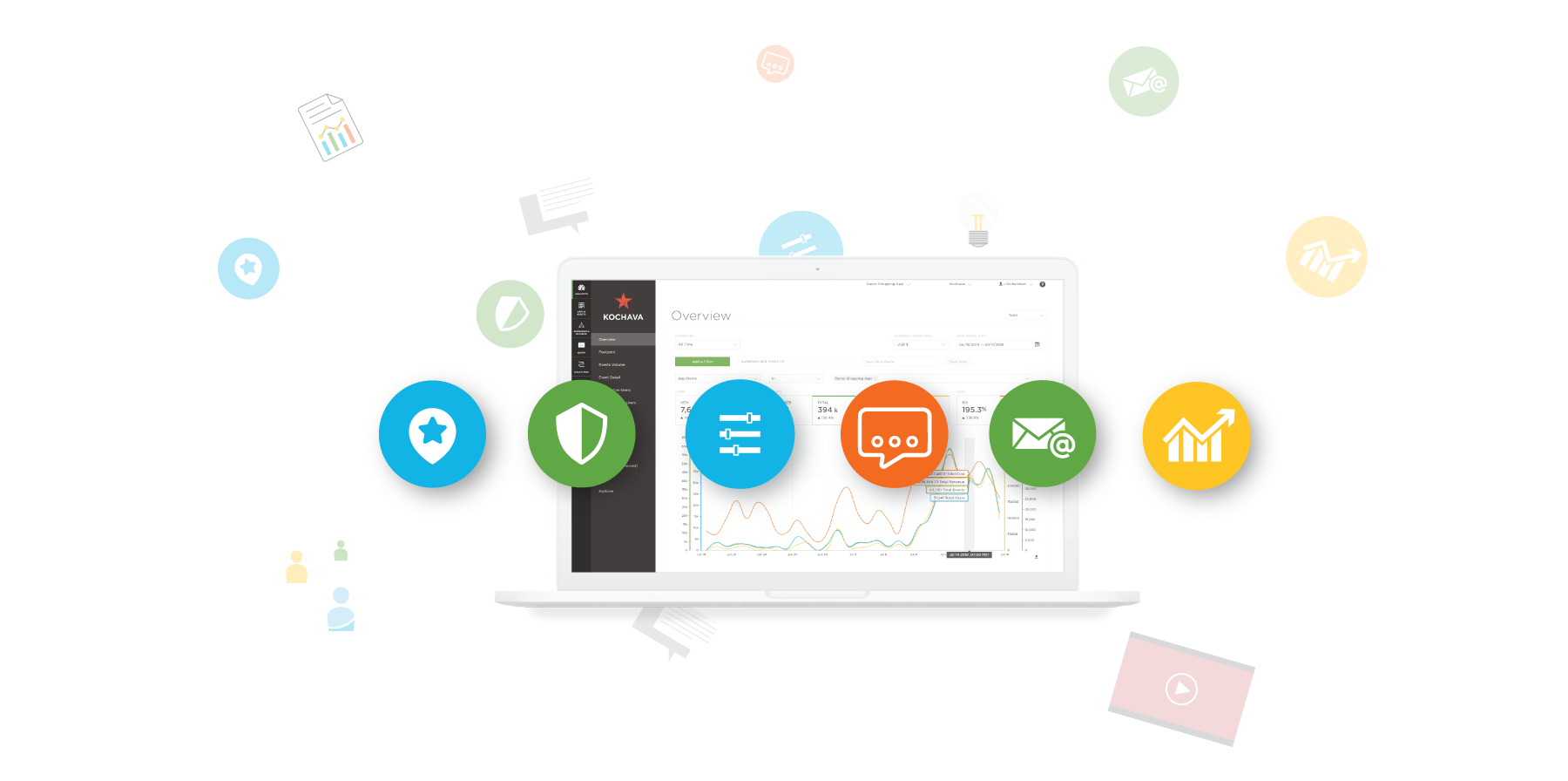 Harness your data for growth with Kochava reporting and data exports.
Today's marketer is data-driven. Unfortunately, data accessibility is one of the biggest hurdles marketers face when attempting to turn data into action. Kochava gives you unparalleled flexibility to access the data that will power your growth.
Many providers quickly aggregate your data—hindering the depth of insight you can glean from it. If you want row-level data, you may be charged extra and even be required to set up the data warehouse to store it. 
Get long-term access and storage of row-level:
Ad impressions & clicks, app installs and web visits (attributed & organic)

In-app events and web activity (attributed & organic)

Reengagements
At Kochava, we know row-level data gives our clients the competitive edge. With it, marketers can:
Analyze row-level impression and click influencers to a conversion to understand what combination of ad creatives and keywords are delivering quality users. Optimize campaign strategy to improve return on ad spend (ROAS) by 10% or more. 

Collide row-level click & install data to segment users that clicked on one or more of your ads but didn't convert yet. Refine outreach messaging and retarget this audience with an enhanced offer to boost conversions by as much as 10%.

Easily provide raw data when an ad partner demands proof before approving a make-good request due to fraudulent behavior. 

Use

IdentityLink®

to connect the same user across devices, then dive into row-level app event and web session activity to understand how your users move between your brand's touchpoints. Leverage insights to optimize reengagement channels and messaging to boost user lifetime value (LTV) by 15% or more.  
See the full report specs and all data attributes here.
Interested in which clicks influenced another partner's install conversions? Want to see a performance summary by country, partner, campaign, publisher, or creative?
Explore Kochava's reporting suite to output powerful performance summaries, optimization insights, and other turnkey analyses, including:
Multi-touch Attribution (MTA)
A row-level log of clicks identified as influencers for a click that won install attribution
Optimization Insights
Provides "Buy" and "Do Not Buy" optimization recommendations based on impression performance analysis
Retention
A cohort of installs grouped by date, country, network, site, and/or creative. Provides count of devices from cohort active in app by day after install
Restated Cost
Restated cost data collected from media partner cost APIs (Restated cost tracking must be enabled)
Restated Ad Revenue
Restated revenue data collected from media partner cost APIs (Restated revenue tracking must be enabled)
Fractional Attribution
A row-level log of clicks and/or impressions attributed to installs, along with their fractional weight percentage based on attribution position (Fractional attribution must be enabled)
Partner and Campaign Summary
An aggregated summary of key performance metrics by partner and/or campaign, which can be grouped by time, geo and other attribution variables.
See full report specs and all data attributes here.
Submit reports on demand and get your data quickly. Unlike other platforms that run all reports in a nightly batch—making you wait a full day for your data—Kochava processes your reports immediately on request.
Explore flexible scheduling to setup turnkey, automated reporting for you, your team and even partners. Choose from daily, weekly, and monthly reporting schedule options in our intuitive reporting interface. For enhanced scheduling flexibility, explore our programmatic reporting API.

Reports can be exported in CSV or JSON formats and delivered as an emailed link or downloaded directly from the reporting interface.

Reports can also be automatically deposited to your own Amazon S3 Bucket.


For marketers who need to programmatically pull data at scale for use in internal data warehouses, customer relationship management (CRM) systems or other applications, Kochava offers a robust reporting API.
Unlike other platforms that invoke rate limits on API calls and/or row limitations on data exports, Kochava clients enjoy unprecedented access and scalability. This gives enterprise brands the flexibility they need to export and move large amounts of data quickly and with ease.
Data accessibility is fully manageable through secure API keys and tiered user permission rules. API keys can be created and rescinded at any time by account administrators.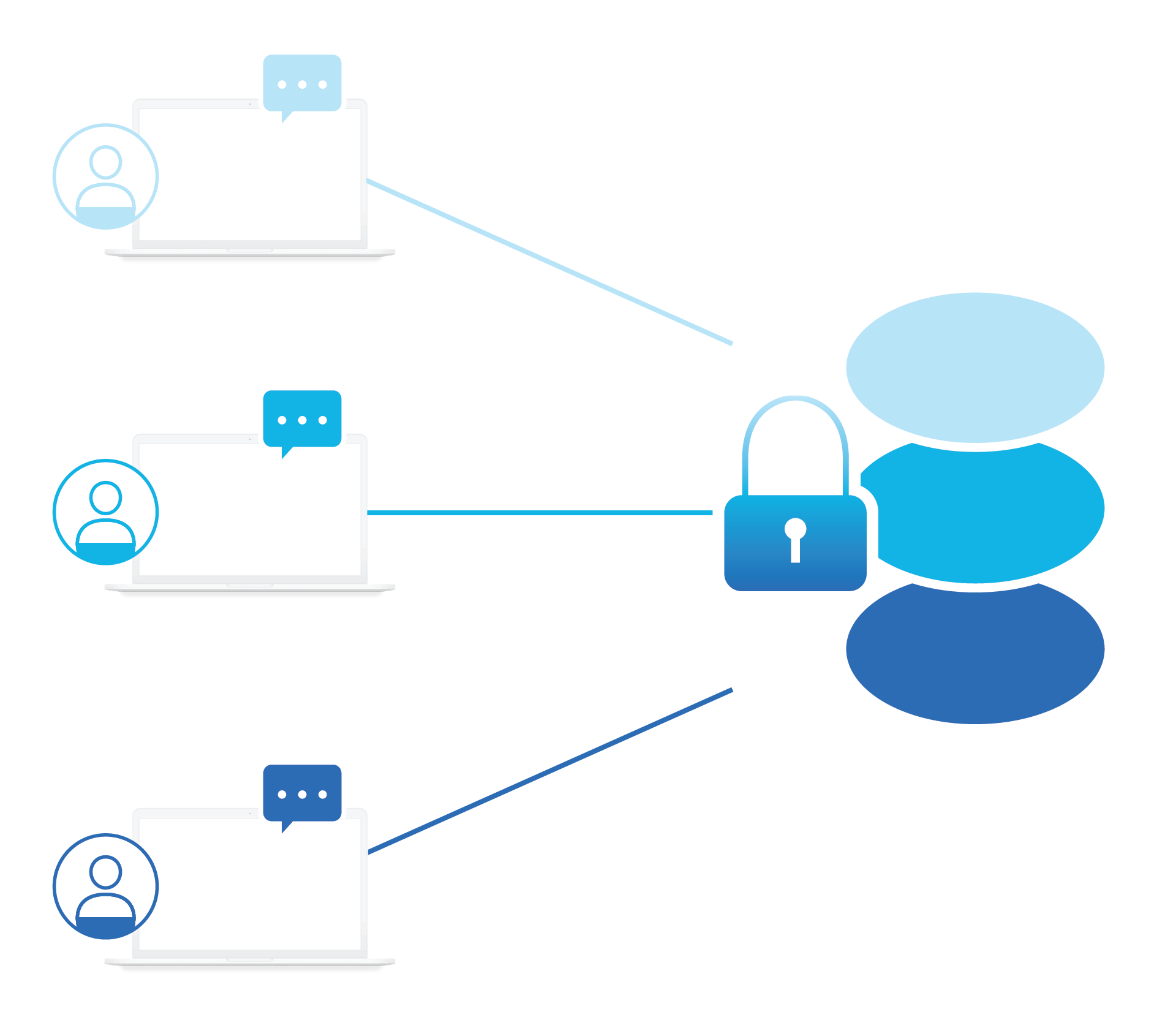 Complete reporting API specs and documentation are available here.
Unlock Endless Possibilities with Kochava Query
Kochava Query* provides a structured query language (SQL) prompt interface that empowers marketers to dive into their data with unprecedented flexibility and granularity.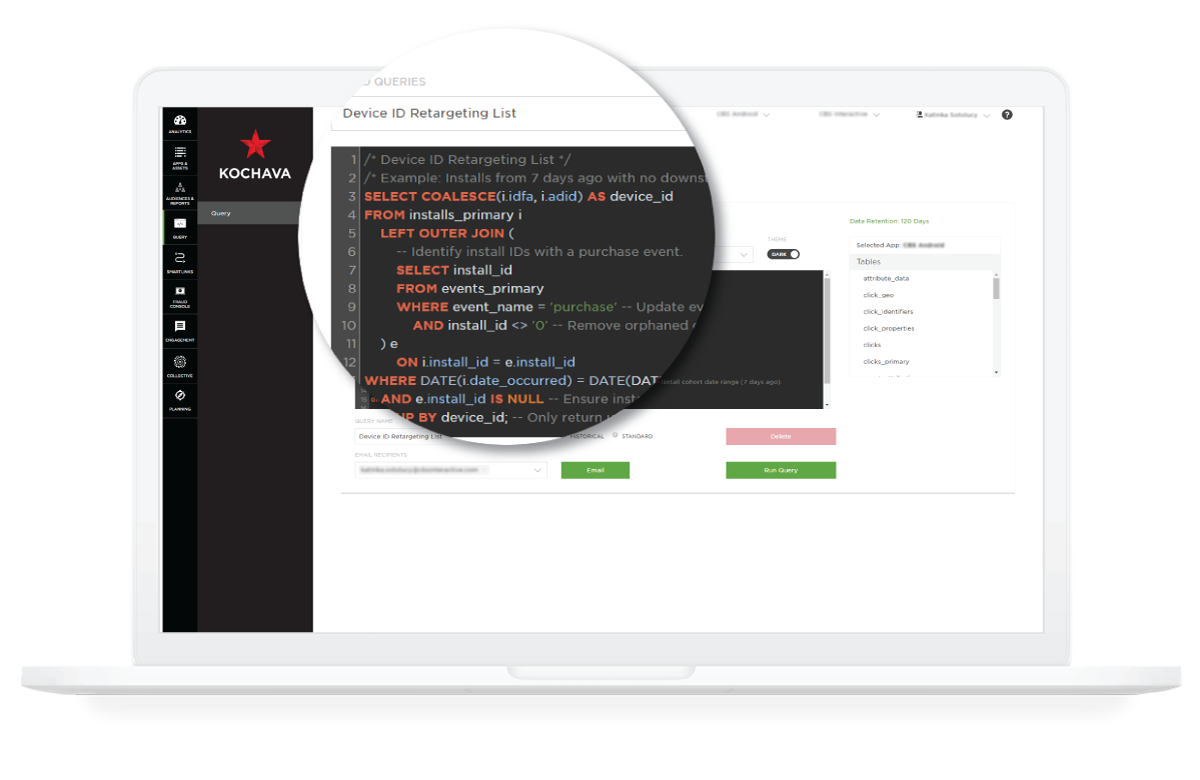 Collide, join, and cohort attributes across a robust data table structure.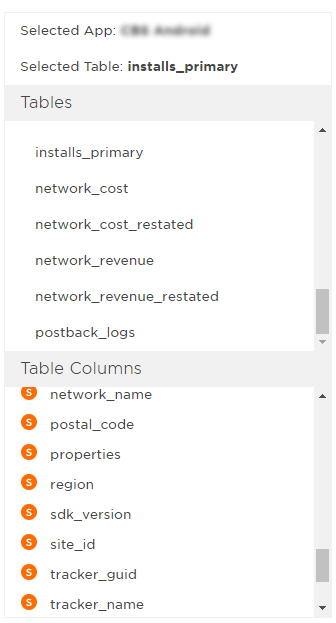 Build custom reports to fit any need or use case. Not familiar with SQL? No problem. Our dedicated Client Success Managers are SQL experts and can help you sculpt the perfect report for you. Full support documentation on Kochava Query available here.
Quarter-over-Quarter (Q/Q) and/or Year-over-Year (Y/Y) insights can be vital for brands—especially those with user engagement that's heavily seasonal or tied to a series of major events spread across the year. In serving enterprise brands, Kochava recognizes the value of long-term data retention and offers flexibility in data storage and ready-access to both row-level and summary data.
Learn how Kochava Data Management solutions can help you Harness Your Data for Growth.