The Kochava Collective is the world's largest independent mobile data marketplace offering precise audience targeting capabilities across all major platforms, networks and DSPs. It has more than 1.8 billion unique device profiles, with millions added daily. While Kochava platform customers have the advantage of a smooth, intuitive integration with the Collective, anyone can access the Kochava Collective to build custom audiences or generate lookalike audiences.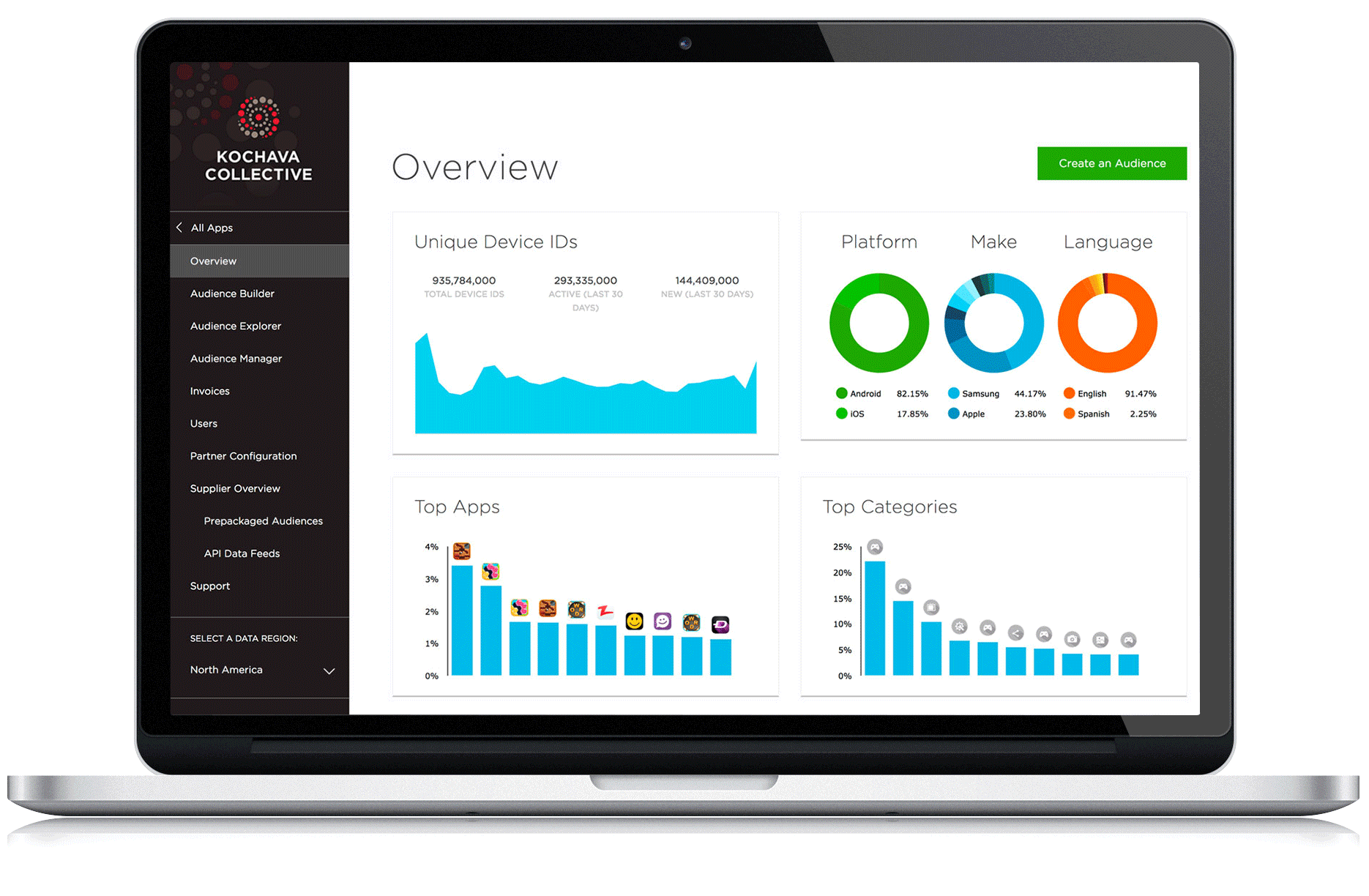 How it Works
Kochava amasses the data available in the Kochava Collective from four different types of sources: first-party data collected from the Kochava Free App Analytics SDK which touches over 1 billion devices globally, integrated mobile media networks, direct app and game publishing partners and other third-party data providers who are able to provide unique enrichment to the data-set. The Kochava Collective is entirely separate from the Unified Audience Platform where enterprise customers measure their campaign activity. Kochava does not share or license the data of their enterprise customers.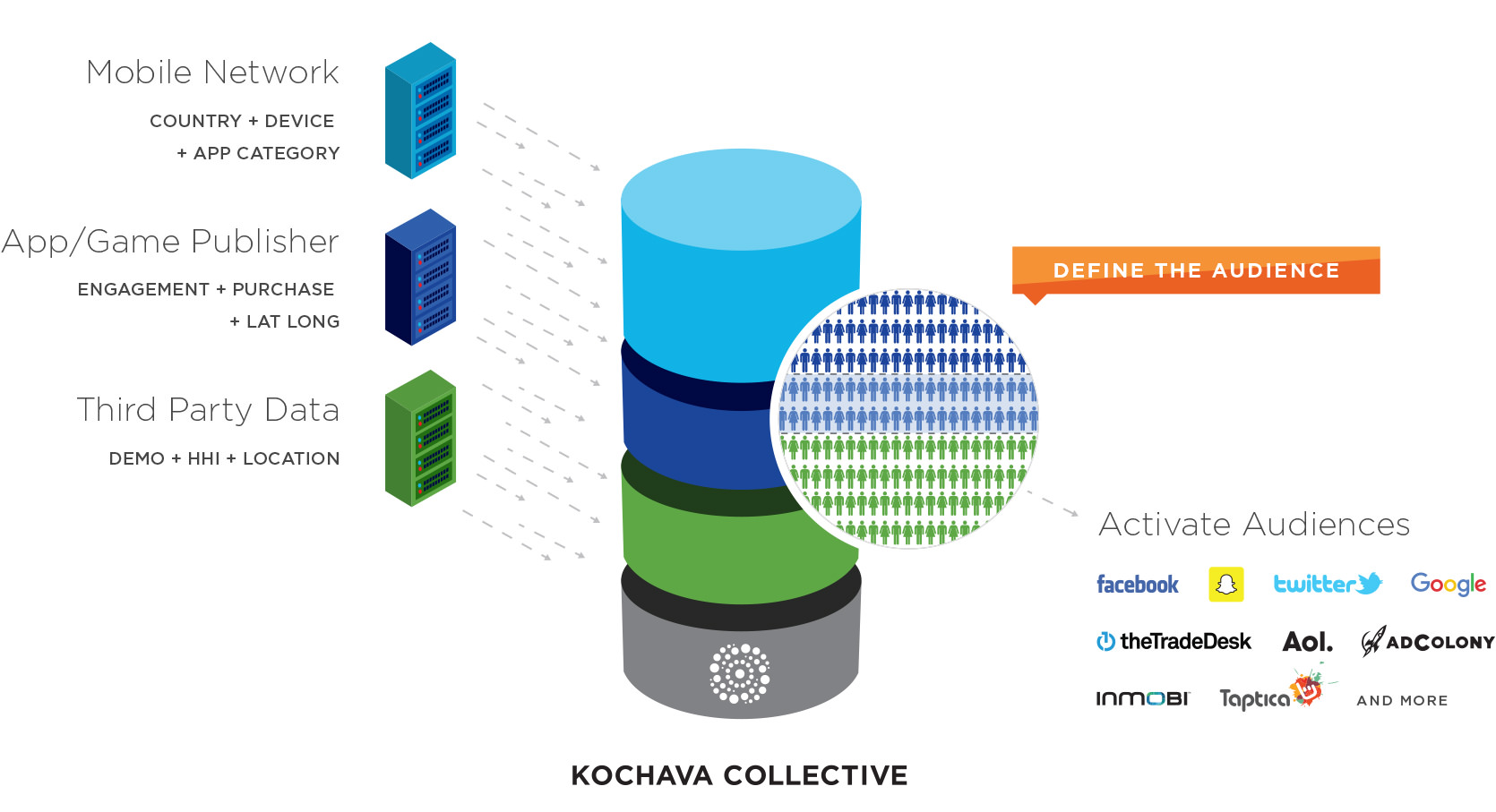 How it Works
Use the links below to navigate to the top audiences within the Kochava Collective.
Take the next step!
Want to explore the multitude of rich audiences available in the Kochava Collective? Contact us for more info!
Learn More
Simplifying Audience Creation
With the Kochava Collective self-serve user interface it is easier than ever to build, manage, and activate your audiences. The Kochava Collective simplifies audience creation through its Audience Explorer, Audience Builder, and Audience Manager tools where marketers can browse the most popular pre-packaged segments, create custom audiences based on a host of data elements and build lookalikes from their own seed files.
Audience Explorer
Browse the most popular curated segments built by data experts and supply partners from within the Kochava Collective. Audiences are searchable by category, geo, and activation partners. As an admin or data supply partner, you can control the visibility of who can view these pre-built audiences to ensure your data is only being activated by the marketers of your choice.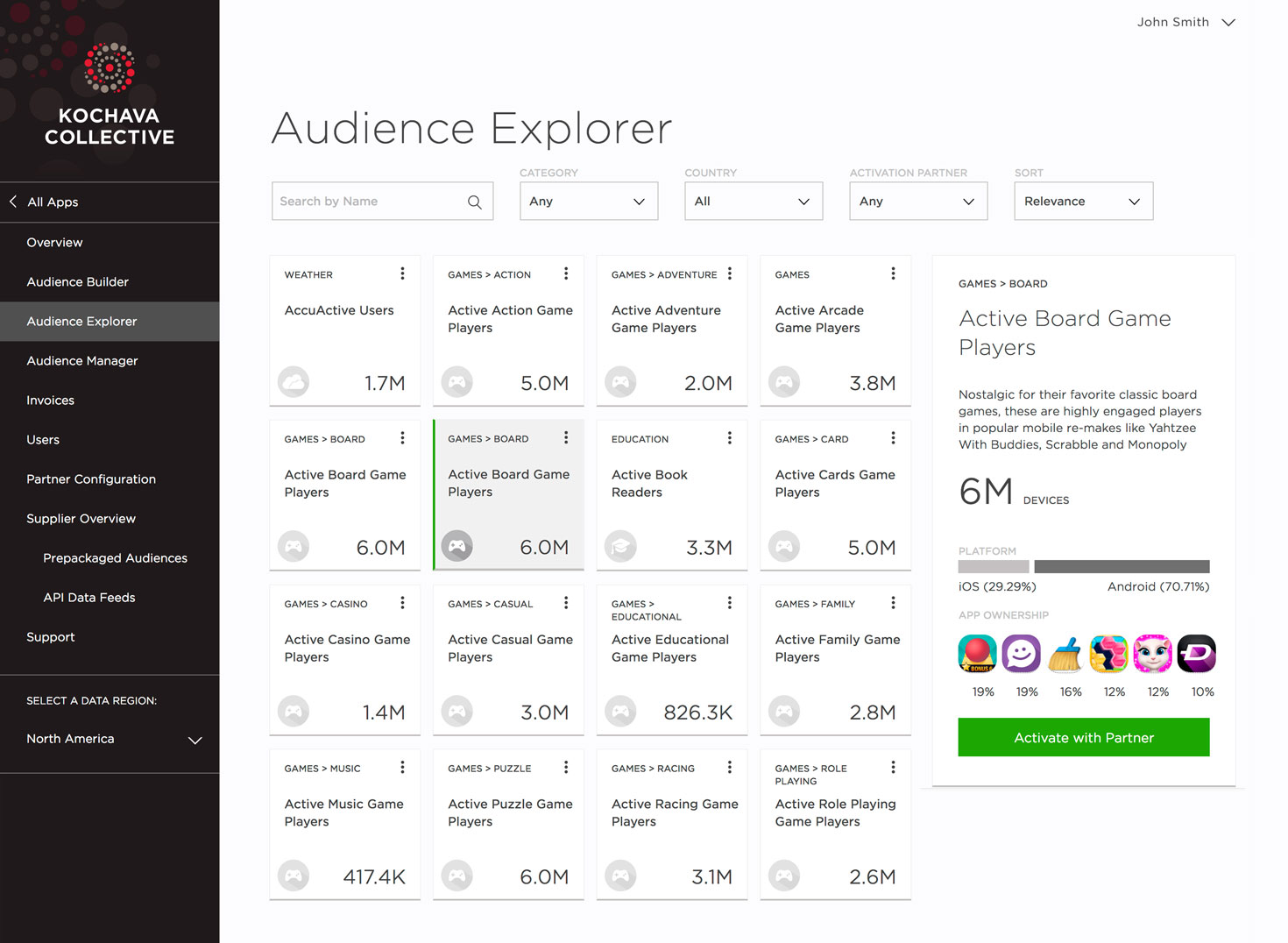 ---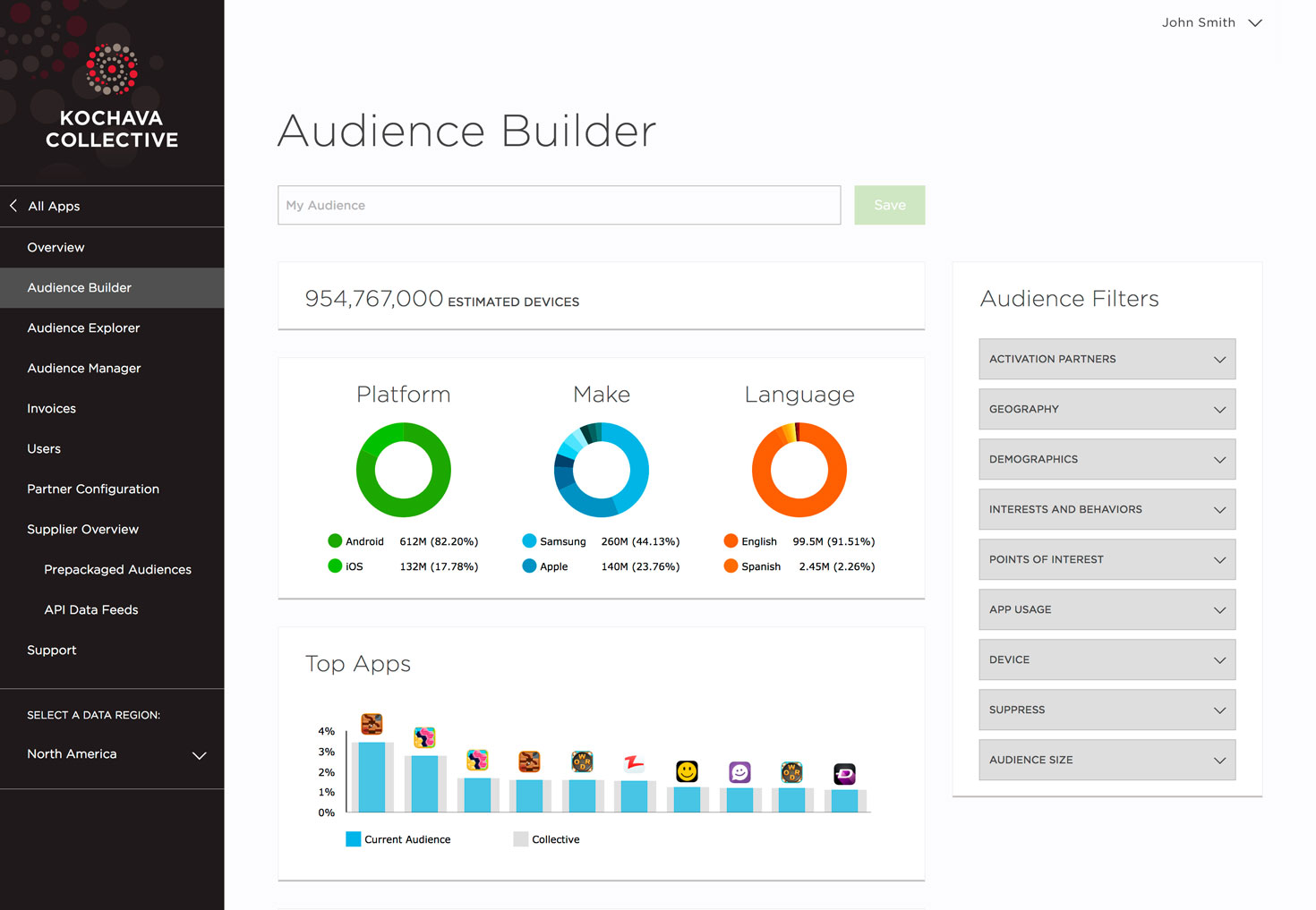 Audience Builder
Create custom audiences with our new self-serve user interface. The Audience Builder gives you the power to define target audiences with rich criteria, including recently visited locations, application usage, audience interest and device details. As you filter data, your estimated devices to target will be updated in real time, providing key attributes of that data to help inform your marketing decisions.
---
Audience Manager
Access all the audiences you have created in one simplified view. Manage custom built, pre-packaged, and imported first party data right from the Audience Manager. From here, activate your audience with a partner or generate lookalike audiences from your own seed files. Once you've applied filters and suppression data, the Kochava Collective algorithm takes all the matched devices to your criteria and finds the most similar devices to meet your target audience size, which can then be delivered to the media platform of your choosing for activation.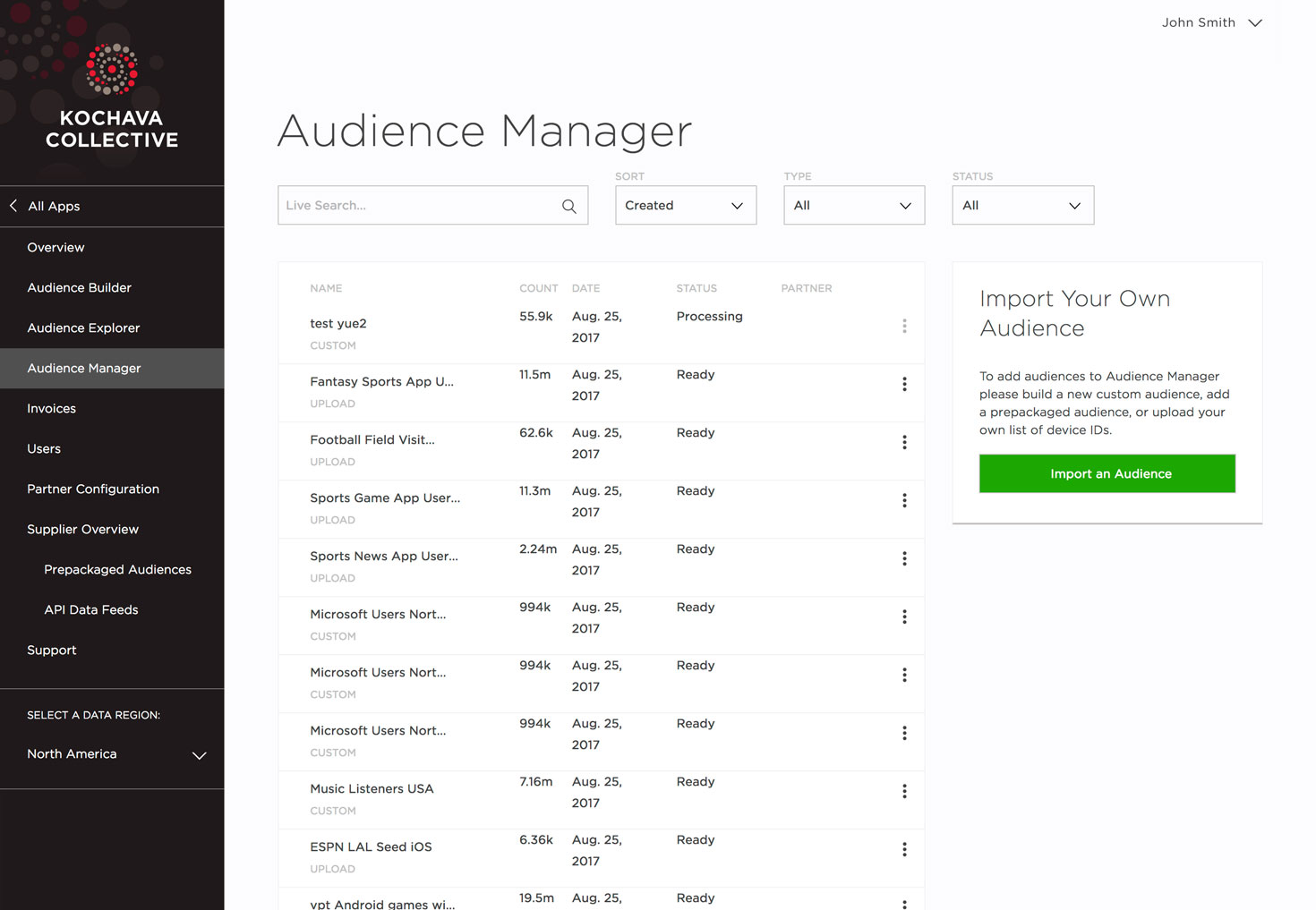 ---
A True Marketplace for Data Suppliers
The Kochava Collective enables data supply partners to monetize their inventory in a secure environment where they can control which advertisers have access to their data and the platforms where it can be activated on. The new Kochava Collective makes it easy and secure for data partners to upload pre-built segments or deliver their raw data via a real-time API feed or a daily S3 bulk uploader. All raw data submitted to the Collective gets vetted through Kochava's industry-leading fraud solutions and then mapped against key data sets to help match lat/longs to POIs, user agents to device details, app bundle ID's to app store names and categories and much more. This means that partners who make their data available in the Collective are able to not only monetize their segments, but also generate incremental revenue when their data elements are utilized for informing custom segment creation and lookalike modeled audiences. All delivered data is tracked in the data supply partner's Kochava Collective dashboard where they can check on the health of their data feeds at anytime.
---
A White-labeled DMP for All
A premier feature of the Kochava Collective is the ability for advertisers, agencies, publishers, SSP's, DSP's and networks to give their customers and partners access to a white-label version of the platform which can host their own unique data that has been enriched by the broader Kochava Collective data-set. This makes first-party data available privately where it can only be activated against a partner's own media inventory, resulting in a complete solution for any large scale mobile inventory owner or marketer who seeks to deliver a rich set of audience solutions for their digital advertising purposes.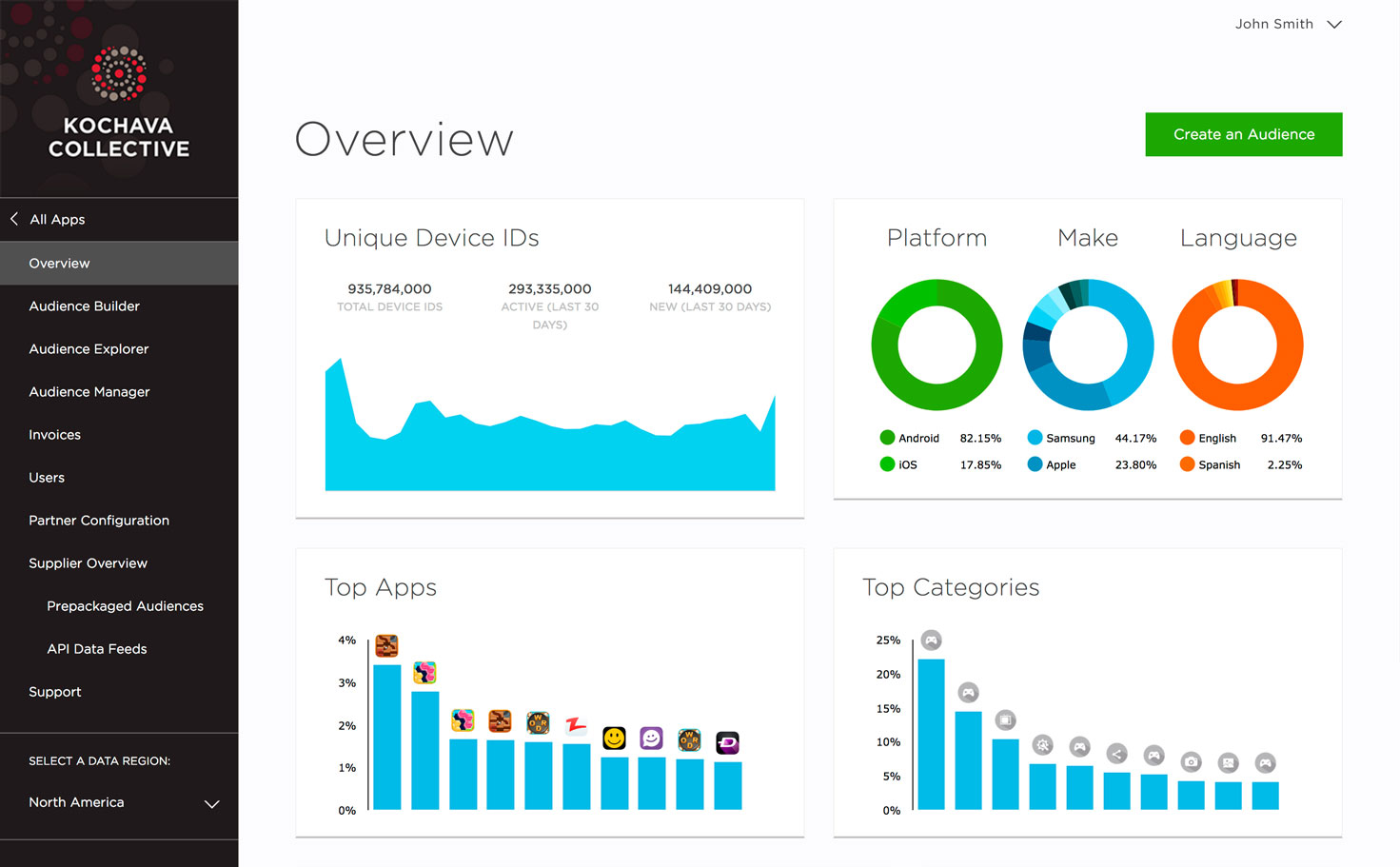 ---
Geographic Coverage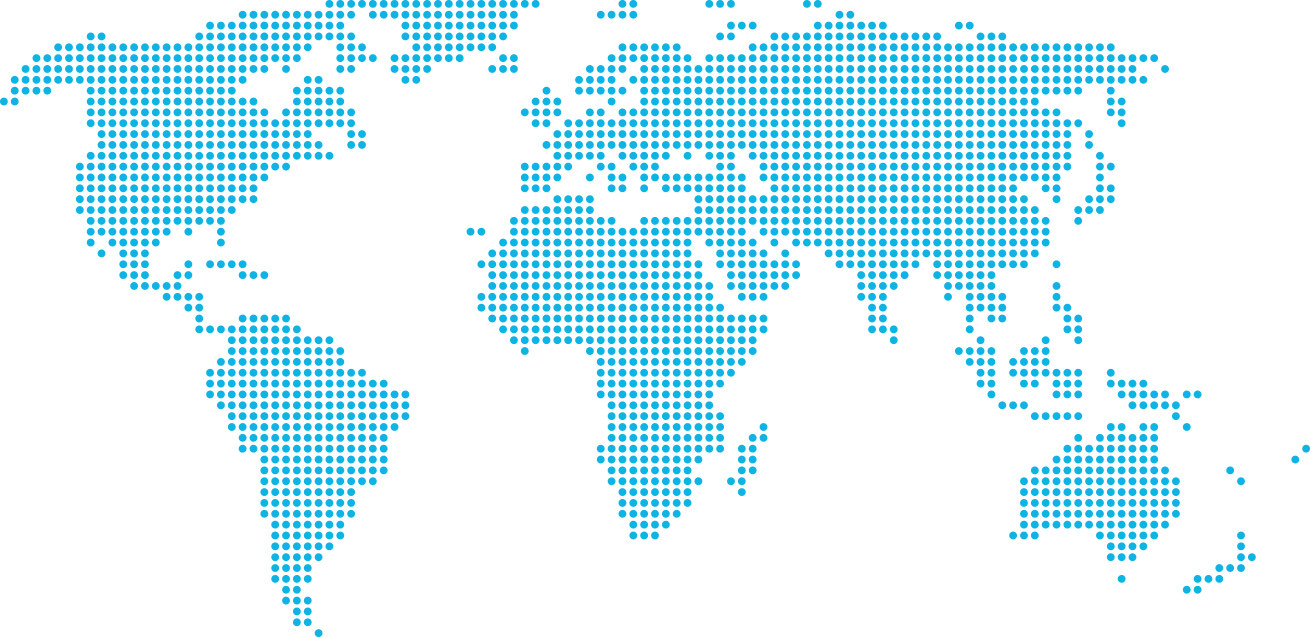 Platforms

iOS – 45%

Android – 55%
Device Types

Smartphone – 75%

Tablet – 25%
Audience Composition
The Kochava Collective touts rich user data types, including frequency and recency, location (from over 100 countries), time spent in-app and app affinity, among other key audience traits. Utilize our standard segments or craft custom audiences unique to your campaign goals from a nearly infinite number of unique attributes. Use these audiences for conquesting, retargeting or lookalike modeling. Access audiences on Facebook, Snap, Twitter, leading mobile networks and the top DSPs, including The Trade Desk, Oath and Google's DBM. Below is a sampling of some of our most popular audience categories:
Mobile Games
,
Music & Entertainment
,
Social Media, Communication & Dating
,
Travel & Weather
and
Lifestyle
.

Mobile Games
These users like a quick challenge that only takes moments to conquer. They are your puzzle solvers, memory masters, card sharks, or gamblers. Or, they're the culinary ninjas navigating through worlds of giant produce and desserts, cutting the rope, living in a virtual world. *The logos below are not representative of all the apps addressable in the segment.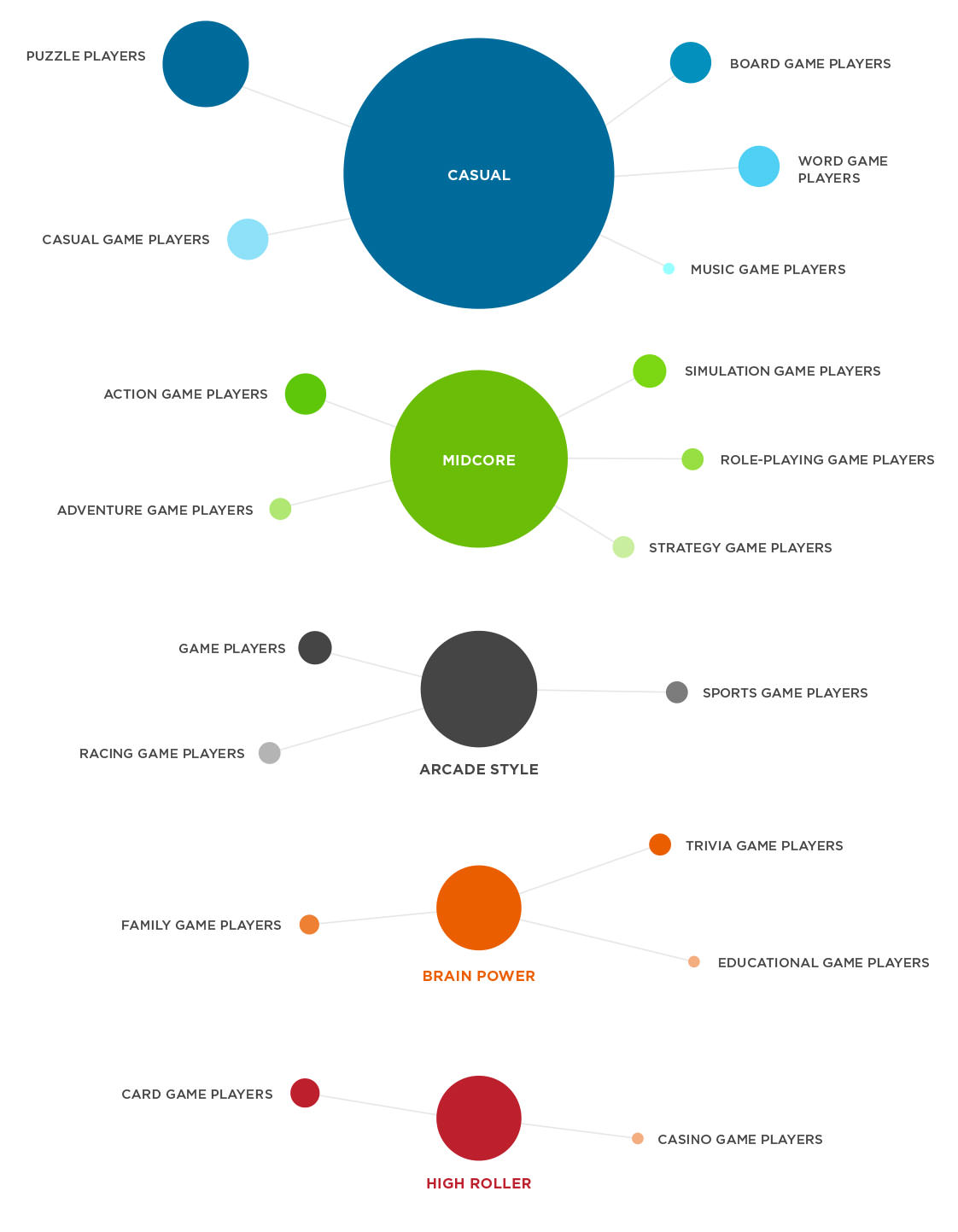 Music & Entertainment
The Kochava Collective Entertainment and Music audiences are a mix of TV show bingers, YouTubers indulging in comedy skits, users meditating and sharing with digital coloring pages, or using filter apps like "Crazy Helium Booth Voice." We've also got your music streamers listening to online radio or the ones streaming video. Entertainment also includes e-book readers, a large portion of whom are Bible readers. *The logos below are not representative of all the apps addressable in the segment.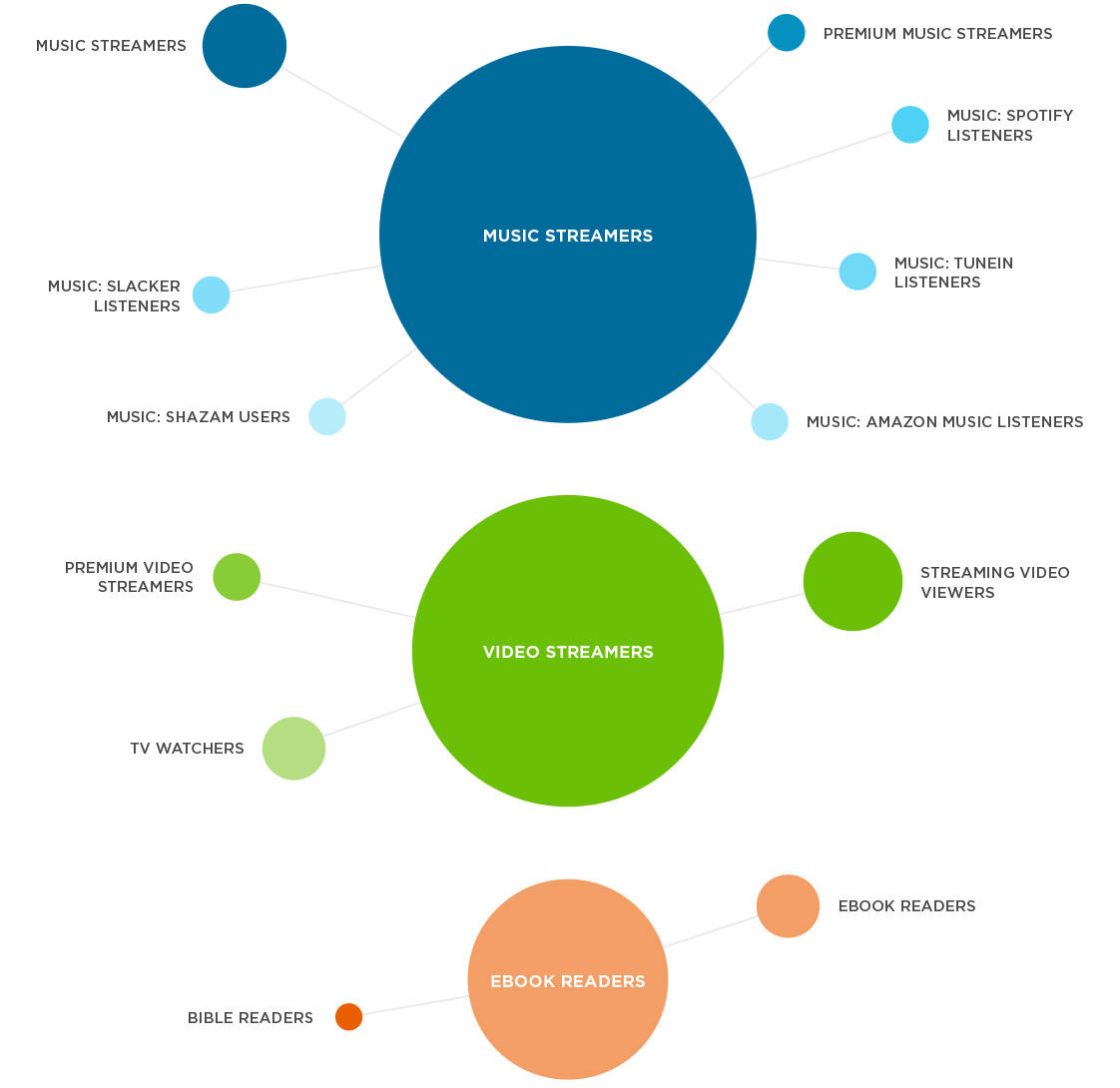 Social Media, Communication & Dating
We've got your Pinners looking for inspiration and your Facebookers griping about or supporting President Trump's Tweets. Then, we've got your instant messengers obsessively looking for that Trump Tweet! Other instant messengers include the Instagrammers posting their artisan cappuccino, or the Snapchat ones messaging their friends. This audience also includes users looking to meet significant others on straight or gay dating apps. *The logos below are not representative of all the apps addressable in the segment.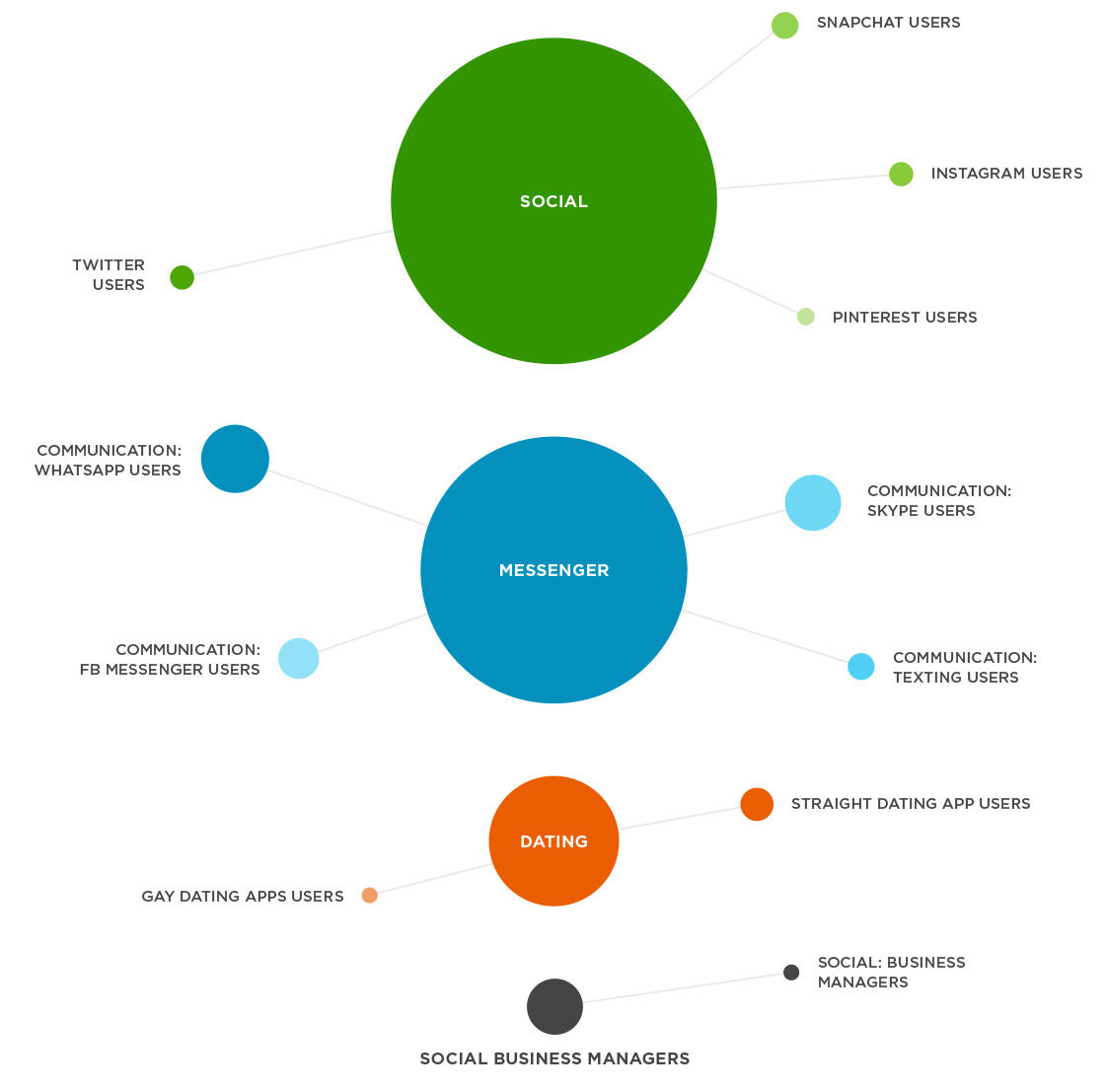 Travel & Weather
These users are on-the go—they're off on business or always planning a vacation in a new locale. These are your frequent travelers, the airline milers, hotel bookers and car renters, and they're searching for places to visit and eat while away. We also have users (and their locations) who frequently check their weather apps. *The logos below are not representative of all the apps addressable in the segment.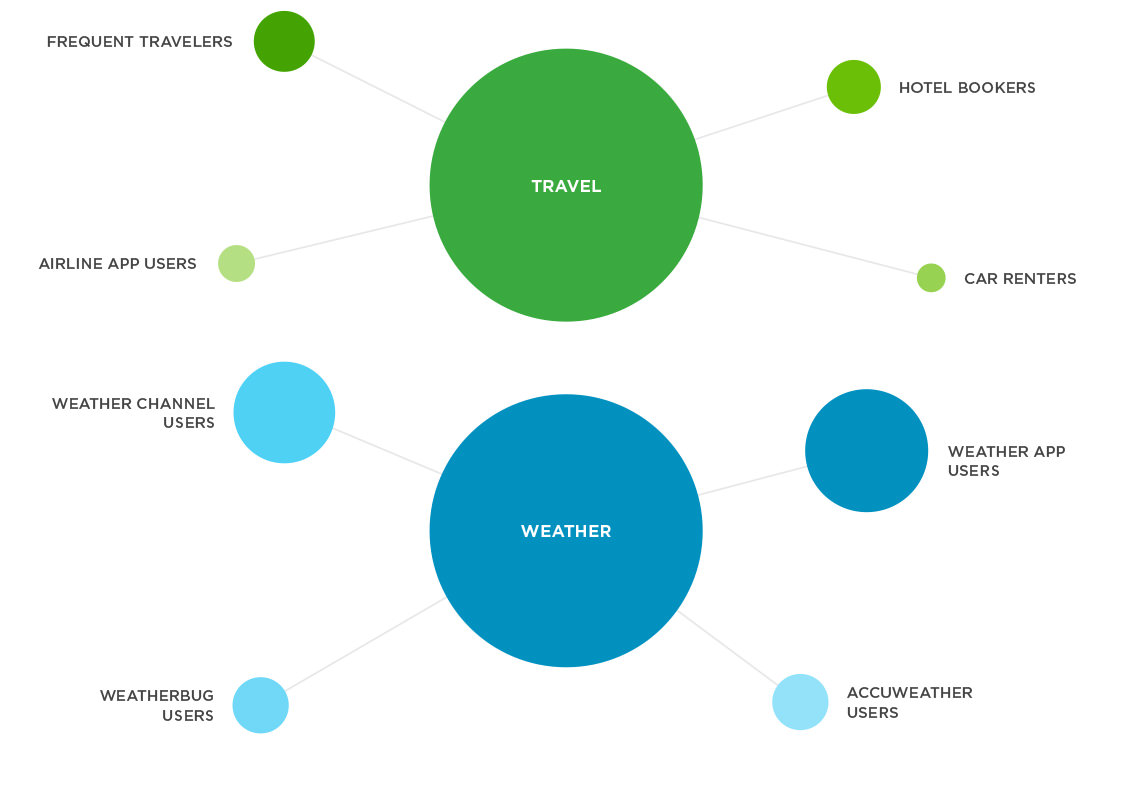 Lifestyle
Lifestyle audiences encompass users who frequent news, finance, and education apps and defines them based on their mobile activity. We have news readers with apps from all the major news sites plus numerous local stations from around the country. These users also regularly check finance apps for banking account balances, paying bills, or transferring funds on P2P payers like PayPal. *The logos below are not representative of all the apps addressable in the segment.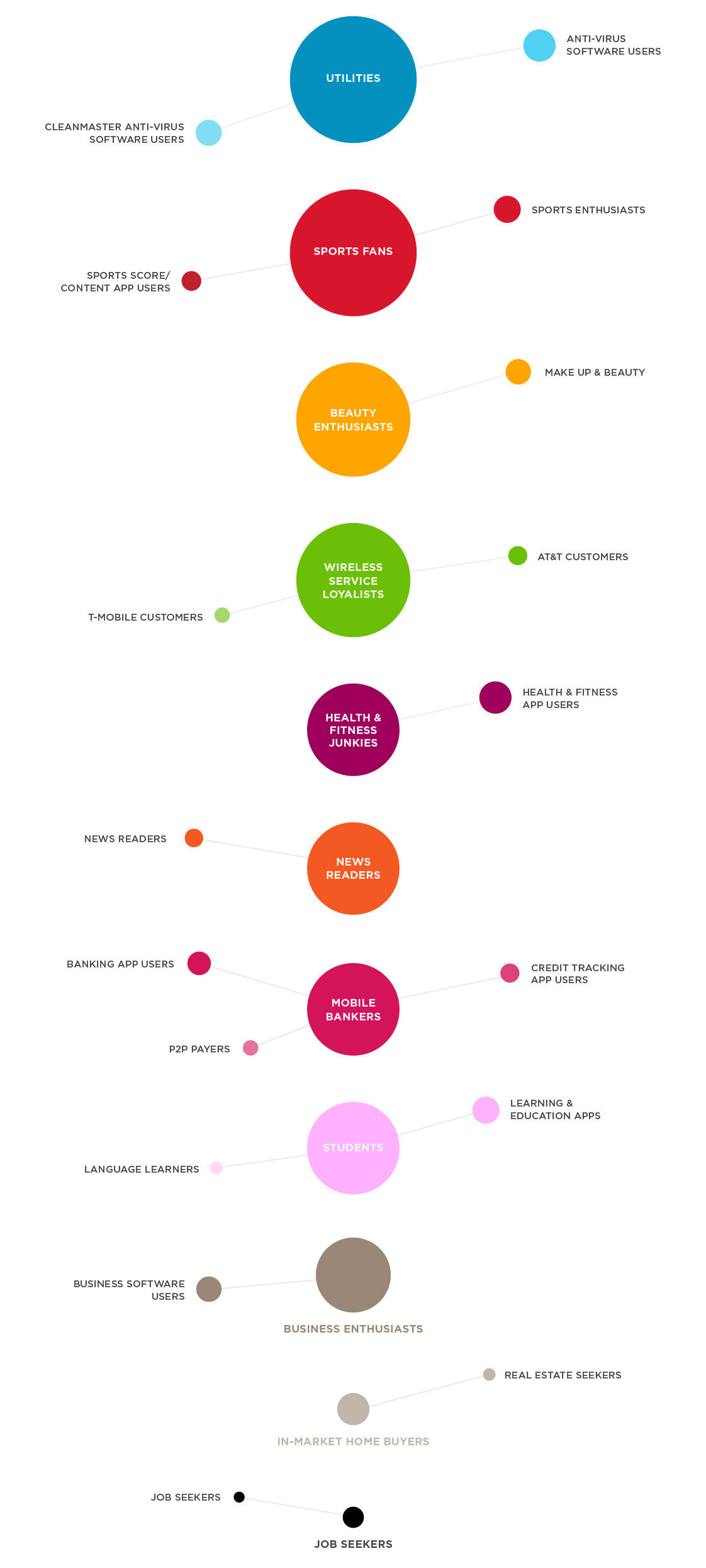 ---