Kochava Data Science analyzes your data for unusual patterns and determines norms to identify anomalous statistical outliers. By applying a combination of statistical methodologies and pattern-identification algorithms, the fraud detection process can isolate the following leading indicators of potential fraud:
Ad Fraud Estimated to Cost $13 Billion.
—Timothy Whitfield, Director of Technical Operations at GroupM
Fraud Monitoring
The Kochava Fraud monitoring tools have provided numerous advertisers substantial cost savings by identifying and mitigating potential sources of fraud. The typical identification volume range from 0.5% – 5.0% of Kochava customers total traffic. For example, if an advertiser's campaign cost them $100,000 and 0.5%-5.0% of clicks are fraudulent, the resulting cost savings could be $500-$5,000. The cost savings are substantial.
Fraud Indicators
Below is a table of different fraud indicators that we track along with example of the types of fraud it fights.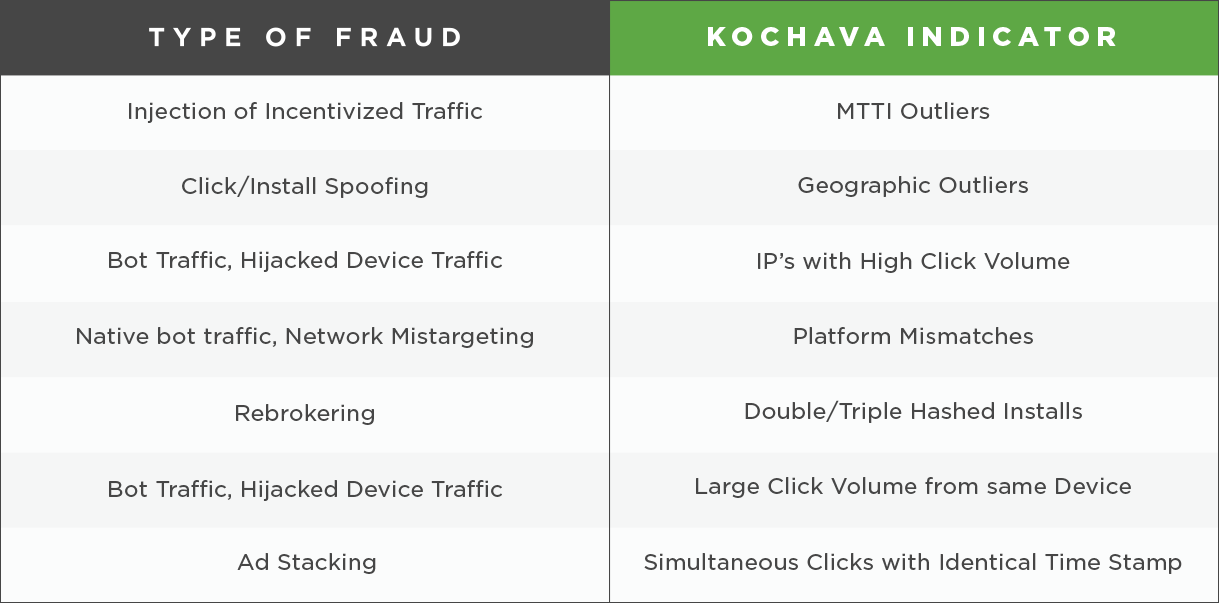 Ad Stacking
Recently we added new reporting to bring visibility to ad stacking. Ad stacking is a fraud technique where multiple ads are layered on top of each other in a single ad placement – with only the top ad being visible. If a user clicks on the visible ad, a click is registered for all ads in the stack.
Case Studies
Backflip Studios

The sophistication of Kochava's platform, including the ability to timestamp installs and segment by device, allows its customers to look for suspicious activity that might indicate fraud.

King says Backflip Studios has been able to "recoup a significant amount of money" by spotting irregular traffic patterns in short periods of time, or traffic patterns that seem unlikely based on the similarity of devices they originate from.
"Fraud is becoming more and more of a discussion point, where it used to be that very few of us were actively looking for that," King said. "The amount of validation you're able to do through Kochava makes the process of detecting fraud possible, whereas previously it was impossible."
Kixeye The detailed information made available through the Kochava platform has given KIXEYE more transparency with their ad network and media partners.
"The ability to have data down to the timestamp and source of each user helps us to identify potential data discrepancies which, over the course of a campaign, can really add up. For example, if we are buying ads across a large ad inventory and we find in the data that we are receiving ad installs from a geography that we do not serve or did not specify, we can go back to our ad network and have them issue a credit or make good and then blacklist those outlets to avoid them in the future," says Braatz. "With a neutral attribution partner like Kochava, it is easy to verify install claims made by ad networks to ensure that we are only paying for verified users."
To further combat fraud, when delving into the data and analyzing at the seller ID level, the KIXEYE user acquisition team can see if the installs they are receiving are legitimate or if they are incentivized or fraudulent.
"Typically if there is a large inconsistency between the number of installs and the expected in-game spend, then there has been some fraudulent activity," says Braatz. "Because we are actively consuming the Kochava data on a sub-hourly basis, we are able to quickly identify those issues and ensure that we adjust our campaigns and work with our ad networks to eliminate the risk of fraudulent activity moving forward."
Statistical Methodologies
Kochava uses a variety of statistical methodologies to identify potentially fraudulent activity. Mean-time-to-install (MTTI) & geographical analysis focuses on statistical outliers, which only encompass a small percentage of your overall data, to identify these potential issues.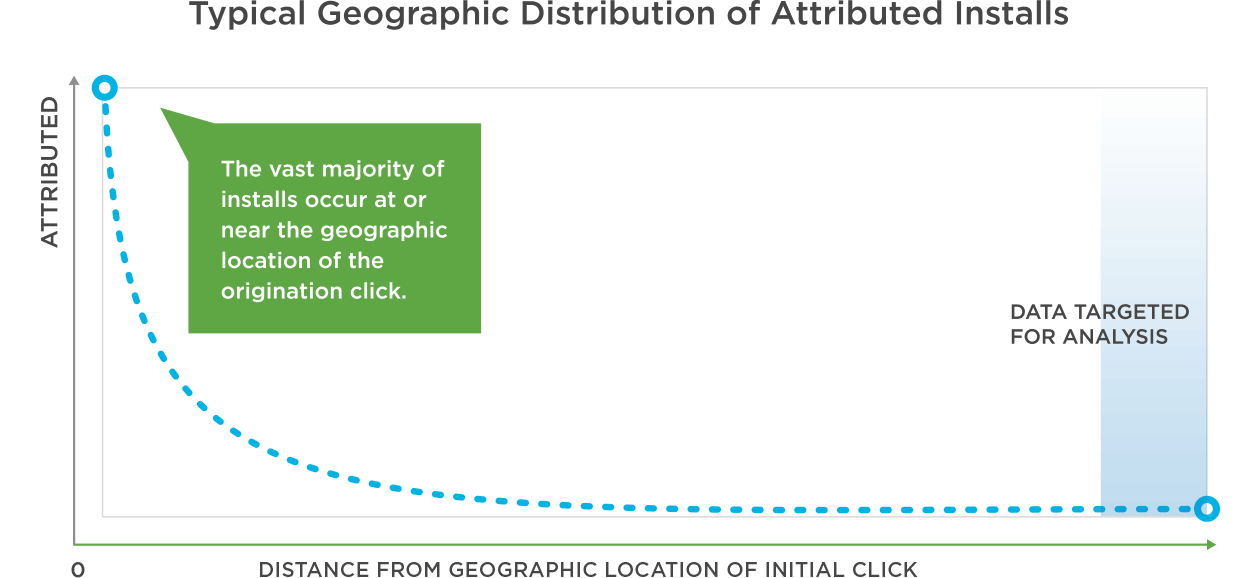 Mean-Time-to-Install (MTTI) Outliers
Mean time to install defines the time between click and install and varies by app and network. For example, mapping apps have a very low MTTI – users download when they need it. Games have a high MTTI – users tend to download with the intention of playing, but it can take days before they launch the app. Kochava Data Science calculates the average MTTI for an app on a given network in order to identify statistical outliers. Therefore a gaming app with large quantity of installs immediately following the clicks from a particular publisher source is identified as potential fraud.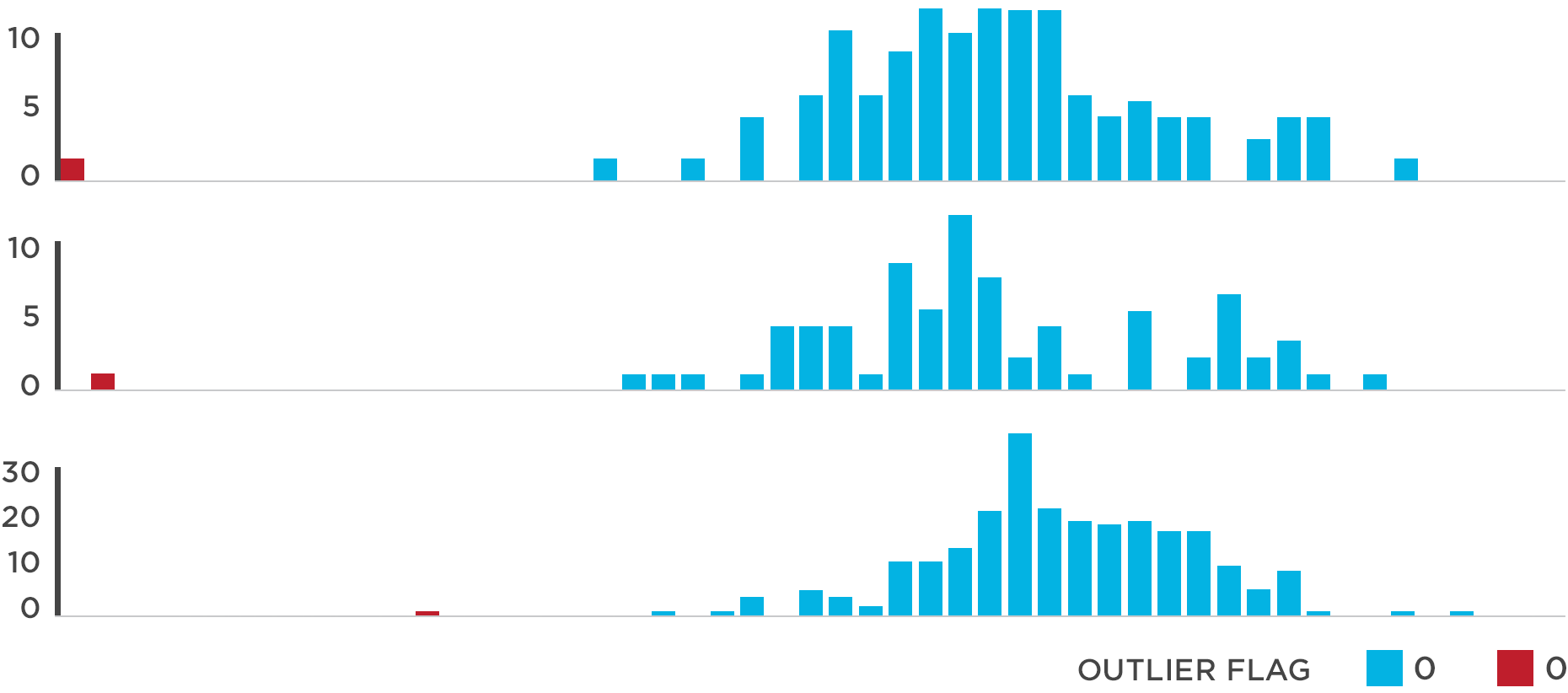 Geographic Delta Between Click & Install
The vast majority of installs happen within very close proximity to the attributed click. Kochava identifies statistically significant variances between the location of the click and that of the install. These variances may be leading indicators for inaccurate geo-targeting and fraud.

---
Pattern Identification
Patterns in data tell interesting stories. By establishing norms for a given app on a specific network, Kochava Data Science can then identify unusual patterns and potential fraudulent activity can be addressed.
Platform Mismatches
Kochava identifies fraudulent or mistargeted clicks by looking for instances where the platform captured does not match the platform of the advertised app. For example, if an ad is for an iOS app but the click is from an Android device. This may indicate that bot farms are generating fraudulent traffic. It may also indicate poorly targeted traffic.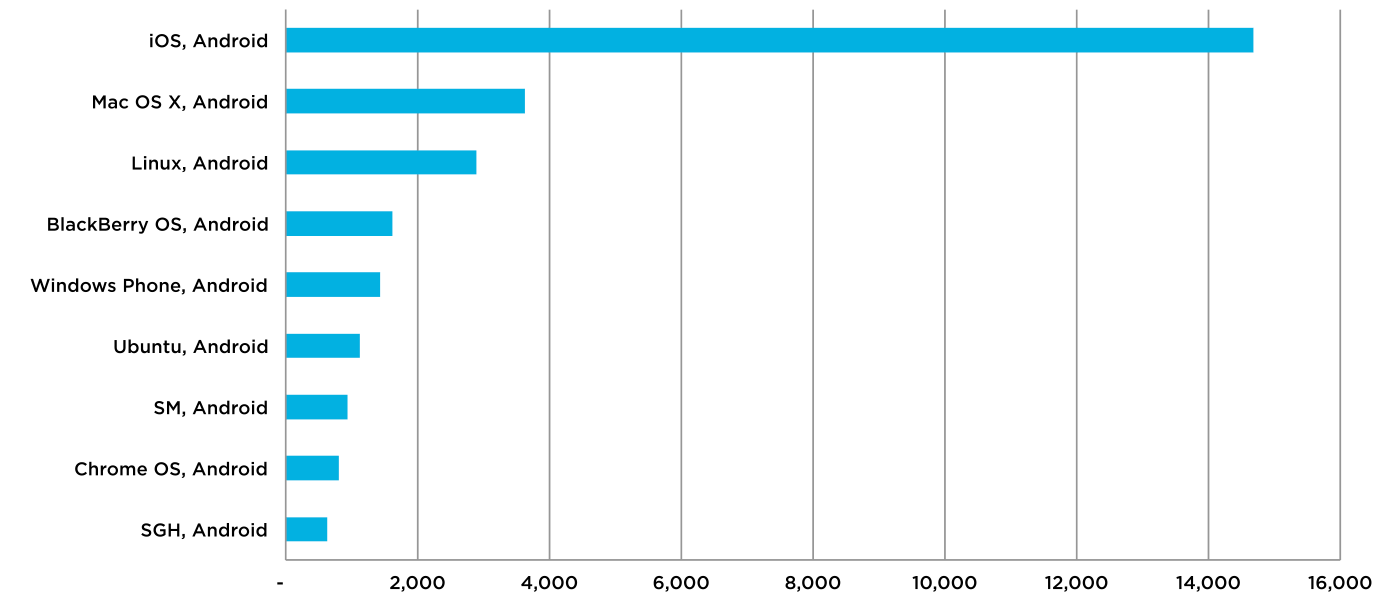 Large Click Volumes From the Same IP Address
By identifying large volumes of clicks originating from the same IP address, bot or click-farm traffic can be identified and abated. This can also be a leading indicator of issues with server-to-server click feeds. Either way, there is a problem to be solved.

Large Click Volumes From the Same Device ID
Large volumes of clicks originating from the same device identifier indicate major issues including bot or click-farm traffic, much like large click volumes from the same IP address. Kochava identifies these device IDs for abatement

---
Traffic Verifier
Kochava has an easy-to-use yet sophisticated toolset for ensuring that only qualified traffic ever makes it through the flow from impression to install. With the Kochava Traffic Verifier, advertisers have a fraud abatement tool where they define specific criteria for campaign traffic and have a real-time feedback mechanism to understand the efficacy of their targeting based on traffic goals. The advertiser controls whether the unverified traffic should be considered for attribution, delivered as a postback, and whether to append additional meta data that explains what traffic rule was violated.
Learn More
---
Get Started Today!