Kochava Cost Aggregation
Bring your omni-channel media spend into focus with the next generation of Kochava Cost. Know where your ad dollars are working and maximize return on ad spend (ROAS) with robust cost data aggregator tools and ETL support.
Meet the Next Generation of Kochava Cost Aggregation Tools!
Whether you're new to Kochava or if you have used the first generation of Kochava Cost before, we're excited to show you what's new.
Brand new partner integrations for superior accuracy
Re-imagined analytics and reports to explore your cost data aggregation your way
Streamlined cost configuration and management
Quick access to turnkey metrics and simplified restated cost
Ditch the Spreadsheet Olympics and Dashboard Hopping
If you're running with multiple ad networks keeping all of your data straight can get complicated. Simplify your data collection by consolidating cost information across all media partners in one dashboard for a clear view into which campaigns yield the highest ROAS. More easily extract, transform, and load (ETL) your cost data where and when you need it.

Easily configure your preferred partners
in one dashboard
Get built-in support for both API integration
and file import for non-API partners
Stay alert with proactive integration monitoring for expired credentials, endpoint errors and more
Streamline Your ROAS Equation
Return on ad spend (ROAS) measures the effectiveness of digital ad campaigns and determines what advertising methods are working to help marketers improve future campaigns. Achieve a more accurate ROAS equation to drive better optimization decisions by connecting the dots of your ad spend data with full-funnel Kochava measurement, revenue, and lifetime value (LTV) data.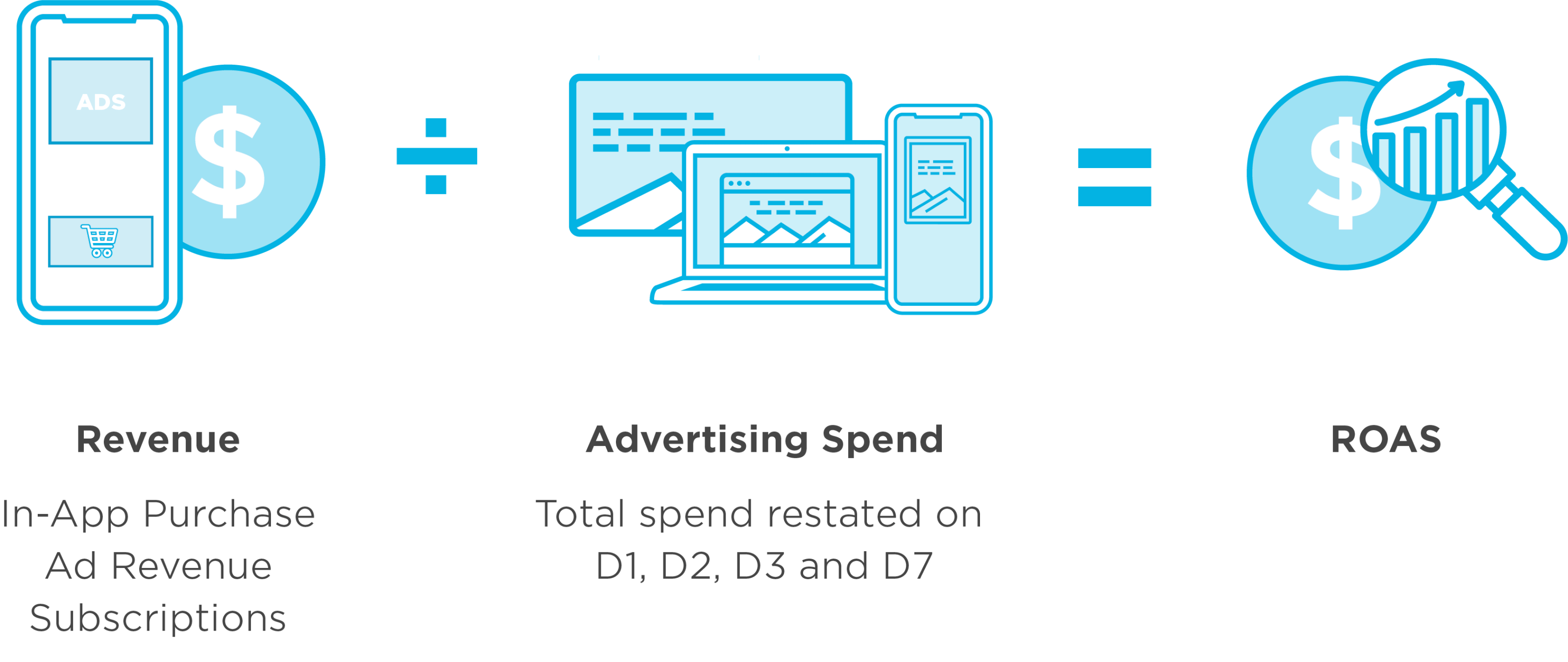 Analyze Your Cost Data Your Way
The Kochava platform offers detailed analytics on your cost data with daily spend reports across all of your network partners. Easily extract, transform, and load (ETL) your cost data to your own data warehouses, business intelligence platform, or other internal systems.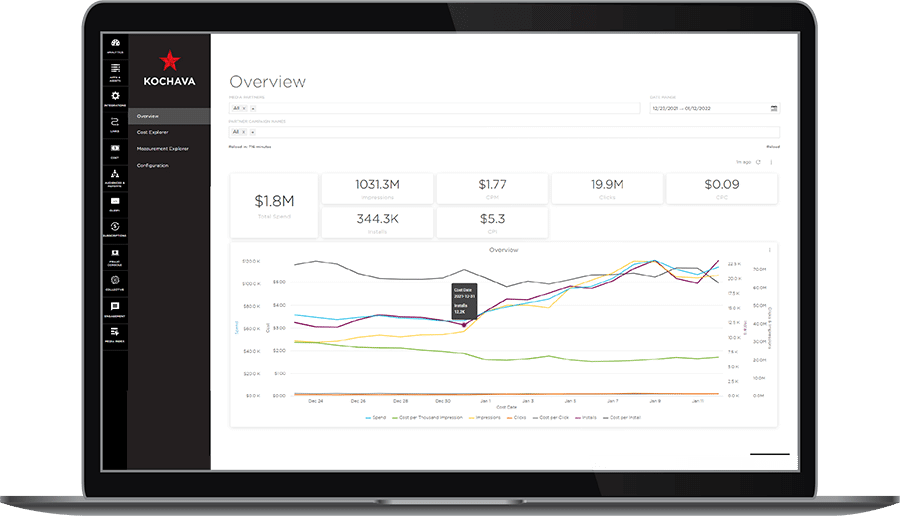 Quickly access high-level spend metrics filtered to specific media partners and apps in your portfolio.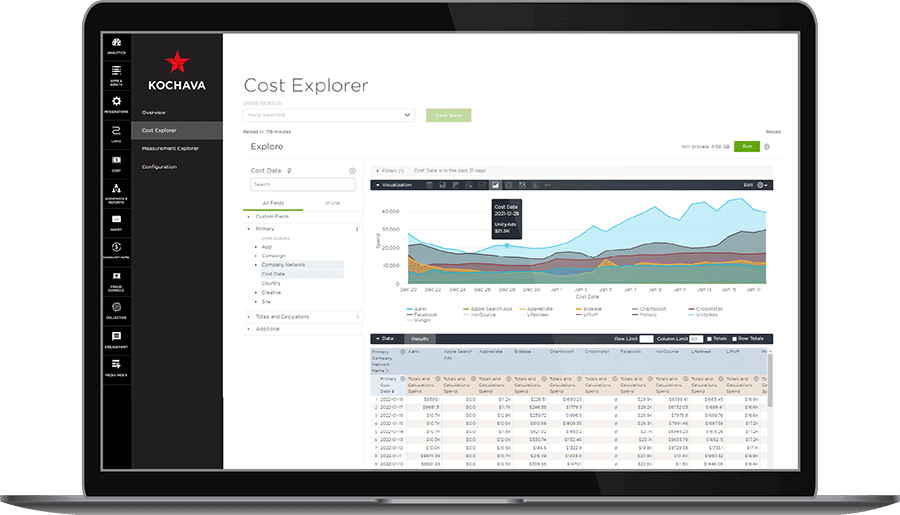 Slice-n-dice your spend in granular detail by partner, country, app, campaign, site, creative, keyword, and more.
"Having this actionable intelligence supported by a multitude of data sets in a single platform lets Kochava customers make truly informed real-time decisions to help them win in mobile."
Charles Manning, Kochava CEO
Additional Kochava Cost Features
SKAdNetwork Support
Bridge your cost and SKAdNetwork data for iOS acquisition efforts.
Restated Cost
Get unprecedented accuracy with updated cost pulls at D1, D2, D3 & D7
Reporting API
Programmatically pull your cost data at scale with our reporting API.
Integration Support for Leading Media Partners

Measuring Your Cost Shouldn't be Costly
Stop overpaying for standalone cost-aggregation solutions. Bundle your cost aggregation with your mobile measurement for better savings and seamless interoperability.
Start Maximizing Your ROAS with Kochava Cost