In the world of mobile marketing, acquiring new users is only half of the battle. Keeping those you do find is what determines the survival and longevity of your brand. At a time when retention trends indicate that most apps lose upwards of 77% of new users within three days of install and 90% by 30 days out. The question becomes: How can you defy the norm? Using the tools in our Kochava Engagement gives marketers that advantage and convenience of having advanced, automated tools in one location.
The launch of Engagement introduces in-app push messaging to the Kochava toolset. Now, you can send contextually relevant push messages directly from Kochava, based on the rich analytics data tracked from your app, all without having to download and reformat spreadsheets for use in a separate tool with disparate metrics.
Push notifications give marketers the ability to further engage users and attribute their owned media efforts. It has the advantage of a direct, app-related message to a qualified audience of users who have the app installed and have opted to receive push messages. With Engagement push notifications, marketers have the ability to send automated push campaigns based on user behavior. It is the first platform to connect attribution and measurement with automation.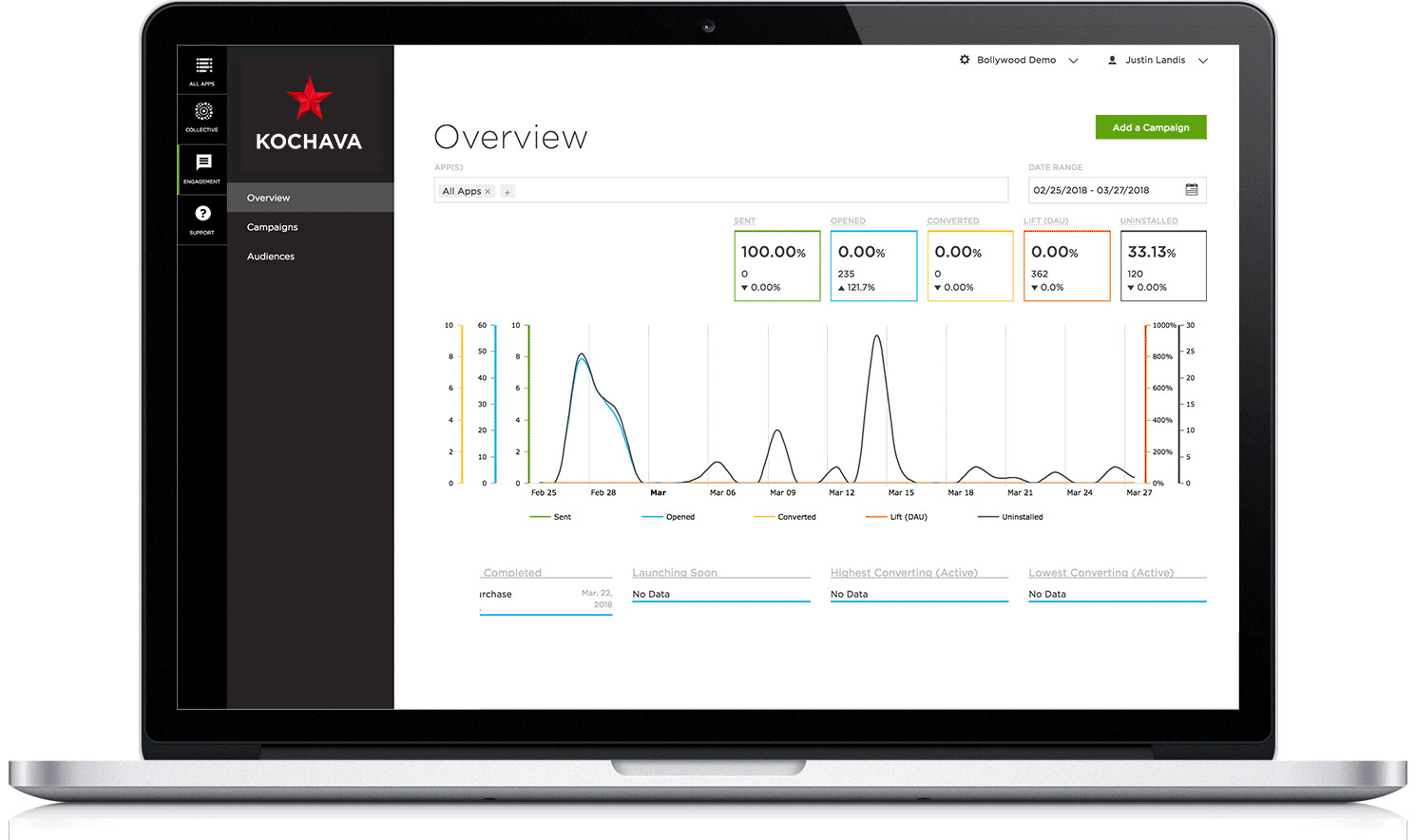 Fight brand overload and churn
Push messaging must be used strategically, with contextually relevant content and delivered with the right frequency. Given the parsed attention of the average user today, too much irrelevant content or poorly targeted push campaigns can result in users opting out of push messages from your app or worse, deleting your app entirely.
Engagement push notifications by Kochava makes it simple for app marketers to find the ideal audience timing, frequency, and messaging to maximize engagement and ultimately the lifetime value of your users by providing the right features to reach your users through contextual push messages based on in-app, behavior-driven triggers.
How Engagement Works
Engagement enables marketers to segment and define audiences by language, geo, device type and operating system. They can add the type of in-app behavior they like. For example, one streaming company targets users who have completed three free video views but whose subscription to the service has lapsed.
Marketers can leverage this audience data to create dynamic, contextual messaging; use multivariate testing to determine which messaging is most effective; anticipate and automatically react to leading indicators of churn; and visualize lift from these campaigns directly within the Analytics dashboard. Engagement also enables attribution of owned media, so marketers know whether a purchase came from their own push notification campaign or from a paid media source.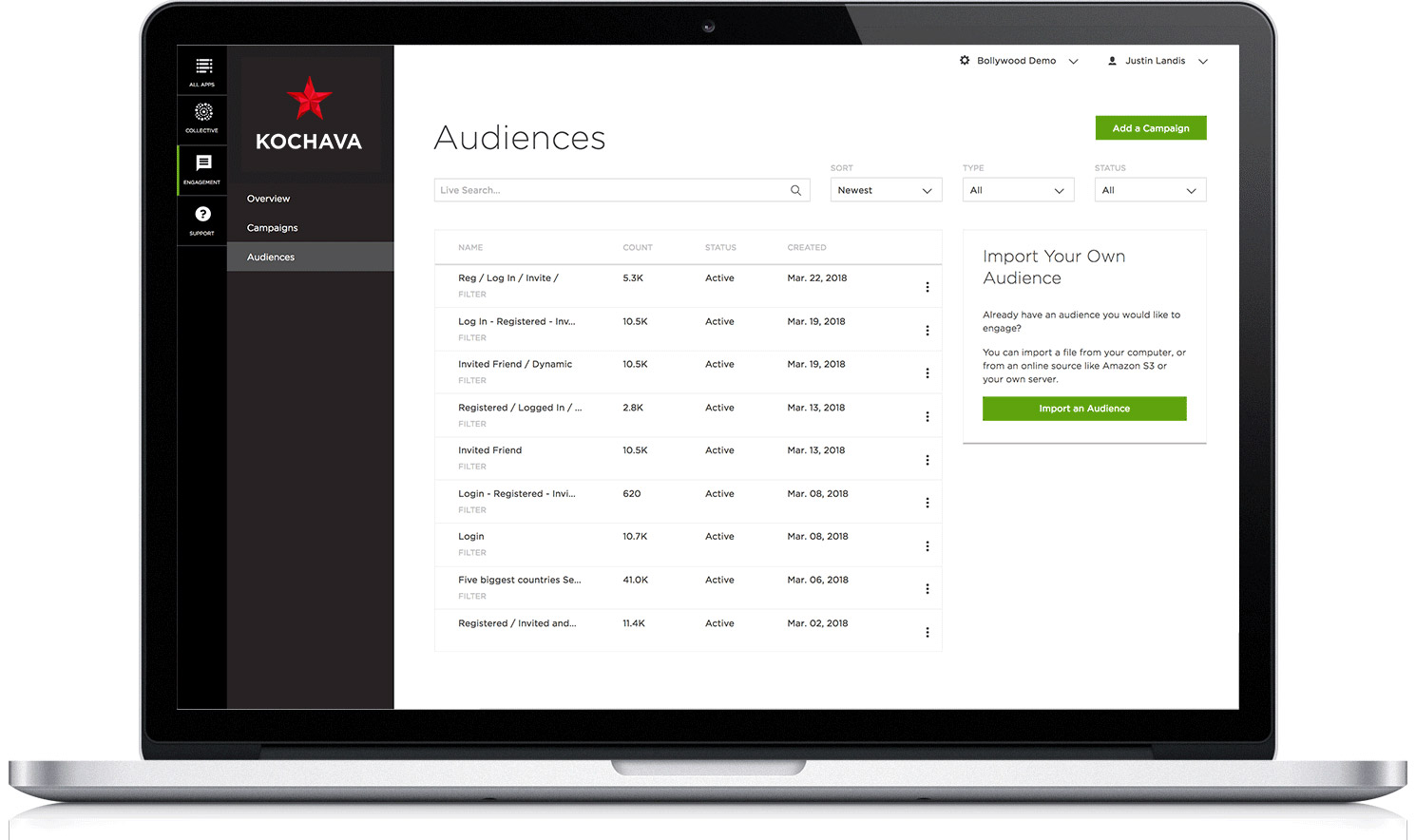 Push Notification Dashboard: Create Audiences
Create and save audiences within Analytics that have performed certain actions
Access audiences created in the Engagement push platform
Upload your own audience list
View campaign performance in Engagement or in Analytics

Push Segmentation: Audience options
Static: Users within a designated past time frame are targeted in a campaign
Dynamic: Users who have performed certain actions in the past, or perform them in the future, are added to a campaign
Trigger Events: Add any in-app dimension to your Audience, such as if they searched specific brand or added a specific product to the shopping cart, to trigger a notification
Event Funnels: Create Audiences from a sequential funnel of behavioral events using Boolean logic
Further define targeted users by:
Language
Geo (device location)
Device type & operating system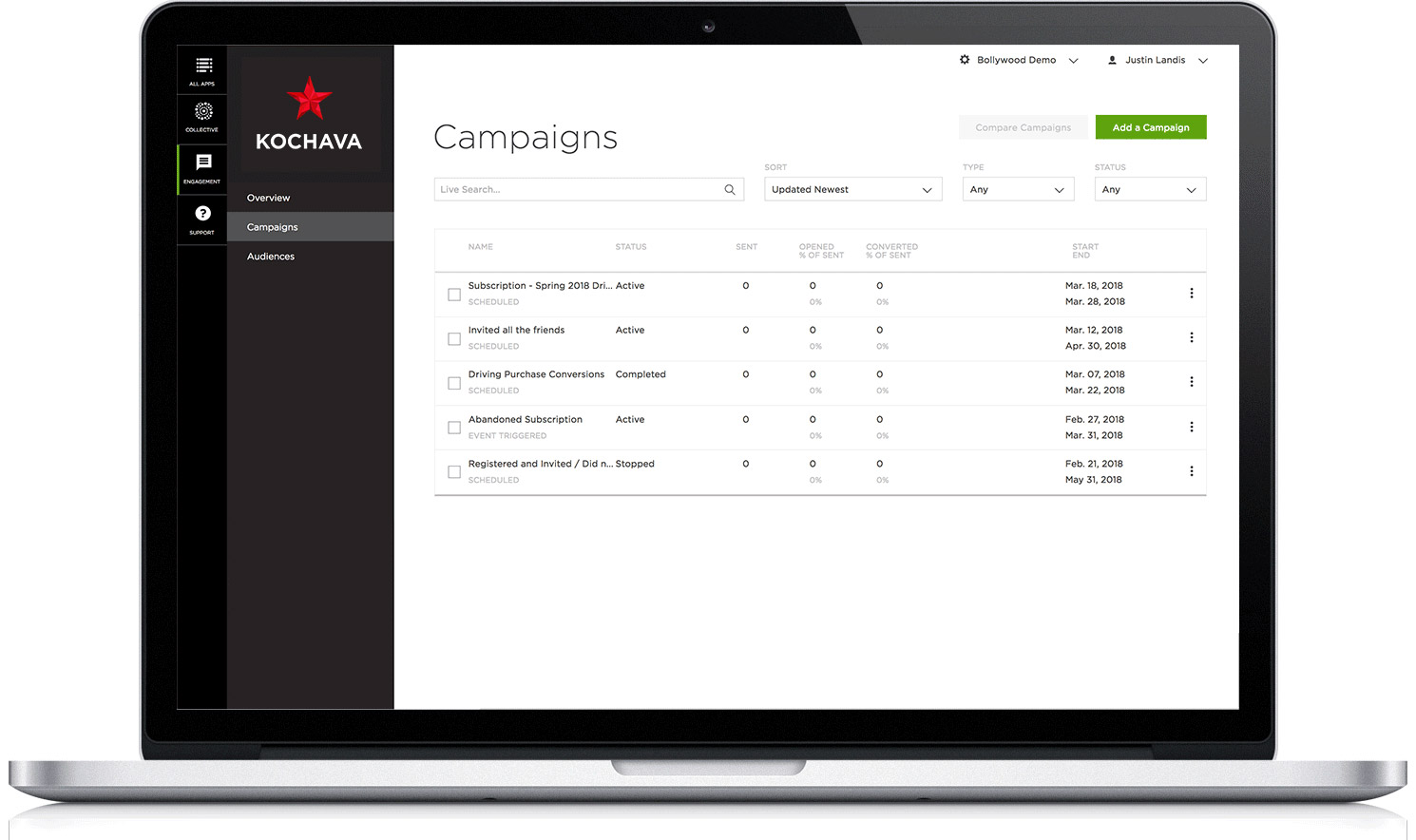 Create Campaigns
Push Multivariate Testing (A/B/n)
Marketers have several options to perform multivariate testing. They can manually decide how often different variations are used, or they can select one of the following types of auto-optimization:
Continuous: uses real-time feedback to adjust weighting of messaging based on engagement data
Progressive: adjusts weights after 48 hours then after 24 until one variant has been weighted to 100%
Full Redirect: picks a winner after 72 hours, giving one variant 100% weighting
The Kochava system automatically optimizes toward the most successful variant, freeing the marketer to a large range of potential messaging variations without worrying about manual optimization of the resulting data.
Analyze trends in uninstall behavior correlated across audiences, behavioral events, messages, and campaigns.
Send messages within a specified timeframe (e.g., 10 minutes, daily, weekly, etc)
Send messages based on the timezone selected on the device
Send messages at a specific time in the future
Use the calendar functionality to define a recurring schedule of push notifications for a given target audience
Example: Every Monday morning at 7 a.m. local time, send a list of all notable events for the week on the user's calendar
Push notifications: Event Triggered
Send messages to users as they complete a specified action (e.g., game level completed or purchase event)
Deep Linking
Deep link your user into any area within your app to drive conversions
Attribute Conversions on Push Open
Prove the user engagement you're driving through push messaging campaigns
---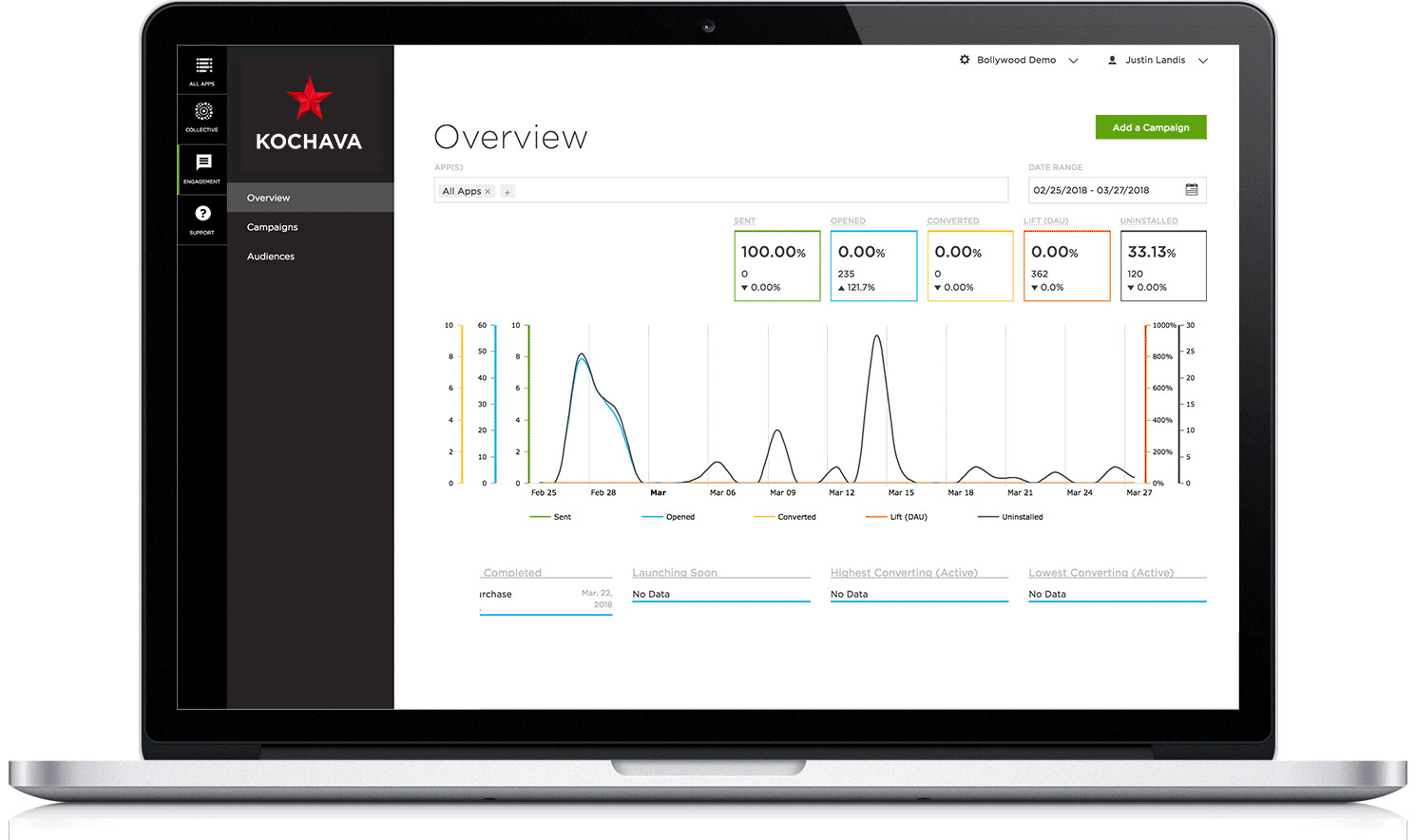 Analyze Metrics
Visualize key data bout your push campaigns:
Sent (successful/failed)
Opens/Conversions
Lift (DAU): Compare targeted audience versus holdout audience
Uninstall Rate
Compare push campaigns against other marketing efforts, within Analytics dashboard
---
Send the best message to users at the right time with Engagement. Multivariate test, create audiences within Analytics, segment based on rich user metrics, schedule and trigger messages, and track the effectiveness of your push campaigns, all within the Kochava platform.
To get started, contact your Client Success Manager or visit our support documentation.