What is App Monetization?
App Monetization | Definition
App monetization is the technique or collection of techniques used to generate revenue from an app such as in-app purchases, in-app ads, or subscriptions. Other strategies include subscription based models or requiring a one-time, upfront app purchase. App developers and marketers can utilize one or more techniques to monetize their app and increase app revenue.
Why is app monetization important?
App monetization is important because it allows apps to make money off of their users. Many apps are free to download so developers must find other ways to drive revenue from the app after it is downloaded. When coming up with an app monetization strategy it is important that these two things happen:
The app generates growing revenue

Users and the user experience stays intact
Both of these points are important to drive app growth, and the strategy/strategies used should interfere with the user's experience as little as possible.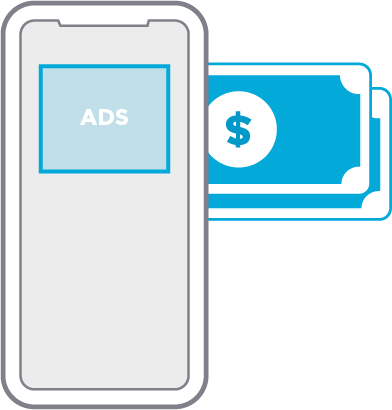 There are many different monetization models to choose from. Some apps utilize one strategy while others employ a variety of models. What model(s) you choose depends on the type of app you have.
Paid app model
Paid apps charge the user a one-time, upfront payment to download the app. Once the purchase is complete, the user can use the full functionality of the app, usually with no further payments necessary or the distraction of in-app advertisements. Paid apps tend to provide a better user experience by cutting out the distraction of in-app ads or pop-ups.
Free app with in-app purchase model
In-app purchases (IAP) are a popular way to monetize an app. They do not interfere with the user's experience and when purchased, could enhance the app experience. Most apps using this model are free to download. If more advanced features are wanted, the user can buy those features within the app. This model increases the upfront user base and hooks users with enticing features they can pay for. You can attract your users with purchases of:
Additional lives to extend their gameplay

Ability to download specific content

Filters, stickers, or special effects

Extra points or hints
However you approach in-app purchases, it's hard to go wrong. Measure what your users buy most and build promotions and specials around those features.
Free app with in-app ad model
In-app ads are an effective way to keep apps free for users while making money at the same time. In-app ads can come in many formats including:
Banner ads: These can be displayed at the top or bottom of the screen and only take a small amount of space so that the game can still be played while the ad is displayed. These ads usually have a small "x" that allows the user to clear the ad if clicked and will pop up at different times.

Interstitial ads: They are  full-screen ads that block out the app's other content for a select number of seconds. These can be a static image or a video and typically require the user to either click on a call to action (CTA) button that appears within the ad or exit out of the ad once the "x" button appears.

Video reward ads: Also called incentivized ads, a video ad can be played by the user in exchange for rewards such as additional lives, coins, or other incentives.

Interactive ads: The user engages with the content for a certain amount of time. These ads might require the user to play a small portion of the game (eg, shoot a ball in a hoop, launch an item, find the missing puzzle piece) in order for the user to click a CTA or exit out of the ad.

Intrinsic ads

: A newer and increasingly popular form of in-app advertising, these ads appear in real time within the app's environment. Typically this happens within gaming apps (eg, billboards on a street, signage on a building, or any other surface within a game). As the user plays the game, the ad appears without interruption.
The total revenue gained from in-app ads is based on the type of ad(s) displayed, the number of ads served, and the amount of clicks and conversions attributed to the ad.
Free/freemium app with subscription model
Subscriptions have become a common way to monetize apps. They allow the user to download the app for free. Upon downloading, the user typically gets a trial period in which they gain access to all of the app features  at no cost. Once the trial period is over (eg,  seven days or one month), the user can subscribe to the full app and all of its features. The user will then be charged on a monthly/annual basis for the app.
This strategy allows users to try the app before paying for it thus, lowering the barrier to entry and increasing app downloads. 
While each of these methods is effective individually, implementing a combination of these strategies can further strengthen your monetization plan and attract a much larger user base. At the same time, you don't want to overwhelm your users with too many distractions. Determine which methods work best together to achieve your monetization goals while providing your users with a game that they want to keep playing over and over again.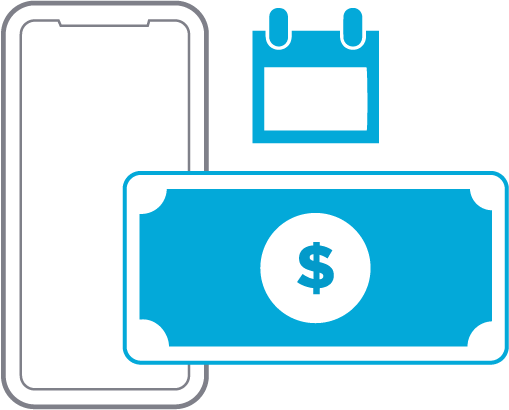 App monetization and Kochava
Effectively measure your app monetization with Kochava. View measurement and attribution data within a single platform to help understand the channels, partners, and devices that brought your users into your app. This will make it easier to determine which efforts bring in the highest value users that generate revenue so you can focus on them in the future.
Kochava Cost brings all of your omni-channel media mix together to help you understand how those ad dollars drive revenue and maximize return on ad spend (ROAS). In addition to cost tools, gain SKAdNetwork support, restated cost, and a reporting API.
Ready to get started with Kochava? Contact us!