Kochava Intelligence
<!—LEFT COLUMN-->
Kochava Intelligence is the first business intelligence toolset available to mobile marketers. The features of Kochava Intelligence provide unprecedented power to access, analyze and optimize your data. Query gives marketers database-level access to their full data set within Kochava. What if? provides answers to questions such as, "What if I had increased the lookback window on my campaign?" or, "What if I had eliminated one of the networks from my campaign?" Explore these business intelligence tools below.
What if?
What if? gives marketers the ability to modify reconciliation settings in an experimental environment, rerun traffic and see what the results of a campaign would have been in order to optimize future media spend.

With What if? marketers can:
Replay historical traffic with changes to your campaign strategy
Test real theories in an experimental environment
Apply learnings from What if? scenarios to optimize conversion rates
Add or remove networks and publishers to your campaign and analyze the resulting impact
What if? Scenario: Remove a Network
What if network (Network D) had been removed from the previous campaign? Would other networks pick up the slack, or would those installs go unattributed?
Results
In this case, the network in question (Network D) is important to the mix. Removing that network caused approximately 68% of the installs to go unattributed, therefore Network D is a strong driver of growth for this app.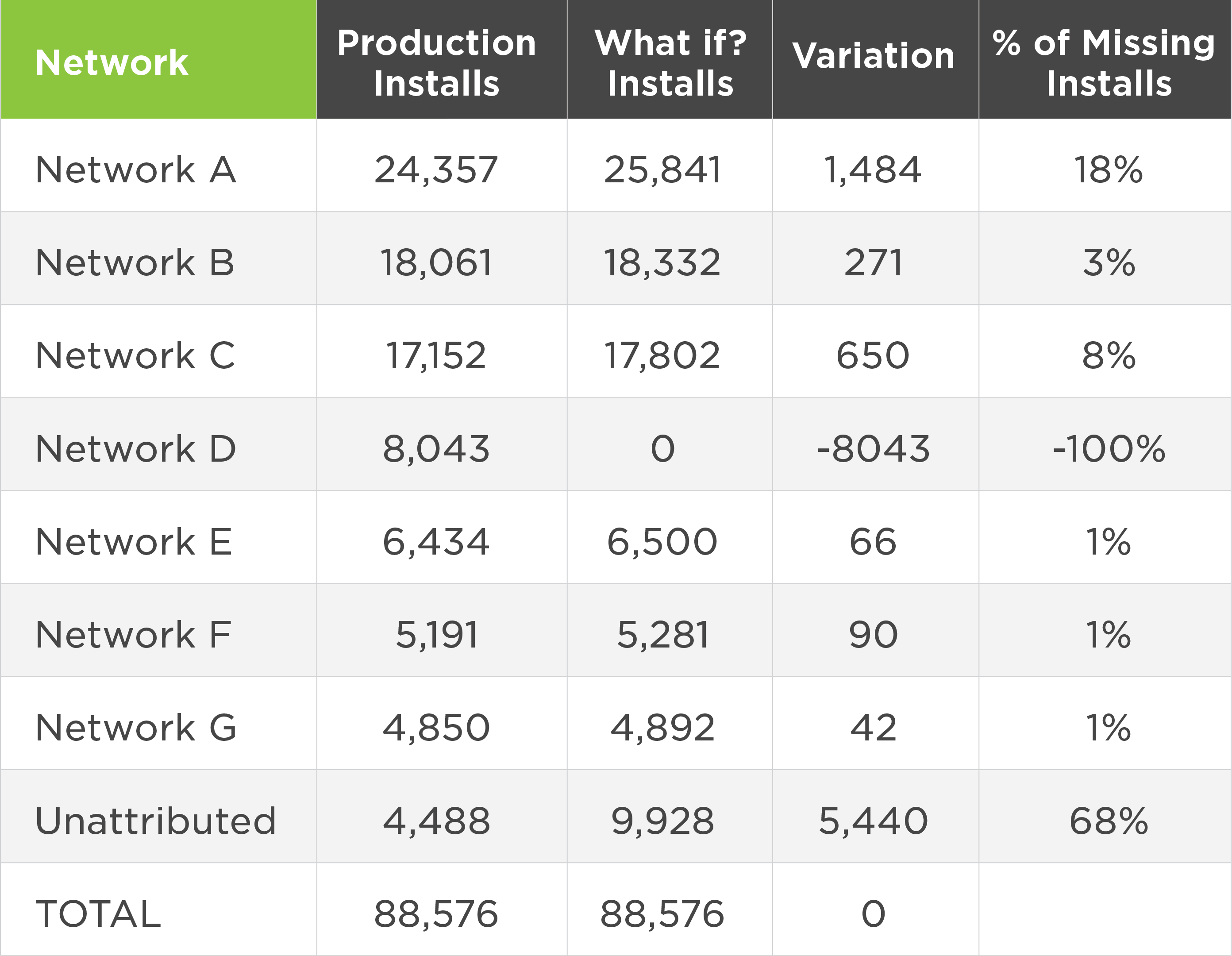 Network F doesn't pass any device IDs: It influences more installs than it wins, but the ones it wins are more accretive. What if Fingerprint Equalizer was enabled for the network—Would it win more installs, and would they still be more profitable?
Results
In this case, when Network F's fingerprint attribution is given the same priority as device ID, the Revenue per Install (RPI) drops by 15% but attributed installs increase by 39%—and the overall revenue difference for the network increases by 18%.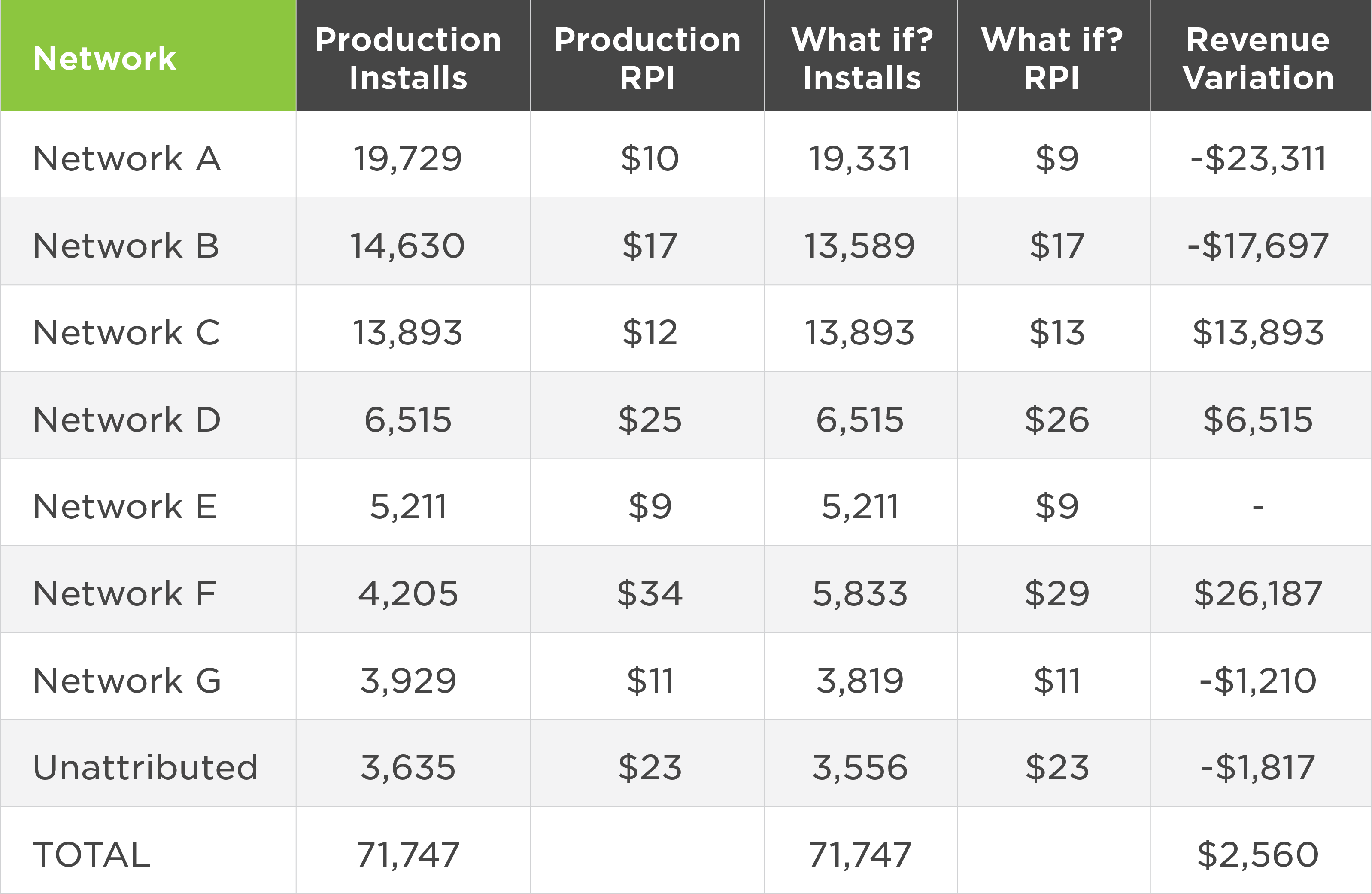 Learn more about What if?
---
Kochava Query
Kochava Query gives marketers the full power of SQL to query, analyze and export up-to-the-minute data in real time.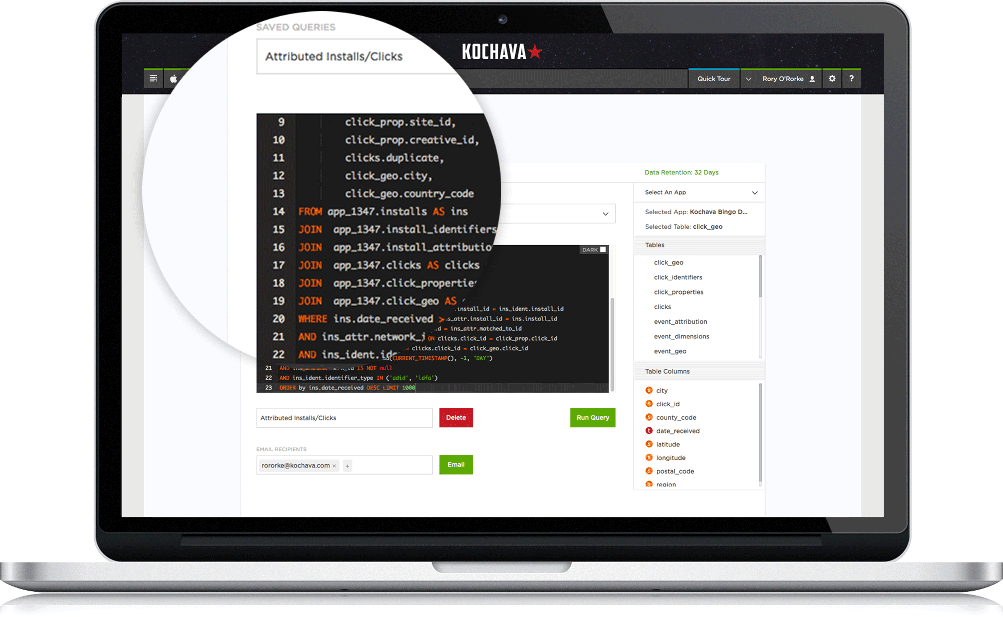 With Query, marketers can:
Leverage real-time access to all of your data via SQL prompt with UI helpers
Manipulate, collide and mash data to gain insight on traffic and user behavior
Access and collide data across apps to get account-level insight and intelligence
Export defensible intelligence to stop fraud in its tracks
Over 16 predefined queries to keep track of your publisher sources including click stacking, fast follow click influencers
Access all app traffic for your publishers and look at impression, click, install and event performance cross app
Learn more about Query
---
Take the next step!