Marketers are faced with multiple obstacles in trying to engage their mobile app users. Push notifications by Kochava is the first feature in the Engagement suite, giving marketers the ability to define audiences and create campaigns for push messaging all from the Kochava dashboard.
"This is the first platform of its kind that directly connects mobile advertising attribution and measurement with marketing automation into a single unified dashboard," said Tyler McKinley, VP of Marketing Automation Platforms at Kochava.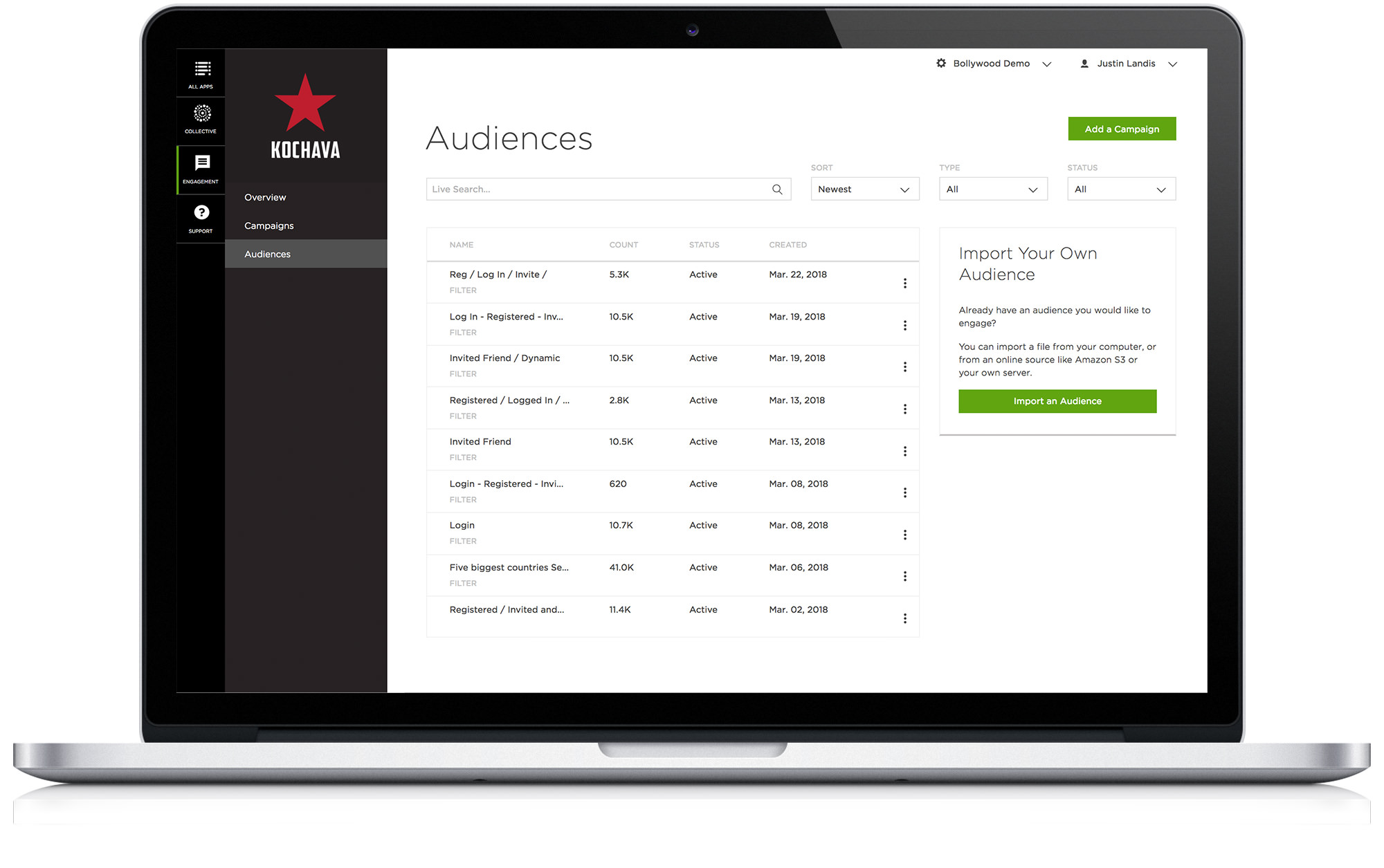 Today's consumer is often on their mobile phone while multitasking: commuting, at work, in front of the television, among other activities. Marketers are facing churn and low retention rates given the competition in the app stores and the shorter attention span users have on mobile apps.
"Digital marketers are realizing that they have to actively engage their customers with customized, relevant, and timely content, at scale. The Engagement dashboard will maximize customer lifetime value for their brand," McKinley said.
With push notifications by Kochava, marketers can engage customers, and bring them back to their apps to maximize their value. They can send contextualized, personalized messaging based on valuable customer data, such as in-app user behavior, or automatically trigger customized messaging based on where customers left off in a funnel.
Create push campaigns
On the Engagement dashboard, marketers have access to Overview metrics, Campaigns, and Audiences related to push notifications. Marketers will have the option to create two different types of Push campaigns to send to an audience:
Scheduled: Create a campaign to run on a recurring schedule with a message meant for a specific segment of users.
Triggered: Create a campaign to run when a user completes an action (event) that matches the audience defined.
Marketers can also Multi-variate test messaging for multiple audience segments and include a holdout group to act as a control for comparison.
In this section, marketers can pull an uninstall report to analyze trends in uninstall behavior across audiences, behavioral events, messages, and campaigns. They can also attribute their owned media here as well.
Define Audiences in Analytics or on Engagement platform
The Engagement dashboard is fully integrated with the Kochava platform. Under the Analytics dashboard, marketers can segment users and save the segment as an audience. For example, marketers can segment users who didn't complete a purchase, to access in the Engagement dashboard. Here, marketers can also split by several push filters, such as by campaign, push messaging ID, and segment. They can define audiences down the funnel in the same way they have for other targeting. Additionally, if they have their own audience segment on a spreadsheet, they can upload a CSV file here as well.
On the Engagement dashboard, marketers can define two types of audiences:
Static: Target only a specific audience of users.
Dynamic: Users receive messaging as they complete a specific event (e.g., completing a game level).
Dynamic, contextual push messaging via Engagement push notifications gives marketers a more refined tool to craft custom messaging and engage customers with the products and services they care about.
"Marketers have to go beyond the idea of simply reaching customers at the right time. They must extend that notion to marketing the right products and services based on expanded real-time data categories and they can now do this within a seamless toolset," McKinley said.
To read the press release in its entirety, click here. For more information about using Engagement, see our support documentation.