Boosting User Acquisition with Free App Analytics®
VERTICAL: FINTECH | SOLUTION: ANALYTICS & MEASUREMENT
TAKEAWAYS
IN THE PAST 30 DAYS



Pact Insurance is the first fully digital car insurance provider that supplies instant and affordable coverage over mobile for customers using their iOS and Android apps.
Challenge
Pact Insurance needed a way to gather and view app data to better understand how their users progress as they get started within the app and register for car insurance.
Solution
After integrating the Free App Analytics® (FAA) software development kit (SDK) into both of their apps, Pact Insurance can see into their users' journey as they move through their app. Pact Insurance implemented event measurement for Install, Registration Complete, Checkout Start, and Purchase, which allows them to understand where their users progress within the engagement funnel. Dissecting each stage of the event funnel, they are able to analyze how their different user acquisition strategies impact user quality and depth of engagement. All of these events come together to tell Pact Insurance a story of how their app is used and which funnel steps can be optimized for stronger engagement.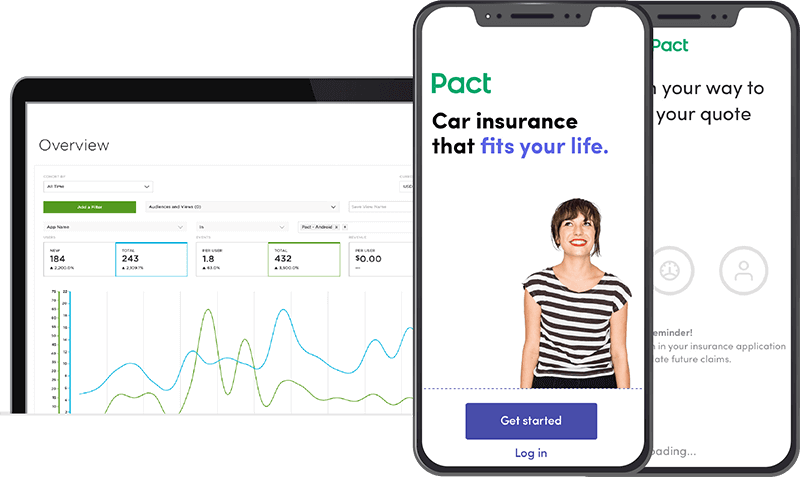 Impact
Pact Insurance optimized their data visualization, expanding insights into the user journey across marketing channels and campaign strategies. This helped their marketing team boost user acquisition by over 431% in 30 days with an install-to-registration rate of over 49%.
This use case is one example of the impact of Kochava solutions for advertisers. Kochava makes no guarantee of individual results.