The Sky's the Limit with Mobile Measurement
VERTICAL: SOCIAL | SOLUTION: ANALYTICS & MEASUREMENT


Skylb's two social apps, Sociable and Hola, available in the App Store and Google Play Store, allow users to socialize with people for free all around the world over voice, chat, or video while playing games. The apps give users a platform to post stories, share content, and livestream with their friends as well as chat in their native language with an automatic translation feature.
Challenge
Skylb wanted to know more about their users so as to optimize their app(s) and ultimately increase their userbase and revenue.
Solution
After integrating Kochava Free App Analytics (FAA), Skylb was able to measure all installs and post-install events across their entire user base. This gave them access to valuable key performance indicators (KPIs), like daily active users (DAU), monthly active users (MAU), revenue per user (RPU), retention, and more. Further, they were able to explore Funnel Analytics to visualize how users progressed through the engagement funnel in their app.
The team was able to analyze their KPIs and funnel engagement in cohorts based on geo region, language, and FAA attribution, which pointed to the ad network, campaign, creative and/or search keyword that drove users to install. All of this information is visualized and analyzed within the same platform alongside other tools such as campaign management and link creation.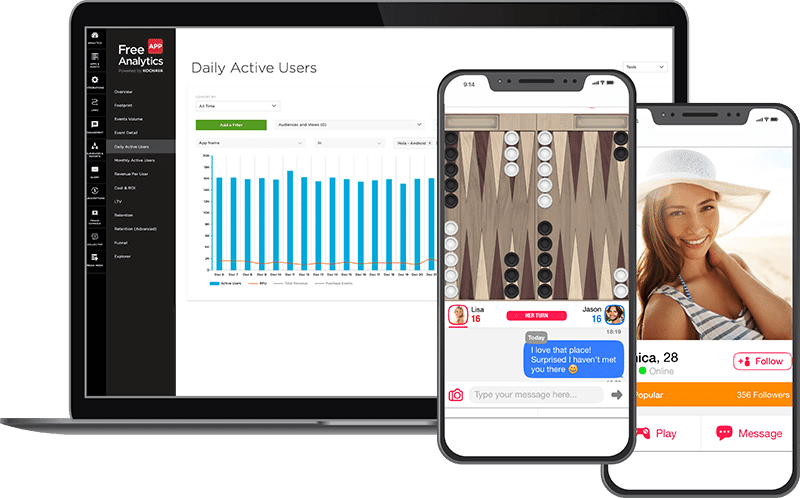 Impact
The ability to create and measure a wealth of in-app events attributed back to specific marketing campaign initiatives enables Skylb to understand what's working and what isn't in their marketing strategy. This intelligence helps them make better decisions that maximize growth and increase the engagement and retention of their acquired users.
This use case is one example of the impact of Kochava solutions for advertisers. Kochava makes no guarantee of individual results.