Harness Your Data for Growth
Kochava® delivers secure, real-time data solutions that help companies grow. Achieve your Unified Audience Platform.
CCPA is here. Are you ready?
Choice powered by Kochava & Quantcast. Your Consent Management Platform.
More Than 7 Billion Devices at Your Fingertips
The Kochava Collective includes rich device metadata including app usage, other apps on device (app affinity), precise location, demographics, and interests & behaviors. Build custom audiences, generate lookalike audiences, or activate pre-packaged audiences on more than 40 top platforms and media partners. Collective data can also be licensed directly via dynamic data feed.
Stop Losing Money To Mobile Ad Fraud
We're keeping our promise to remain transparent for the industry and protecting our customers from the latest fraudulent tactics.
What separates Kochava from the competition?
Greater revenue per app, longer data retention, better fraud protection, and so much more...

The free mobile measurement platform to grow your app audience.
Largest Apps in the World Choose Kochava
Learn Why We Dominate the Top of the Market
Apps with Kochava Achieve



on average, compared to those using other measurement platforms



















What We Do
THE KOCHAVA UNIFIED AUDIENCE PLATFORM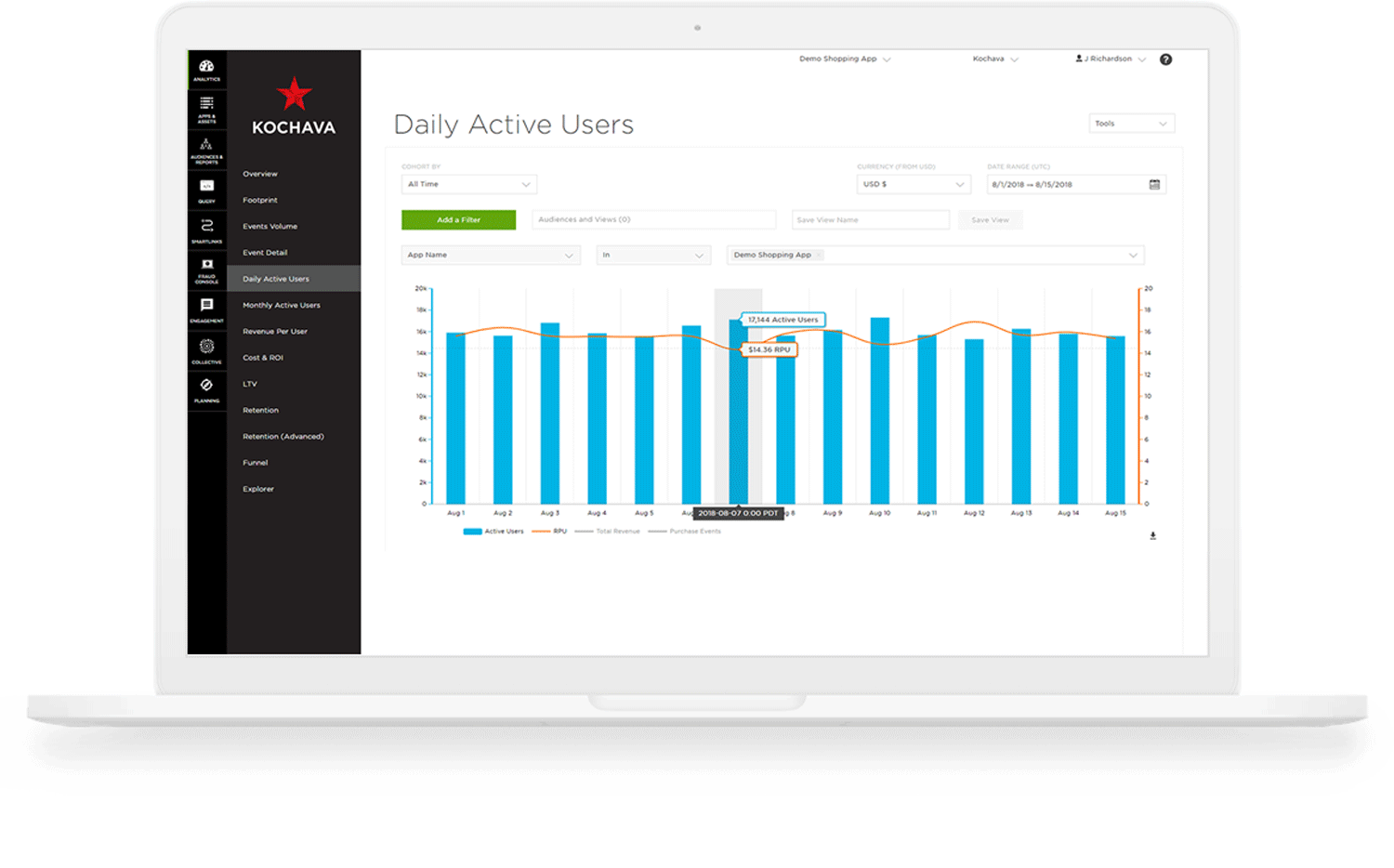 Kochava enables people-based marketers to establish and enrich user identities, segment and activate audiences, and measure and optimize their campaigns across all connected devices. We replace complex marketing tech stacks with our consolidated, end-to-end marketing solution. Through flexibility and power, Kochava provides the granular control enterprise brands need in order to achieve their unique goals. We're driven by the customers we serve and we innovate for you. So what do you want to do with your data?
1. Apptopia App Intelligence. USA. Last 180 days. SDK and server-to-server clients.   2. Apptopia App Intelligence. USA. Last 180 days. Averages based on apps with SDK and server-to-server integrations.