Click here to download the Case Study (PDF)
Precise and timely data key to user acquisition and retention in real-time strategy game industry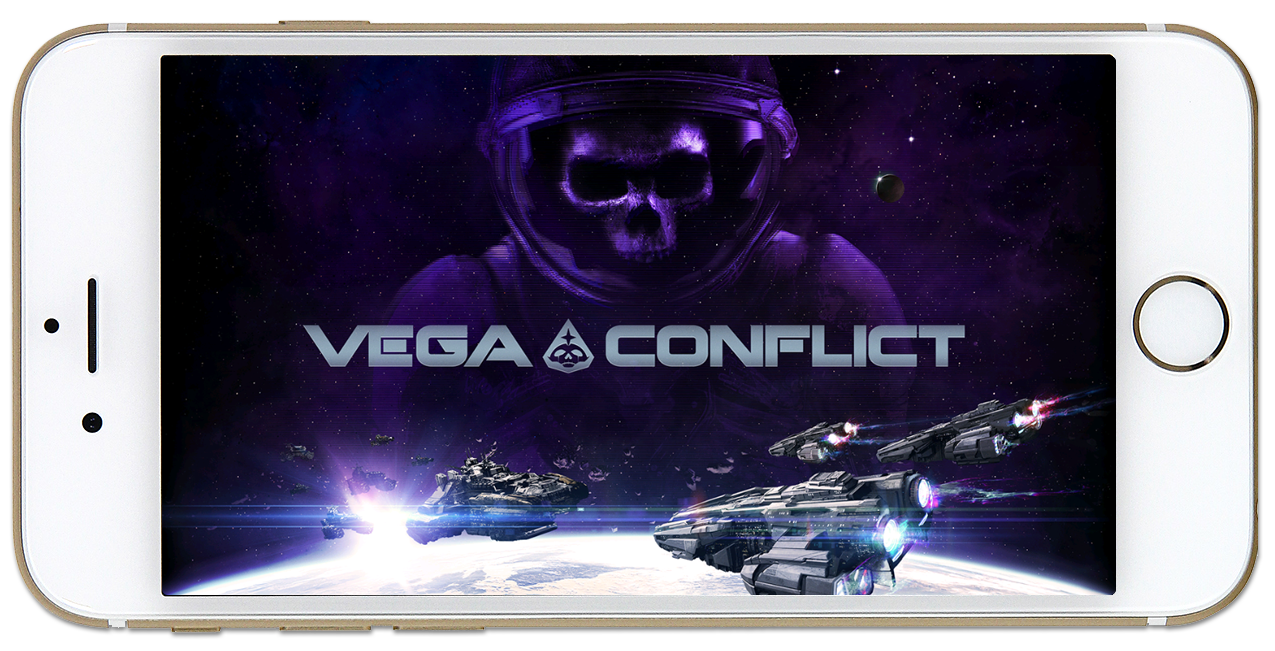 KIXEYE began in 2009 when two game developers, David Scott and Paul Preece, teamed up with Will Harbin to conceive and launch Backyard Monsters, one of Facebook's most successful real-time strategy games. KIXEYE's roster of social and mobile Massively Multiplayer Online Real Time Strategy (MMORTS) games also includes Battle Pirates, War Commander, VEGA Conflict and now War Commander: Rouge Assault.
KIXEYE's focus, like many strategy game developers, is not necessarily on achieving the highest numbers of installs or users, but instead on developing a rich player experience that draws long-term, high-value customers.
Responsible for growing KIXEYE's user base is Mark Braatz, VP of User Acquisition. In addition to growing the user base, Mark and his team are responsible for the development and optimization of campaigns that drive in-game spend, as well as the management of dozens of ad networks at any given time.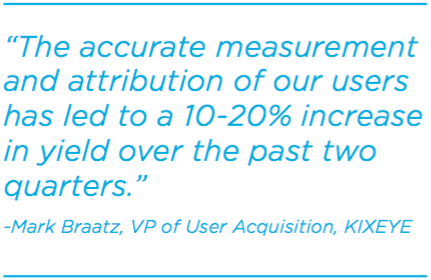 "We are not concerned with the optics of CPIs, DAUs and MAUs; KIXEYE's goal is to create immersive games that engage people on a deep level, allowing them to express themselves through their game characters," states Braatz. KIXEYE's emphasis on yield-based marketing means that they invest according to the overall value of each user. "It is very simple; the better the game experience we are able to create for our community, the more likely our users will be to spend money."
Lifecycle of a Game
KIXEYE's game line-up draws people who are looking for more than a casual game experience. When a game launches, there is a yield curve in which the early adopters are the most lucrative and spend the most to continue to grow their game presence. Unlike casual games where users may drop off after just a few weeks or months of play, KIXEYE's MMORTS games draw users who typically will remain active in that game community for more than four or five years, spending hundreds if not thousands of dollars.
"Our users are part of a community and many have been loyal to their chosen game since its launch; many having been with us for three or more years," notes Braatz. "We even have users who have met their spouses through our games, which gives you an idea of the depth of the community and the importance the games can play in the lives of our users."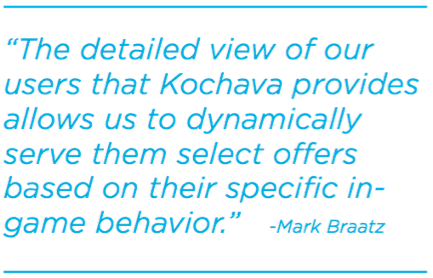 As the game matures, the lifecycle is extended through the addition of new features, functions and events. "Even when we are working on a new title, we still focus on developing the overall game experience of our existing titles. Our loyalty lies with our users to create the in-game experience that keeps them happy and wanting to continue playing," adds Braatz.
Kochava Gives KIXEYE a One-Stop Shop for Detailed, Accurate Data
Prior to Kochava, KIXEYE used another 3rd party tracking partner, but due to data policy issues that partner was removed from Facebook's Mobile Measurement Partner (MMP) program. For a company like KIXEYE, whose games depend on reliable Facebook attribution data, that simply did not work.
"For KIXEYE, we wanted one single mobile attribution partner that we could depend on," says Braatz. "Kochava is that dependable partner and we are very happy with the service. They provide the detailed level of data we need to make our games a success and the integrity of Kochava's data is extremely solid."
Kochava gives KIXEYE a detailed understanding of the source of their users, down to the channel or campaign that brought the user in, the country of origin, IP address, and device ID. Having accurate data available in real time means that Mark and his team of seven can identify trends in the post-install data that can lead to the development of campaigns aimed at finding similar users or re-engaging existing users.
"The detailed view of our users that Kochava provides allows us to dynamically serve them select offers based on their specific in-game behavior," Braatz points out. "If a user is building a new module for example, we can serve a discounted offer to them that will help them build that module quickly, allowing them to progress through the game faster."
Combating Fraud Through Enhanced Transparency
The detailed information made available through the Kochava platform has given KIXEYE more transparency with their ad network and media partners.
"The ability to have data down to the timestamp and source of each user helps us to identify potential data discrepancies which, over the course of a campaign, can really add up. For example, if we are buying ads across a large ad inventory and we find in the data that we are receiving ad installs from a geography that we do not serve or did not specify, we can go back to our ad network and have them issue a credit or make good and then blocklist those outlets to avoid them in the future," says Braatz. "With a neutral attribution partner like Kochava, it is easy to verify install claims made by ad networks to ensure that we are only paying for verified users."
To further combat fraud, when delving into the data and analyzing at the seller ID level, the KIXEYE user acquisition team can see if the installs they are receiving are legitimate or if they are incentivized or fraudulent.
"Typically if there is a large inconsistency between the number of installs and the expected in-game spend, then there has been some fraudulent activity," says Braatz. "Because we are actively consuming the Kochava data on a sub-hourly basis, we are able to quickly identify those issues and ensure that we adjust our campaigns and work with our ad networks to eliminate the risk of fraudulent activity moving forward."
Results of Kochava Integration
Kochava's SDK and server-to-server integration makes it possible for KIXEYE to have the information and data they need in real-time to track and prove post-install purchase behavior and customer lifetime value.
Braatz knows with Kochava behind him, that the reports delivered to the CEO and product team are accurate and that decisions on game improvements based on those reports are sure to be well received in the KIXEYE gaming communities.
"Kochava provides the insight into our users' behavior, habits and traffic patterns that can lead to substantive changes in our users' experiences, and because of that, Kochava is an instrumental part of the process that has led to our success," says Braatz. "The accurate measurement and attribution of our users has led to a 10-20% increase in yield over the past two quarters and we look forward to future success as we work with Kochava and our ad network partners to enhance the overall experience for our users."