Learn how to enable view-through attribution for your re-engagement campaigns
Kochava is excited to announce the expansion of re-engagement campaign attribution to include conversions tied to impressions (ad views), in addition to ad click-throughs.
A very common user journey for re-engagement involves being served an ad, clicking on it, and then being directly deep linked into an app to make a purchase, start a trial, watch content, or complete an action designated by the marketer as the target conversion goal. A direct click on an ad shows the most intent and is justifiably attributed to the subsequent conversion as a successful re-engagement.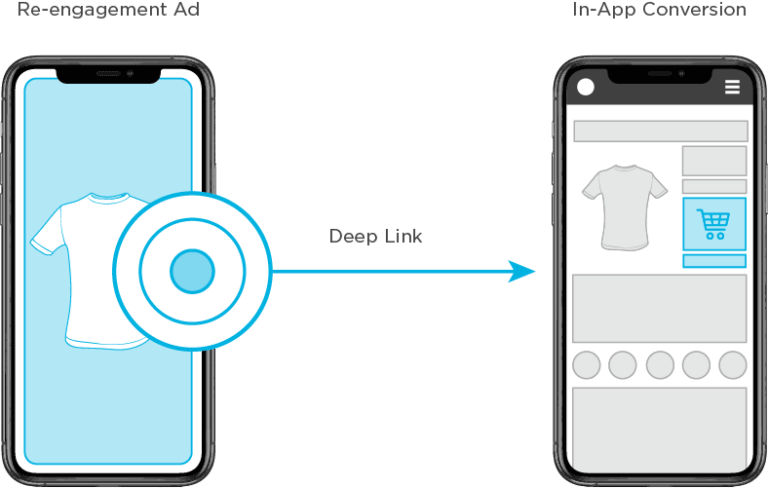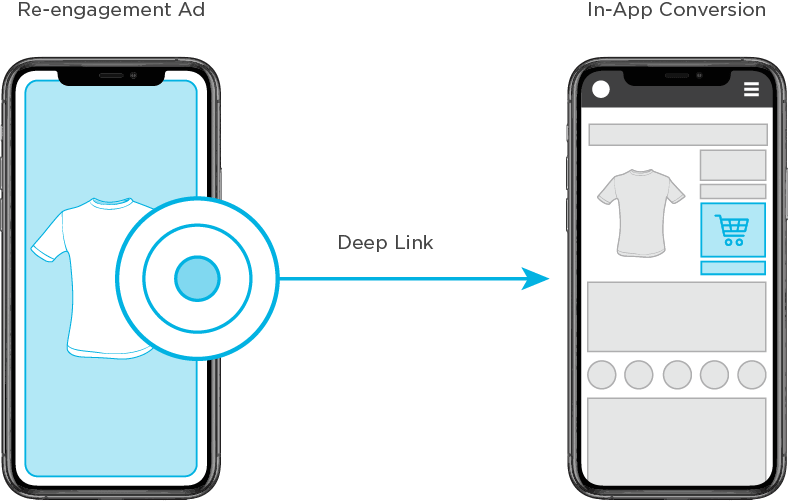 Separately, an increasingly common scenario, particularly with the growth of over-the-top (OTT) and connected TV (CTV) as a channel, is ad views, which may or may not be clickable, driving users to take action, but not in the form of a direct click and deep link.

This scenario can also apply on mobile and other channels, where a user sees an ad, but doesn't take immediate action and instead self-launches the app later and completes the conversion. Since the direct intent of an ad click is missing, these impression-only ad encounters often have shorter default lookback windows for attribution (e.g., 24 hours). However, capturing this slice of additional campaign performance impact is meaningful, as marketers look to understand the holistic impact of every ad dollar spent.
How to take advantage of VTA for re-engagement
Advertisers running re-engagement campaigns can take advantage of this update by following two important steps. 
First, check if your campaign trackers are measuring impressions. If you're working with a media partner that's not currently sending impressions on your re-engagement campaigns, grab the impression tracking URL for the related tracker, provide it to the partner, and ask that partner to start reporting impressions.
IMPORTANT: 
If you're running OTT & CTV campaigns and want to account for cross-screen conversions, ask your Client Success Manager or email Support@Kochava.com about the appropriate partner and tracker configurations.
Second, for all EXISTING apps on your account, view-through re-engagement attribution will be disabled by default. You will need to take the steps outlined in this support documentation to enable this capability. For all NEW apps you add to your account in the future, this feature will be enabled by default.
Impression-based configurable attribution
Kochava provides significant configurability related to re-engagement attribution. Advertisers should review their current settings and adjust appropriately to tailor how much credit they want to give impression-based matches. The configurable settings that advertisers should review include: 
Impression lookback windows on re-engagement trackers: These are typically set to 24 hours, but can be adjusted by the advertiser for both deterministic  and probabilistic matches.
Target conversion event(s): Unlike other platforms that force re-engagement attribution on any app open or general session event, Kochava allows advertisers to choose the specific post-install event(s) that denote a successful conversion. Attribution will be awarded only if the tagged events are completed.
Minimum Time to Re-engagement (MTTR): This feature allows advertisers to configure a minimum time window that must transpire before the same user device can be re-attributed for a re-engagement conversion after a prior attributed conversion (either acquisition or re-engagement). This is defaulted to 24 hours, but can be adjusted to the advertiser's preferences.
Connect with your Client Success Manager or email Support@Kochava.com for assistance in reviewing and/or updating these settings.
Expect to see an increase in attributed conversions
Advertisers that enable impression-based reengagement can expect to see a marked uptick in attributed conversions for re-engagement campaigns, with a particularly strong impact for advertisers running OTT and CTV campaigns where ad views are more predominant and the bigger screen can often drive a bigger impact.
20X Increase in Attributed Content Views
As a use case, a major streaming media & entertainment app that activated this new functionality witnessed a 20X increase in content views attributed back to ad impressions across their CTV advertising partners (as compared to content views attributed to re-engagement ad clicks). 
The added insight is helping their marketing team better understand the ad and video creatives that help drive content engagement with TV episodes and movies on their streaming app.
Exploring your re-engagement data
Once activated, advertisers can explore impression-based reengagement data in a variety of locations, including:
Analytics dashboard views

Filter and/or split by: 

Is Rengagement = 1 

Matched To = impression

Kochava Query 

Select the events_primary table where: 

'is_reengagement' = 1

 'matched_to_type' is like "impression"

Reporting

Look for the new

Reengagement Impression

report found in the 'Attribution Reports' section

IMPORTANT: 
For impression-based reengagements attributed to Meta/Facebook mobile app engagement (MAE) campaigns, please see the Facebook Insights view found in the Analytics dashboard.
It's also important to point out that advertisers can expect to see closer alignment between Kochava reporting and reporting from certain self-attributing network (SAN) partners that historically already claimed impression-based reengagements within their internal reporting. With this update, those conversions will also be recorded in Kochava reporting.
Not currently running re-engagement?
Retaining existing users is easier than acquiring new ones, which is why re-engagement is a highly effective return on investment for many brands. It allows brands to engage their best customers to drive higher revenue and lifetime value, but also offers a great method to re-engage users who're beginning to fall off in their engagement. Ask us how our predicted churn reporting can help you preemptively segment users who are likely to abandon your app in the near future, and use that intelligence to drive smart reengagement.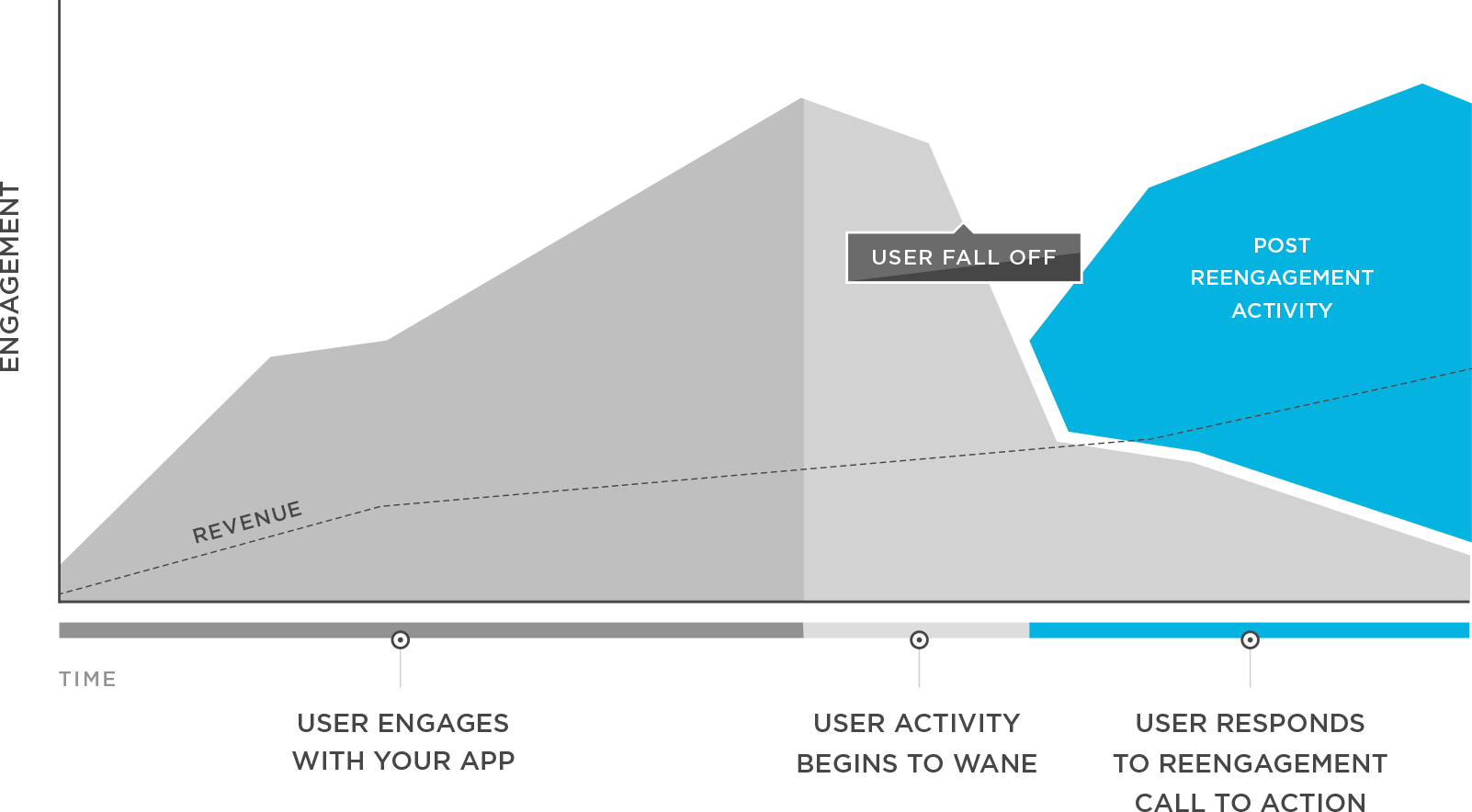 If you're not currently running reengagement campaigns, connect with your Client Success Manager or email Support@Kochava.com to find out how we can support you. 
Additionally, don't forget the power of your owned media (email, web, etc.) in driving engagement with your customers. Kochava can measure not only your paid media, but also your owned media. If your owned media isn't currently plugged into your measurement strategy, it needs to be. Otherwise, you're not giving it the credit it deserves. 
Want to be the first to know about feature updates like this one? Subscribe to our newsletter to stay in the loop.