Discover
platforms and learn more about them with the Kochava Media Index, now the world's largest advertising database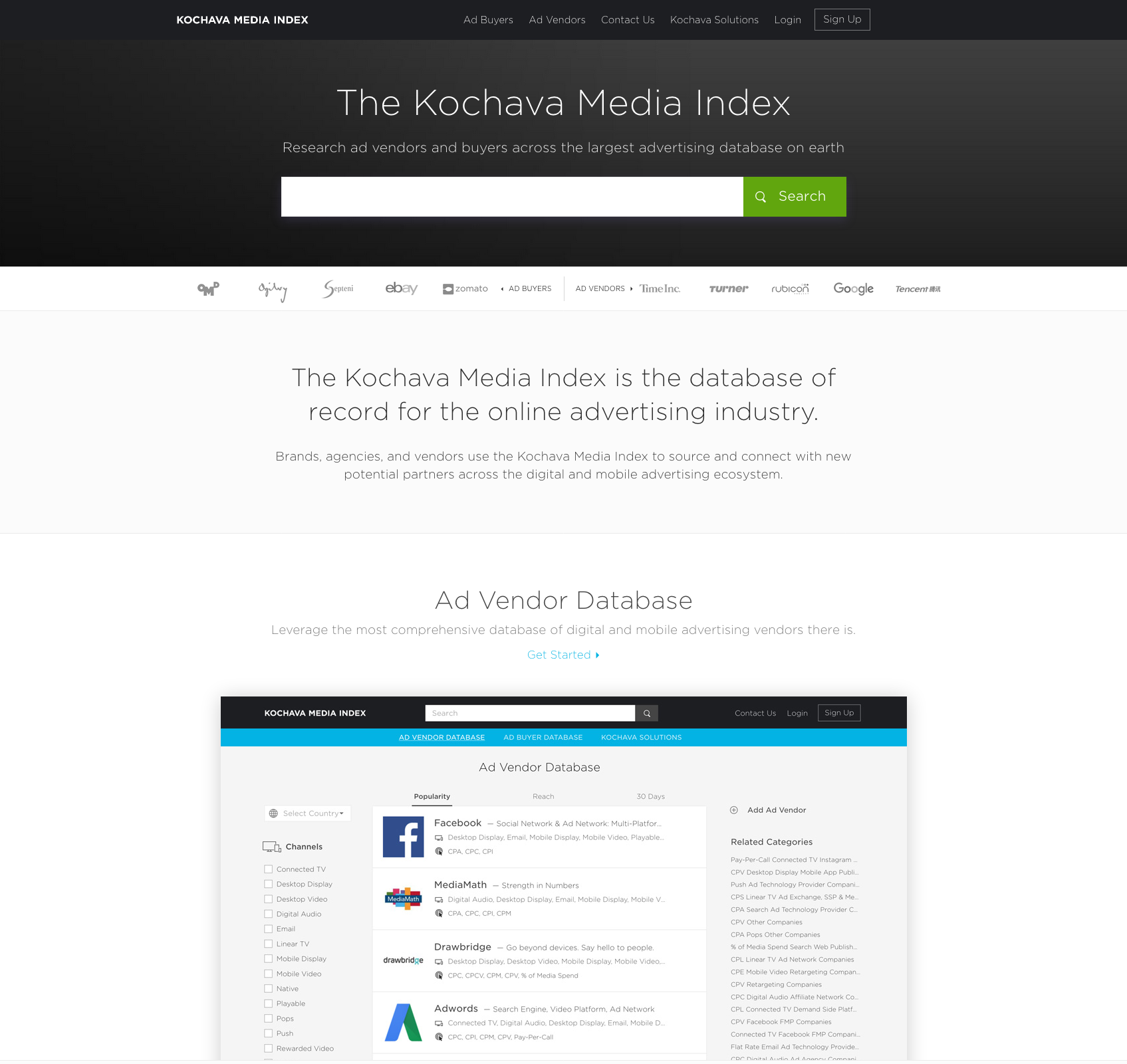 Facebook and Google have long been obligatory advertising platforms in your media mix, but there is a world full of ad vendors each with a host of capabilities for marketers. But without a comprehensive advertising database to base their decisions, marketers often end up overpaying for test campaigns with new vendors to visualize performance or maintain relationships with low-performing vendors because of the headache involved in integrating with new partners.
The Kochava Media Index is our solution to simplify the research process. With the acquisition of Thalamus, the largest research database of ad vendor data in the world, Kochava is taking another giant step toward creating an unbiased industry standard and giving marketers a robust and transparent way to research ad vendors, and similarly, for those vendors to properly prospect buyers.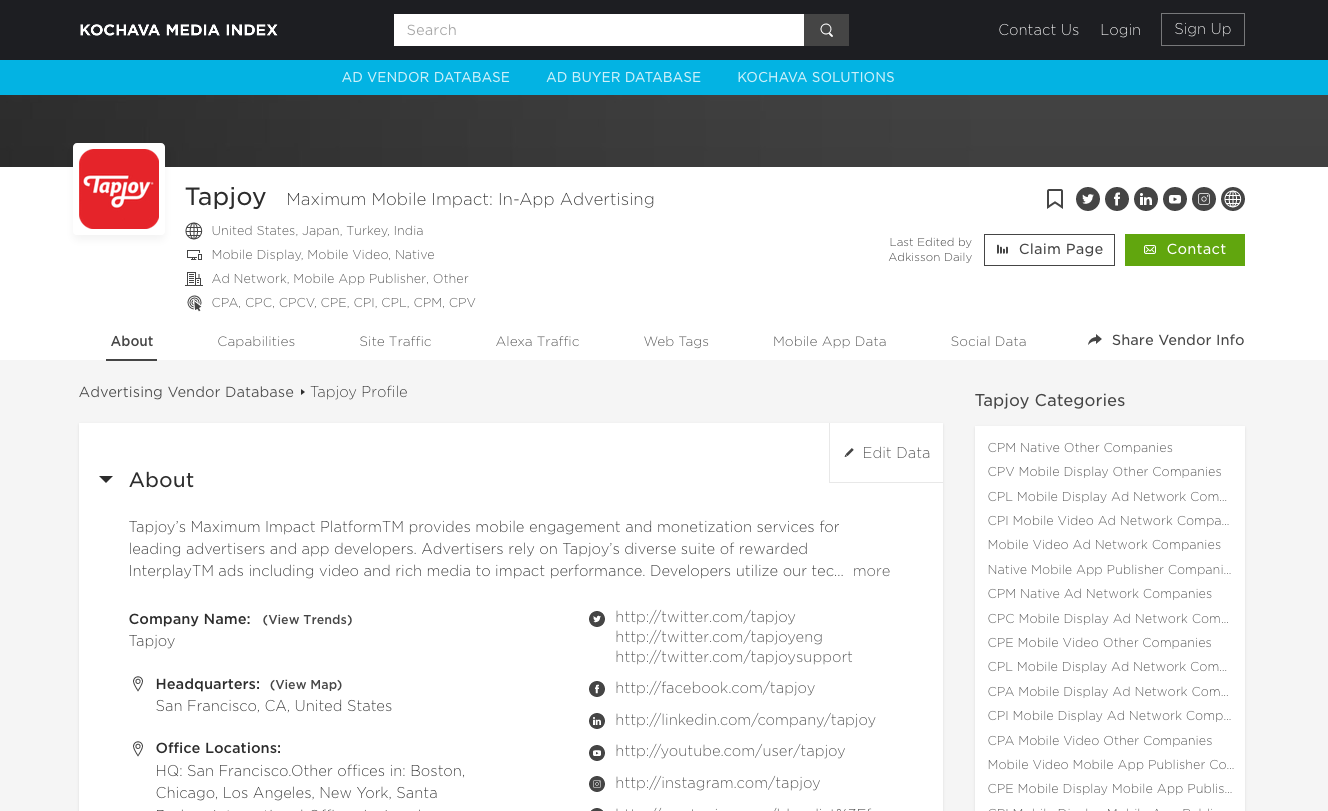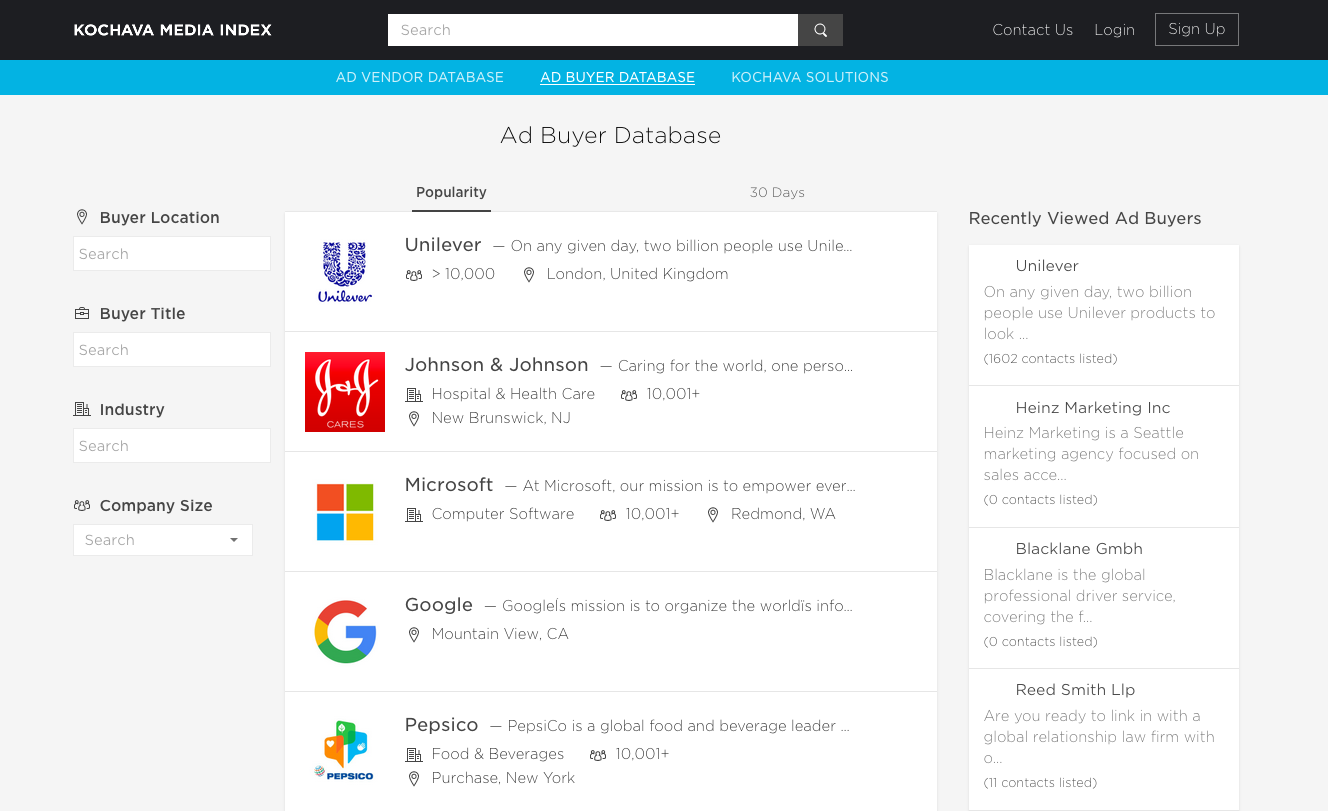 Adapting the Thalamus advertising database
Kochava has adapted the list and validated it with our own anonymized first-party data, similar to how we evaluate media partners for the Kochava Traffic Index. While that index highlights the top-performing media partners, the Media Index provides full transparency on all integrated partners so marketers can make more informed decisions about who to run campaigns with and connect with them directly.
The database hosts information on 50K ad vendors and 500K marketers/buyers, and the information provided on them includes:
Site traffic

Mobile data

Alexa traffic

Pricing models

Where is the inventory located

What type of creatives vendors run
Marketers can search the database using a variety of filters including geo, key performance indicators, media channel, or inventory filters. Ad vendors will also be ranked based on the reviews, Kochava data available on them, and data provided by them. 
The database marketers can trust to find trusted partners
Buy and track quality inventory with Kochava Attribution and Kochava Media Index. The Media Index will be continually updated as we procure more information about both buyers and sellers and is another major step in creating transparency in the ecosystem. 
For more information about the Kochava Media Index, visit https://media-index.kochava.com.
Do I have to reclaim my account?
We have revoked all previous claims to ensure proper ownership of accounts. Please note no data has been lost by canceling account ownership, it was done to guarantee proper access to your account.
Where did the contact list go?
We are currently working to clean up the contact list to make it as useful as possible, as well as developing the best method for reintroducing it into the platform. Stay tuned!
Looking for a specific dataset or widget?
A number of the different datasets or widgets that were previously available are being reworked to be more useful and informative. We'll be rolling out changes over the next several months. We recommend checking back periodically to see what has changed!
I am a network that is attempting to contact a buyer; can I do that through the Media Index platform?
Contacting an ad buyer through the platform is currently unavailable. As we continue to improve your experience this and other exciting functions will be added periodically.
I have questions regarding the data that is on my page; how can I get more information or get questions answered about the platform?
Please feel free to contact us at mediaindex@kochava.com.
How to claim your profile page
Log in to the Media Index webpage using your newly created credentials.

Navigate to your network profile page and click on the "Claim Company" button.


Fill out the prompted form and hit submit.

You will receive a follow-up email with confirmation of the submitted information.

Once your information is validated and confirmed, you will receive an approval email allowing you admin access to your company profile page where you can use detailed analytics to analyze traffic for prospecting clients.