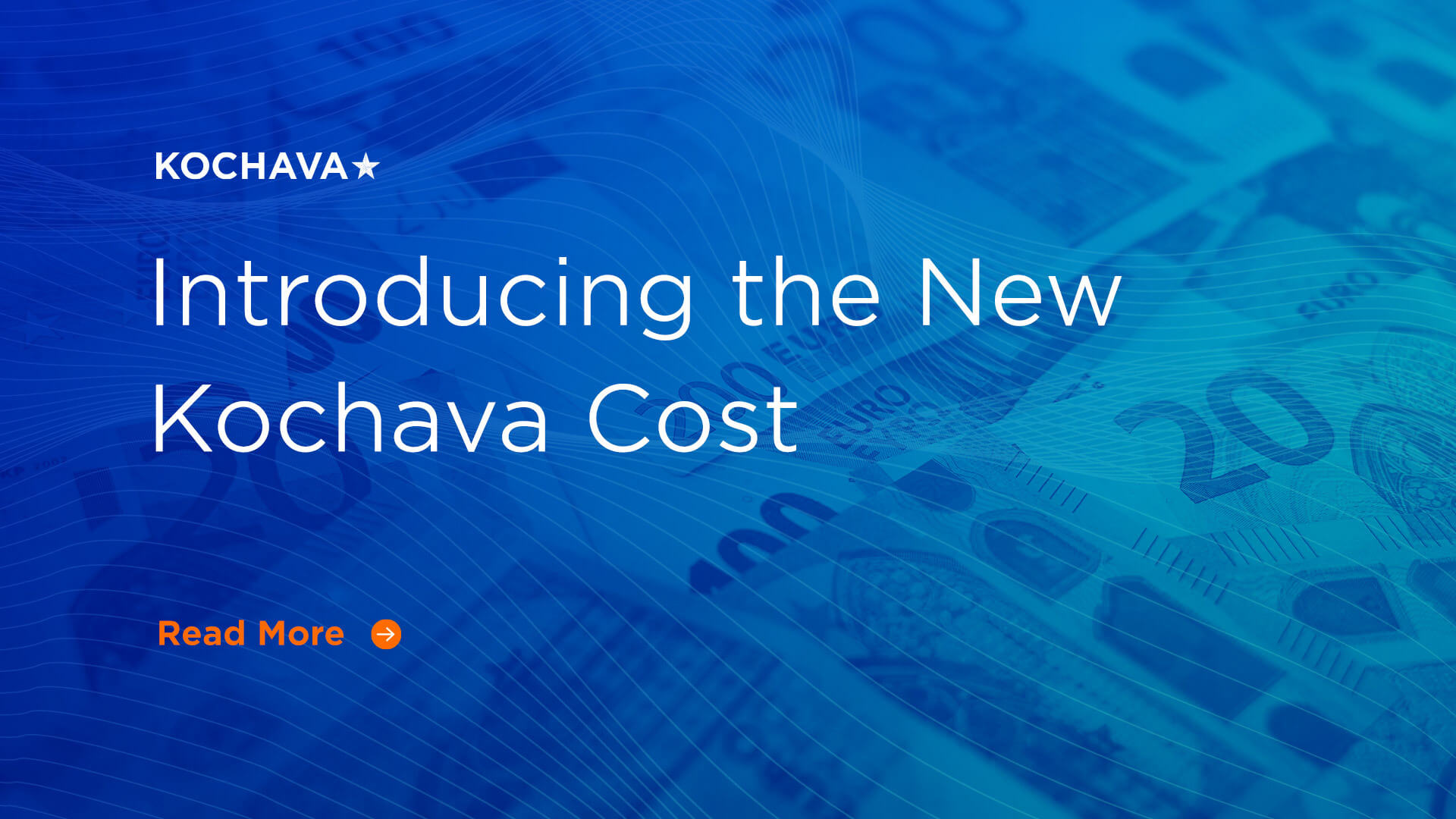 Understand your return on ad spend with the next generation of Kochava Cost
SANDPOINT, Idaho — February 2, 2022 — Kochava, the leading real-time data solutions company for omni-channel attribution and measurement, today announced the next generation of Kochava Cost featuring a completely redesigned experience and an entirely new cost data model. 
Kochava Cost empowers you to survey your entire omni-channel media spend in one dashboard and quickly understand which marketing efforts are yielding the highest return on ad spend (ROAS). The union of accurate cost data with the holistic in-app revenue data (from in-app purchase, ad monetization, subscriptions, etc.) captured via Kochava measurement solutions enables you to achieve a truer measure of ROAS. This combination helps you ensure your next ad dollar is spent on the top-performing channels, partners, geos, sites, keywords, and creatives. 
"Our team has incorporated valuable product feedback from our customers and the close communication with those involved have enabled our team to deliver on the promise of giving our customers the competitive edge with our new Kochava Cost," said Jason Hicks, GM, Kochava's Marketers Operating System m/OS. "As a company built on customer-driven innovation we are thrilled for this launch."
Key highlights include:
Streamlined cost configuration management in one dashboard for your entire account

Cost integration monitoring with real-time status indicators and alerting

Brand new analytics to explore cost data, cost + measurement, and ROAS 

Brand new turnkey cost reports

Brand new integrations with media partner cost APIs

New cost data workers and data model for simplicity and accuracy

Simplified restated spend metrics with refresh at D1, D2, D3 & D7

Creative-level cost reporting with supporting partners 
The new Kochava Cost supports the largest media partners and most popular integrated networks by share of volume across the Kochava client base. For more information connect with us to request a free consultation and learn how we can help. 
About Kochava
Kochava Inc. is a real-time data solutions company offering the leading omni-channel measurement and attribution solutions for data-driven marketers. The Marketers Operating System™ (m/OS) from Kochava empowers advertisers and publishers with a platform that seamlessly integrates and manages customer identity, measurement and data controls. Unlike the complicated, siloed tech stacks employed today, the m/OS takes the next step: unifying all of your data and critical omni-channel solutions into a cohesive, operational system that goes beyond data aggregation and reporting. The m/OS provides the foundation for limitless advertiser and publisher tools, including the option to build third-party solutions onto the platform. By design, m/OS facilitates success by making data accessible and actionable to maximize ROI. 
With a culture of customer-driven innovation, dedication to data security, and the most powerful tools in the ecosystem, Kochava is trusted by top brands to harness their data for growth. Headquartered in Sandpoint, Idaho, the company has offices globally. For more information visit their web site www.kochava.com. Follow Kochava on social media: Facebook, Twitter, and LinkedIn.
Media contact:
Leslie Amadio
lamadio@kochava.com