Kochava FoundryTM provides custom analytics and recommendations for today's competitive marketing environment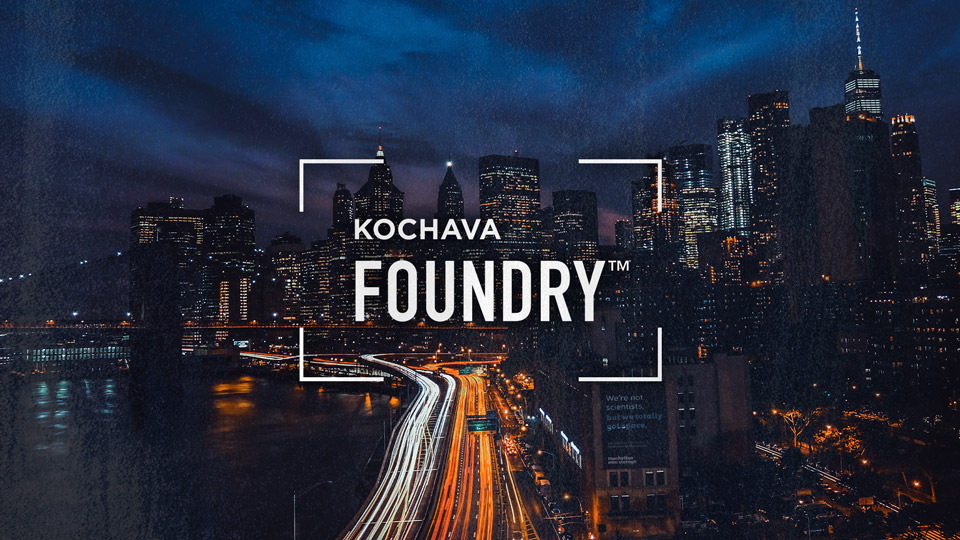 Adtech is a complicated and highly competitive environment, and with increased data privacy regulations, marketers need to make the most of their campaign data. While traditional measurement tools have their place and value, periodically, it is beneficial for brands to dig deeper into their campaign data and glean insights for new directions and evidence-based marketing decisions.
Kochava data analysts have been doing just that for the past several years and have consolidated their Strategic Services under Kochava FoundryTM to offer marketers customized reporting and recommendations for optimization, fraud mitigation, and brand growth. The team is composed of analysts with backgrounds including retail to academia where they are able to bring best practices from their respective areas of concentration. The team is adept at analytic deep dives to investigate irregularities and provide recommendations for optimization.
Advanced Measurement and Valid Incrementality Testing with MediaLift
Real-time analytics alone are not evidence enough of the true impact of ad campaigns. To answer that, incrementality testing—an often costly and time-intensive exercise—must be performed. 
The Kochava Foundry team, led by Grant Simmons, Vice President of Kochava Foundry, is an industry expert on incremental and advanced measurement techniques. Traditionally, the holdout group is carved out of the target audience, and marketers must withhold displaying ads at the cost of losing potential revenue. Grant and his team have devised a method to model comparable forensic control (holdout) groups and by doing so, reducing the time and cost to determine incrementality. 
Devices in the test audience segment are matched and scored (based on several characteristics) and then paired against similarly scored devices in a forensic control. The team can then measure the incremental lift impact between the test segment and forensic control. This methodology means the marketer doesn't have to sacrifice displaying ads to a portion of their audience for holdout purposes or worry about unwanted bias that is often present between traditional test and control segments.
MediaLift services also include in-depth analysis of a campaign's reach vs. the frequency of ads displayed. The team also looks beyond the quantity and installs and events and determine the quality of conversions to measure true performance. 
With iOS 14 limiting access to device ID and related data, marketers may tap into other advertising channels, such as, out-of-home (OOH) and digital out of home (DOOH), and over-the-top (OTT) and connected TV (CTV). These channels have already been increasing in use and the team can tie them back to mobile data for a holistic view of all ad campaigns.
Marketing optimization and managed services
With real-time data, it's easy to focus on the moment and miss what's happening within the bigger picture of your campaigns and marketing strategy. For instance, the industry's attribution last-click standard awards only the partner with the last click, and it's easy to oversee networks and publishers' sites that were valuable influencers. Kochava Foundry can determine valuable channels, reduce inefficiencies, and help you understand how conversions are influenced for optimization moving forward.
The Foundry team will also help optimize by analyzing an app's unique traffic and recommend verification and attribution customizations to fine-tune marketing credit and mitigate against non-relevant traffic.  
The team recently did a custom analysis for a television network whose ultimate goal was to determine what types of content to create next. With so much noise in the ecosystem and money at stake, the Foundry team identified which media partners were valuable influencers, eliminated overlap in the client's media mix, and recommended lookback windows to show where the most conversions were occurring. 
Fraud Audit
In addition to recommending traffic settings to prevent fraud, the team has performed campaign audits for both customers and non-customers where they identify the types of fraud present in campaigns and recommend steps for mitigation. Marketers can sign up for a free fraud assessment and see how the team can help prevent fraud in future campaigns.
Take advantage of our experts
The Foundry team has performed in-depth analysis for some of the biggest brands and Fortune 500 companies in advertising with some brands returning quarterly or annually for their data deep dives. For more information about Kochava Foundry, visit https://www.kochava.com/foundry.