What to know about the future of GAID-free attribution on Android
The digital advertising industry is at a pivotal moment. The future of advertising measurement and targeting is taking shape, with advertisers, publishers, and vendors alike each having a vital role to play. Google recently announced Privacy Sandbox, which is the highly anticipated set of privacy changes on Android. At first glance, Privacy Sandbox may seem like a repeat of the deprecation of Apple's IDFA in 2020; however, this announcement offers a handful of unique features that we will be exploring in this post (and future ones). Additionally, Google has promised to continue supporting the Google Advertising ID (GAID) for at least the next 2 years. Thankfully, Google is providing a long runway for advertisers, publishers, and vendors to prepare for takeoff – and is also offering a collaborative process that's open to industry feedback. 
As a longstanding, Certified Google Measurement Partner, the Kochava team is excited to bring our unique perspectives, intelligence, and innovative thinking to the table. Privacy and transparency have been driving factors behind our initiative to bring the power of blockchain to digital advertising through XCHNG, a journey we embarked upon several years ago. Thinking about the future of identity in marketing is at the heart of Kochava IdentityLocker, with the goal to bring a unified, privacy-first identity solution to the ecosystem.  
From Ad Age to Digiday and beyond, many ad tech publications have already touched on this news – providing plenty of commentary and perspective on Google's move and what it means for the advertising industry. 
Google first introduced Privacy Sandbox in 2019 following on the heels of its announcement that third-party cookies would be deprecated in Chrome. The Privacy Sandbox was to host new tools that could ensure user privacy while still enabling web advertisers to measure performance. Now it will cross over from the web to play a key role on Android in the mobile ecosystem. 
Privacy Sandbox is made up of multiple components, each serving a particular purpose:
All of the components together:
give users greater control over their own data

keep sensitive information on-device

and replace the ad targeting and measurement functions of the GAID
So what does this mean for advertisers and attribution with their mobile measurement partner (MMP)?
A deeper look at the Attribution Reporting API
A question we have already been asked a number of times by our customers is how the Attribution Reporting API in Google's Privacy Sandbox compares to SKAdNetwork. There are certainly similarities in the privacy-first concepts being employed. Ad tech analyst and author Eric Seufert described them as 'spiritual equivalents' in a recent post.
Google Privacy Sandbox Attribution Reporting API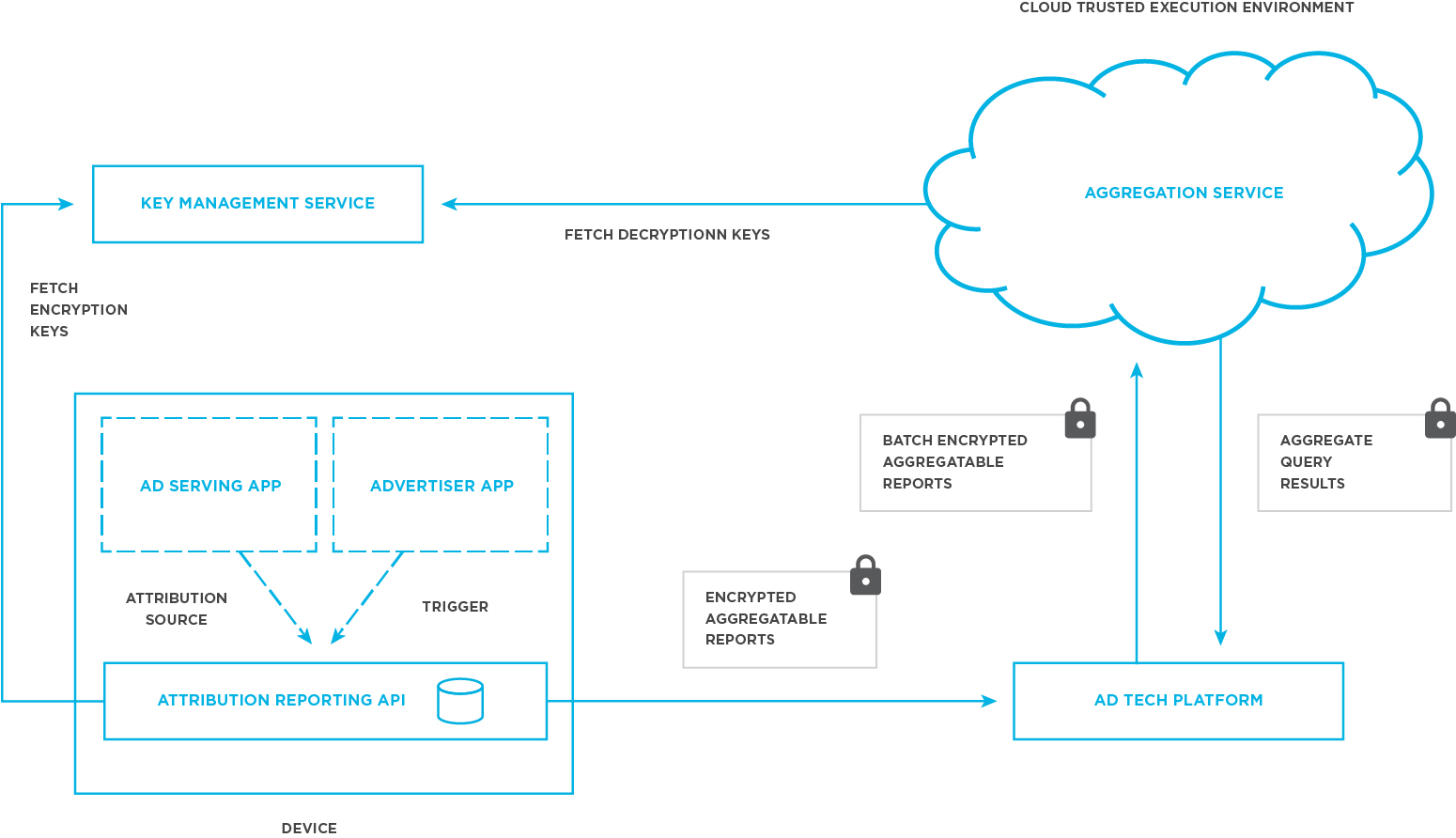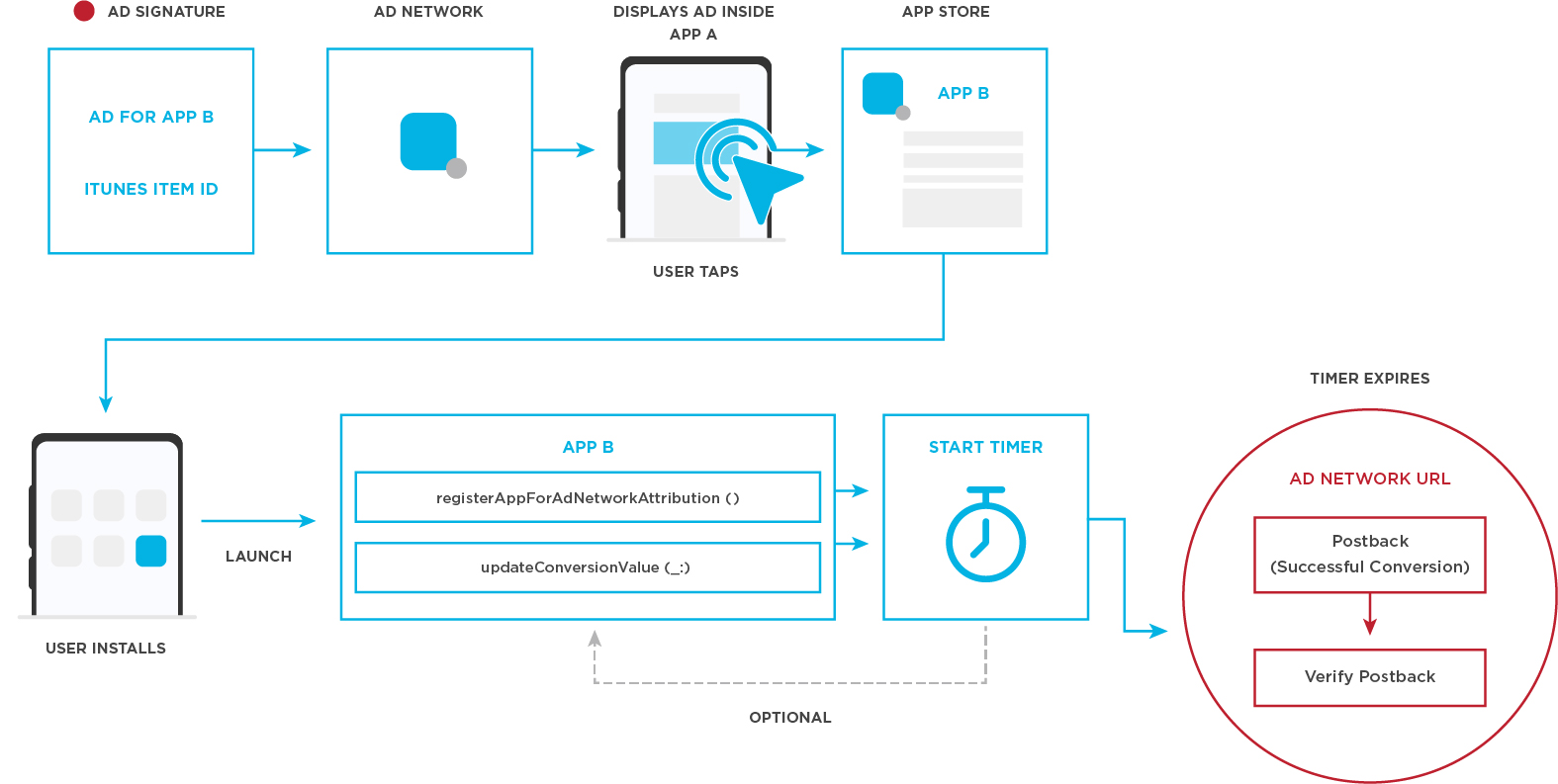 Similarities between the Attribution Reporting API and SKAdNetwork, include: 
Attribution performed on-device

No use of device or user-level identifiers

Time delay mechanisms to further data obfuscation and noise

Aggregate-only reporting mechanisms
However, some key distinctions also exist, chiefly:
Android is looking to support multiple user path combinations (app-to-app, app-to-web, web-to-app, and web-to-web). Web-to-app support is a big chasm for iOS right now, as SKAdNetwork only supports app-to-app, with private click measurement (PCM) covering only app-to-web. 

In addition to

aggregate reporting

, Google also introduces the notion of

event-level reporting

on high-fidelity trigger data. The two reports compliment each other and should provide a greater degree of performance visibility for optimization.
Google makes it a point to call out that this component is a work in progress, with future considerations and open questions on which they welcome community feedback. Thankfully, Google is already ideating on non-last-click attribution models and cross-device measurement use cases as part of the Attribution Reporting API's future. With the proliferation of connected devices and omni-channel approaches to marketing, those will be two must-haves.
As the dust settles in the next 24 months and final Google specifications come into focus, we will share details regarding the future of attribution on Android and beyond with Kochava.
From the AppTrackingTransparency framework & SKAdNetwork, to the deprecation of Facebook's Advanced Mobile Measurement (AMM) program and continuing shifts in government regulations on user privacy – digital advertising has been on a dizzying tailspin of change. At this moment, we're witnessing the next chapter unfold on Android. 
Now, more than ever, marketers need a best-in-class, omni-channel marketing expert at their side to navigate the neverending twists and turns of this ecosystem. Brands don't have to traverse this alone, nor should they. Kochava is continually looking to the future of measurement on behalf of our customers. 
Similar to our introduction of Privacy Profiles and premium SKAdNetwork solutions to support our customers on iOS, we're poised to spearhead innovation to deliver the next generation of privacy-first measurement and attribution on Android. Further, our dominant position in supporting the over-the-top (OTT) and connected TV (CTV) space has made us the leader in cross-screen conversion attribution spanning devices and platforms. Last, but not least, our MediaLiftTM product delivers an anonymous, privacy-first approach to large scale incrementality testing and lift measurement – a truer measure of media spend efficacy for the future. 
Subscribe to our newsletter for ongoing updates on Google's Privacy Sandbox, impactful product updates, and other pertinent news for marketers.