Tamatem uses Kochava SmartLinks to determine valuable influencers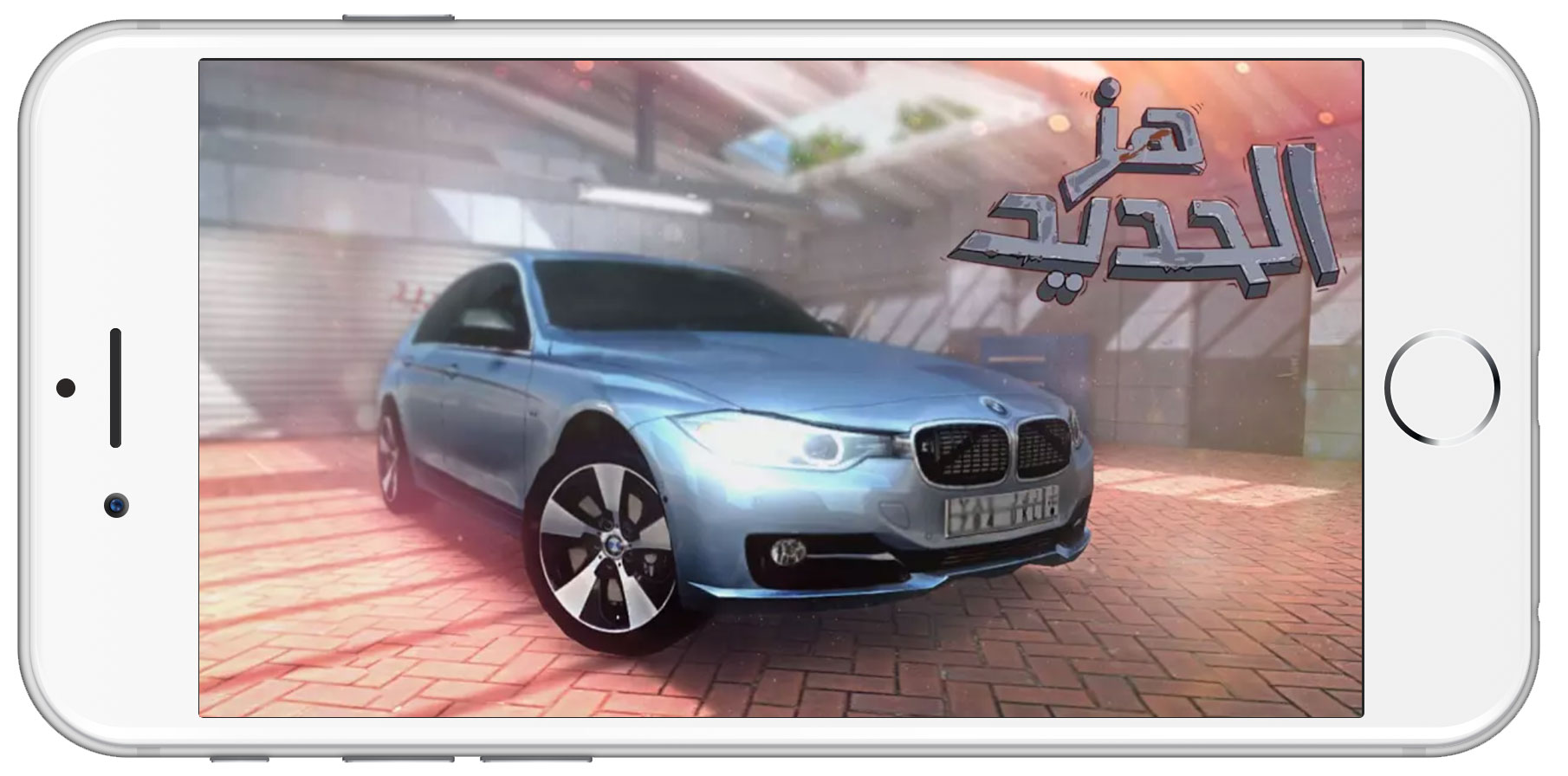 In the ever-expanding world of gaming apps, the Jordanian startup games publisher, Tamatem, is likewise growing exponentially in the Middle East and North Africa (MENA) region with their singular approach to adapting games for the Arabic culture. Using SmartLinks by Kochava, they target their audience through influencers on the big social networks. "We focus entirely on serving Arabic smartphone users with games tailored for the language and culture of the region. We take successful games from across the globe through partnerships with international developers and studios and make them culturally relevant to the needs and wants of the region," said Eyad Al-Basheer, chief operating officer at Tamatem. Tamatem formed in 2013 as a way to reach a strong but underserved gaming population in the MENA region. With the majority of the Arab population in the area younger than 25 years of age, Tamatem is on top of a large, young and relatively untapped market searching for content. Within weeks of launching in January of 2014, they saw several thousands of downloads daily—and that was without advertising. Tamatem's game adaptations are in demand in Saudi Arabia, Kuwait, the United Arab Emirates, Bahrain, Qatar and Jordan, among others in the MENA region.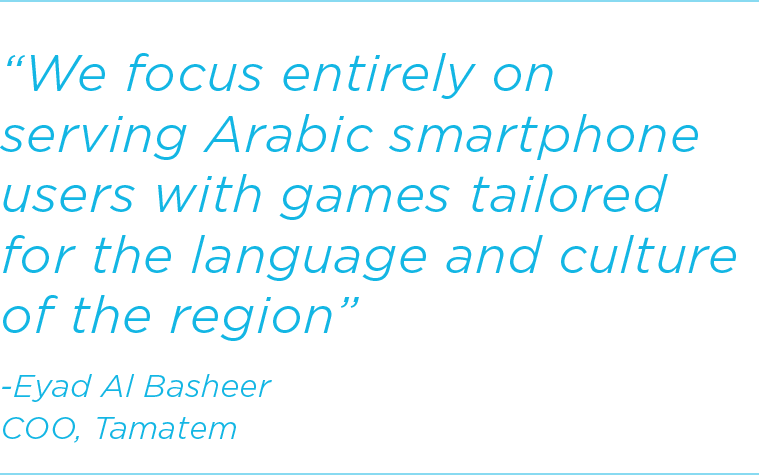 Tamatem's uniqueness is in the localization of games. They customize and market games from international partner studios by translating them into Arabic and altering the graphics to create familiar scenery and icons. In their most popular game, "Shake the Metal," players escape from the police, drift across highway lanes and zoom through the desert and other locales while popular Arabic music provides the soundtrack. The secret to their success is in knowing their audience, which goes for racing, strategy, building, hidden objects, platform and trivia games. Many of their users are Muslim, and the company has marketed games relevant to Ramadan, a month-long religious holiday period, where, as a byproduct of the observance, followers have more leisure time and seek entertainment. To engage users, Tamatem developers add secret levels and gifts to games related to the holiday. They also launch campaigns during certain times when this audience is more available. When it came to tracking user activity on campaigns, Tamatem looked to Kochava to show them the tools they needed. SmartLinks proved to be a multipurpose tool along with Campaign Manager, and they plan to expand further into the Kochava armamentarium of measurement tools as their time with the company progresses. "Because we cannot track everything ourselves, we had to find a partner we could rely on with the best customer service and overall services that fit our needs," Basheer said.
Kochava SmartLinks provide dual purpose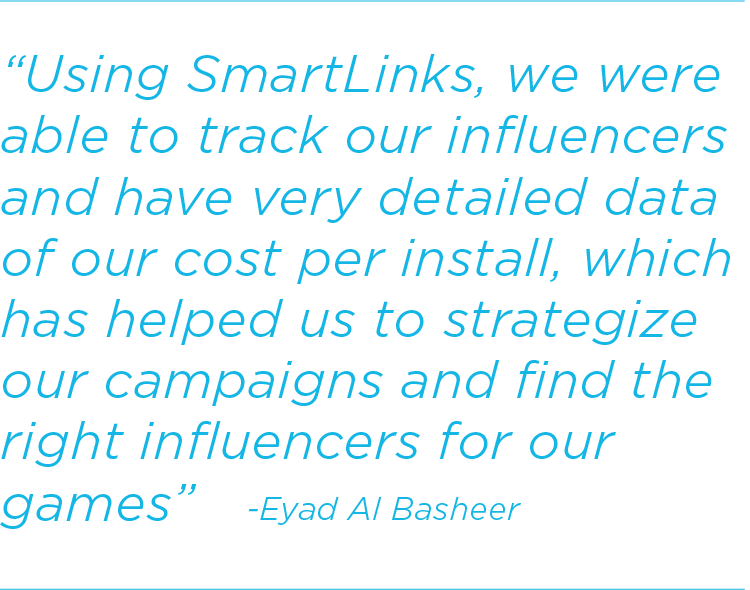 Because social media is so popular among their user audiences, Tamatem promotes their games exclusively on them using select influencers who post on their behalf. They primarily reach their users via Instagram, Snapchat, Facebook, Youtube and Twitter and match them to an influencer according to the game genre. Each influencer has a unique SmartLink for Tamatem to track during and after the campaign. The primary intent of SmartLinks is to redirect users from one location to another, usually the app store. However, with Kochava SmartLinks, Tamatem also tracks the users working as influencers for them. When the influencers share their unique SmartLinks on their preferred social media channels, Tamatem tracks them individually via the install and detail reports on their Kochava dashboard. In this way, the SmartLink not only redirects users who clicked on an influencer's post to the app store, Tamatem also tracks the clicks and installs they derive from the link associated with the influencer. "We mostly use SmartLinks to track our influencers on social media, especially Facebook and Instagram. The MENA region has very high social media penetration rates, and the fact that we can use SmartLinks to track everything made everything so much easier and a lot more accurate," Basheer said.

During a recent update to "Shake the Metal," the Tamatem marketing team contacted their social media influencers and sent them each an individual SmartLink. On the Kochava dashboard, they could measure the amount of installs from each SmartLink to determine their most effective influencers. Using the duality of SmartLinks for "Shake the Metal" and its sequel, "Shake the Metal: Rush," games, Basheer said they have netted more than 9 million downloads and report 1.4 million active users monthly on the games they promote. In addition, they apply the data from SmartLinks to obtain cost per install (CPI). "Using SmartLinks, we are able to track our influencers and have very detailed data of our CPI, which has helped us to strategize our marketing campaigns and find the right influencers for our games," Basheer said. When a campaign is in full mode, they rely heavily on Kochava analytics to measure user activity and on CPI on the social networks. "Through Kochava, we discovered that our CPIs are much better on Instagram than Facebook…. At the moment, we are exploring new networks, and Kochava analytics will help us to determine which networks work best for us," Basheer said. Making games culturally relatable and knowing the networks to drive is what will keep Tamatem leading the gaming space in the MENA region.