Surveying the true impact of the AppTrackingTransparency (ATT) framework
Ready or not, iOS 14.5 has finally arrived. While the anticipation is at an end, it's safe to say most app developers and marketers aren't breathing a sigh of relief. We should all expect a bumpy road ahead as the industry adapts to the full impact of the ATT framework.
Here are some key questions that linger at this moment.  
1.) How fast will iOS users update to iOS 14.5?
From prior iOS updates, Kochava observes about 60% of total iOS devices update within the first 30 days of a new release. A portion of your audience is likely to remain on older iOS 14 and even iOS 13 versions for weeks and months to come. 
2.) Will the average ATT opt-in rate of 41% hold?
From apps that implemented ATT ahead of iOS 14.5, we have witnessed a fairly steady, average opt-in rate of 41%, with variations across different app verticals and categories. We will be closely monitoring changing trends with the broader rollout and provide insights as they become available.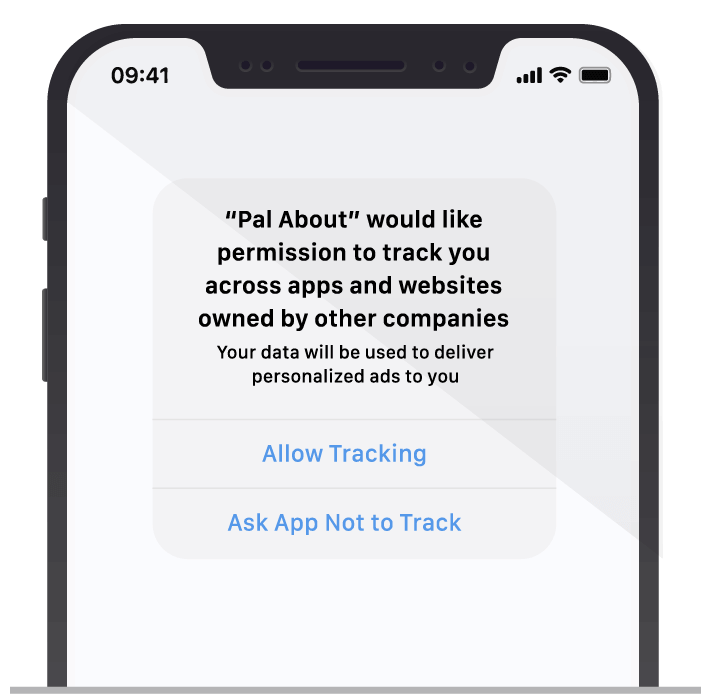 Average Opt-In Rate through ATT

(For the week ending April 23
rd
, 2021)
41%
3.) Will SKAdNetwork adoption skyrocket?
Many advertisers still aren't ready for SKAdNetwork, and the same could be said for many publishers and ad networks. Will that rapidly change as more users start opting out through the ATT framework, which in turn will sideline attribution insights, except for those available through SKAdNetwork? Advertiser demand for SKAdNetwork-ready inventory will certainly be a key driving force in adoption. 
The below graphics highlight attribution options in instances of user opt-in and opt-out through the ATT framework, and showcase just how important the SKAdNetwork will be.
Attribution flows with the user
opt-in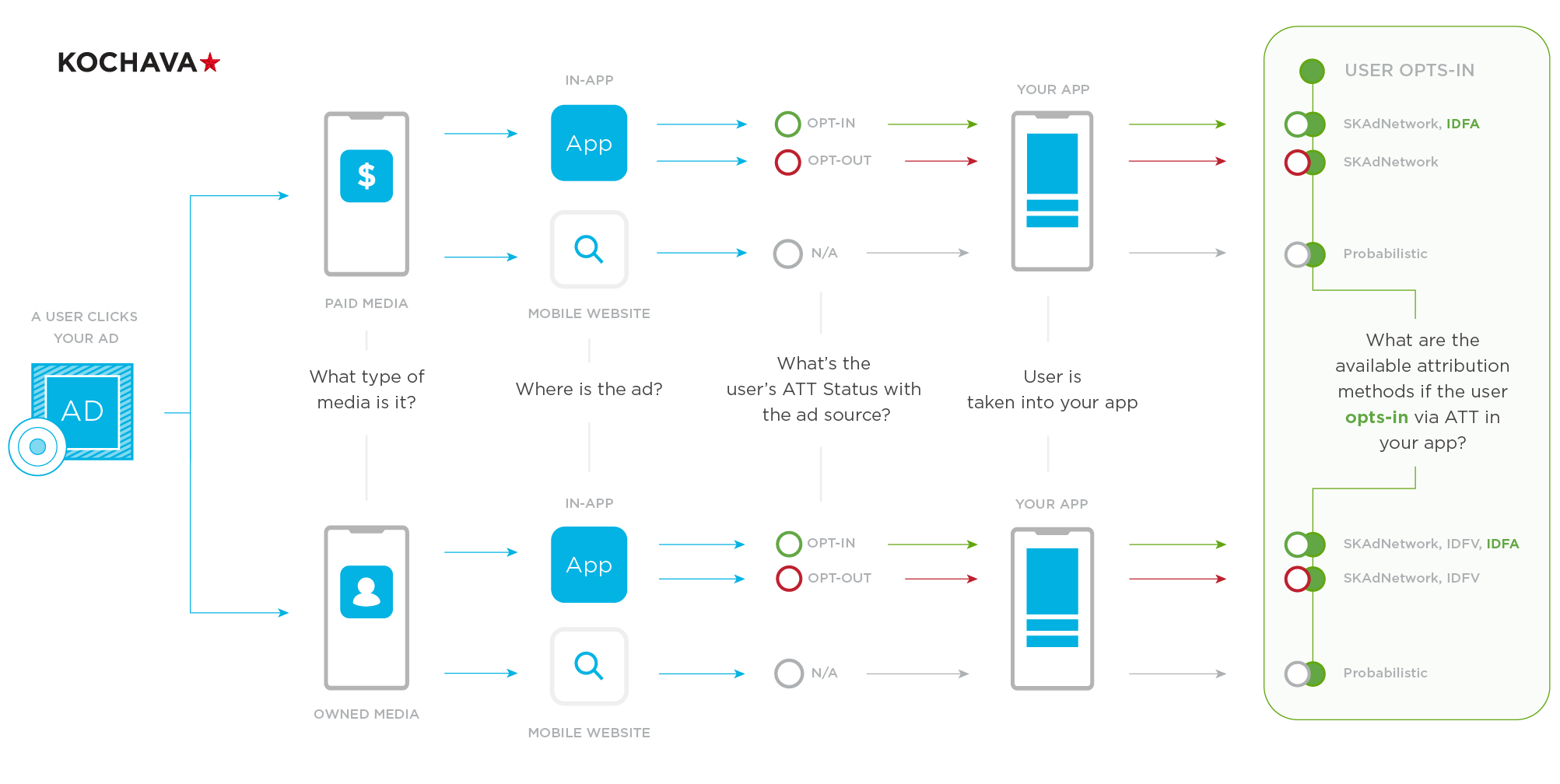 Attribution flows with the user
opt-out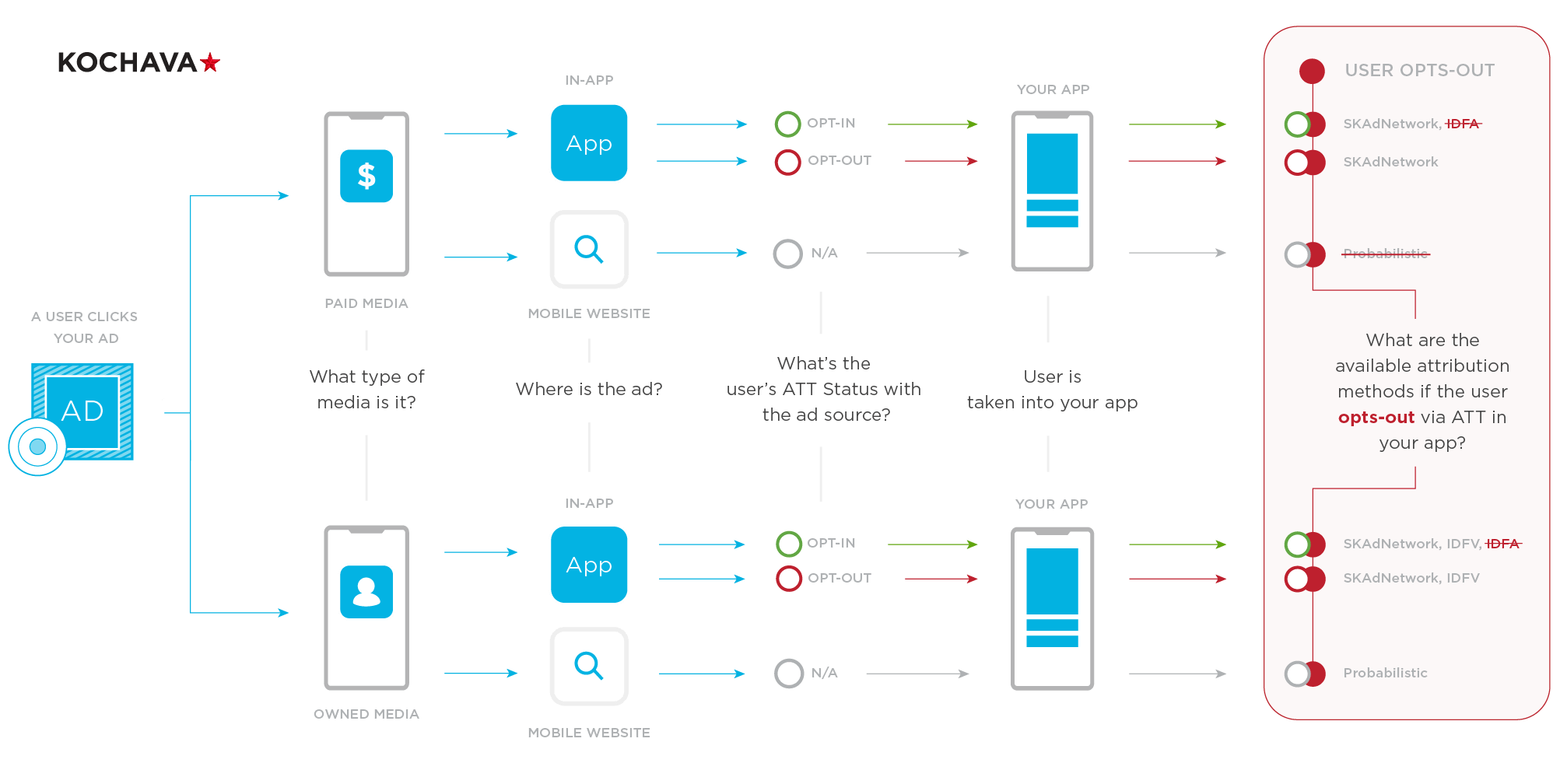 If you're not ready for SKAdNetwork yet, contact your Client Success Manager or email support@kochava.com to fast track setup of Kochava SKAdNetwork solutions.
SKAdNetwork-ready media partners can be found through our SKAdNetwork Partner Certification program. 
4.) What performance fluctuations should advertisers expect?
Exact percentages are elusive at this moment but expect to see a downturn in overall attributed volumes. 
Remember that IDFA-based deterministic attribution is ONLY available when the user has opted-in to tracking in both the source app where the ad was served and the advertiser app where the conversion takes place. As ATT implementation broadens, we should get a better understanding of the frequency of this scenario, but, needless to say, deterministic attributions to in-app media will decrease. 

In instances where ads are served in mobile web, where the ATT framework is unavailable, probabilistic attribution can ONLY be utilized when the user opts-in to tracking. If the user opts-out, probabilistic attribution is not allowed, and SKAdNetwork is unavailable. Advertisers should expect a drop in probabilistic attributions to mobile web channels. 

To overcome this mobile web chasm, some advertisers are considering driving traffic to their mobile website instead of their mobile app. Smart app banners can later be utilized to drive those mobile web users into the app in an owned media context. 
5.) Will we see more App Store rejections?
Remember those early Spring App Store rejections that caused alarm (see related blog)? While many partners, Kochava included, are adhering to Apple's user privacy and data use policy, there are still some that are taking questionable liberties with their interpretations. Our educated hypothesis is that based on what Apple has said and done to date, more App Store rejections will follow. 
Do you have other questions about iOS 14.5, the ATT framework, or SKAdNetwork? We're here to help. Visit our iOS 14 resource center or contact us.