IDFA opt-in benchmarks, SKAdNetwork-ready partners, and more
iOS 14.5 officially launched on April 26th, 2021, and just over one week later, what are we witnessing and how is the ad tech industry coping?
Here's what we'll take a look at:
Percent of devices upgraded to iOS 14.5

AppTrackingTransparency (ATT) framework opt-in stats

Media partner readiness

Steps you should take
What percentage of iOS devices have upgraded to iOS 14.5?
By analyzing the device operating system (OS) version reported on daily iOS app installs across the past week, we're seeing approximately 9%-10% of devices are upgraded to iOS 14.5. 
Based on historical trends, we can expect around 60% of total devices to be updated within the first 30 days after release. 
Note that the percentage of your total in-app users who upgrade may fluctuate based on app vertical and other factors. 
ATT framework stats that may interest you
The average opt-in rate among the iOS apps that are prompting, and measure with Kochava, has climbed from 41% to 45% as of 04/30/2021. Remember that users who already had Limit Ad Tracking (LAT) enabled on prior iOS versions will not be prompted and will automatically be opted-out from tracking for all apps on their device. As such, the 45% is not from among all iOS users, but only those who are being prompted and did not have LAT enabled. 
An interesting, and perhaps not necessarily unexpected, finding is that users who opt-in to tracking overwhelmingly do so within just a couple of seconds of seeing the prompt which suggests they're likely not reading the prompt detail. On the other hand, those who choose not to allow tracking, spend a far greater time viewing the prompt before making their selection.
The below side-by-side line graphs show this distinction based on an analysis of over 500K ATT prompt interactions across hundreds of distinct apps.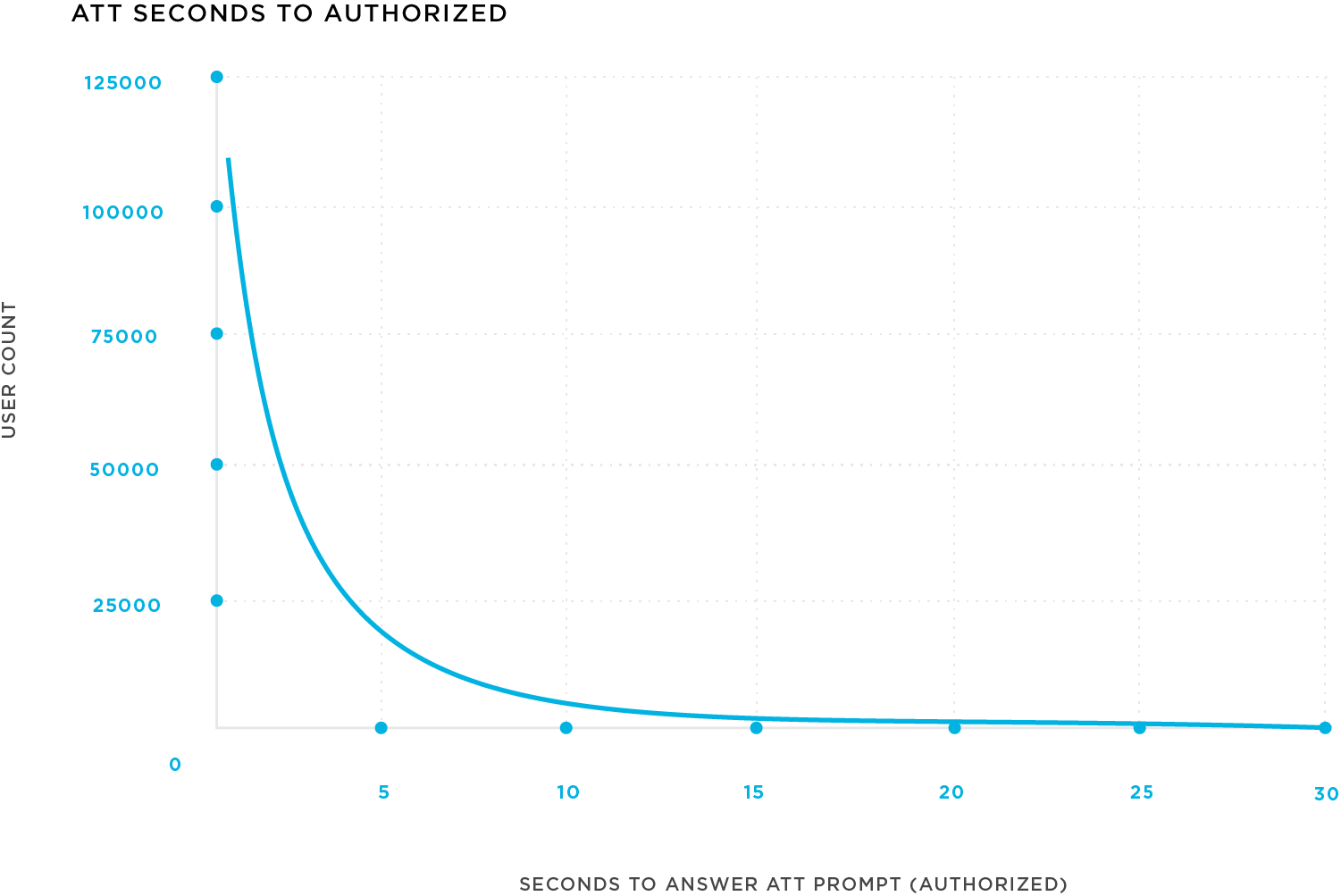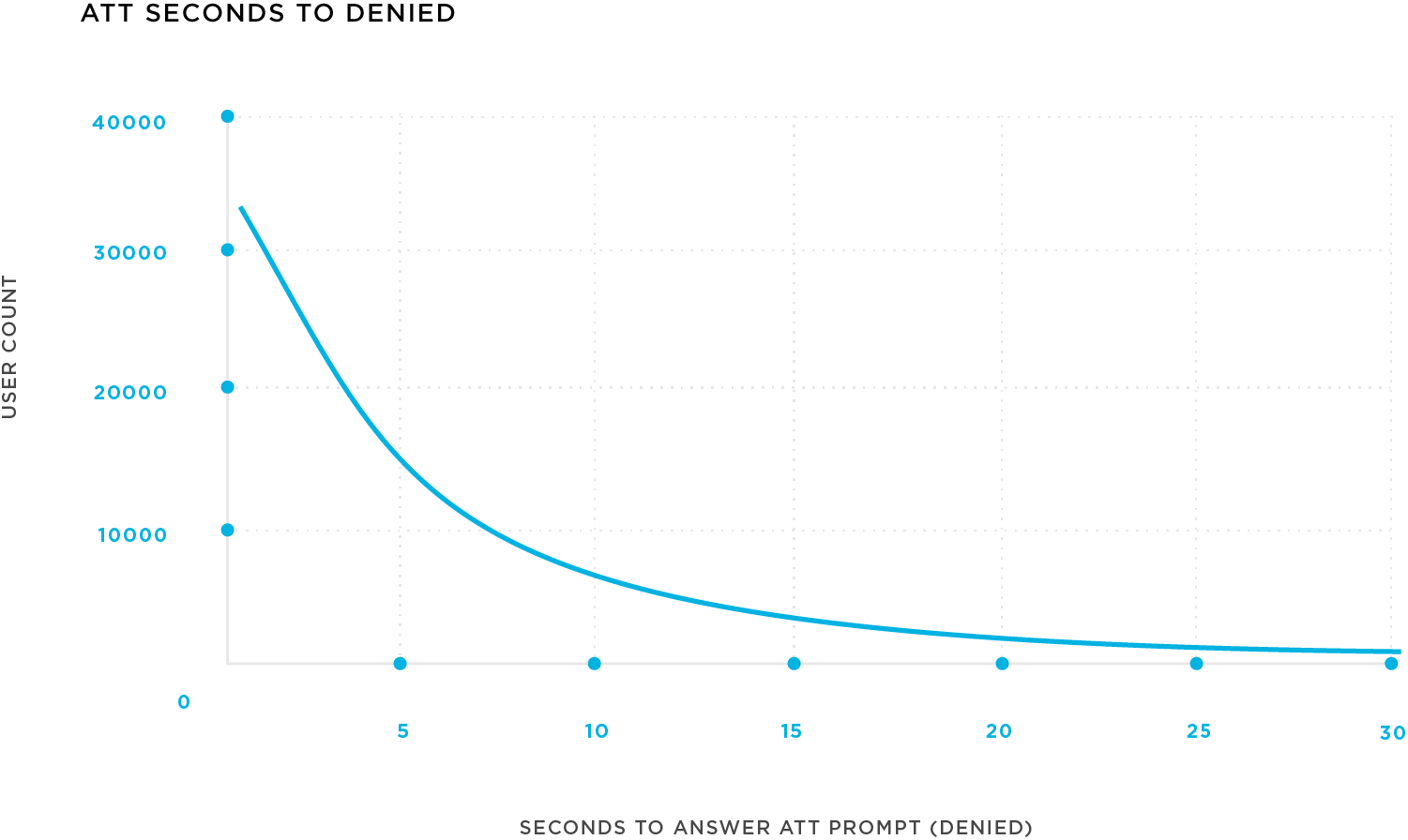 We will continue to monitor opt-in rates and share more vertical-specific metrics as adoption increases. You can find the latest average opt-in rate in our iOS 14 resource center. 
If you're still finalizing your prompt strategy for the ATT framework, be sure to review our related post: How to Maximize User IDFA Opt-in. To see a collection of prompts in other iOS apps, visit www.ATTprompts.com. 
IMPORTANT: Remember not to implement a pre-prompt ahead of your ATT prompt, as your app will be rejected from the App Store. You're allowed to educate your users on the purpose of tracking and how you will use the information, but you may have only one call-to-action (eg, Next or Continue) on the screen. You cannot present a yes or no prompt to force the user to make a decision outside of the official ATT prompt window.
Are your media partners ready?
While there was just over a 10-month runway leading up to the final takeoff of iOS 14.5, along with its implications for ATT enforcement and SKAdNetwork adoption, many partners still aren't ready. Some advertisers and agencies are facing a freefall in iOS campaign conversions as machine learning optimization algorithms falter in the face of dropping IDFA availability and limits on advertising measurement. The feedback loop relied upon for programmatic advertising is coming under strain. 
If you're looking for partners ready to operate on Apple's SKAdNetwork immediately, view our SKAdNetwork Certified Partners in the Kochava Media Index.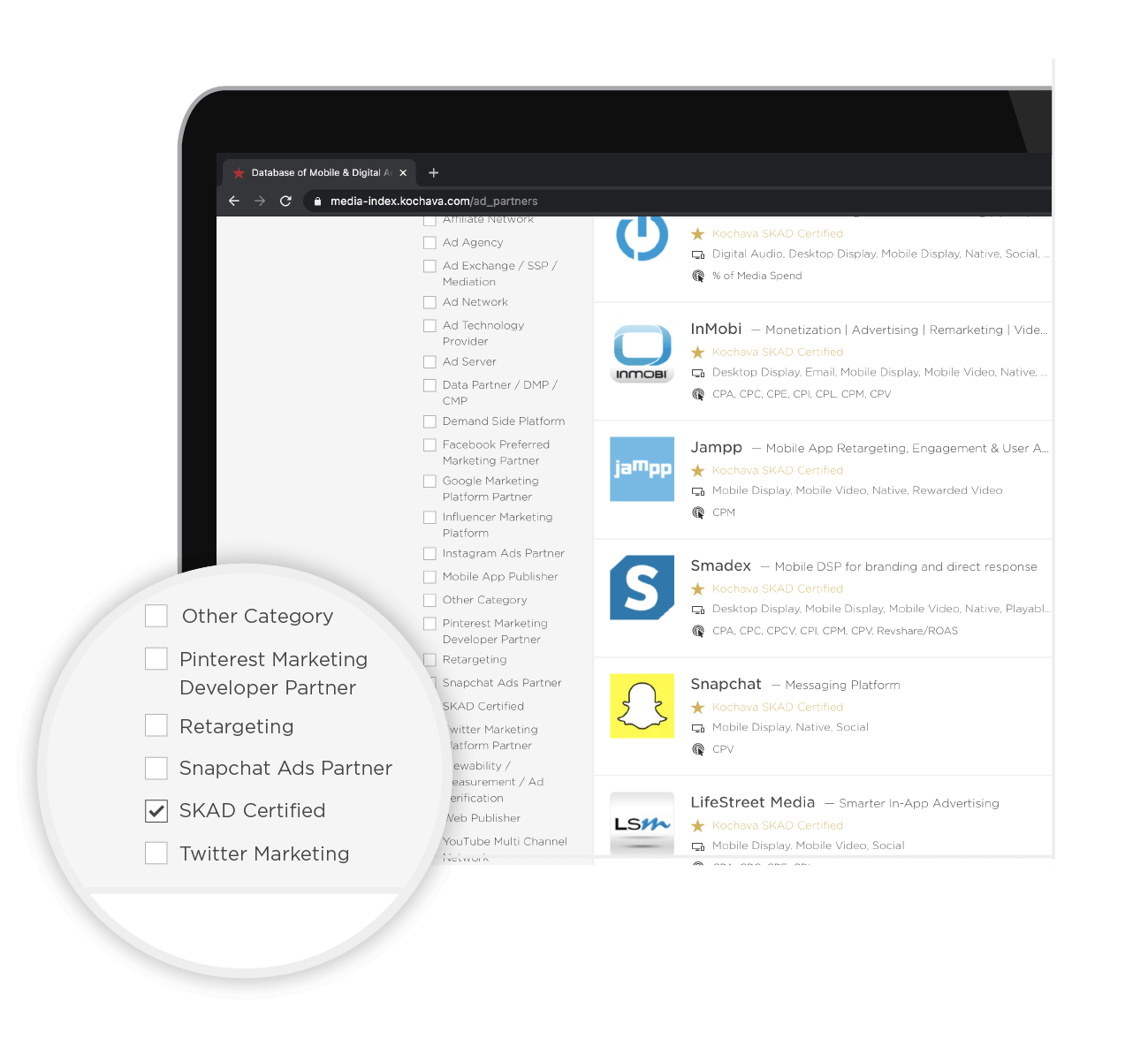 Simply select 'SKAd Certified' in the TYPE sidebar filter list.
To view further status details of each partner in the program, visit this support documentation.  You can find specifics on the campaign data enrichment they support, whether they have live traffic or are still in testing and more. 
Keep in mind that your app must also be fully integrated with the SKAdNetwork to run with a partner. If you have not yet integrated SKAdNetwork support, contact your Client Success Manager or email support@kochava.com. Learn more about Kochava SKAdNetwork Solutions. 
Steps you should take
Whether you feel prepared or wholly unprepared for this moment, here are some straightforward steps you can take. These will help you make sure you're on the right track and doing everything you can to reduce the bumps in your road during this transition. 
Review our

iOS 14.5 Final Launch Checklist

and take any necessary steps. 

Button up your ATT prompt strategy and keep an eye on opt-in rates. Consider changes and optimizations if you're well below the 45% average opt-in rate. Test, learn and adapt as needed. 

If your app isn't already SKAdNetwork-ready, make it a priority to integrate SKAdNetwork support asap. If you need help choosing the best SKAdNetwork conversion model for your app and vertical,

contact us

. 

Assess your media mix. Are your partners ready to support your growth efforts on SKAdNetwork? If they're not, press for a firm commitment on when they'll be ready so you can allocate spend accordingly.

Watch and listen to your data. Expect shifts in attributed conversions on iOS, as iOS 14.5 adoption restricts available real-time attribution options.
Talk with us
No matter what hurdles you're facing during this major shift, we're here to help. Visit our iOS 14 Resource Center for informative content and the latest updates. Contact us for a free consultation.