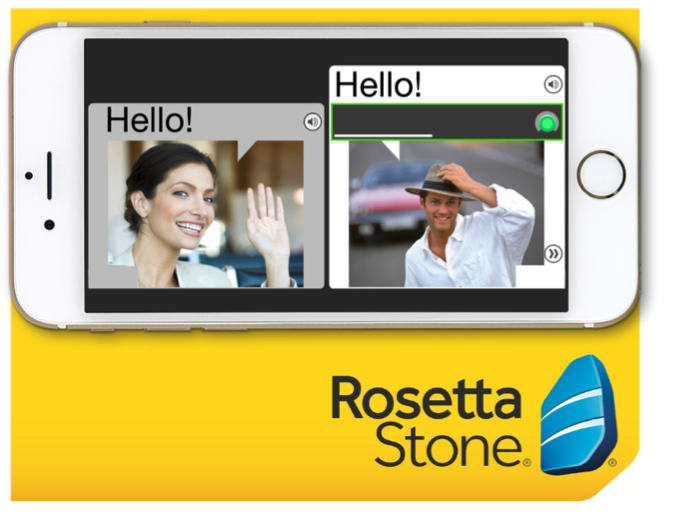 Rosetta Stone was founded in 1992 with the goal of accelerating language learning through the use of interactive software. Rosetta Stone's unique approach of Dynamic Immersion uses images, text and sound to teach words by spaced repetition, without translation or grammar explanation. Rosetta Stone's Learn Languages app, free to start, allows users to extend their experience away from their computers putting more than twenty languages at their fingertips.
Caitlin Romig, Senior Manager, Digital Marketing–Global Consumer, has been tasked with overseeing all paid digital marketing efforts on both mobile and the web for Rosetta Stone. In addition to managing all of the digital display advertising the company uses at any given time, Romig and her team must optimize ongoing campaigns in order to maximize the number of installs these campaigns generate. Ultimately the digital marketing team is working towards the goal of gaining new customers who will eventually become paid users of the Rosetta Stone solutions.
From an analytics perspective, the team that Romig oversees is tasked with determining how leads are converting and the cost associated with those leads. On the developer side, the team is able to see how the app is used in individual sessions. Together with the Kochava data, these combined insights allow the digital marketing team to make informed decisions about how best to market to users and what campaign adjustments to make in order to optimize the ad spend.
Accurate Data Ensures Transparency with Vendors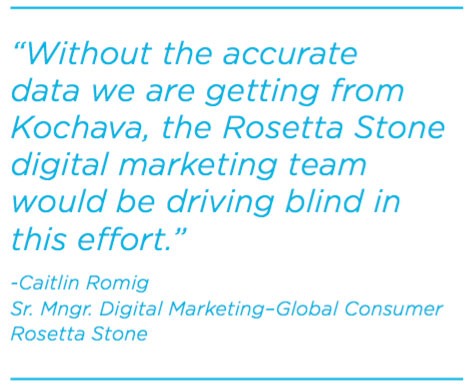 Prior to using Kochava, Rosetta Stone was only able to track basic metrics, and thereby was only able to measure its campaigns by the cost per installation. Since updating its SDK, Rosetta Stone has been able to look at email registration and purchases based on source. Now, with the help of Kochava, the company is working towards improving its attribution data enabling them to further verify the ad dollars spent and optimize campaigns at a more granular level.
"Having consistent, reliable data in real-time is highly critical, particularly in ensuring full transparency with our ad vendors; it makes it possible for us to push them to deliver higher quality campaign results," Romig said. "Without the accurate data we are getting from Kochava, the Rosetta Stone digital marketing team would be driving blind in this effort."
As Rosetta Stone continues development of its mobile marketing strategy, Kochava is there to help the company gather even more information, for example downstream events like in-app purchases, and then to adjust Rosetta Stone's campaigns to further target the highest value users.
"We have already found success with Facebook ads, and the Kochava data has proven invaluable in reaching and measuring this success. We also test other ad networks and publishers to find the right mix for Rosetta Stone," says Romig. "The level of reporting we are able to get from Kochava is allowing us to make marketing decisions that can drive our marketing ROI. Ultimately Kochava enables us to spend our marketing dollars wisely."
Kochava Delivers Unmatched Customer Support and Best Practices Advice
"Data inconsistency can be very detrimental to our business, but the Kochava account team goes above and beyond, working tirelessly to ensure we have all of our system bugs worked out and everything runs smoothly, which allows us to ramp up our new campaigns without any worry about data inconsistency."
Romig not only relies on the Kochava account team's responsiveness to troubleshoot any issues but also looks to the team for advice and best practice recommendations to ensure Rosetta Stone is getting the most out of all the various Kochava features available. The Kochava account team makes useful suggestions and takes the time to provide detailed explanations around new features or capabilities that Rosetta Stone could be benefiting from to help the company maximize the usefulness of the Kochava solution.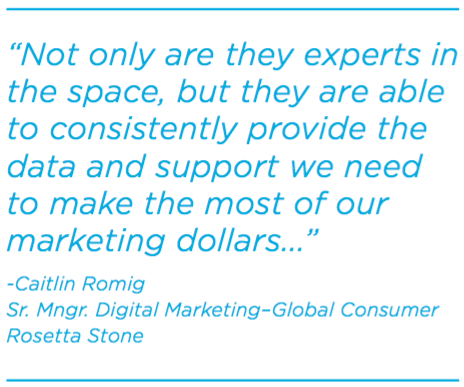 "With Kochava we have a trusted partner vested in helping us make the very most of the tools at our disposal. Not only are they experts in the space, but they are able to consistently provide the data and support we need to make the most of our marketing dollars and resources," said Romig. "We are particularly excited about the new analytics tools Kochava recently released. The capabilities to manipulate data even further are key for us moving forward as we continue to work with the product team to develop new strategies for future releases."
As Rosetta Stone looks to the future of its mobile offerings, one thing is for certain, they only plan to work with the best, as a successful app strategy is key to remain the leader in language learning.
"With Kochava, we have the tools we need to ensure we are making the best marketing decisions possible and we look forward to growing our business based on the valuable data provided by Kochava as we look to launch our new mobile app next month," adds Romig. "We feel strongly that we should be working with the best partners, the best tools, and the most comprehensive support systems available, and Kochava is all that and more!"