Even users who don't have your app installed can be deep linked at first launch.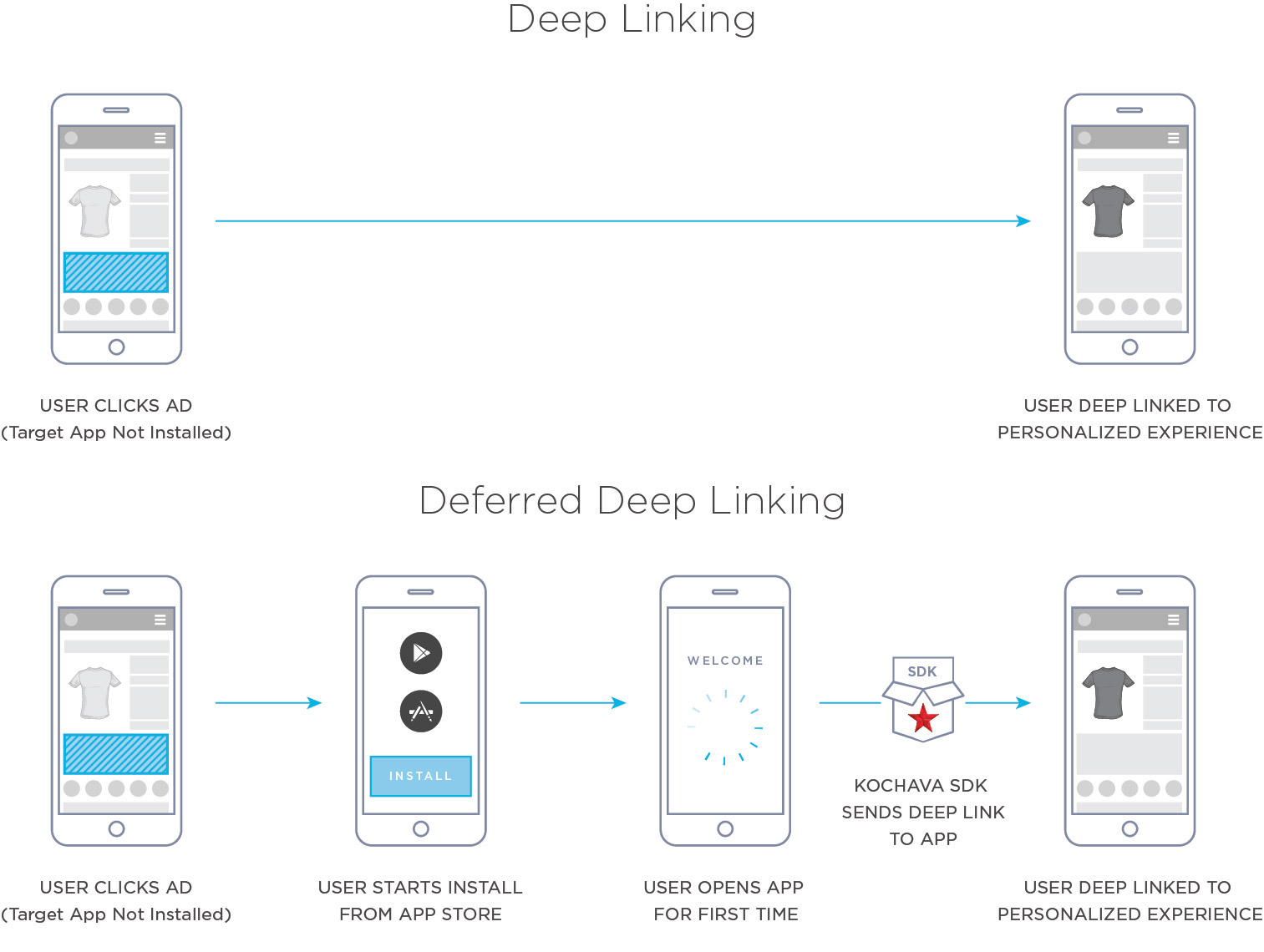 A user just clicked one of your Snapchat ads for that special offer on a new set of noise-cancelling headphones. As the marketer, you placed a deep link into the Snapchat dashboard so the user will be taken right into your eCommerce app with the headphones pre-populated in the cart and the discount already applied. Now that's a friction-free experience that will make the user much more likely to convert and complete checkout. 
However, that will only happen if the user has your app installed. What if they don't? They'll need to go to the app store and install the app first. When they later launch the app for the first time, how will your app know which ad campaign they converted through and what first-launch experience to give them? This is where Kochava can help. 
As your measurement tool, Kochava can track every install from your app and then process attribution by communicating with Snapchat's API (application programming interface) to grab the context of the advertisement that the user clicked in the Snapchat platform. Snapchat tells Kochava the exact deep link you placed in their dashboard for the campaign. The Kochava software development kit (SDK) can then communicate that dynamic deep link to your app upon launch and the user can be met with the same experience as if they had the app installed when they clicked the ad. This is called dynamic deferred deep linking. 
The Snapchat and Kochava integration currently supports this functionality and Kochava will be adding the same support for Google Ads in early 2020.
Now for Facebook and other partners who do not offer an option to report the exact deep link from their dashboard, Kochava now lets marketers add a static deep link into the tracker in the Kochava campaign management dashboard. These trackers can dynamically sync to a corresponding campaign or ad group in your partner's platform. When Kochava attributes the install back to that tracker, the Kochava SDK can send a campaign or ad group level deep link context to your app, enabling the user to be met with a personalized experience upon first launch. 
As ad platforms that see the majority share of ad spend, support for deep linking and deferred deep linking functionality is paramount to maximizing return on ad spend. 
Ready to leverage this new functionality to drive the best experience for your users? Contact your Client Success Manager or Support@Kochava.com for more information. 
Not a Kochava customer? Contact Us