With Great Privacy Comes Great Challenges: Build the Solution with Kochava and a SKAdNetwork Partner
In the years to come, iOS 14.5 and App Tracking Transparency (ATT) might be seen as the asteroid that hit the online ad marketing world. While it only affects ~20% of the worldwide smartphone market, it's a change that could be the first of many to come as transparency and control have become driving factors in user privacy for the mobile market. Transparency in what information is being shared and control in that a user gets a choice to opt-in or opt-out.
Privacy concerns are only becoming more in focus with three states and the District of Columbia bringing lawsuits against Google. Karl A. Racine, the attorney general for the District of Columbia, was quoted saying, "Google falsely led consumers to believe that changing their account and device settings would allow customers to protect their privacy and control what personal data the company could access." Governments, not only here in the US, are taking a closer look at what data gets shared, who shares it, and whether the consent of the user is present. No surprise that Google just announced this quarter moving their Privacy Sandbox into their Android marketplace. According to Digiday, Google will still support their Android AdID for at least two years but it would not shock anyone if we find Google eventually moving towards Apple's direction in privacy after that.
With Apple holding back user information by default on their devices, and advertisers needing metrics to measure performance, in comes the middle-ground of the SKAdNetwork. SKAdNetwork was developed with iOS 11.3 as an ad network API designed to help advertisers measure their campaigns while maintaining user privacy. The ad networks are required to register with Apple and app developers must configure their apps to work with ad networks. Since the release of iOS 14.5, many improvements have been made to the SKAdNetwork (multiple postbacks, ad display) making it clear that Apple wanted this framework to be the future.
What are the challenges of the SKAdNetwork?

While the SKAdNetwork is that middle ground, it doesn't give the entire picture for attribution like it was in the pre-ATT enforcement days. Per the pivot table above, based on whether the user has selected opt-in or opt-out, it's clear that most of the attributable data between apps will be from SKAdNetwork. So how does SKAdNetwork work and how is it different?

First off, SKAdNetwork install validation postbacks don't happen immediately and could take up to a couple days at minimum to arrive. Second, the postbacks lack any device or user data. The delay combined with the lack of user data makes it impossible to identify a specific user or device, thus ensuring the end user's privacy. This means measurement of a campaign on any iOS 14.5+ device must take a different path than any other. With these challenges it's more important now than ever, to have not only an MMP but a full Marketing Suite of tools. To succeed with SKAdNetwork, it will require a full embrace of the technology behind it.
With all of the challenges introduced with the SKAdNetwork, it's clear the game plans of past measurement models will just not work with iOS devices going forward. While quite a bit of the information we had access to before (IDFA, etc.) is now being held back there are some innovative ways to still capture meaningful performance insights,  but it will take an MMP to help you realize the whole omni-channel picture. 
With an MMP, you will need to measure performance for your iOS acquisition campaigns in a more aggregate cohort manner. At Kochava, we have innovated different SKAdNetwork conversion value models that are able to deliver targeted insights aligned to the key performance indicators (KPIs) that are most important for your apps. These models: Revenue, User Journey, Engagement and Highest Value Event – are the most advanced and configurable conversion models available giving you the greatest insights in the industry. Additionally, developers can work with our FoundryTM team of data analysts to identify the optimal conversion model for your app based on a data-driven analysis of your first-party app data.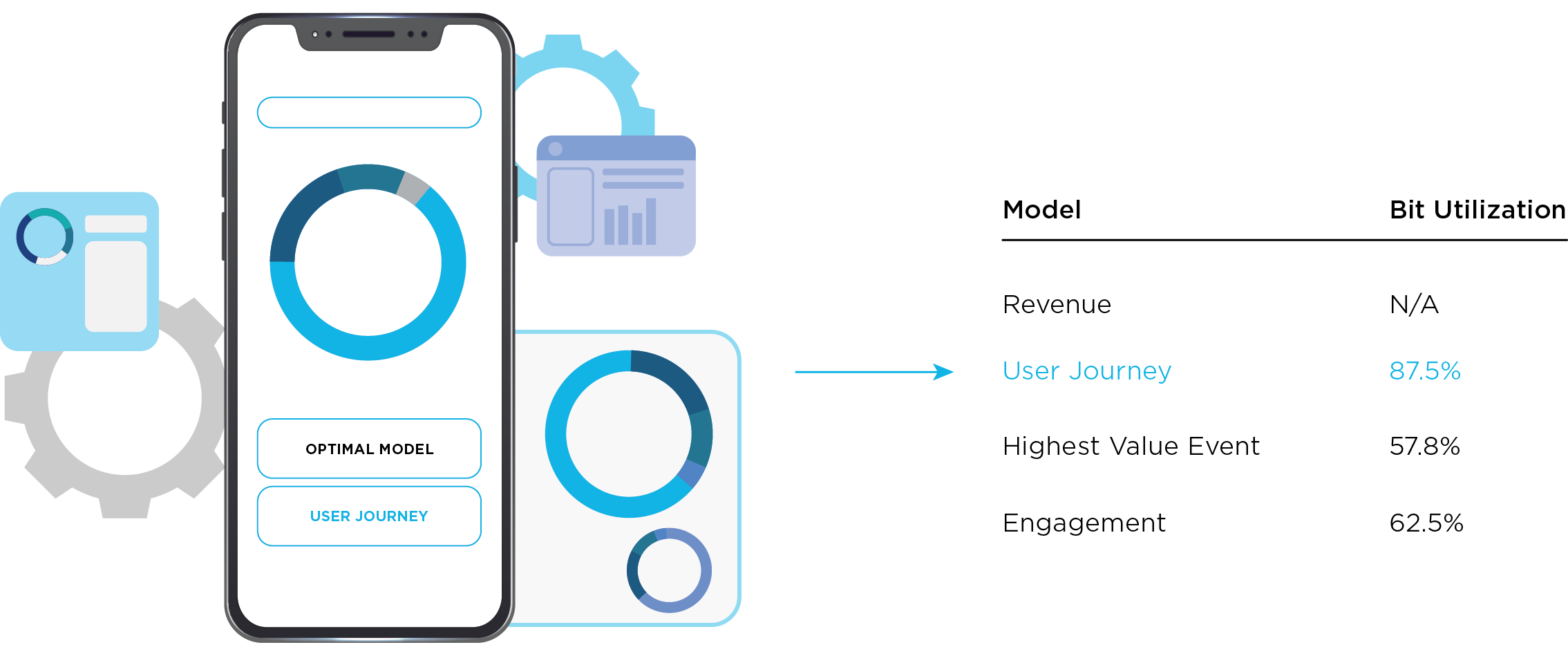 On the supply side, it is important to realize that the privacy stance Apple has taken is not going away at least for all iOS devices. All users on those devices will need to be measured differently than those on Android or earlier iOS versions. While it's true if a user does opt-in on their device for ad targeting and advertising measurement, the percentage of users who do that will be far less than the opt-outs and any measurement of them specifically might not carry the necessary weight.
A good example of how to handle this is TikTok who embraced the challenges of SKAdNetwork and designed dedicated iOS 14+ campaigns in their business center. In the business center you can  separate the iOS 14+ users into their own segmentation and make it easy to set up and create campaigns based around them. 
As for Developers, it's important to send all events including unattributed between all parties and also work with your MMP to make sure your SDK is up to date. You will also need to configure your key conversion events so that they fit within the specified conversion models you are looking to utilize. Ad networks are working hard to get their platforms aligned with the needs of SKAdNetwork. At Kochava we have created the SKAdNetwork Certified Partner Program to identify the networks ready to support the robust conversion models we have developed for advertisers while also delivering maximum granularity in campaign metadata.
What Kochava's Partner Program Can Do
To be certified, a partner has made steps to ingest SKAdNetwork data and will also provide the postback to Kochava. Certification through the program indicates that a partner is taking the necessary steps to maximize advertiser success on the SKAdNetwork and provide the most granular level of performance insights feasible through the SKAdNetwork. All major super publishers are integrated with Kochava: Google, Facebook, Yahoo, TikTok, Snapchat, Twitter, and more.
With an ad network that is SKAdNetwork Certified by Kochava, you will get a seamless integration for your campaigns so you can get the right answers for your continued growth. Kochava has the best tools and the best models for dealing with this aggregation of customer data and gives you that flashlight in the dark. Our dedicated, hands-on client support model can help you get answers to questions you haven't thought of yet. We are continuing to work with our models to reconstruct partial data, tailor measurement windows, and gain information for what you need to measure success.
While these Networks are SKAdNetwork ready it's important to realize that, even among the big players, you can see some drastic differences. It's clear that key players in the space have taken the challenges of the SKAdNetwork with no clear solution working the same for each. Here at Kochava, we are working hard with each of these partners to streamline the process for the marketer. 
It's important now more than ever to have partners like Kochava that can work with these challenges and help you decide what's best for your app as a whole. Our support services have crafted guides to help with campaign management for each of these individual networks (Snapchat, TikTok, Facebook, and more) so you can make sure your campaigns are working right. 
What does the future hold for SKAdNetwork?
It's not going to be surprising if we start to see something like Apple's privacy rules appear on other device platforms albeit in their own way. In a more interconnected world, it is going to take more information from more sources to get a better understanding of the information we do have access to. Businesses that have experience and success in OTT advertising and measurement are best positioned to succeed as more platforms become more selective in their user identification and privacy frameworks.
For Apple's SKAdNetwork, conversion value models will continue to evolve and require more and more non-specific user data to fill in the missing gaps and predict business outcomes. For the future, omni-channel will become more prevalent and to fully achieve attribution will require measurement beyond one device. It is increasingly important to find the right partners that can get that data, analyze it, and support the networks on a full next-gen marketing platform prepared for whatever the future holds.