Kochava's enhanced SmartLinks help you swiftly create links that will seamlessly route your users to any destination, without sacrificing tracking and attribution.
What's New with SmartLinks 
SmartLinkTM associations: Associate SmartLinks to media partners, agency partners, and  campaigns. 
Impression tracking: Perform impression tracking for acquisition campaigns.
Reengagement click-to-conversion tracking: SmartLinks can act as acquisition and/or reenagement trackers all in one. Simply choose the conversion events you'd like to convert on, which can include installs and any post-install events you track. 
Universal Links and App Links: 
Kochava can attribute and track clicks from Universal Links (for iOS platform) and App Links (for Android) without having to send your users to a landing page first. You can deliver the best possible routing and deep linking experience for your users without sacrificing attribution and tracking.
Universal Links and Apps Links hosted by Kochava will have a custom subdomain (your-brand-name.smart.link).
Improved SmartLinks management:
Archive app groups and SmartLinks 

Save time by using default and saved destinations during SmartLink creation

Improved search, sort, and filter capabilities, and easier access to SmartLink details
Full agency access for SmartLink management 
Depending on level of access granted, agencies can create/manage SmartLinks themselves or be assigned SmartLinks created by the advertiser

Agencies will have full visibility into performance in either case
Continued Support
With the latest enhancements, there will be continued support of cost tracking, fraud mitigation, and attribution lookback window configuration at the partner and platform level. 
Steps to take prior to launch
Update recurring exports/feeds as needed
For SmartLink data ingested after the release, the segment name will reflect the SmartLink name, the campaign name will reflect the old app group name for migrated SmartLinks, and the campaign name will reflect the chosen campaign name for newly created SmartLinks. We have added "segment_name" to all  "_primary" tables in Kochava Query and have added "Segment" as a "split by" option in summary reports. Recurring exports/feeds containing SmartLink data should be updated to account for the new mapping.

Update app platform selection
The "Platform Selection" field on the Create/Edit App screen will no longer be editable when the new SmartLinks feature is released. This is being done to support enhancements made to app groups. Newly created app groups may not reuse apps from another app group and may not contain multiple apps of the same platform. As an example, you will not be able to create an app group with two apps that both have "Web" selected as the platform. To ensure you will be able to group your apps accurately, we recommend updating the platform selected for each of your apps to accurately reflect the traffic being sent to it. 
Steps to take prior or after launch
Update the Kochava SDK
To use Kochava-hosted Universal Links and/or App Links for deep linking and attribution, implement the latest SDKs for iOS (version 3.12) and Android (version 3.7.0). Integrating Universal Links and App Links can help improve the user experience and increase conversions. 
Add Universal Links and App Link Support
To take advantage of seamless deep linking for your users, complete the steps in this support doc and contact your Client Success Manager to kick off the integration process. If you have existing Kochava-hosted Universal Links or App Links, those will continue to be supported for use on Landing Pages. However, due to their platform-specific nature, they are not compatible with SmartLinks. Your Client Success Manager can help identify what steps are needed to achieve compatibility with SmartLinks.
Check for media partner integrations 
Not all current media partners are integrated for SmartLinks. Kochava has a running list of partners in the integration process and is continually adding more. If you're looking to use SmartLinks with a media partner, please notify your Client Success Manager.
Steps to take after launch
Create your first new App Group
What happened to the old app groups? They still exist as the campaign name of migrated SmartLinks. You must create new app groups to create new SmartLinks. To create new app groups, follow the steps in this support doc.
App groups collect each platform version of a brand in one group, enabling you to create cross-platform SmartLinks to track paid and owned media campaigns. An app cannot be added to more than one app group and an app group may only contain one instance of each platform. After the launch, if you have not yet created a new app group, you will see a welcome message on the new app groups page, under the Apps & Assets menu, explaining what to do. 
Create your first new SmartLink
What happened to the old SmartLinks? They will continue to route/deep link users as they did before. They will surface on the new SmartLinks page in the UI. They cannot be edited, only archived. To create new SmartLinks, follow the steps in this support doc. 
If the apps included have Universal Link or App Link support, you can choose to use or not use it each time you create a SmartLink (default will be to use it). If you choose to not use Universal Link/App Link support for a given SmartLink, the start of the URL will look like "smart.link", not "your-brand-name.smart.link." 
Changes in the User Interface
Menu structure
A new App Groups page has been added under "Apps & Assets" and a new SmartLinks page has been added under "Links" to replace the Dynamic Routing page

Campaign Manager has moved under "Links"

SmartLinks created prior to launch will look slightly different in Campaign Manager
Migrated SmartLink before launch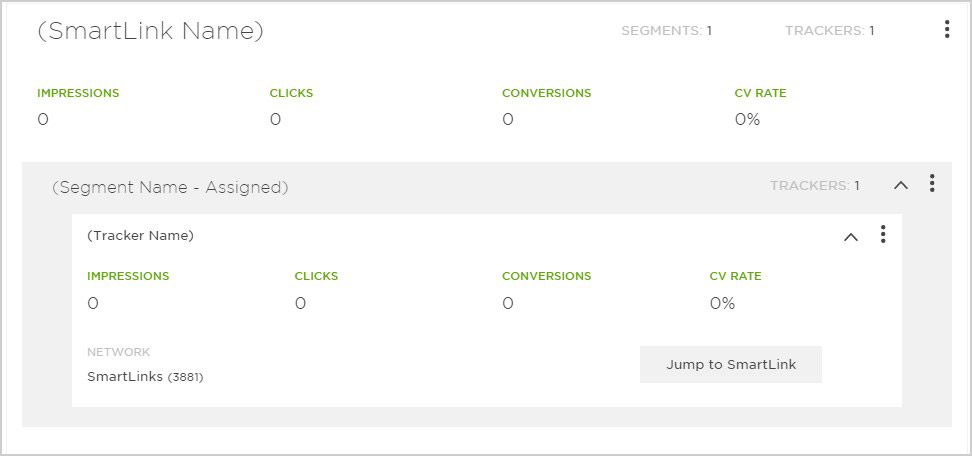 Migrated SmartLink after launch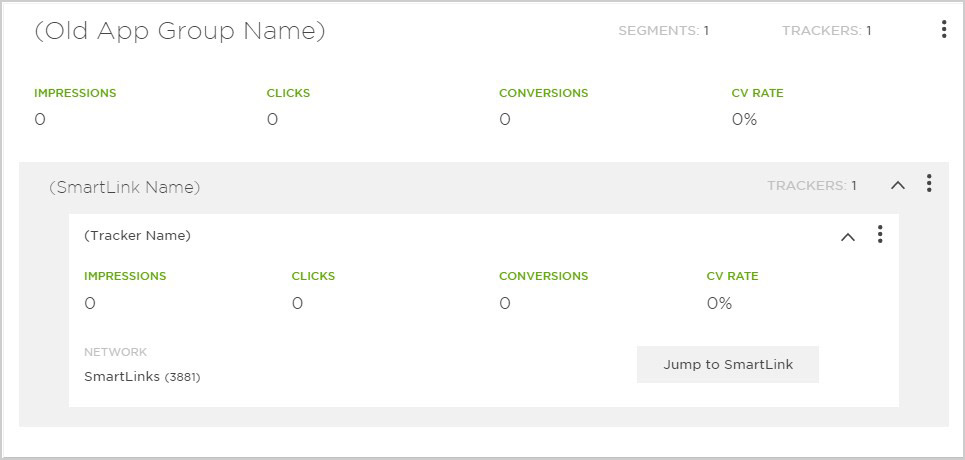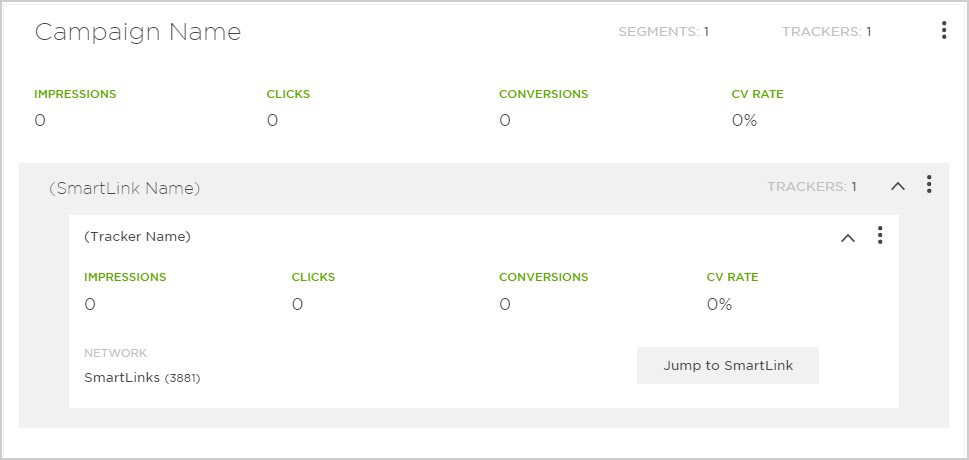 Working with Agencies
If you are working with an agency and would like them to create SmartLinks on your behalf, you will want to ensure that you have added them as a partner under Apps & Assets > Partner Configuration for each app included in the app group. 
If you are working with an agency, but prefer that they not create SmartLinks on your behalf, simply designate them as the agency partner each time you create a SmartLink. This will allow the agency to view the SmartLink and its performance. 
Postbacks for the new Media Partner integrations
You must enable postbacks specifically for the new platform-agnostic integrations, as these are separate and distinct from the platform-specific (Network Name – iOS, Network Name – Android, etc.) versions.
When using SmartLinks with a media partner and agency, there must be postbacks enabled for the agency's traffic for each conversion event. If the agency is creating SmartLinks themselves, they can add the postbacks via their agency account. If you are creating SmartLinks for the agency, you can create postbacks for them as well under Apps & Assets > Partner Configuration and check the "Create for Agency" box. 

Private Networks
If you want to associate a SmartLink to a Private Network, you need to ensure the Private Network is associated with every App in the App Group. 
Summary
The SmartLinks enhancements offer a cross-platform solution for all aspects of tracking and user routing. The improvements aim to make your work easier as a marketer and to help you create a better experience for your end users.
For more information, reach out to your Client Success Manager.