Twitter has made important updates to the permissions required for their ads platform.
As part of this change, Twitter will be requiring clients using mobile measurement partners (MMPs) to refresh the authentication with their Twitter Ads account and accept the new permissions.
If you have a Twitter Ads account linked with Kochava, please complete the following steps by January 18, 2019.
CRITICAL: Please complete these steps in the exact order provided.
1. Log in to your Kochava account.
2. Select the gear icon in the upper right corner next to your username.
3. From the drop-down menu, select "Twitter Connect."
4. From the Twitter Ads Account Access page, click the green "Logout of OAuth" button.
NOTE: Leave your browser window open, but do not click the "Sign in with Twitter" button yet. 

5. In a separate browser window, log in to your Twitter Ads account.
6. Select "Security & Privacy."
7. From the left-hand sidebar, select "Apps and devices." Find the entry for Kochava Mobile and select "Revoke access."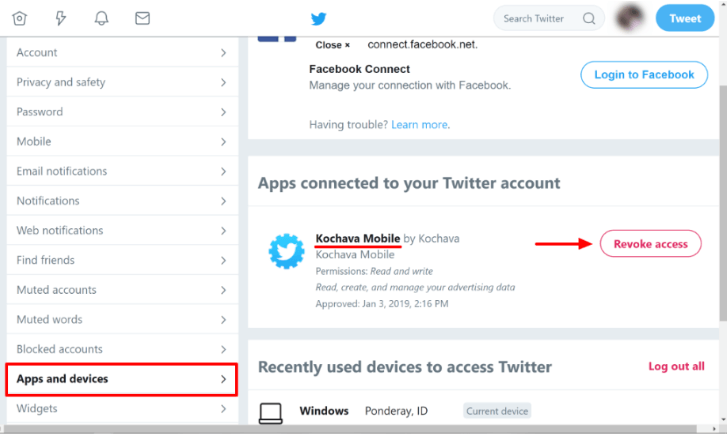 8. Now return to the prior Kochava browser window and click "Sign in with Twitter."

9. You will now be redirected to a Twitter terms page similar to the below. Please review the terms and accept.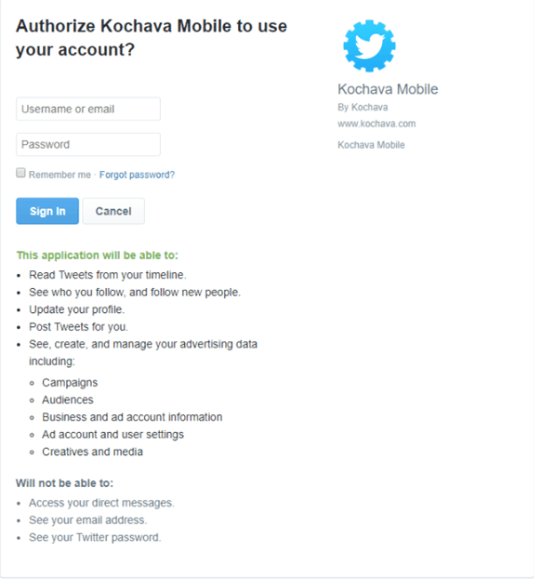 10. When you are returned to the "Twitter Ads Account Access" page in the Kochava UI, please review your account(s). For any active account(s) that display the option to "Connect", click "Connect" to restore access.

11. Your Twitter re-authentication is now complete.
Have questions or concerns?
Please contact your Client Success Manager or email Support@Kochava.com.