Effective app marketing and promotion requires consistent attention and adjustment. With myriad strategies and approaches to maximizing ad spend, every marketer must be relentlessly vigilant. App marketing requires even more constant attention due to the high pace and relative immaturity of the mobile marketing space. Regardless of the strategy du jour, there is an underlying cycle that marketers and advertisers can apply to the process to ensure consistent improvement and growth.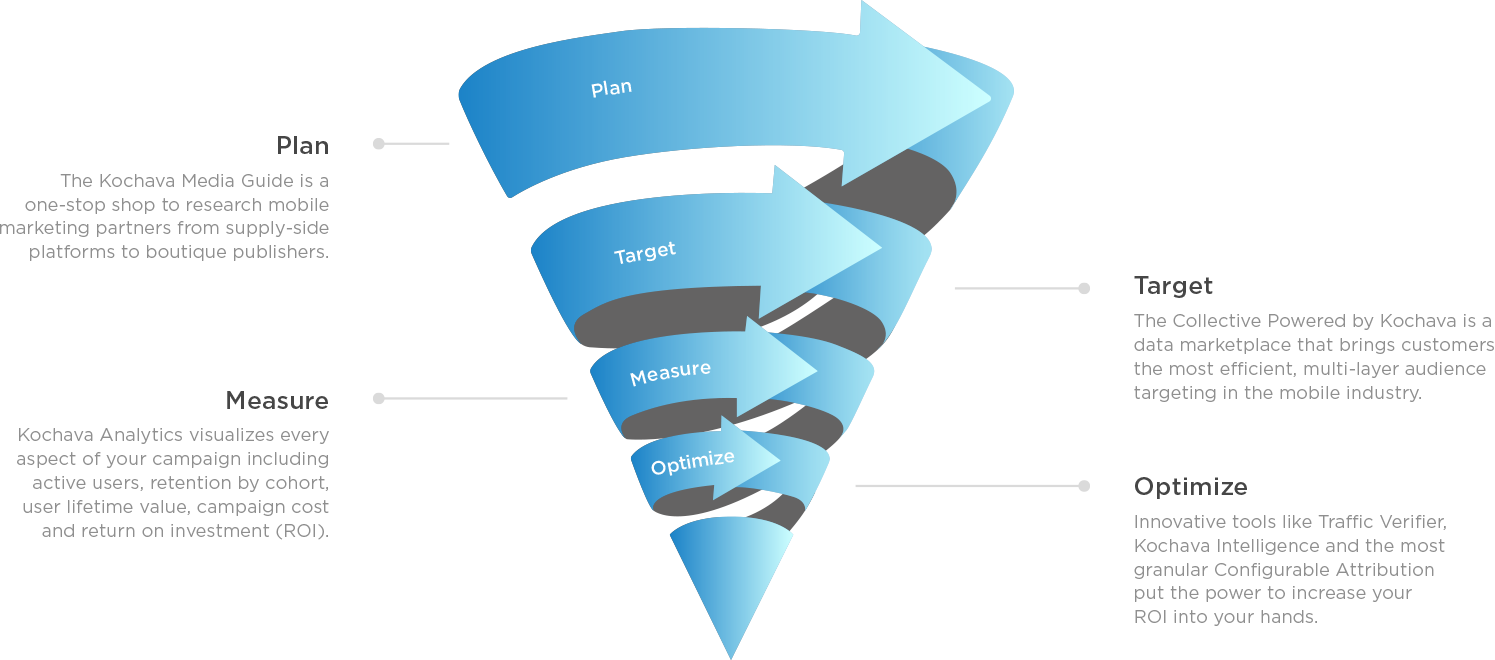 Plan
The first step is to
plan
your strategy. It's important to find the right medium for your campaign. Are you using video ads? Is your campaign geo-specific? Are you looking for a specific pricing model? Questions like these can help you determine the right medium and traffic source for your campaign. Media Guide gives immediate access to search and filter thousands of networks to find the best fit for your campaign.
Read More
Target
Once you've found the right traffic and decided on the best medium, the next step is to target your audience. The Collective allows you to create
target
audiences based on rich criteria and then find out which networks have the highest probability of reaching those users.
Read More
Measure
Now that your campaign is live, you need to
measure
the results in real-time to track progress and ensure that the campaign is driving traffic, properly targeted and yielding the right results whether you're going for installs, revenue or brand lift. Kochava Analytics visualizes every aspect of your campaign from active users, retention by cohort, user lifetime value, campaign cost and ROI.
Read More
Optimize
Now that the results are flowing in, the next step is to
optimize
your campaign. You can use Traffic Verifier to ensure that traffic is meeting your targeting criteria and determine what happens to traffic that doesn't. You can edit attribution configuration at the tracker level to ensure that you are paying for the right users; and you can dig deep into your data via a SQL prompt or run hypothetical campaigns based on real data with Kochava Intelligence. This is where the cycle repeats. Your planning and targeting are now informed by what you learned through the previous cycle.
Read More
Following this elementary cycle will help any marketing strategy to see consistent improvement. The Kochava platform provides a holistic toolset for attribution and analytics.
Get Started Today!