Unpacking key takeaways from Apple WWDC 2021
With the attention that iOS 14 has received since it was announced at Apple's Worldwide Developer Conference (WWDC) 2020, it will undoubtedly feel strange to make the shift to iOS 15. Apple unveiled its latest operating system update at WWDC 2021 on June 7th. From a consumer perspective, Apple rolled off a long list of new features and capabilities, including SharePlay to listen to music among friends, Notifications Summary to reduce notification overload, Apple Wallet and Apple Map improvements, and much more. However, what about the changes that will impact marketers?
iOS 15 changes that will impact marketers
What's clear is that Apple is continuing its march toward user privacy after last year's rollout of the AppTrackingTransparency (ATT) framework, while also delivering some welcome enhancements to the SKAdNetwork.
Let's take a look at four key takeaways that will impact marketers on iOS 15:
SKAdNetwork Postback Copies for Advertisers

iCloud Private Relay and IP Address Blocking

App Privacy Report 

Hide My Email
NOTE: 
The points discussed below are based on limited information. iOS 15 beta is expected to be released in July, at which time Kochava developers and product engineers will be able to engage in more formal testing. Expect further updates and more detailed impact analysis at that time.
SKAdNetwork Postback Copies for Advertisers
Summary: With iOS 15, Apple is adding the ability for the advertiser app to opt-in to receive copies of winning install-validation postbacks. Previously, only the winning ad network received these postbacks and the postback data was expected to be relayed back to Advertiser measurement tools, like Kochava. While Kochava has already certified 36 integrations across media partners, the change to include advertiser postback copies is a welcome innovation within SKAdNetwork as it provides certified SKAdNetwork postback signal to be received by Kochava on behalf of the advertiser from Apple devices
Key considerations:
1. A major win for advertisers
Many concerns had surfaced about SKAdNetwork postback data residing solely in the control of ad networks that have a vested interest in the outcomes reported by that data. Apple's documentation clearly states that the postback the developer will receive is an "exact copy" of that which is sent to the ad network. This is a significant step in the right direction for absolute transparency between ad networks and the advertisers they serve. Perhaps complaints from advertisers regarding ad networks that were unwilling to transparently share the postback data played a role in this decision. 
2. Where should the postback copy be sent?
Within their app's Info.plist file, developers will be able to designate the server endpoint where they want postback copies to be sent within their app's Info.plist file. Whether advertisers choose to establish their own infrastructure to ingest and house this data, or use Kochava designated endpoints, Kochava stands ready to support the collection of SKAdNetwork postback data.
3. What about campaign data enrichment?
Ad networks that are utilizing SKAdNetwork campaign ID mapping to report more granular campaign attributes such as adgroup, publisher or sub-publisher, creative ID, and beyond will still need to offer postback forwarding and/or APIs for mobile measurement partners to pull in the enriched campaign metadata. To see campaign data enrichment currently supported by our SKAdNetwork Partner Certification Program members, visit this support documentation. 
iCloud Private Relay and IP Address Blocking
Summary: iCloud Private Relay will be part of a new subscription-based service called iCloud+ and will redirect all network traffic through servers in order to hide a user's IP address – similar to a virtual private network (VPN). Beyond the subscription-based Private Relay, Apple will hide a user's IP address on third-party trackers within Safari and prevent any form of pixel tracking within the Apple Mail app. 
Key considerations:
1. What is a third-party tracker?
The exact definition of what Apple considers to be a third-party tracker is unclear at this time but may include a flagged domain or URL. Testing on iOS 15 beta should provide further confirmation. 
2. Will first-party trackers be allowed?
Marketers heavily use email and their own websites for marketing initiatives across owned media. Will trackers still be allowed to gather user IP addresses if they're utilized for owned media in a first-party data context? This will be an important question to answer. 
3. Is Private Relay subject to any exceptions or user opt-in?
Similar to the way in which the ATT framework is subject to user consent at the app level, will Private Relay and IP address blocking be universally applied, or will there be any domain-level exceptions or user-level consent? 
4. Is Private Relay Applicable to In-App Traffic?
While the WWDC keynote highlighted that Private Relay will alter the functionality of the Safari app and Email app specifically, the technical break-out sessions for Private Relay indicated that non-secure in-app network traffic will also be routed via Private Relay and secure network connections will not.  
5. Will Private Relay still allow for regional geo insights?
IPs from Private Relay are likely to be region-based, in which case marketers may still be able to understand geo at a city level. Testing on iOS 15 beta will help confirm what insights will still be available.
Impact to advertising measurement:
Despite outstanding questions, what's clear is that IP address availability will be impacted at some level, particularly in a third-party context. Fingerprinting and probabilistic forms of attribution that utilize IP address and other user or device data were already designated by Apple as being against their rules for 'Tracking'  with the ATT framework, which was officially enforced starting April 26th. In the weeks since an absence of stern enforcement by Apple (see related article from Digiday) has caused confusion and headaches for many marketers but these updated announcements by Apple make it clear that Apple intends to enforce its policies. 
Kochava has taken a firm position to uphold the explicit guidance of Apple's User Privacy and Data Use policy by introducing Privacy Profiles and only allowing probabilistic attribution in alignment with Apple's guidelines. Other providers have blurred the lines, continuing to argue for the use of varying forms of probabilistic attribution while potentially putting the advertisers they serve in jeopardy. Private Relay and IP address blocking may be Apple's answer to put the issue to rest once and for all by simply eliminating the ability of marketers to access the IP address altogether. By proactively adhering to policies Apple set forth with iOS 14.5 and the ATT framework, Kochava sits in a strong position to best serve marketers with privacy-compliant attribution as iOS 15 closes in.
App Privacy Report
Summary: The App Privacy Report will enable iOS users to see a list of all third-party domains contacted by the apps they've granted permissions to on their device.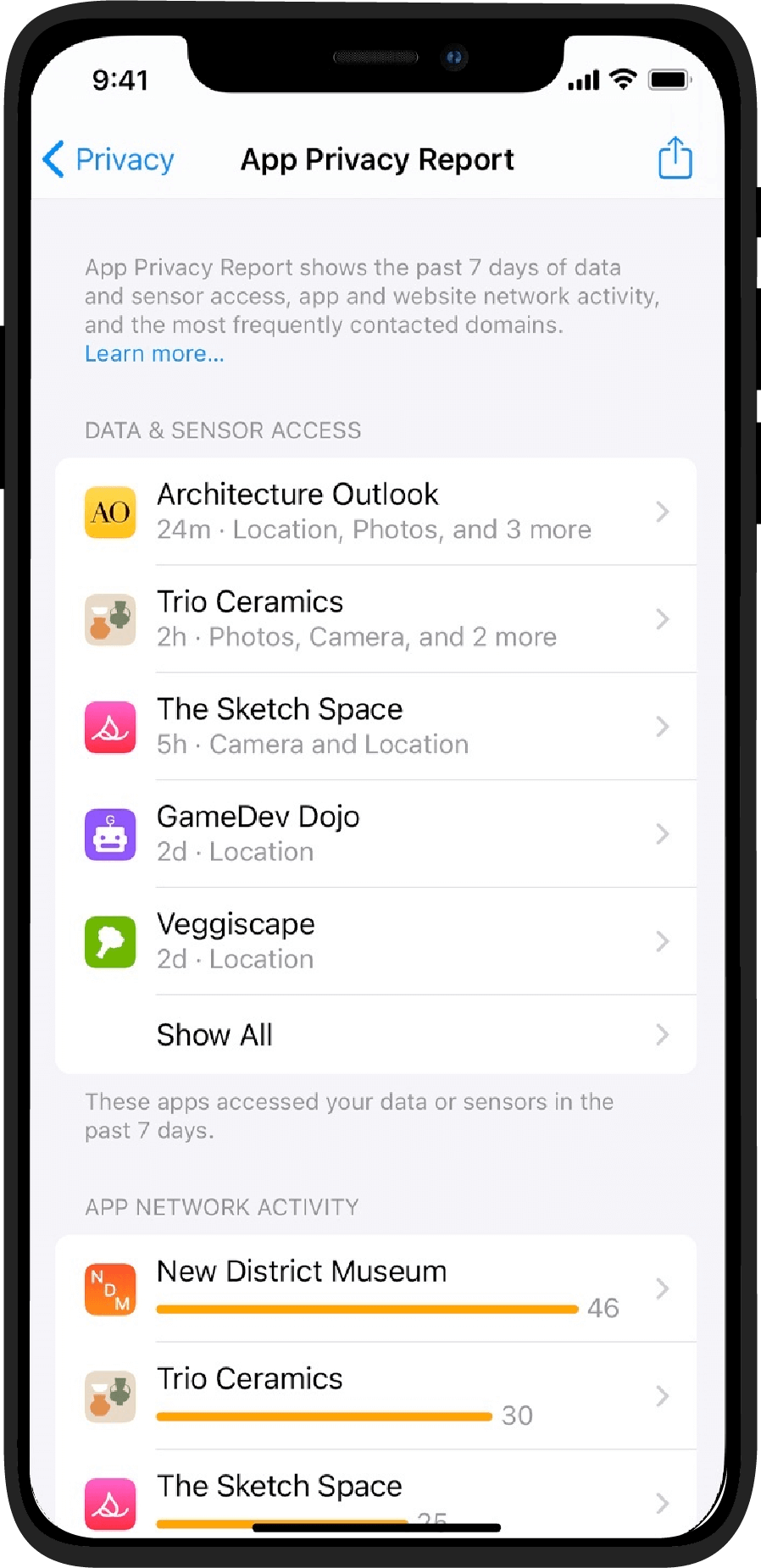 Key considerations:
1. How will end-users react?
End-users may be alarmed at the sheer volume and frequency of external requests made by the apps they utilize. Developers and marketers understand the need to send requests to mobile measurement partners (MMPs), analytics tools, internal business intelligence systems, payment processors, content management platforms, and more. Consumers, on the other hand, are largely unfamiliar with this necessity, and how that unfamiliarity manifests in public discourse and online forums will be particularly important to watch. 
Hide My Email
Summary: Hide My Email, also part of the iCloud+ subscription offering, will enable iOS users to mask their real email address with a randomly generated unique email address when filling out an online form on the web or even signing up for a newsletter.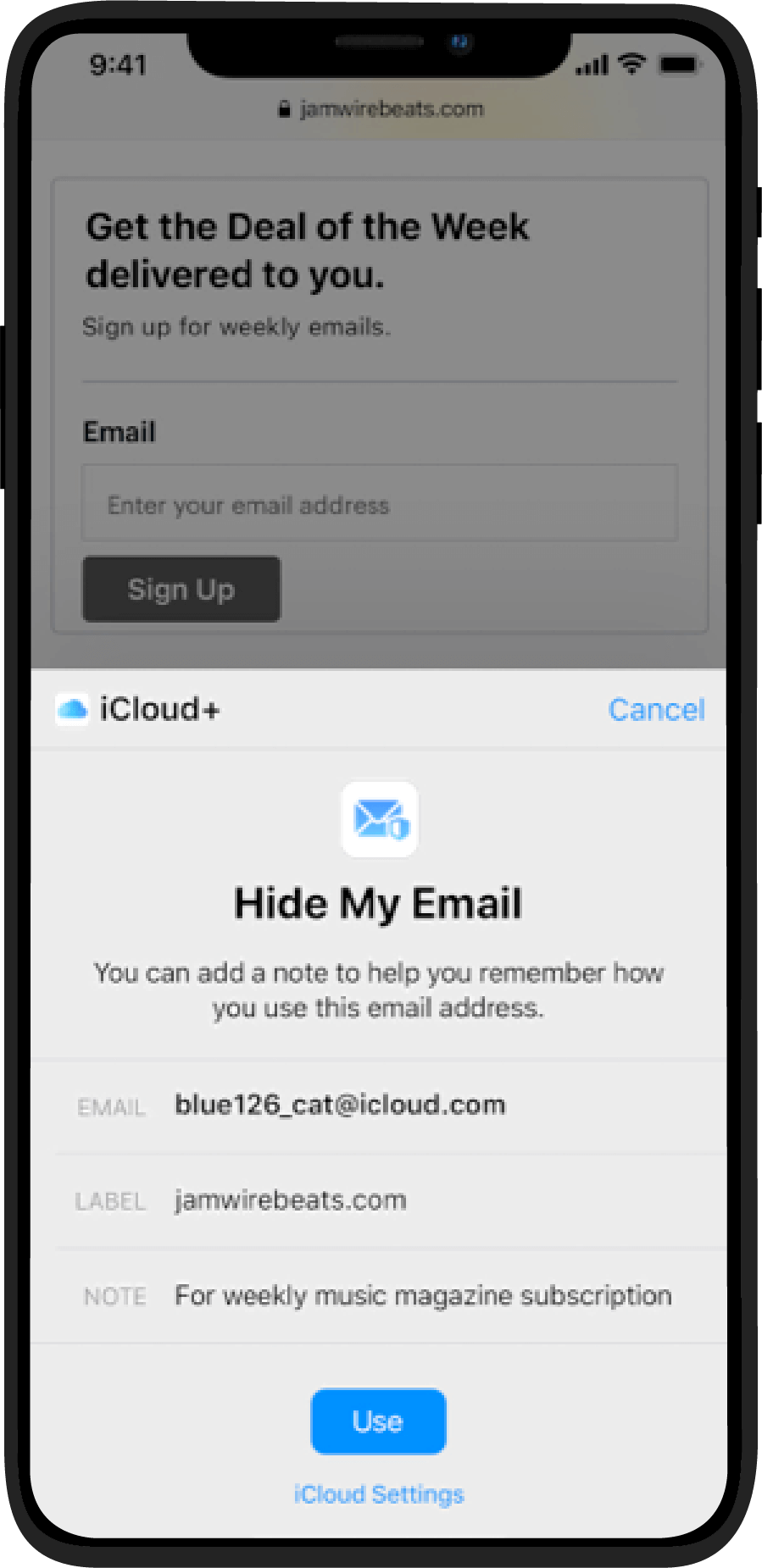 Key considerations:
1. Impact to hashed email-based identity solutions
Hide My Email introduces a new hurdle for identity solutions that sought to solve challenges to user targeting and measurement via hashed email, where independent parties could connect the dots across their first-party data footprints via a common identifier. With iCloud+, users are able to create as many random email addresses as they want and delete them at any time.  Hashed email will offer an alternative identity for specific publishers, but if Hide My Email is widely adopted by users, universal hashed emails across publisher properties will not likely offer a stable cross-platform user identifier.  
2. First-party use of email
Brands that utilize hashed emails as internal user identifiers within their own first-party data may also be forced to pivot to an alternative when thinking about matching data via clean-rooms or activation partners.
More to come
With WWDC 2021 wrapped up, it's safe to say that there's less shock and awe than WWDC 2020 left in its wake with its IDFA opt-out announcements. iOS 15 is coming rapidly on the heels of the long-awaited enforcement of the ATT framework, which finally arrived on April 26th. That Apple is now focusing on the IP address is an expected evolution of their ATT framework rollout. The workarounds employed by other providers in the space that have arguably skirted Apple's policies will soon be forced to catch up to the status quo that Kochava and certain other providers have chosen to adhere to voluntarily in good faith. 
For questions on iOS 15 or to talk with an expert on our team, contact us.