Mutual customers like Groupon can utilize Button's mobile affiliate optimization technology and Kochava's mobile measurement and attribution solutions to unlock the full potential of performance marketing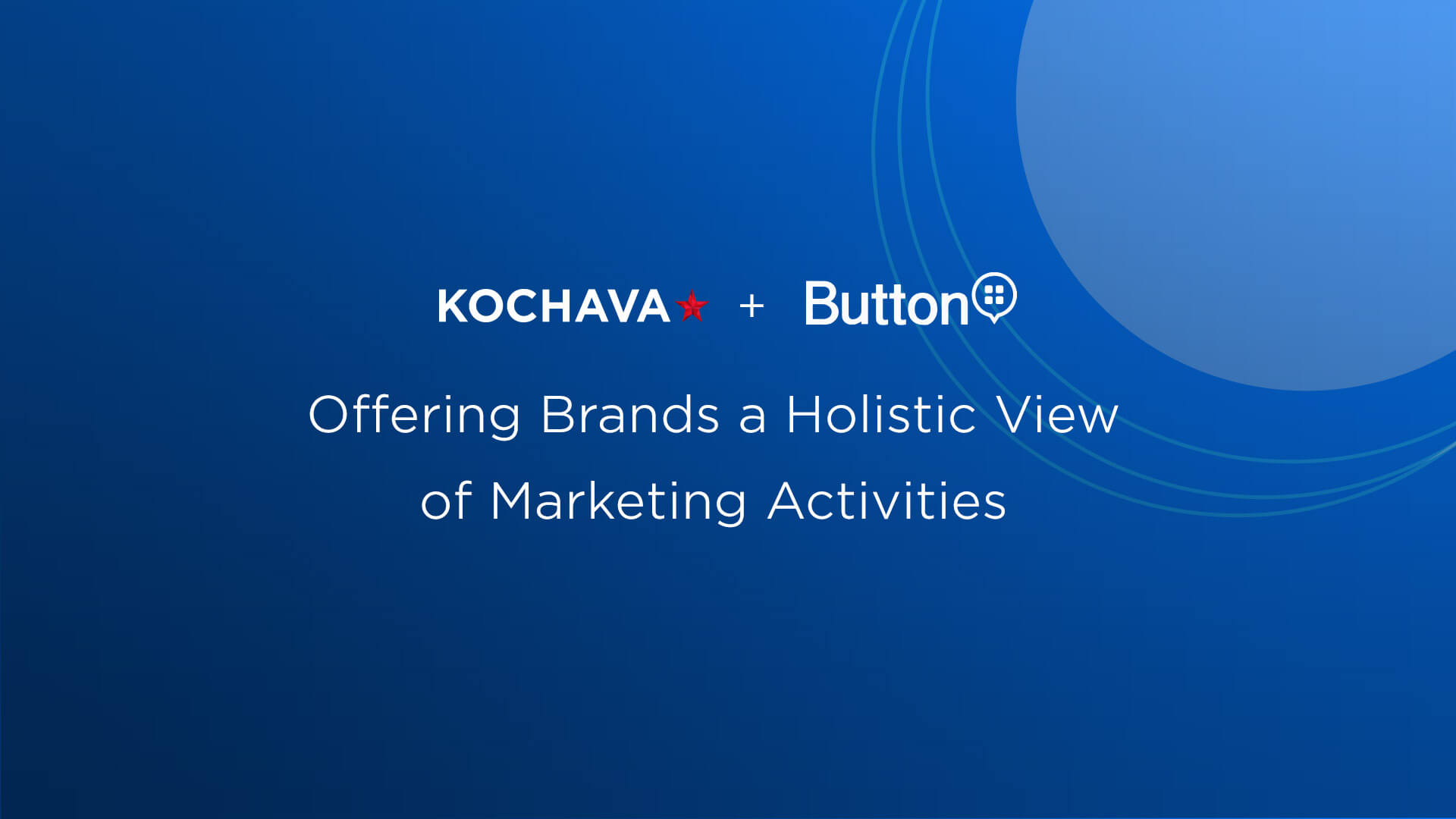 NEW YORK and SANDPOINT, IDAHO (January 27, 2021) – Button, the leading mobile commerce technology company, today announced a strategic partnership with Kochava, the leading real-time data solutions company for omni-channel attribution and measurement, to enable brands to clearly view app traffic optimized by Button in their Kochava dashboards.

This integration between the two mobile industry innovators enables brands to use Reach™, Button's link optimization technology for the affiliate channel that drives a 50% increase in revenue, while simultaneously connecting these brands' app affiliate data into Kochava's mobile measurement platform. Mutual customers are now able to view the affiliate channel as a media source in their Kochava dashboard, alongside other sources of traffic, to understand their spend holistically across all marketing activities.
Mobile app downloads grew by 7% year-over-year to a record 218 billion in 2020, according to App Annie. Meanwhile, online shopping over the 2020 holidays in the United States grew 32.2% from 2019's, totaling $188.2 billion, according to Adobe Analytics. Brands have an imperative to not only have an app-first strategy, but to be able to clearly view that performance to analyze the data, optimize for conversions, and get smarter with marketing spend. 
Through this partnership between Button and Kochava, brands like Groupon have a clear view of Button mobile performance data such as event volume, revenue per user, and lifetime value, alongside all other attribution data in their Kochava dashboards. Through this holistic view, Groupon gains a better understanding of its spend across all mobile marketing channels, including the mobile affiliate channel, in order to hone in on campaign performance and increase mobile conversions as it doubles down on increasing its app user base while maintaining the surge of app users it gained this year.

"This integration between Button and Kochava is exactly what we're looking for to continue to improve the efficiency of the affiliate channel," said Maciej Zbroszczyk, Head of Affiliate Marketing EMEA & Asia-Pacific, Groupon. "We look forward to leveraging this combined offering to deepen our connection with our millions of customers and deliver a more compelling user experience on mobile."
"At Kochava, we were born on a culture of customer-driven innovation," said Charles Manning, Founder, and CEO of Kochava. "Our partnership with Button is a prime example of this as we continue to innovate new ways to maximize efficiencies of marketing spend across all channels for brands.
"As Button continues to grow the footprint of our mobile measurement partner integrations this year, we couldn't be more thrilled to welcome Kochava, the industry leader for providing measurement solutions for mobile and connected devices, as our latest partner to help marketers get savvier with their spend," said Michael Jaconi, Co-Founder and CEO of Button. "By giving mutual customers like Groupon full transparency into their performance holistically across all mobile channels through integrating with Kochava, Button's link optimization technology seamlessly empowers our marketers to optimize and personalize their performance marketing strategies to achieve their goals."
For more information, reach out to Button at usebutton.com/contact.
About Button
Button (usebutton.com) is the mobile commerce technology company that is powering a commerce-driven internet. As the leading mobile commerce enablement platform, Button powers mobile growth for the world's largest brands and publishers, while offering consumers more seamless, enjoyable experiences. With each action taken, brands make sales, publishers earn revenue, and consumers get exactly what they want at the tap of a button. Founded in 2014, Button has driven over $3.5 billion in spending to date and has raised over $64 million in venture capital. With offices in New York City, San Francisco, and London, Button has consistently been recognized as one of the best places to work by Fortune, Inc., Entrepreneur, and Crain's.
About Kochava
Kochava Inc. is a real-time data solutions company offering the leading omni-channel measurement and attribution solutions for data-driven marketers. The Marketers Operating System® (m/OS) from Kochava empowers advertisers and publishers with a platform that seamlessly integrates and manages customer identity, measurement and data controls. Unlike the complicated, siloed tech stacks employed today, the m/OS takes the next step: unifying all of your data and critical omni-channel solutions into a cohesive, operational system that goes beyond data aggregation and reporting. The m/OS provides the foundation for limitless advertiser and publisher tools, including the option to build third-party solutions onto the platform. By design, m/OS facilitates success by making data accessible and actionable to maximize ROI.
 With a culture of customer-driven innovation, dedication to data security, and the most powerful tools in the ecosystem, Kochava is trusted by top brands to harness their data for growth. Headquartered in Sandpoint, Idaho, the company has offices globally. For more information visit their web site www.kochava.com. Follow Kochava on social media: Facebook, Twitter, and LinkedIn.
Media Contacts:
Jacquelyn Goldberg
Button
VP, Revenue
jacquelyn@usebutton.com 
Leslie Amadio
Kochava
Director of Public Relations
208.610.1650
lamadio@kochava.com