Kochava's SKAdNetwork partner certification program ensures that ad networks are equipped to handle SKAdNetwork attribution data
For nearly a year, the adtech industry has been anticipating massive changes in how Apple will regulate ad measurement and targeting. With the recent release of iOS 14.5, app marketers must now request user consent for ad tracking via Apple's AppTrackingTransparency (ATT) framework and rely on SKAdNetwork to fill the void in measurement and attribution for audiences who opt out of ad tracking. As adoption of iOS 14.5 increases, advertisers must find and work with ad networks using SKAdNetwork. For many advertisers, finding such partners can be a struggle.
What is ATT and what is SKAdNetwork?
ATT is Apple's new framework to request user consent to ad tracking. As of the April 26th release of iOS 14.5, app marketers must use ATT to prompt users with iOS 14+ for consent if they want access to the identifier for advertisers (IDFA) and to perform certain advertising measurement. If users consent (opt-in) on both the source app where an ad was served and the target app where the conversion occurs then deterministic, device-level attribution can occur as traditionally done. If users do not consent (opt-out), an advertiser's only means to obtain deterministic attribution is in an anonymized and aggregated fashion through the SKAdNetwork. 
How to find the best ad networks using SKAdNetwork
Kochava has developed a SKAdNetwork partner certification program to assist advertisers in finding media partners who are truly ready to run on the SKAdNetwork. The program ensures partners have taken the necessary steps to ingest SKAdNetwork data and maximize performance insights from it. This includes sending SKAdNetwork postback data to Kochava, as well as campaign data enrichment that utilizes SKAdNetwork campaign ID mapping to report more granular campaign segmentation across creative, sub-publisher, ad group, and other parameters.
How to find SKAdNetwork-certified partners with the Kochava Media Index
We already have a number of ad partners who have gone through the program, and the list continues to grow. To search for all partners who are in the program, visit the Kochava Media Index page for ad partners and select 'SKAD Certified' from the 'Type' menu on the left-hand side of the page. If you do not see a particular partner listed, please have them contact Integrations@kochava.com. Or, encourage your current partners to complete important ad signal updates with their Kochava integration.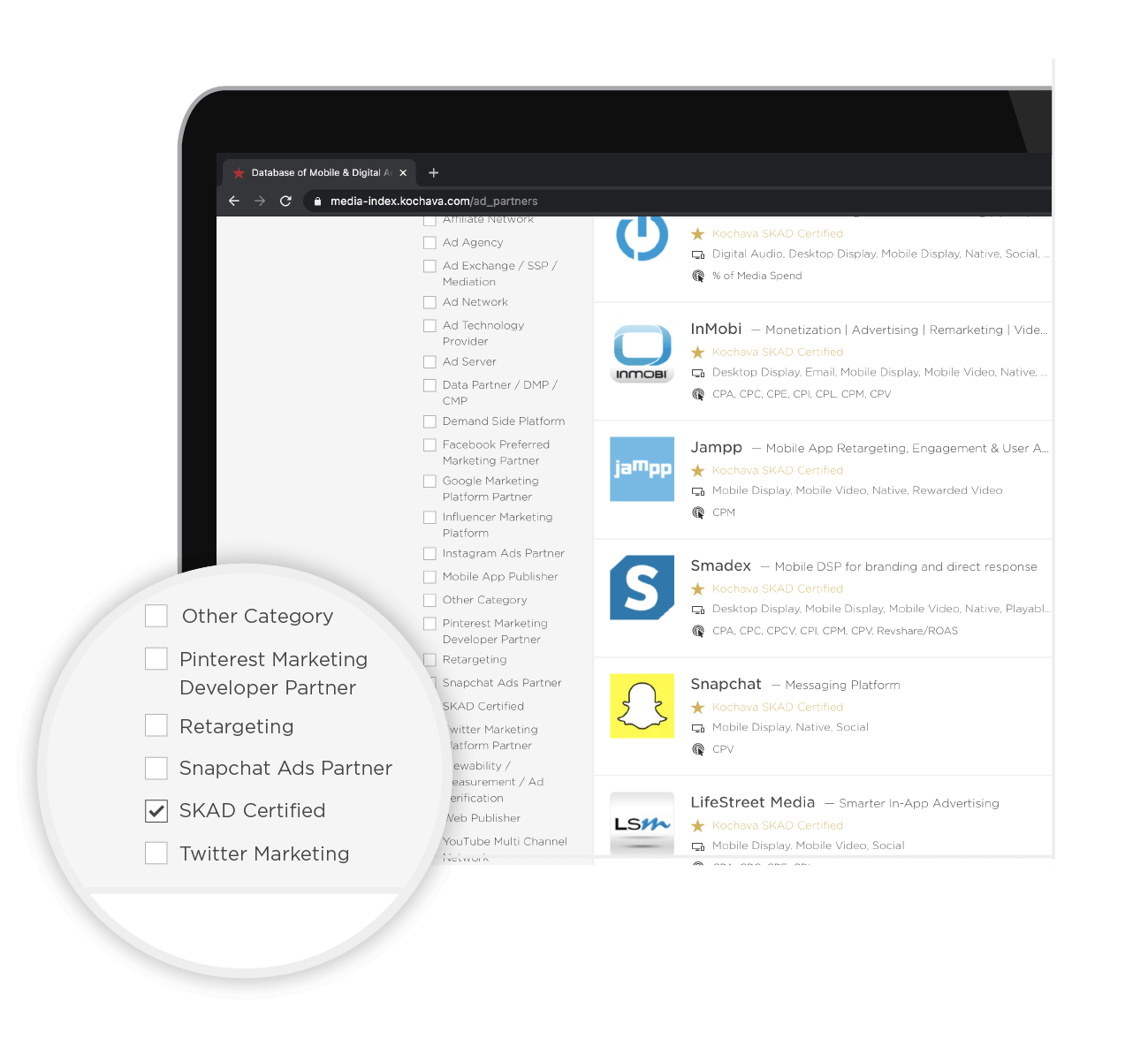 What advertisers should have in place for SKAdNetwork
Make sure you as the app marketer are ready for SKAdNetwork campaigns too. This includes updating to the latest Kochava iOS SDK and also selecting a SKAdNetwork conversion model. Read more about it in this blog post about advertiser preparedness.
In summary
Make sure you are working with a SKAdNetwork-certified ad partner.

Search for SKAdNetwork-certified partners through the Kochava Media Index.

Check that you are running with the latest version of the Kochava SDK and have fully configured your SKAdNetwork integration with Kochava.
There's much to consider with the future of iOS, but we've been on top of Apple's changes since their announcement about iOS 14, ATT, and SKAdNetwork nearly a year ago. For more information, visit our iOS 14 resource page. Don't hesitate to contact us with questions or ask your Client Success Manager for assistance.