Grant Simmons, VP of Client Analytics for us here at Kochava, is our resident expert on how to detect and prevent mobile ad fraud. Our partner network, Taptica, interviewed him on what he looks for and how marketers and networks can prevent fraud from infiltrating their ad campaigns. You can read the article here or on their site.
---
This week, Taptica had the opportunity to sit down with Grant Simmons, Head of Client Analytics at Kochava, to get his take on the state of mobile fraud. Here's what Grant had to say about the trajectory of today's quality battle, and where Kochava comes in.
Q: Tell us a little bit about your background, and how you found your way to Kochava:
Prior to joining Kochava, I worked as Head of Retail Analytics at Oracle, VP of Direct Marketing at Body Central, and DVP of eCommerce at Coldwater Creek. All of these experiences really shaped my perspective on the work I do today.
Q: In what way have these experiences shaped your perception?
Well, for starters I realize that the mobile attribution space is still relatively unsophisticated. If we think about it, the core challenge here is a massive exercise in de-duplication.
Consider the following scenario: Advertiser A has three different networks working on their behalf, trying to place their ads in front of the most relevant possible users. It's reasonable to assume that all three may find the same great customer, who eventually goes on to download the app.
Now all three networks are laying claim to that install, and we're left de-duplicating to find a winner… when in reality, all of them may have played a key role in that conversion, or perhaps none did at all. As you can see, determining causality can be incredibly complicated in web marketing.
Unfortunately, this has created an environment that invites fraud: the goal becomes to get the last touchpoint, regardless of how valid that touchpoint is or how much work it did to influence behavior.
Q: Why is this any more complicated than traditional offline attribution?
Two words: incrementally measure. In the case of offline marketing, you can create two different universes; both look and act exactly alike, but only one received impressions. When you can isolate and analyze the impressed group versus the control group, you can safely attribute any visible lift directly to your own initiatives. Incremental measurement is much more difficult in digital for a variety of reasons, but not impossible; however, it does take cycles to execute correctly.
The other challenge with mobile is that it's all about "the now." The direct response loop from click to download to attribution is expected to be complete within milliseconds, whereas the world of offline advertising gives you, at a minimum, several weeks to dissect, analyze, and report back on results.
Everyone wants instant feedback, but it takes time to properly assess and understand impact. We're working diligently to come up with a smarter approach for allowing a shared credit MTA model along with a solution for incrementality.
"The challenge with mobile is that it's all about 'the now.'"
Q: OK, so there are lots of intricacies when it comes to digital attribution… But where does the issue of fraud come into play?
"Mobile fraud" is an incredibly broad spectrum and there's still a lot of grey area. The issue is that the attribution space is still in its nascent phase when it comes to the detection side. But, the good news is that the direct feedback response on mobile means you can defraud pretty quickly if you're savvy.
Q: It seems like this is the topic on everyone's mind. Is fraud becoming more prevalent, or are we just becoming more aware of it?
Not more prevalent, more sophisticated. We've got bots, bot nets, device ID spoofing…the list goes on. Where there's money to be made, there's motivation for fraudsters to advance their craft. It's all about how well we can keep up (and stay ahead of) the learning curve that the fraudsters themselves are riding.
"Where there's money to be made, there's motivation for fraudsters to advance their craft. It's all about how well we can keep up…"
Q: How do you see the industry trending in response to all of this?
As people become more conscious about quality, fraud, and attribution issues, we can expect some massive network consolidation down the pipeline. No network is 100% clean and no network is 100% fraudulent, but the division that's going to arise is between the players that are and are not willing to commit for the long-haul.
Q: And what do you feel is Kochava's role in this scenario?
Personally, I want to be a lot more aggressive on fraud.
Kochava is running traffic through 14 different fraud frameworks and we have 3 more coming soon. We have more data on our side than anyone else in the space, and as such, we're probably the best positioned attribution provider to answer these big questions.
We break this into two applications: detection and prevention. We publish a robust dashboard of suspicious activity via our Fraud Console (using the frameworks mentioned above), and curate a list of known bad sub publishers, devices and IPs within an aggregated Blocklist which marketers and networks can employ to scrub traffic in real-time. Additionally, we allow marketers to aggregate their own customized Blocklist to verify traffic within their own ecosystem.
[ryvl video_url="https://vimeo.com/210521174″ auto_play="yes"]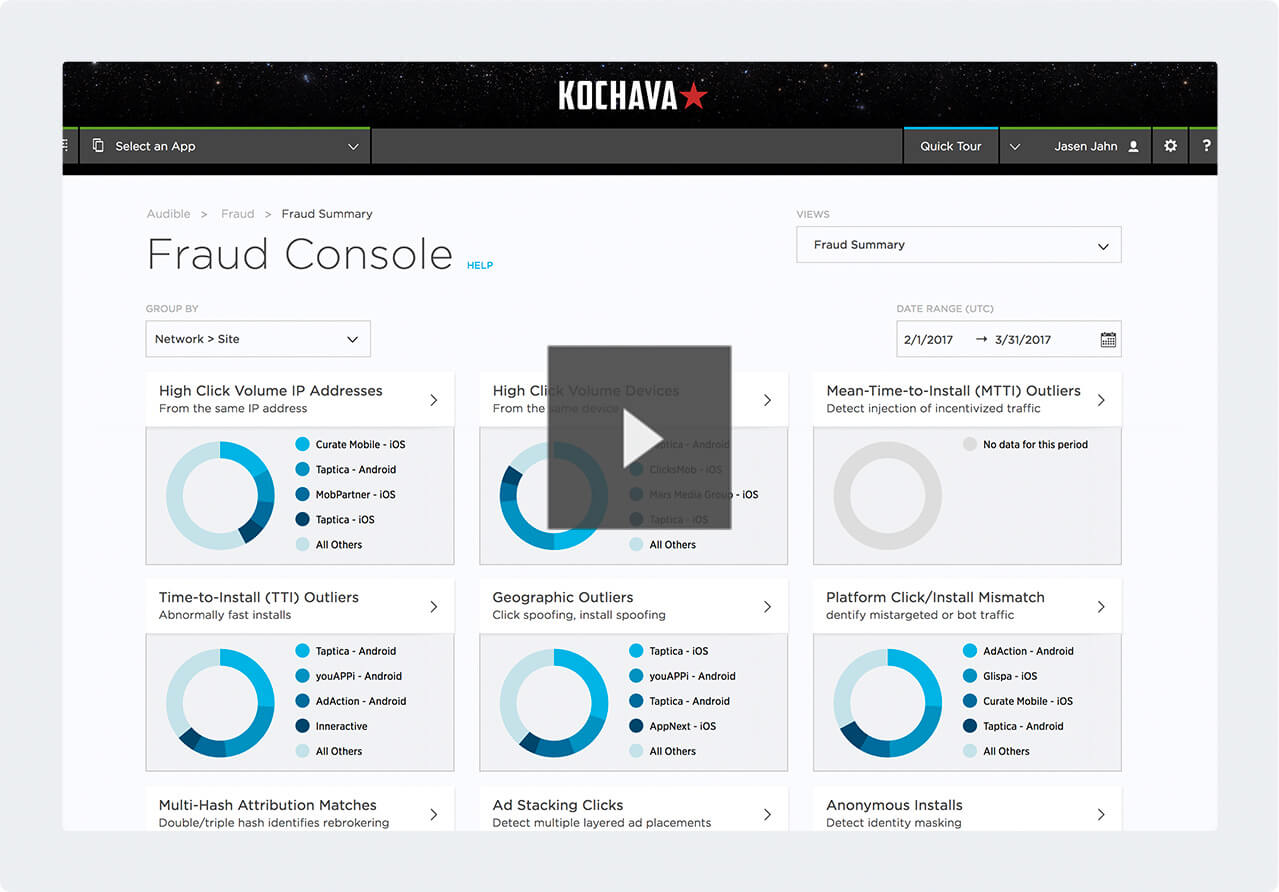 [/ryvl]
If Kochava doesn't take a stance, someone else will. We've got the technology and the data; why not be the front runner?
Q: All things considered, what's the next step?
For now, we need to start making strides toward developing stronger partnerships between ad networks and attribution companies. Creating an open dialogue for these tough conversations is critical, and it's something that we can realistically tackle right now.
The long-term vision is to be smarter regarding attribution: my belief is much of the fraud will be mitigated when we develop models and measurement capabilities that can identity how important a specific click or impression is to the overall marketing mix.