Streamlined access to your Facebook performance data for greater actionability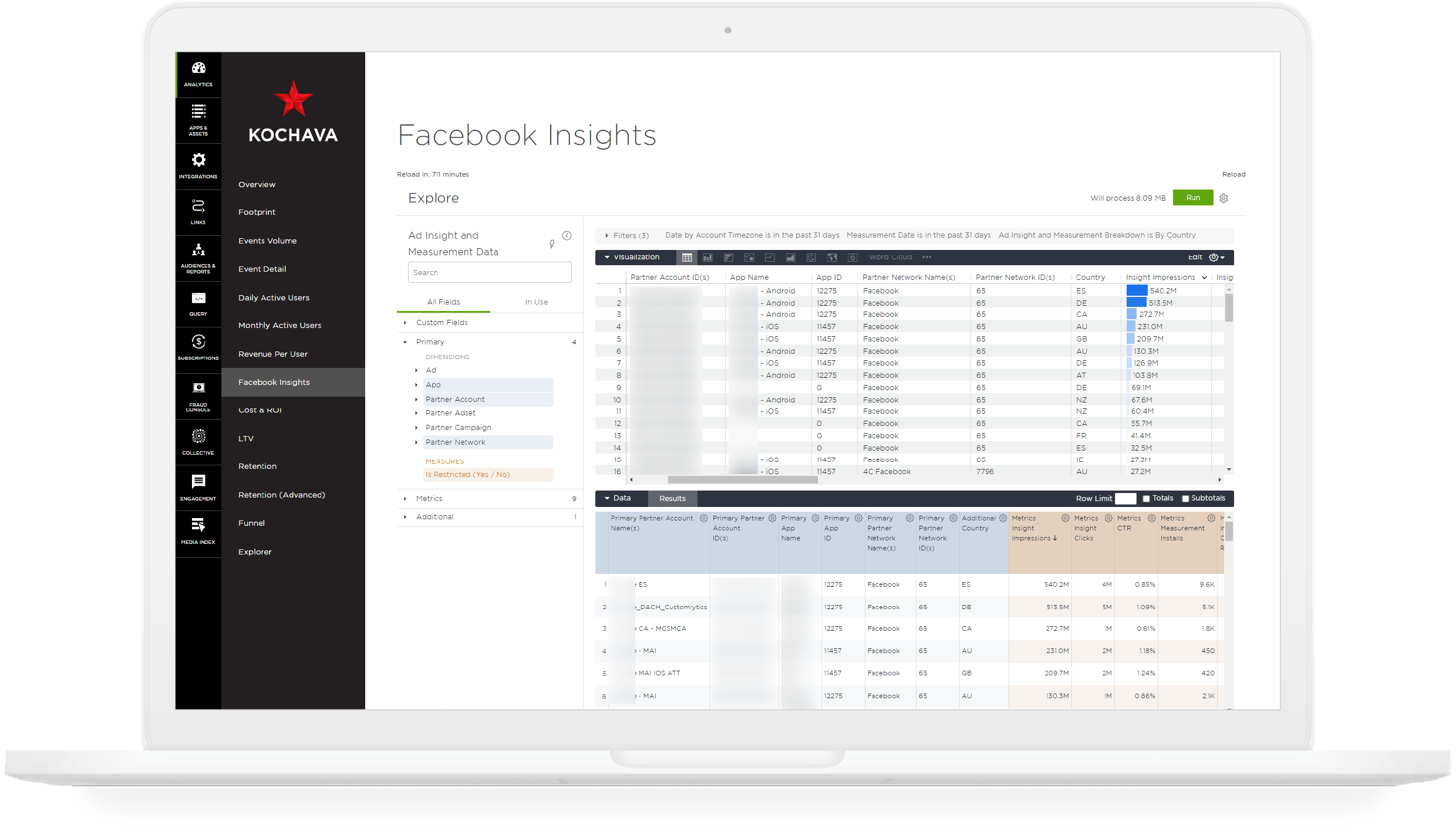 A new Facebook Insights module is now available within the Kochava Analytics dashboard – giving marketers even better accessibility to their Facebook campaign performance data. The dashboard unifies aggregated campaign data ingested from Facebook's Ad Insights API with key metrics derived from Kochava data, including installs, post-install events, revenue, and reengagements.
Leverage Quick Start views to easily break out daily performance insights by Campaign, Ad Set, Ad, and Country – viewing these insights across multiple apps and Facebook ad accounts simultaneously.

Filter, sort, and split your data by a host of dimensions to see key performance metrics against desired cohorts.
For additional information on the dashboard controls, suggested visualizations, and settings, please visit this related support documentation.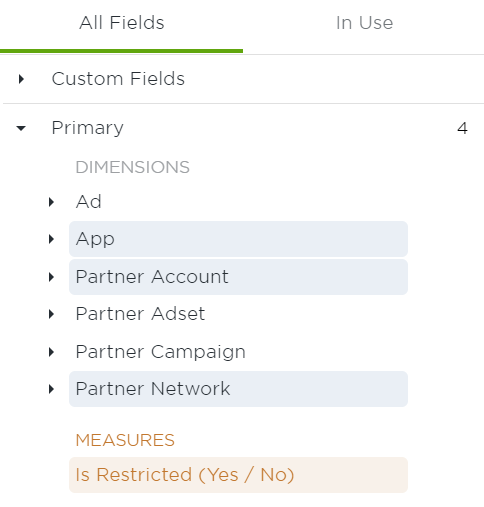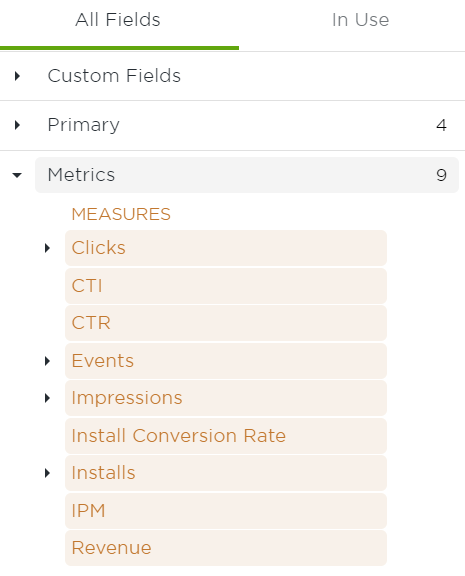 How to start utilizing Facebook Insights in Kochava
In order to leverage the new Facebook Insights dashboard, you will need to complete an authentication process within the Partner Configuration module for Facebook under one of your apps.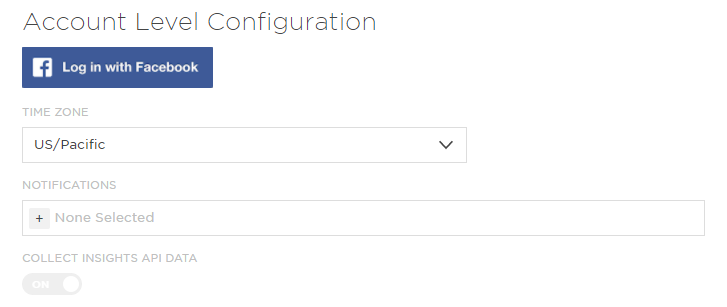 Please follow the authentication steps outlined in the "Facebook Credentials" section of this support documentation.
It's important that the user who completes this authentication has access to all ad accounts running media. This will ensure Facebook campaign data can be ingested across your entire portfolio.
Once you have completed these steps, Kochava will initiate calls to the Facebook Ad Insights API to retrieve data for all associated ad accounts. Data will be backfilled to January 7, 2022.
What you need to know about Facebook Insights
The Facebook Insights dashboard is designed to respect both Facebook reporting thresholds following the deprecation of the Advanced Mobile Measurement (AMM) program this past October. These thresholds are:
Total Individual Impressions
Certain data fields within Facebook Insights can ONLY be populated with data when the campaign or cohort reaches the minimum volume threshold. The column labelled "is_restricted" will be populated with "no" when a row's data isn't being restricted and a "yes" when data is being restricted. 
It's important to note that the following data fields will be populated regardless of volume threshold, as the data is available directly from the Ad Insights API or not subject to thresholds. 
Partner Account Name

Partner Account ID

App Name

App ID

Partner Name

Partner ID

Country

Insight Impressions

Insight Clicks

CTR
Data from the Facebook Insights dashboard may be directly downloaded or sent via email.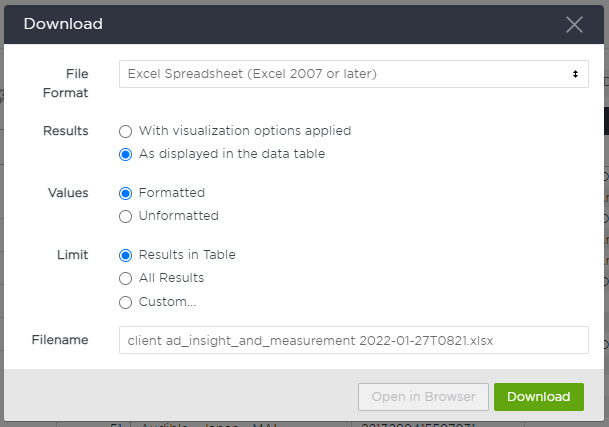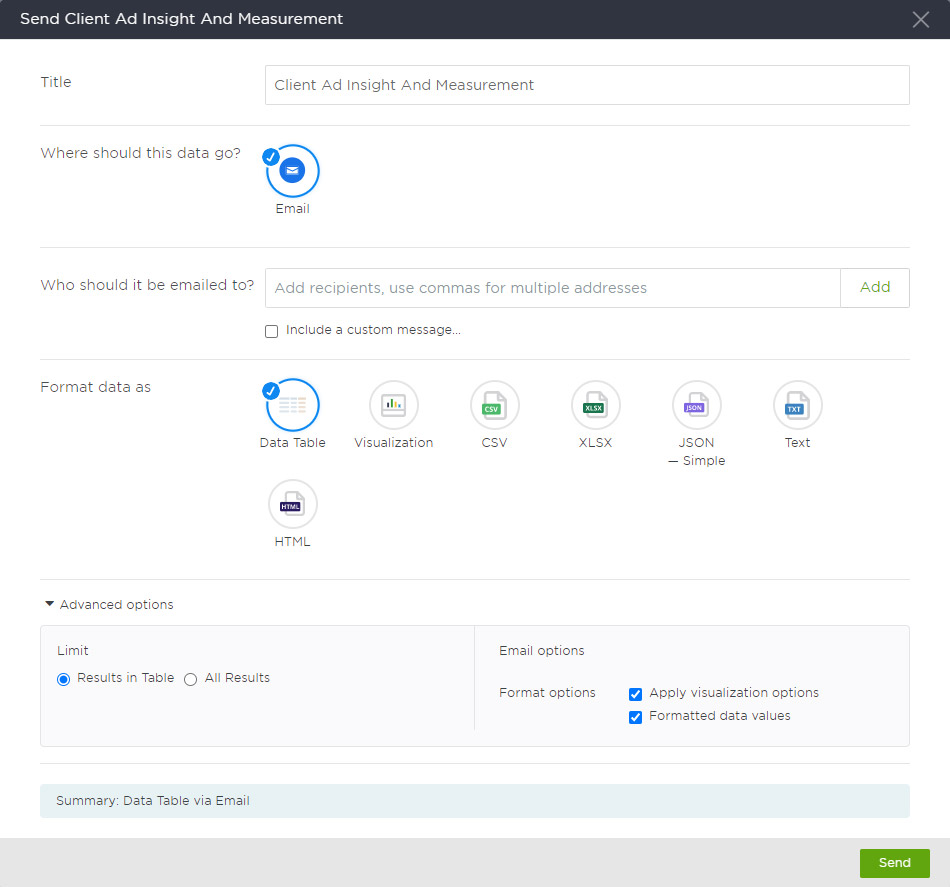 Permissioned access to Facebook Insights for Facebook Marketing Partners (FMPs) and agencies will be forthcoming in future updates. In the meantime, marketers can filter Facebook Insights data and forward it to their FMP or agency on an as needed basis. 
Overcoming challenges to accessing Facebook data
When Facebook deprecated its Advanced Mobile Measurement (AMM) program this past fall, marketers were forced to make a change in how they accessed and analyzed their Facebook campaign data. Marketers said goodbye to the row-level conversion data they used to enjoy, with the exception of click-through conversions on Android app campaigns via Google Play which Facebook made available via Google's Install Referrer API (see our related post regarding Kochava support). 
Facebook measurement partners, Kochava being one of a handful worldwide, still receive all row-level data from Facebook. However, we are no longer able to surface that raw data directly to advertisers. Only aggregate data and insights subject to minimum volume thresholds can be surfaced. The introduction of Facebook Insights serves to deliver marketers the quick insights they need on Facebook campaign performance in compliance with Facebook's guidelines and incorporating valuable Kochava measurement metrics and KPIs. 
For questions or assistance on the new Facebook Insights dashboard, please contact your Client Success Manager or email Support@Kochava.com. To stay up-to-date on future product announcements, please subscribe to our email newsletter. 
Not a Kochava customer, but want greater insights to drive success on your Facebook campaigns? Connect with us.