Program expands footprint in MENA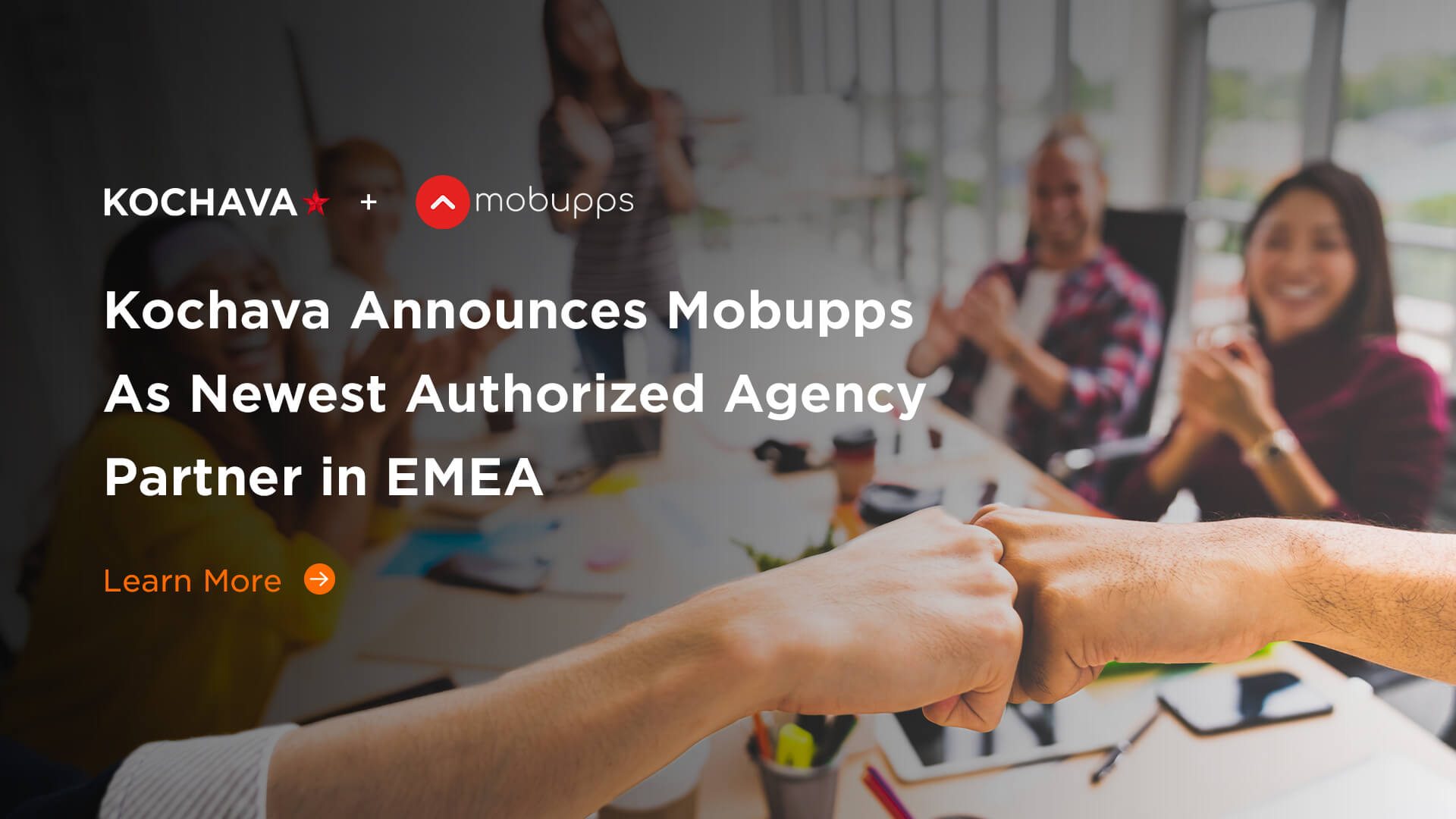 SANDPOINT, Idaho and ASHDOD, Israel — December 6, 2022 — Kochava, the leading real-time data solutions company for omni-channel attribution and measurement, today announced Mobupps, a long-standing global adtech champion leveraging machine learning optimization and best-in-class fraud prevention, as its newest Authorized Agency Partner.
"We are excited to welcome Mobupps as the latest addition to the program," said Arthur Novarina, Regional VP of Sales, EMEA at Kochava.  "With this latest partnership, we look forward to continuing our growth in the region as well as globally."
Mobupps provides advertisers and publishers with the most value for their media through optimized user acquisition, media targeting, and effective monetization strategies based on 14 years of premier industry expertise. Channel partners can utilize Mobupps' extensive network to leverage media, placement opportunities, and client insights, with direct access to over 100 of the world's largest supply-side platforms and seamless integration with all of the key social, search, and programmatic platforms.
"Our team is very enthusiastic about the partnership with Kochava," said Bella Katsir, Mobupps COO. "We are very confident that this connection will create a much bigger scope of opportunities for all our partners worldwide."
The Kochava Authorized Partner Program helps businesses improve their skills in maximizing the use of Kochava's platform. As authorized partners, members are required to attend Kochava Discovery Sessions for in-depth training, which Mobupps has successfully completed. The focus of these sessions is the key marketing functions of the Kochava Marketers Operating System™ (m/OS), which is the foundation for marketing success across the largest enterprise brands in the world. By joining the ranks of Kochava Authorized Partners, agencies are equipped to leverage the Kochava platform to its maximum potential and competitively position themselves as the preferred choice for advertisers.
The full Authorized Agency Partner course catalog includes:
Measurement and Attribution (required) 

iOS 14 & SKAdNetwork

Fraud Prevention

User Engagement

Over-the-top (OTT) and Connected TV (CTV) Measurement

Identity Solutions

Subscription Management

MediaLift™ Services to Determine Incremental Lift

Links
Once agencies become a Kochava Authorized Partner, they will be listed as such in the Kochava Media Index, the largest advertising database in the world. 
About Kochava
Kochava Inc. is a real-time data solutions company offering the leading omni-channel measurement and attribution solutions for data-driven marketers. The Marketers Operating System™ (m/OS) from Kochava empowers advertisers and publishers with a platform that seamlessly integrates and manages customer identity, measurement, and data controls. Unlike the complicated, siloed tech stacks employed today, the m/OS takes the next step: unifying all of your data and critical omni-channel solutions into a cohesive, operational system that goes beyond data aggregation and reporting. The m/OS provides the foundation for limitless advertiser and publisher tools, including the option to build third-party solutions onto the platform. By design, m/OS facilitates success by making data accessible and actionable to maximize ROI.
With a culture of customer-driven innovation, dedication to data security, and the most powerful tools in the ecosystem, Kochava is trusted by top brands to harness their data for growth. Kochava also hosts the largest independent mobile data marketplace, the Kochava Collective. Headquartered in Sandpoint, Idaho, the company has offices globally. For more information, visit their website www.kochava.com. Follow Kochava on social media: Facebook, Twitter, and LinkedIn.
About Mobupps
Mobupps is a media buying powerhouse with direct access to 100+ major worldwide supply-side platforms (SSPs) and seamless integration to all major social, search, and programmatic platforms (Facebook, Tiktok, Google, etc.). We provide advertisers and publishers with accurately targeted users based on their KPIs/business models. Also, Mobupps provides the most efficient way to maximize monetization by using actionable data in real-time and end-user conversion results by attracting the best bids and monitoring with extreme accuracy. 
Mobupps is positioned as a one-stop-shop for both publishers and advertisers to find each other, find the right media and content, and enhance the efficiency of their advertising efforts. We compete with the best in our market as we aim to enable our clients to manage their campaigns fully while directing advertising efforts based on performance KPIs relevant to our clients.
For more information, visit their website www.mobupps.com. Follow Mobupps on social media: LinkedIn and Facebook