Misattribution, attrition, ad buys without solid evidence—these are a few of a marketer's least favorite things. The solution lies in the data, but marketers must be able to make sense of it all in a timely manner. The newest enhancements to the Kochava Intelligence suite of business intelligence tools aims to provide marketers with easier access to the answers. These include: campaign insights through a Business Value Assessment, churn modeling, and an insights report in addition to the existing Query and What if? tools.
"Marketers must parse and either take time to analyze or export data to various providers to fully understand their campaign results," said Grant Simmons, director of client analytics at Kochava. "We can provide that deeper understanding because we use the platform tools every day and know how to maximize their use. We frequently uncover data relationships that marketers might not see on their own."
A custom analysis by Kochava shows the quality delivered by media partners and advises in how to "clean" the signals sent to Kochava so that the end result increases return on investment. Our team has incorporated machine learning tools to yield campaign insights and explore the relationships of impressions and clicks and installs.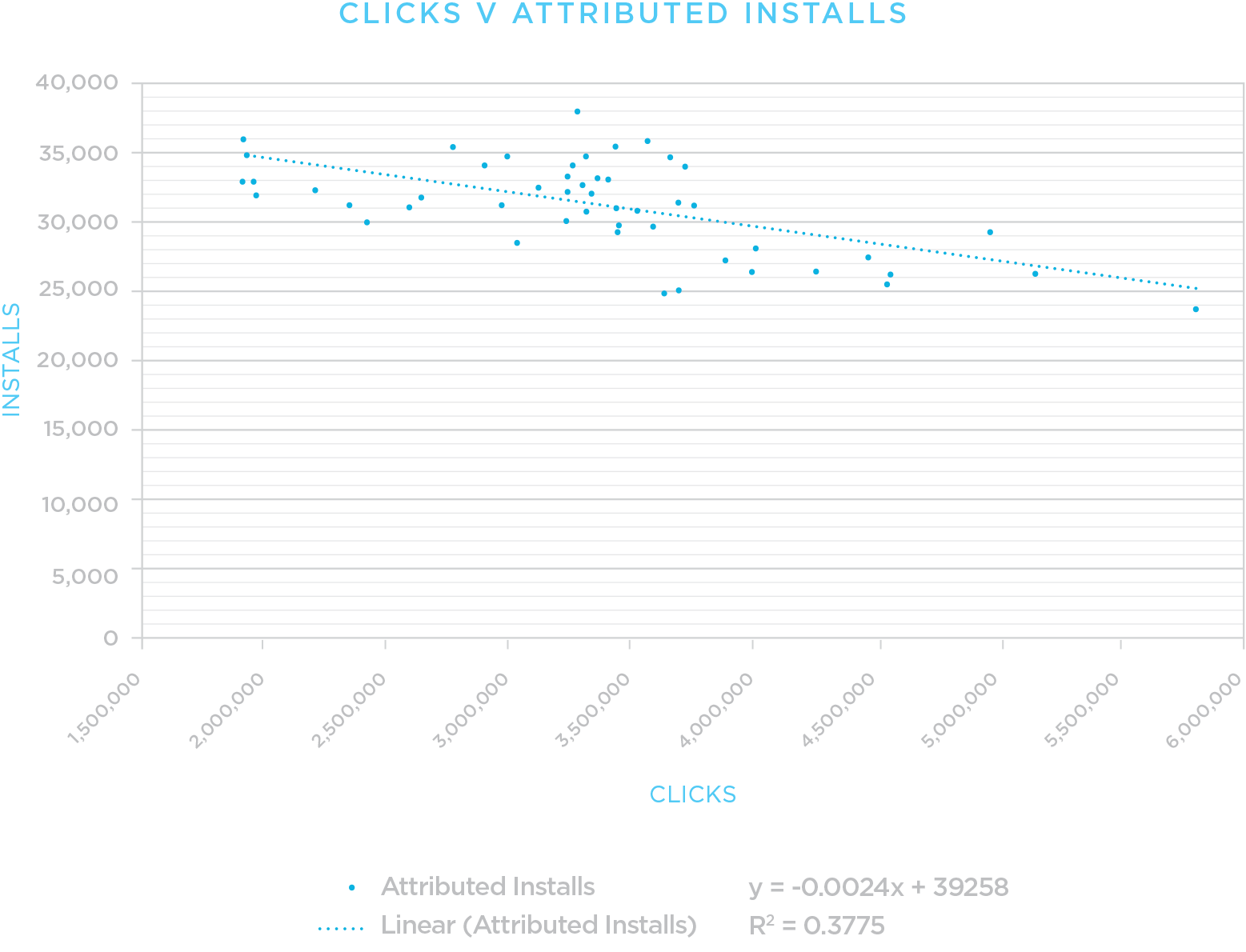 The above graph shows a poor signal with a downward trend of installs compared to the number of clicks.
"The impressions, clicks and installs sent to us, which is the signal or data stream, us may be corrupt. Data from media partners may not be 'clean', meaning that the signal differentiating impressions and clicks is muddled by the publishers, which makes it difficult to accurately predict revenue or make future marketing decisions," Simmons said.
Marketers may be accustomed to receiving reports from media partners but do not have the resources to investigate the validity and quality of the data. And, what they don't know can hurt them as a result of having "noise" in their data stream (signal) resulting in misattribution from fraud or negligence.
"Attribution relies on a clean signal. That means sending impressions and clicks separately. Once that happens, we see an improvement between the company's clicks and installs," Simmons said. "Now a company can better predict how many clicks are required to satisfy an install goal to boost revenue."
To address attrition, the Kochava Data Science team can create custom churn models. These churn models are used to enrich user data in analytics and reporting, allowing marketers to better understand which users are likely to churn. They can further segment the data for precise retargeting, including proactive reach outs to users to prevent churn and increase retention Marketers can access Churn Modeling as an additional event in Analytics which groups and scores users likely to churn using machine learning.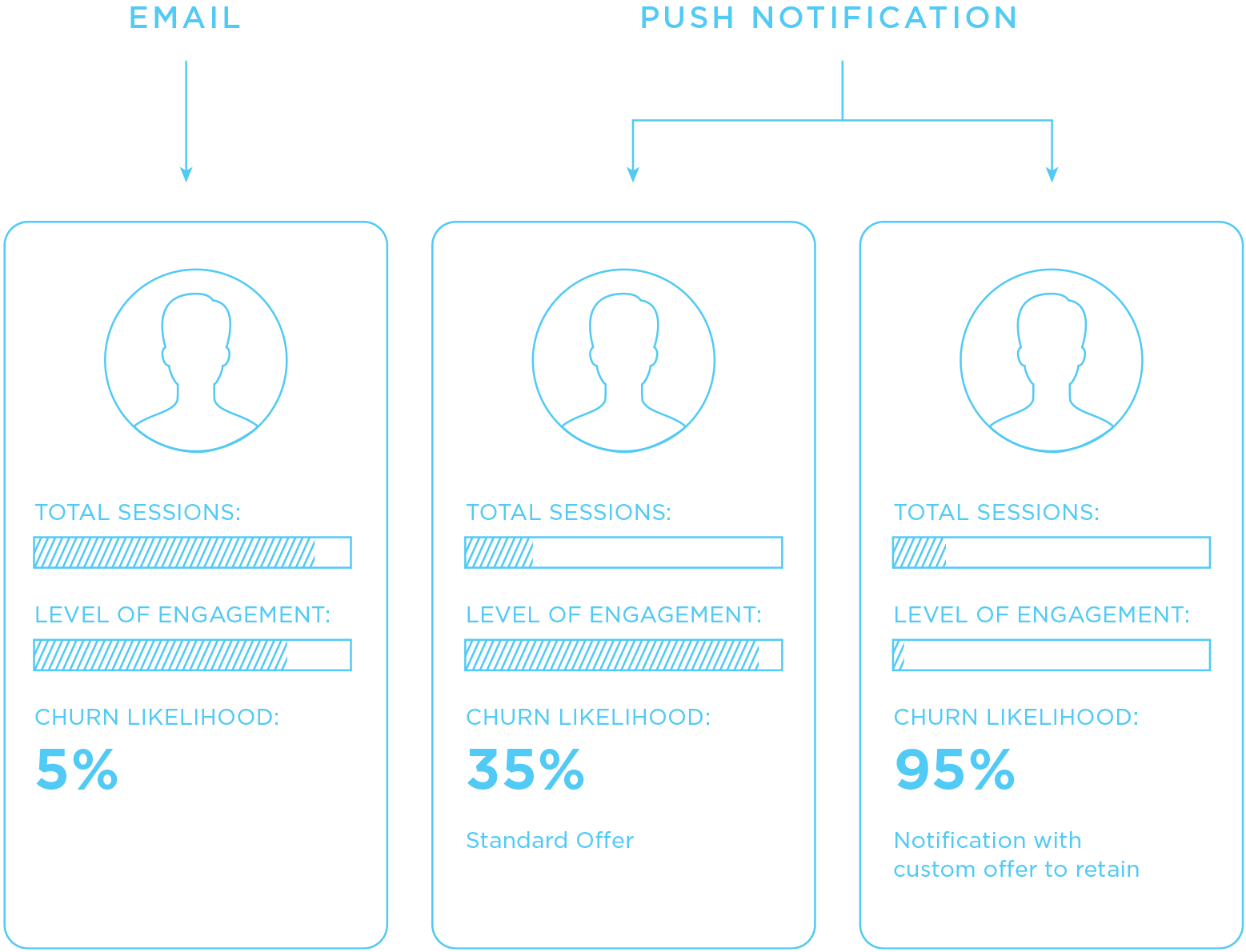 With regard to ad buying, the new Insights Report makes recommendation on where marketers should focus their ad-buys on their existing partners.. Using our Optimization Beacon technology, the report makes "buy" and "do not buy" recommendations by analyzing engagement and conversion trends in the app's data.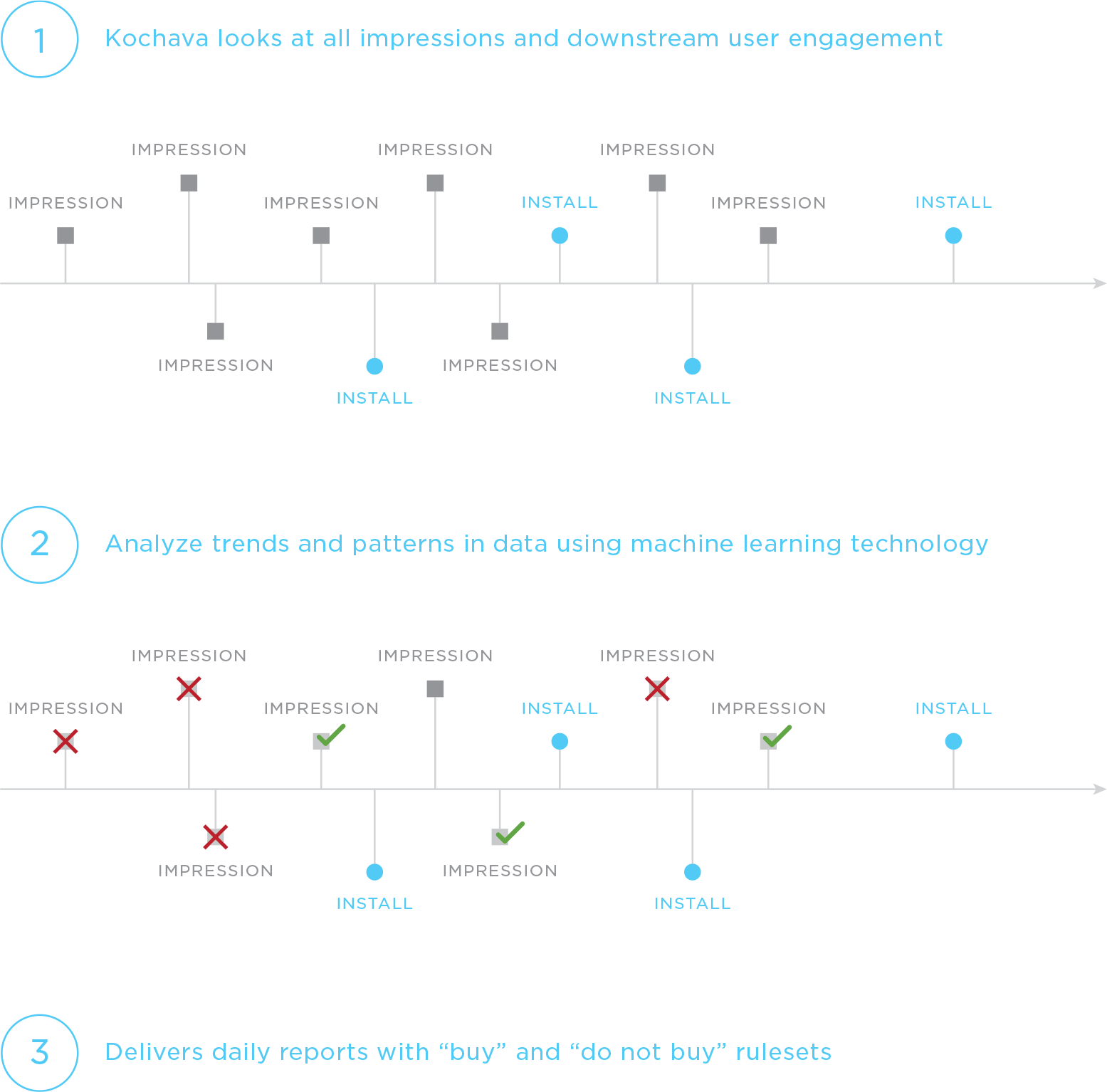 "Kochava is the nexus between publishers and advertisers," Simmons said. "We have the ability to analyze these data relationships others may overlook."
For more information about the new Kochava Intelligence suite, Contact Us or your Client Success Manager.