Português dashboard localization, Kochava Cost improvements, Web SDK enhancements, and more
In addition to an inaugural soup-off held by the Kochava Marketing Department in which Kochava's Director of PR won first prize for a pepper-infused tomato basil bisque, May also witnessed a collection of product and partnership updates.
To receive these updates regularly, be sure to subscribe to our newsletter.
In this post, we will touch on the following updates:
Dashboard localization in Portuguese (Português)
Improvements to Kochava Cost
Web SDK enhancements
New & Updated Partner Integrations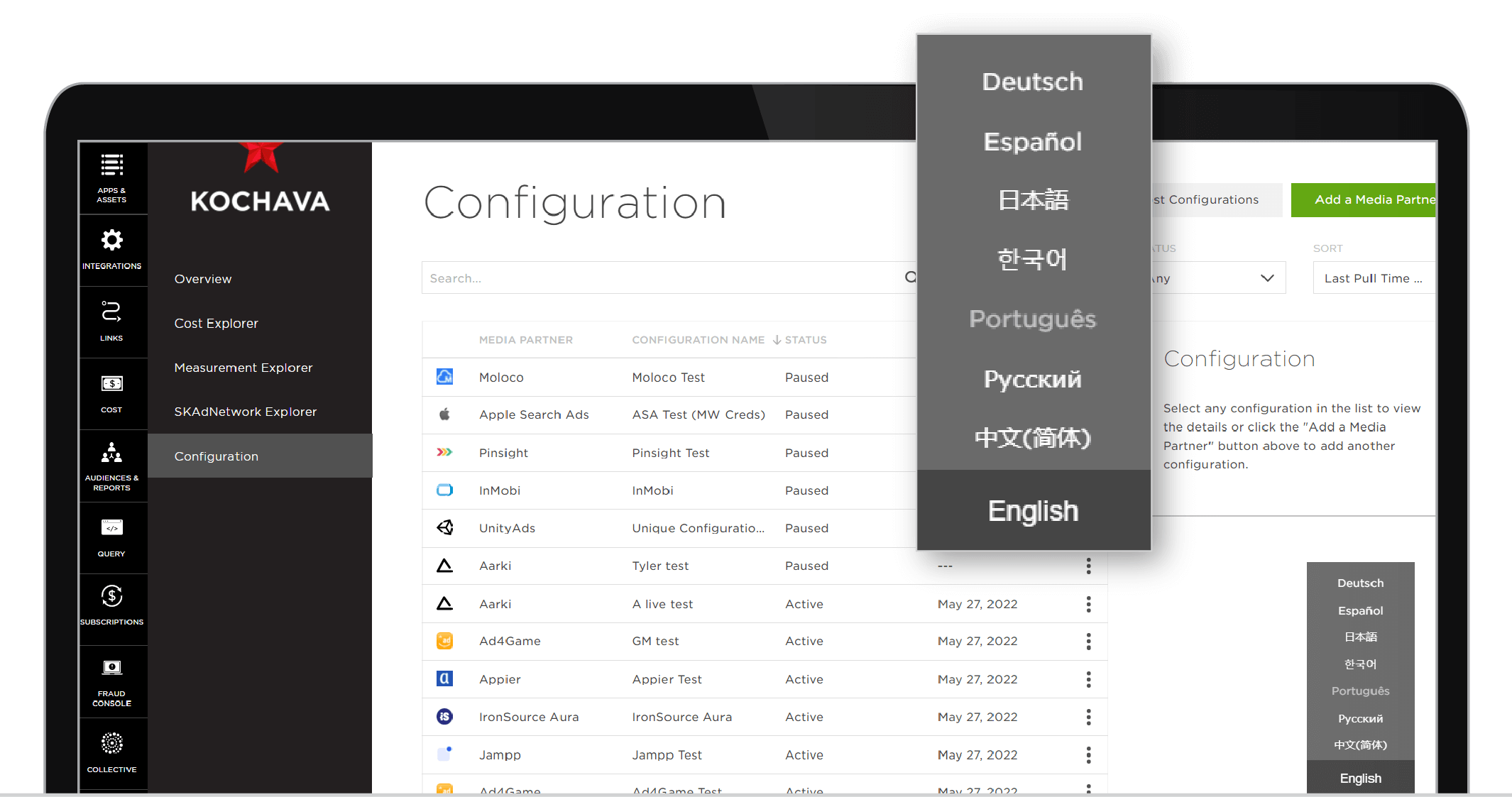 Dashboard Localization for Português
With continually growing demand in the EMEA region, Kochava deployed language localization support for Português. A language toggle is featured in the lower right corner of the Kochava dashboard where Português can now be selected among other supported languages. 
In addition to the Kochava dashboard interface, localization support for Português has also been added to the Kochava support site.
Improvements to Kochava Cost
Enhancements were deployed to Kochava cost workers to optimize retry logic for retrieving cost data when media partner APIs return errors. These updates will result in more frequent retry cycles and faster cost data population after an error incident with a partner's API. Within the Configuration dashboard for the Cost module, a new 'Partner API Retry' entry has been added to the Status filter dropdown. This will help clients understand when a media partner's API was unresponsive and required a retry to pull cost data.
Additionally, Mintegral's integration with Kochava Cost has been enhanced to support their advanced performance report. This update offers additional granularity in cost metrics available for Mintegral campaigns.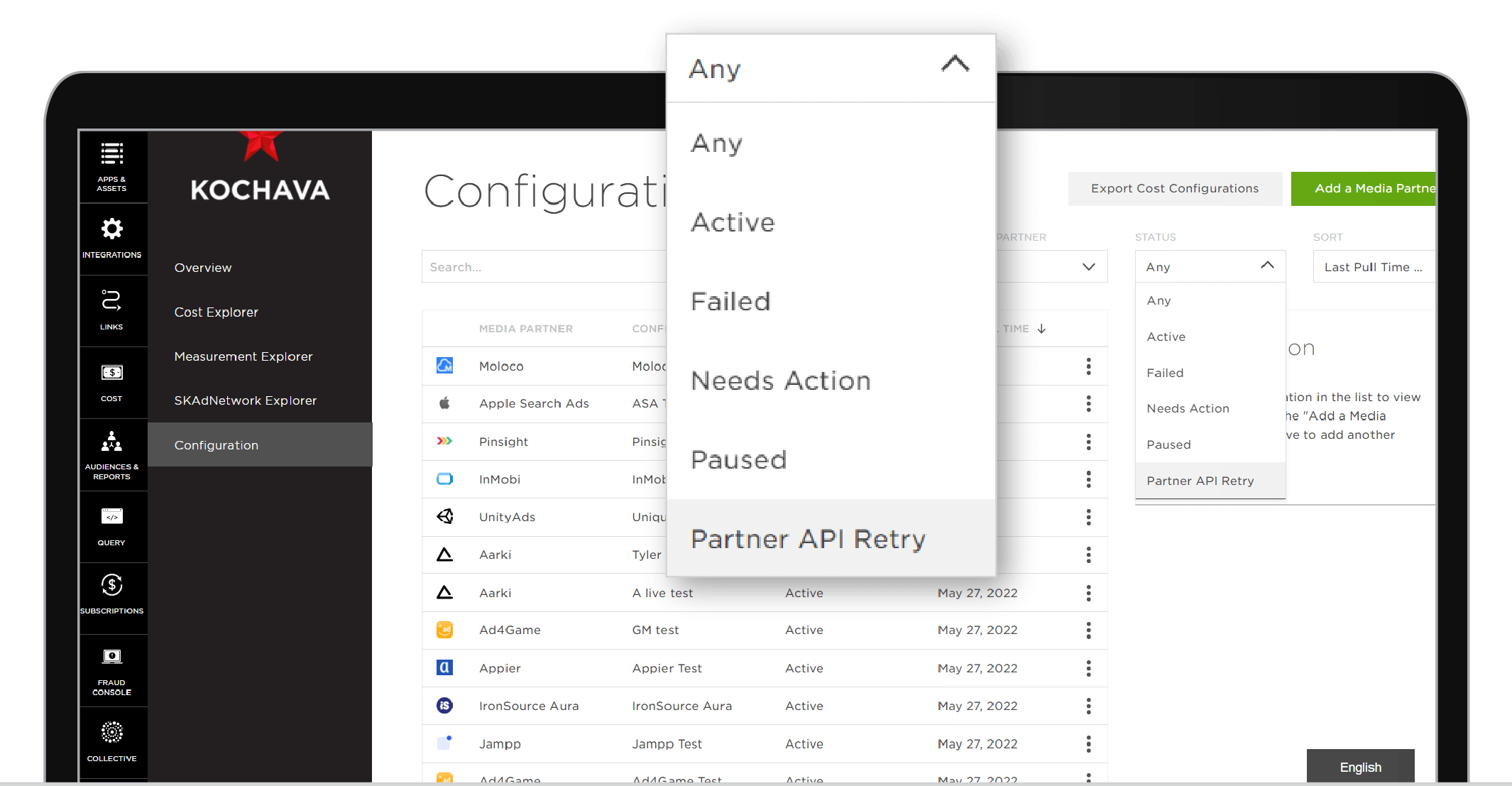 Significant updates were made to the Kochava Web SDK (software development kit) to improve usability, performance, and stability. Support was added for TypeScript, NodeJS, as well as JavaScript frameworks like React and Vue.
Network & Partner Integrations
The Kochava Integrations team successfully processed fifteen (15) new partner integrations and deployed requested updates across a host of others. The following table showcases the list of significant integration updates this month.
| New Integrated Partners | Integrated Partner Updates |
| --- | --- |
| Tap Mob | Jeffuel |
| Booming Ads Pvt Ltd | Vungle |
| Ztime Channel | Quora |
| Lezhun | Liftoff |
| We Grow | Purify Digital |
| MagixEngage Pvt Ltd | Bay of Ads |
| MeMobPlus | Zhizhen |
| ABEMA | RevX |
| ENewsVault | Digital Turbine |
| CPLATO | AdsTerra |
| Verve DSP | Royalmobi |
| Venusads | BIGO Ads |
| Automizer | Mobupps |
| Koozix India Pvt Ltd | Adwool |
| Cost Center | Memob+ |
If you're an ad network, demand-side platform, or other partner looking to integrate with Kochava, please contact Integrations@Kochava.com. 
For a list of all integrated networks and publishers, click here.
If you have any questions regarding these updates, please contact your Client Success Manager or email support@kochava.com. 
Stay up-to-date with the latest news by subscribing to our newsletter.