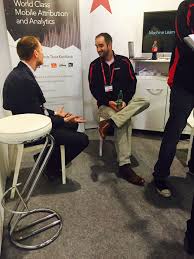 On the heels of Mobile World Congress in Barcelona, the excitement around the Kochava Optimization Beacon™ is heating up.  The Kochava booth at MWC was filled with prospects, partners, and even some competitors, all wanting to know about the future of mobile advertising intelligence.
Mobile Marketing Watch released this article today.  The article is reprinted below for your convenience.
---
Published March 09, 2015 — By J. Barton
A new beacon tool designed for advertisers made a huge splash at Mobile World Congress in Barcelona, Spain last week.
Kochava, a mobile attribution analytics and optimization company, used the MWC as the venue to announce its launch of the "Kochava Optimization Beacon," said to be the first off-the-shelf predictive machine learning tool available directly to advertisers.
According to the company's formal announcement, "The Kochava Optimization Beacon will be used by advertisers to automate the efficiency of their mobile ad campaigns."
"The Beacon will allow us to leverage our first-party data in a trusted manner to programmatically and algorithmically find the most value from our mobile user acquisition partners," said a company spokesperson.
In a separate release, Kochava also announced it had acquired InferSystems, a predictive analytics software company currently serving the mobile advertising market.
"Through its acquisition of InferSystems, and the integration of the InferEngine technology with the Kochava Platform, Kochava is ushering in a new era of transparency and data-driven efficiency for mobile advertisers," noted the company in a news release.
"While other measurement technology vendors are raising tens of millions of dollars to build teams who are just starting to think about campaign optimization, Kochava has acquired proven technology and an existing team, and will be shipping product that will be serving Kochava customers in the next month," said Kochava CEO Charles Manning. "2015 will be the year transparency in the mobile ad industry becomes the rule rather than the exception, and brands can truly optimize their mobile ad spend based on their own unique data."
According to industry analysts, the Kochava Optimization Beacon delivers superior advertising intelligence and transparency: precise, actionable data to help advertisers serve the right ad to the right person at the right time.
"The Beacon's predictive statistical learning technology takes advertisers' current manually-driven approach for running and optimizing mobile campaigns and replaces it with a completely automated process using statistical machine learning intelligence while continuing to leverage the 1000+ member ecosystem of ad networks and publishers who are integrated with Kochava," the company boasts.