Pinterest's Promoted App Pins are now trackable, and Kochava is one of their select Mobile Measurement Partners. Users can click and install an app directly from their Pinterest feed. Using this ad unit has shown to yield high-quality users across several mainstream verticals.
Pinterest's newest ad offering was featured today in Adweek. You can read the entire article by Christopher Heine here, or read it reprinted below.
---
Since July, Pinterest has been testing app-install ads with about 100 smartphone-minded brands like Ibotta, Stash and Glu Mobile. Today, it's rolling out that ad product, which is called Promoted App Pins, to all marketers. It will be available on the platform's self-service system (Ads Manager) as well as pitched via its API (or application programming interface) marketing partners.
"More than 80 percent of our users are on mobile," said Mike Bidgoli, head of new ad products at Pinterest. "So it's a very mobile-first product, and hence, it lends itself well to app installs."
Pinterest, which was a bright shiny object among tech marketers a few years ago, is hot again. After going from $100 million in revenue in 2015 to around $300 million in 2016, Recode last week reported that the company is looking to make more than $500 million in 2017.
And the app-install play should bolster its earnings. Research firm eMarketer's latest numbers had the U.S. app-install advertising space at $5.7 billion for 2016. Facebook, Google, Instagram, Twitter and Apple have been the chief benefactors. Facebook has reportedly seen up to 20 percent of its ad revenue from app installs, and consider that the digital giant brought in $8.6 billion in the fourth quarter last year. Google, per some analysts, may have surpassed Facebook's app install business in recent months. While Pinterest's gains will certainly be more modest out of the gate, another stream of ad sales should lift its value among investors as it likely heads toward an IPO this year or in 2018.
Via Pinterest's measurement partnerships—AppsFlyer, Tune, Adjust, Kochava and Apsalar—ad buyers can get reports on installs. Bidgoli said 70 percent of the advertisers that have tested Promoted App Pins have achieved their campaign objectives.
"One cool thing is that it not only worked for the core categories like food, style, beauty," he said. "But it also worked for personal finance, automotive and gaming."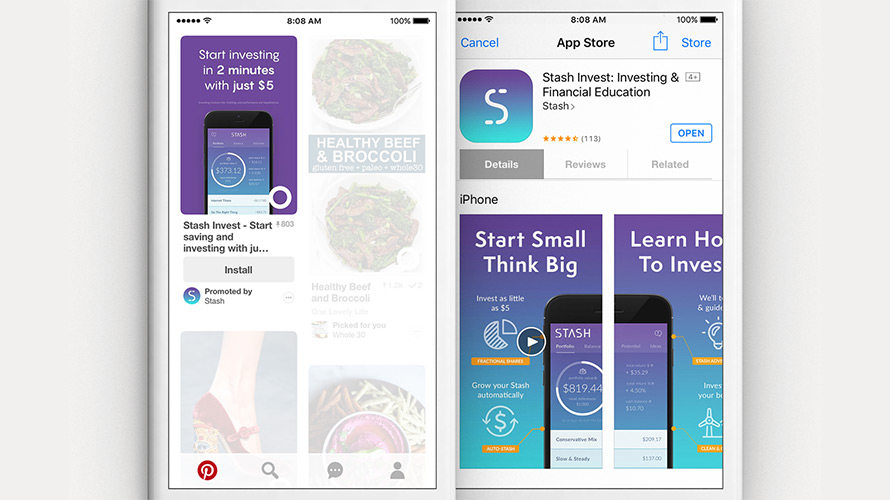 Layne Cox, head of growth and user acquisition at cash-rewards app Ibotta, said that since first testing the ad product last year, the company has "more than doubled our Pinterest spend."
Stash's Promoted App Pins tests have generated not just downloads but engaged users, proclaimed Annica Lin, acquisition manager for the investment-focused mobile app. "Pinterest delivers the highest percentage of loyal users across all [Apple operating system] iOS acquisition partners for [us]," Lin said.
John Parides, head of user acquisition at digital gaming company Glu Mobile, said that he used Promoted App Pins to drive downloads for his company's Gordon Ramsay Dash app. "Thanks to [its] audience and targeting capabilities," he said, "we were able to significantly increase yields."
Parides added, "In a market where many new mobile ad vendors offer minimal differentiation, Pinterest stands out."
That's believable if you consider insights company Apptopia's recent findings, which concluded that 75 percent of users on its high-grossing apps are also Pinterest users.
Pinterest, which has 150 million monthly users who pin images, has been slowly building out its search and interactive portfolio over the past few years. In October, it introduced a trio of ad units in one-tap pins, video pins and the app pins that went wide today. Last month, it started letting marketers use more specific keywords to better target their search campaigns while also enabling retailers to serve more relevant ads.
Meanwhile, food, design and crafts, Pinterest's bread-and-butter marketing categories, should remain a sweet spot when it comes to direct-response units like app-install ads, said Julian Soler, Apester's head of marketing.
Soler said Pinterest users "are actively thinking about and experiencing content that has a strong likelihood in leading towards purchasing decisions."
"Once a user has an intent to find something on Pinterest, it is easier to lead them to purchase," he said.