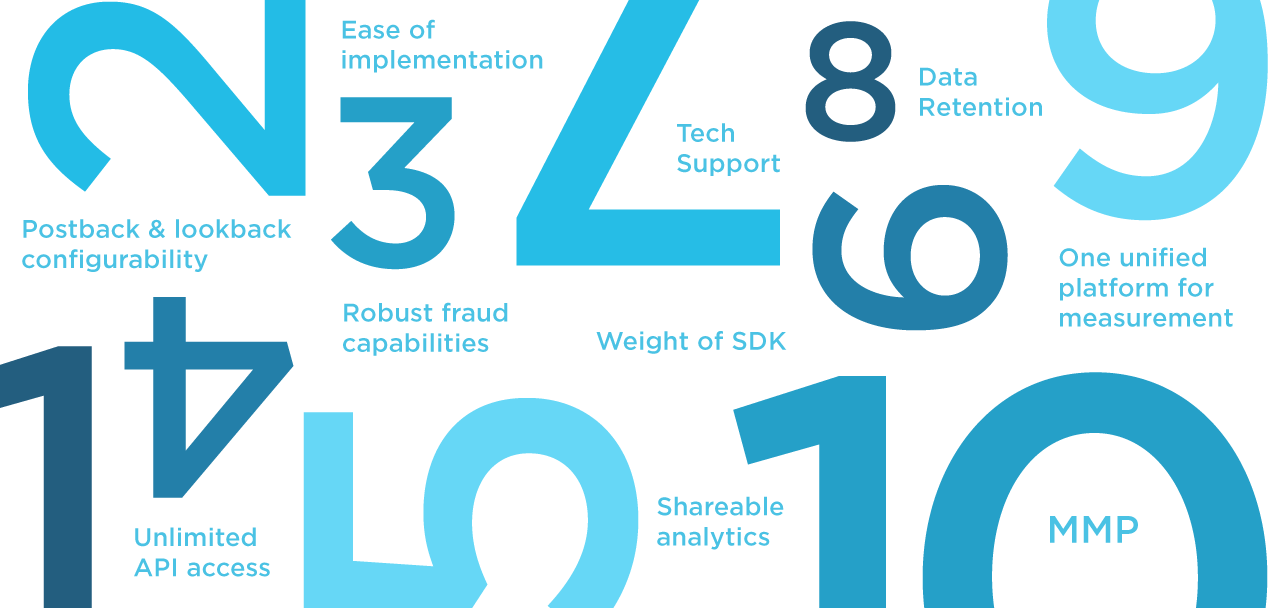 To effectively promote your app, you need to understand where your most valuable audiences are coming from. The right attribution provider will supply you with the data on how many users installed and what they did within the app after install. If you don't have a mobile attribution platform, or are unhappy with your current one, what should you look for?
Here are the top 10 things you need to consider when researching measurement providers.
1. Weight of SDK
Apps can easily get bloated. If you're using multiple products, or have a large repertoire of graphics, keeping your app slim is important for a quick and smooth startup time. A provider's SDK should be lightweight with a small footprint that won't slow down your app loading times, conflict with your back end services or crash your tech stack. And, that same SDK should be applicable for multiple OS platforms.
2. Ease of implementation
How easy is it to implement a provider's SDK? Implementation shouldn't require more than a support document and some tips on coding. Every SDK is different, but a competent coder should be able to add the right SDK in a short time frame.
3. Tech support
How responsive are your partners with questions about their product? Advertising on mobile can be complicated, but using measurement tools should simplify that. If a provider doesn't respond quickly or assist in using their product, you'll be left wasting time and money. Everyone claims to have great customer service, but how do they stack up? These days, support should be 24/7, regardless of time zones. Make sure you understand their support policy and that you are clear about what you need to be successful using their product.
4. One unified platform for measurement
Whether you are a mobile marketing newbie or you are a seasoned marketer, you will save time and money having all your measurement tools in one location. Having a single attribution provider to track your campaigns across owned (email, social, website) and paid (ad partners) channels across devices and apps is necessary to fully understand the big picture about your users. This makes all your measurement equal instead of needing different tools to measure apps on disparate platforms.
5. Shareable analytics
You need to access accurate data quickly so you can make adjustments to your campaigns. Instead of downloading reports from a provider and uploading them to your data partners, having sharable reporting capabilities saves you time. Learn to automate report generation and send reports to the people who care: your CEO, product managers or business intelligence teams. Spend less time reporting and more time analyzing your data so you can make smart decisions.
6. Certified Mobile Measurement Partner (MMP)
Make sure you have the right connections by choosing a certified MMP. Many marketers already advertise on major social platforms, such as Facebook, Google, Snap, and Instagram. Facebook and Google alone have 85% of internet traffic growth (Meeker KPCB 2017 Internet Trends report). Having a connection to multiple self-attributing networks (SANs) will provide access to greater campaign and audience insights.
7. Postback & lookback configurability across all ad providers
A postback is data that your measurement provider sends back after an install occurs. This is vital data that tells you whether or not your app is installed and then what actions users performed after opening the app. Get the data you need through unlimited, real-time custom postbacks. Configure your postbacks and send them to third party data providers such as notification or CRM entities. If a postback fails (and it happens), your provider shouldn't charge you for retries or for enabling and disabling postbacks to your data partners.
Configurable lookback windows—how far back you can see when your ad was viewed and when an install happened—should also be customizable. Was the ad viewed 3 days before or 7 days before the app was installed, and does it count? The time frame is different for everyone, and different campaigns will vary in the parameters they need to cover so that you can see what's working, what's not and make changes accordingly.
8. Robust fraud capabilities
Mobile marketing is now a multimillion dollar business, and unfortunately, fraud has infiltrated this marketplace, causing millions of dollars in wasted ad spend. Virtually every campaign contains some unwanted or potentially fraudulent traffic. Fraud prevention tools are a must, because sometimes what seems like normal campaign activity (e.g., increased installs) isn't the reality. The best fraud mitigation tools should allow you to configure and visualize your campaign traffic. This way, you can predetermine what types of traffic are acceptable and how to automatically deal with what's not, via a blocklist or blocking tool. Fraud detection reporting also helps resolve discrepancies between ad partners' reports and what actually happened during the campaign. It's not enough to blocklist fraudulent entities—you need reports on your traffic across apps before your campaign ends.
9. Data Retention
Good data analysis often looks backward to spot historical trends, and it should be no surprise that your mobile analytics and attribution platform needs a "window" to give you some history. Many measurement providers tap out at 90 days of user data being saved. The benefit of looking beyond that time frame is that you can analyze user behavior across apps and devices and avoid paying for installs more than once. An example would be a user who downloads an app and uninstalls it 30 days later, then re-installs it 90 days later on a different device. Would you want to pay for that user again? Users frequently go dormant and uninstall only to reinstall at a later date. If a measurement provider is not retaining data beyond 90 days, a user who re-installs beyond that time frame will cost you. It's worth it to find a partner who retains data for longer periods and will deduplicate users who reinstall the app.
10. Unlimited API access
When you're searching for a new measurement provider, review their API policies. The API or "application program interface" is a set of code that lets you access your data from your partner's servers. A good provider shouldn't limit or charge you to access your own data. It's your data, and you should have access to it. Make sure you don't get penalized for expensive data access plans.
Find a provider; start with analytics
Measuring your mobile campaign analytics is a good place to start when working with a new attribution provider. You want to know what your audience is doing within your app. Then, you can identify where your high-value users are coming from and plan reengagement campaigns. Know where you are having success, and see how you can engage them further.
Not all app measurement providers are created equal. Some focus on cost, others on the proliferation of their SDK, and there is a lot of competition out there. Kochava focuses on creating quality measurement and attribution tools that are an investment in the success of your mobile app marketing. You can check off all of the above with us. Contact us for more information about how Kochava can be your attribution provider.