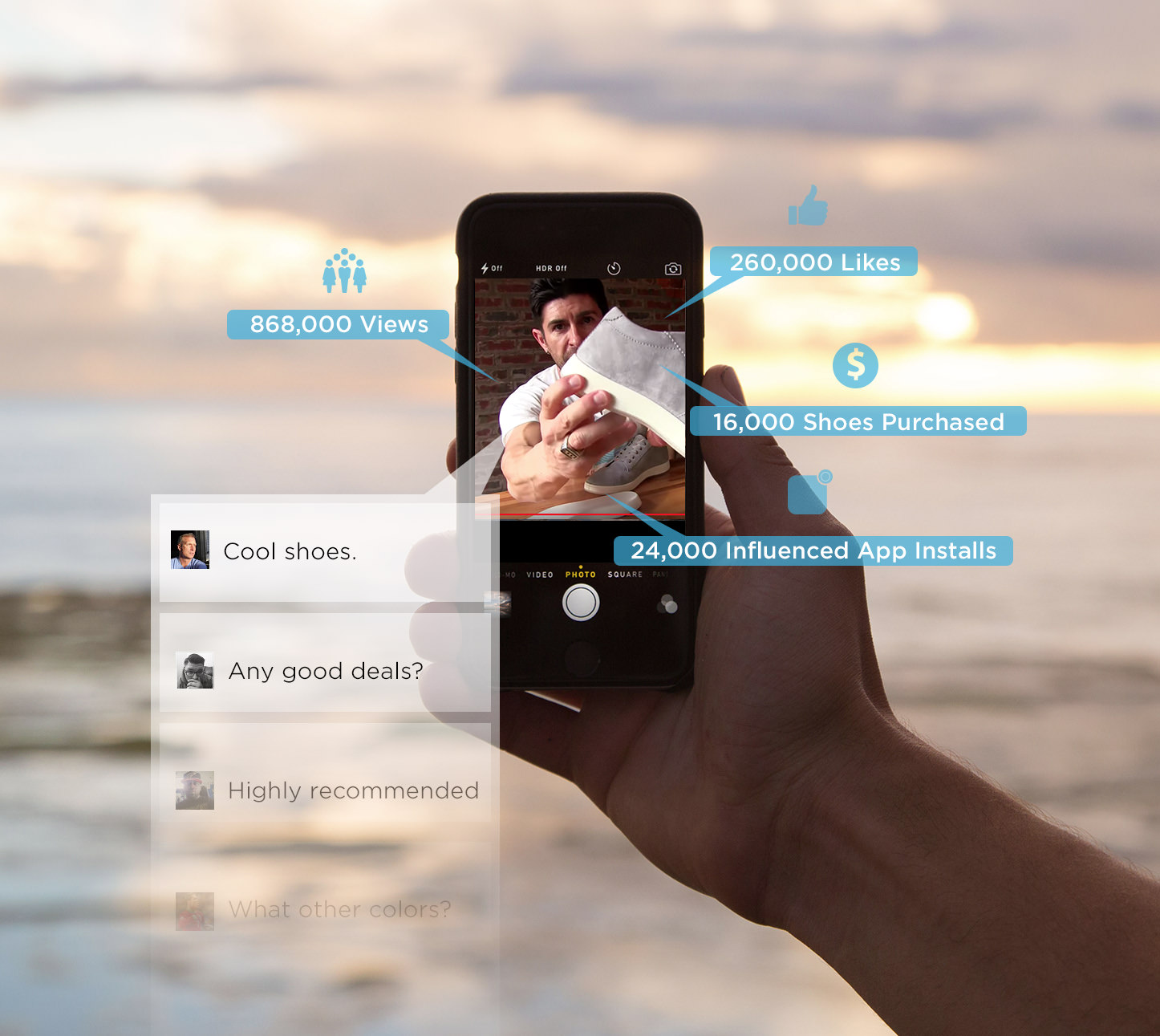 Kochava empowers marketers to measure the previously unattributable ("organic") installs resulting from social influencers.
Social media influencers are taking mobile by storm. They can reach tens of millions of followers in just seconds with their wit, humor and creativity. And with the rise of ad-blocking, advertisers need alternative ways to reach and engage their audiences. Brands big and small are capitalizing on the talent and audiences of social influencers and using Kochava to attribute user acquisition and quantify return on investment (ROI) from these campaigns.
Mobile analytics and attribution take center stage in tracking the installs that social influencers drive. SmartLink and data science modeling at Kochava are proven ways to measure the impact of social influencers. What was once an unattributable marketing practice is now measurable with these methods. Just ask Kochava client Tamatem, a mobile games publisher, who exclusively markets their apps on social media networks with select social influencers. Their users largely frequent social networks and primarily Instagram. Tamatem uses unique SmartLinks to track the effectiveness of social influencer campaigns. If advertisers know their audience well, they can tap into influencers on the particular social networks their users frequent.
Superstar social influencers like Kim Kardashian and Justin Bieber understandably have massive followings. Then, there are new names, such as Logan Paul, featured recently on a 60 Minutes story about social media influencers. He's gained notoriety by posting mini comedic sketches just long enough to hold a Millennial's attention and keep them coming back for more. Advertisers are looking for influencers like him to spark "the next big thing" trending on social media, and companies like Dunkin' Donuts are leveraging Paul's international appeal through his self-made mobile ads that include promotional links to the company's app.
"Audiences respond more to an organic message. If it comes from an influencer, that's when it sounds like it's coming from the community.… What they're doing is inspiring their audiences," said Heidi Sullivan, SVP of Customer Service at Cision. Sullivan recently co-hosted a webinar on social influencers about how to connect with people like Paul.
Like social influencers, Kochava tools have a far reach. Using SmarkLinks or data science models, advertisers can attribute the installs influenced by the "tiny screen stars" of mobile. A single SmartLink redirects users to the app store or desired site and tracks all devices, iOS and Android alike. SmartLink is a way for advertisers to monitor their marketing methods and get a full picture of a campaign—whether it was an all-encompassing campaign or one specific to social influencers. With data science modeling, Kochava works with clients to determine a lookback window from when to attribute installs to a particular event where there is no tracker. It's the only way to measure unattributed installs surrounding an event whose influence would be otherwise unknown.
While there are no hard and fast rules on how to find and utilize social influencers, they have the talent to connect with and engage an audience in a personalized setting. As the industry changes, so too must an advertiser's tactics for reaching their desired audiences. Of note, however, the Federal Trade Commission requires that influencers include when their post is sponsored by an advertiser.
Advertisers shouldn't expect to find social influencers across all platforms. Rather, they should be selective and establish a strong digital presence on the platforms appropriate to a product. Influencer marketing is historically an organic way to reach an audience, but it now has a measurable method with Kochava SmartLink or their data science team.
"(Identifying influencers) requires work to find them and build the relationships, but influencer marketing campaigns could provide a significant percentage of ROI—there is a payoff," Sullivan said.
Learn more about SmartLinks here, or for more information on tracking social influencers, contact your account manager.