Everything you need to know about a Virtual Private Publisher Network (VPPN)
A VPPN, or virtual private publisher network, is a Kochava tool that is used to measure cross-promotional campaigns within a publisher's own app portfolio and other owned media channels. Additionally, a VPPN is used to track campaigns with smaller partners who may not warrant an official partner integration with Kochava.
Why should I use a VPPN?
A VPPN allows you to create a private tracking integration within Kochava that's custom to your account. You can customize the name of the network and set the default query string parameters appended to the VPPN tracking tags. Furthermore, you can see what app installs and in-app events drive the efforts you measure with your VPPN. 
A VPPN can be used to measure: 
Acquisition campaigns

Reengagement campaigns

Impressions

Clicks

Attributed Installs

Attributed Post-Install Events
Your VPPN traffic will receive equal consideration for attribution across all of your other media partners (paid and owned media), and the data will be visible in analytics and reporting alongside all of your other omni-channel efforts. 
Measuring cross-promo efforts post iOS 14.5
Apple's iOS 14.5 update and the implementation of the AppTrackingTransparency (ATT) framework will restrict advertising measurement and targeting across third-party partners when users have not consented to tracking. However, a publisher's own collection of apps within their publisher account are considered 'first-party' and do not fall under the same restrictions. 
If you have multiple iOS apps, run cross-promo acquisition across your portfolio and use a VPPN to measure every impression, click, and resulting app install. Even if the identifier for advertisers (IDFA) is unavailable, attribution can be deterministically processed using the identifier for vendors (IDFV). Understanding how to effectively cross-pollinate user engagement across your own app titles will maximize user lifetime value (LTV).
Smart App Banners
Consider also using a VPPN to measure traffic from a smart app banner on your mobile website. Smart app banners provide a great mechanism to drive visitors on your mobile website to download and install your mobile app for an optimized experience. See how Jamba used Kochava VPPNs to measure their efforts to drive patrons that visited their mobile website to their mobile app for seamless and contactless ordering. 
Smaller Partnerships
Kochava hosts over 4,500 partner integrations with super publishers, ad networks, demand-side platforms (DSPs), affiliate networks, and more. At times, though, your next campaign opportunity may fall outside of this footprint. 
Suppose you want to run a one-off campaign with a particular online influencer, blogger, or website. A VPPN allows you to create a custom tracking integration to specifically measure that campaign without having your partner pursue an official integration, which they may not have the ad tech to support. You can create tracking links and supply them to your partner to place behind an ad, hyperlink, or other context. 
How do I set up a VPPN in Kochava?
Setting up a VPPN on your Kochava account is easy. Note that VPPN is now simply called a 'Private Network' within the dashboard. Follow the steps in this support documentation to set up a VPPN/Private Network within Kochava. Once you start measuring campaigns with your VPPN, you can split out analytics and reporting data by the VPPN name, VPPN tracker name, and parameters you've incorporated into the query string.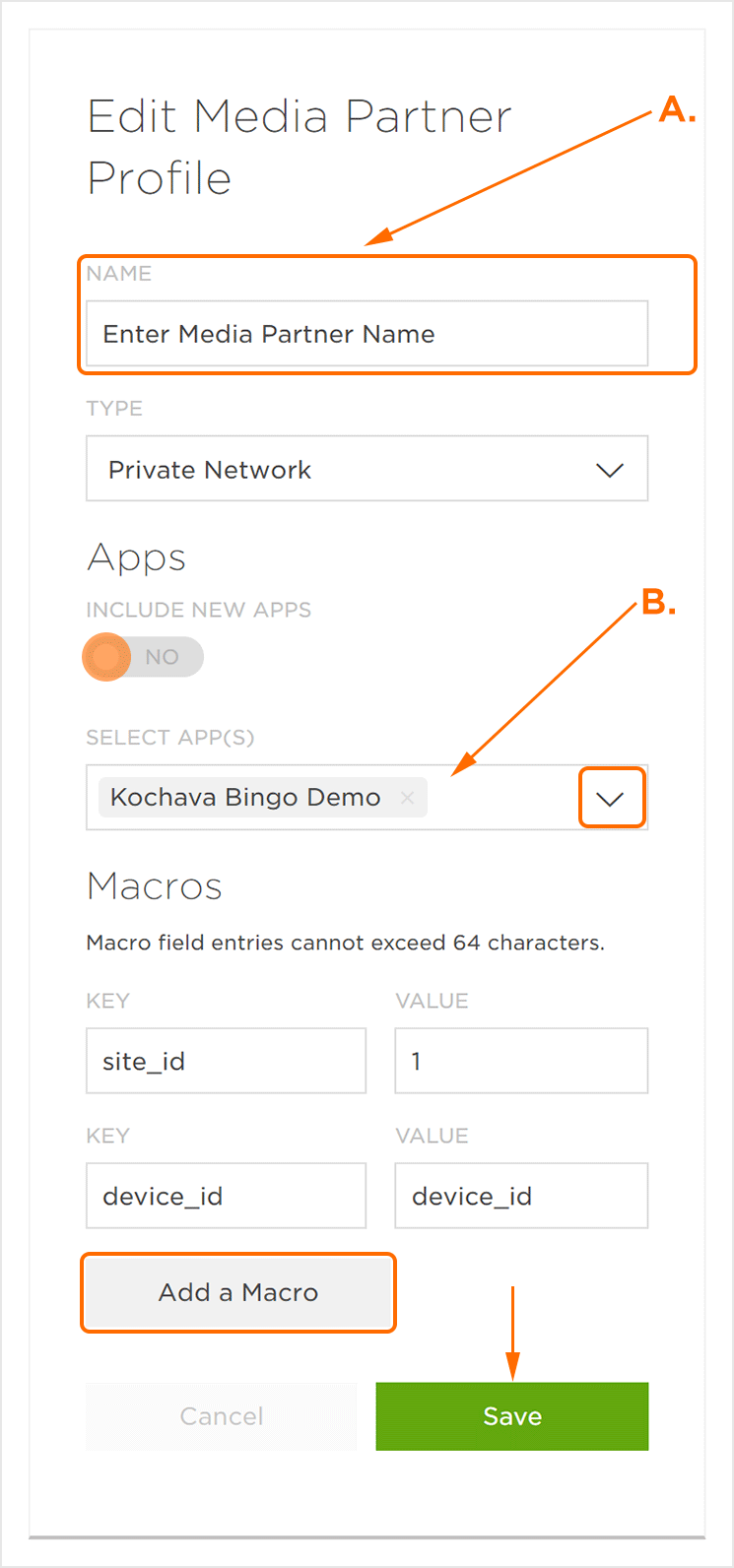 Keep in mind that VPPN trackers are platform-specific, and you need to create separate links for each app platform type (iOS, Android, etc.). 
Cross-platform links with Kochava SmartLinks™
If you need to create a cross-platform campaign, explore Kochava SmartLinksTM. SmartLinks are ideal for email campaigns and other marketing channels where you can't control what device the user may engage from (eg, iOS, Android, another device platform). SmartLinks are available with all Kochava pricing tiers from Foundation and above. 

Get started with Kochava here. If you're an existing customer and want to use a VPPN/Private Network or SmartLinks, contact your Client Success Manager or email support@kochava.com.