You don't have to be a TV streaming app to advertise on OTT and CTV
Over-the-top (OTT) and connected TV (CTV) channels have been enjoying the spotlight as the "it" channels for advertisers to reach consumers. These channels had been increasing in popularity even before the pandemic, only to explode further due to lockdowns and changes in consumer habits from COVID-19 restrictions. Many advertisers are naturally shifting ad spend to these areas, but some may be questioning whether it's the right channel for them, plus where and how to begin. 
Do I need to be a TV streaming service to advertise on these platforms?
No—Anyone can do it! It's not limited to just those services that stream content through the internet. These include Disney+, Peacock, Paramount+, Sling TV, etc. Such brands often run OTT and CTV ad campaigns with the goal of driving new users to download their OTT streaming app on CTV devices such as Roku, FireTV, Apple TV, Vizio, and Xbox or PlayStation gaming consoles, as well as on non-CTV devices and platforms, like mobile, tablet, and desktop. 
On the other hand, major grocery chains or retail stores, eCommerce brands, and even a quick service restaurant (QSR), can advertise on OTT and CTV as well, with the goal of driving users to download their mobile app to redeem a special offer when placing their next order via the mobile app. Whereas there's often no app to download directly on the Roku, Vizio, and/or FireTV they view the advertisement on, they can take action on their mobile device, and providers such as Kochava can measure these cross-screen conversions.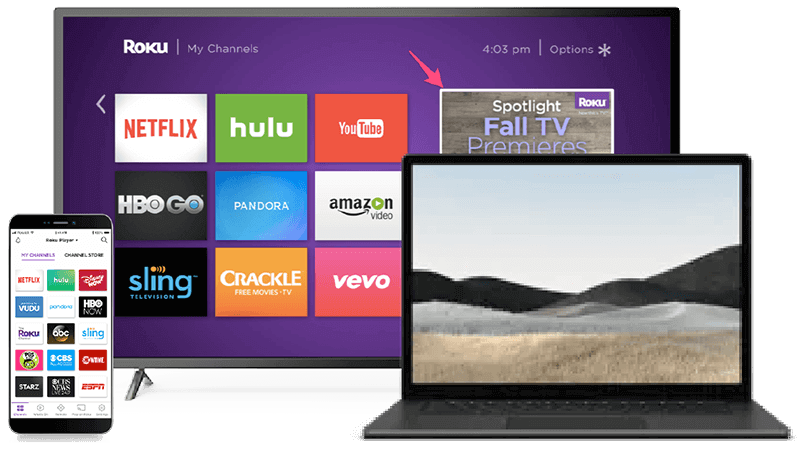 The benefits of advertising on OTT and CTV
OTT and CTV channels enable advertisers to reach a wider audience no matter the brand. In addition, rich household data enables smart, microtargeting. Whether it's geofencing to within a specific radius of brick-and-mortar locations, demographics, and interest-based targeting, or brand affinity based on point-of-interest (POI) or apps on device insights, OTT and CTV platforms often have an uncanny ability to connect brands with their desired target audience.
The data obtained from these platforms closely mirrors mobile performance data in that you can receive device and/or household identifiers, impressions, and clicks as well as install and event conversions. Platforms may differ in exactly what data they provide, but in most cases, advertisers can measure cross-platform, and observe the whole user journey. Additionally, there is still less competition in comparison with other channels, so get in now, and establish your OTT and/or CTV foothold. To find a potential OTT ad partner, visit the Kochava Media Index to find vendors that support these platforms.
One burgeoning CTV platform that has become a household name is Roku, with which Kochava is a certified measurement partner. Roku is a market leader and has the potential to reach more than 155M people. Advertisers can launch campaigns natively on the Roku platform or through Roku OneView, their programmatic demand-side platform (DSP). As a certified measurement partner, you can measure Roku campaigns alongside your other omni-channel media efforts within Kochava.
What Kochava can give you when you advertise on OTT and CTV
Analytics and Reporting
As an omni-channel measurement and attribution provider, we can measure your advertising on any channel (mobile, OTT, CTV, etc.) and tie it back to conversions and other key performance indicators across connected devices. Through IdentityLink® clients can perform identity resolution across platforms and marketing channels by associating user identifiers to device-level behaviors and transactions. User identifiers can include hashed emails, user ID, subscription plan status, and more).
QR codes have also gained a second life on these channels. Using Kochava's deep linking technology, SmartLinksTM for TV, advertisers can get a custom-made QR code with a SmartLink embedded to display on OTT and CTV ad creatives. When a user scans the code from their TV screen using a phone or tablet, they can be directed to an online experience, be it a page on the mobile web or the app store to download an app, or even deep-linked into an app that they already have installed. As an example, Univision, the leading Hispanic media company, used Kochava QR codes during a television public-service announcement about voting during the November 2020 presidential elections. Read the case study here.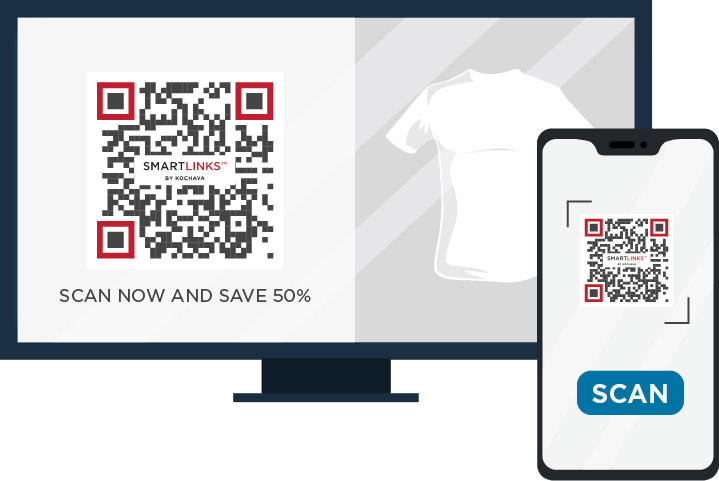 Measuring incremental lift
The Kochava FoundryTM team has innovated a way to more affordably measure incrementality using the billions of consented device profiles. The team uses a forensic control/holdout group that mirrors the attributes of the test audience exposed to the campaign. Utilization of a modeled control saves advertisers from having to withhold advertising (and lose revenue) from a portion of their audience to be used as a traditional hold-out control. Further, it avoids the cost of having to serve PSA ads when using a PSA holdout approach. Incremental lift can be measured between the test group and the forensic control with a confidence interval of over 90%.
The Foundry team recently assisted a national quick service restaurant that launched a campaign on a CTV platform. There were over 2M hashed primary IP addresses belonging to households in the exposed group. With a 90% confidence interval, Foundry showed that the campaign generated a significant incremental lift, resulting in over 4,800 purchases from the exposed audience, as opposed to a modeled control. Campaign exposure was also proven to influence the timing of app installs, especially within 4 hours of exposure to the ad.
How to advertise on these platforms: Platform/publisher direct and/or programmatic
There are three primary ways to buy media on OTT and CTV platforms: programmatic, platform direct, and publisher direct. Programmatic buying involves working with a media-buying platform, such as MediaMath or The Trade Desk. Through platform direct, marketers can work directly with CTV platforms, such as Roku or Vizio to advertise. Last, but not least, publisher direct involves purchasing media by working directly with OTT content publishers, such as Hulu, Paramount+, etc. To learn more about buying media on OTT, download our free guide here. 
Considering OTT and CTV advertising
Any brand can take advantage of advertising on OTT and CTV platforms. It can be a great addition to your existing omni-channel marketing strategy, especially knowing that you can measure these campaigns alongside your traditional mobile social and programmatic ones. In such a fast-paced ecosystem as digital advertising, it pays to stay on top of advertising trends and take advantage of them. With the influx of new streaming content, their popularity will remain for quite some time.
For more information about streaming devices and services, check out our guide on OTT/CTV advertising.