The future of connected TV is in the hands of the Zoomers
With an appetite for binge-watching and cord-cutting the norm, Generation Z, alternatively known as Gen Zers, or Zoomers, is the new target demographic for connected TV (CTV) advertising. With a staggering 92% of American households reached by CTV advertising in 2022, it's no surprise that chief among them was Gen Z and Millennials who accounted for more than 110 million of smart devices. Known for their heavy consumption of streaming video content and preference for smart TVs, streaming media players, and set-top boxes, the upcoming generation is the first to grow up with broad access to internet-based content and technology. Consequently, Zoomers are more likely to utilize CTV to access social media and other internet platforms, making it a key part of their everyday life. CTV advertising is expected to continue to grow in popularity and reach, particularly as Gen Zers become a larger and more influential part of the consumer market. The ability to target specific demographics and interests through CTV advertising makes it an attractive option for marketers looking to reach this generation. 
But before we get ahead of ourselves, let's take a look at the relationship between CTV and OTT.
CTV and OTT: A match made in heaven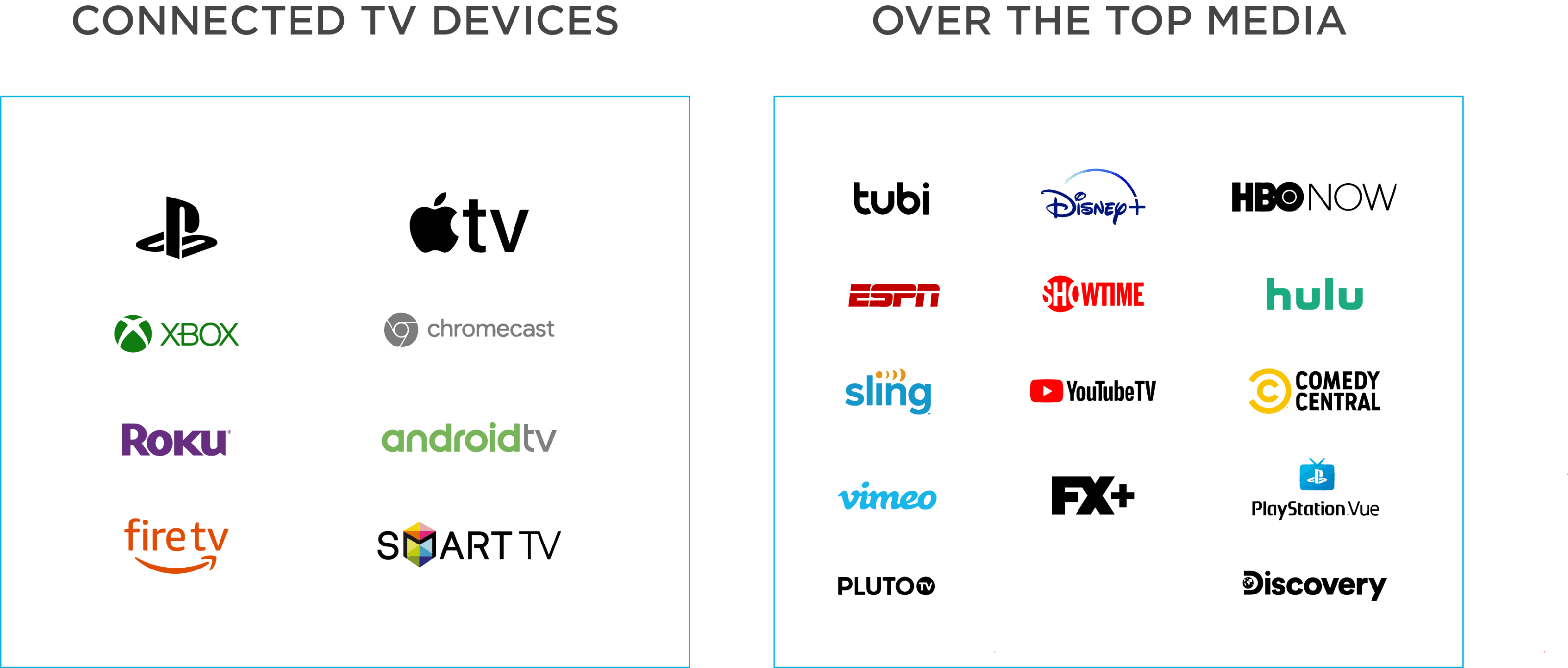 What do macaroni and cheese, peanut butter and jelly, and CTV and OTT all have in common? They're the perfect (delicious) pair. The symbiotic and mutualistic nature of their relationship, nurtures the distinct yet complementary functions, which overall benefits consumers – delivering a diverse array of easily accessible content through internet-connected devices.
OTT
The term OTT refers to television, film, and other content streamed "over-the-top" of the internet directly to viewers, rather than through traditional broadcast, cable, or satellite mediums. This process provides TV and video content online directly to CTV devices. 
CTV
CTV refers to the ability to access Internet-based content on a television set through a device such as a smart TV, a streaming media player, or a set-top box. CTV allows users to access a wide variety of content, including movies, TV shows, live events, and social media, all through their television set.
Oftentimes these terms are used interchangeably, but that's incorrect. To keep things simple, think of it in terms of content and delivery method.OTT is like the pizza you've ordered after a Friday night out and CTV is the delivery driver. Both work in harmony to get you what you want (hopefully in 30 minutes or less).
Subscription services and Gen Z
While Gen Z hasn't been immune to rising inflation or recession worries, they haven't given up subscription services when scaling back on their monthly spending either. A study by WeThrift.com found that 80 percent of Gen Zers have subscriptions in four of the five necessary subscription categories: video streaming, music, food, health & wellness, and miscellaneous. Of all the generations, Gen Zers also pay the highest monthly price for general subscription services at $377.
Subscription services offer benefits that are appealing to Gen Z. For example, many subscription services offer a wide range of content, including exclusive shows and movies that are not available elsewhere. Additionally, many subscription services offer features such as offline viewing, multiple language options, and the ability to customize the viewing experience, which can be particularly appealing to Gen Zers who are used to having a high level of control over their media consumption.
Popular OTT streaming services
Amazon Prime Video

HBO Max

Overall, subscription services have become a significant part of many Gen Zers' lives, allowing them to access a diverse selection of material and personalize their watching experience. The three most common forms of subscriptions are shown below.

SVOD: Subscription video on demand.
Arguably, the most popular viewing option for Zoomers to date is SVOD. While increasingly similar to its more traditional counterpart, cable TV packages, this subscription option allows users to view an unlimited amount of content for a flat rate per month. The major OTT platforms that provide this include Netflix, Amazon Prime Video, Apple TV, Disney+, and so on. Notably, in October 2022, Netflix announced its plans to add an ad-supported tier option to its subscription service. This hybrid AVOD option allows users to pay a lower monthly fee in exchange for minimal ad interruptions. 
AVOD: Advertising-based video on demand
AVOD platforms are often supported by advertisements that are shown before, during, or after the video content. These ads can be targeted to specific users based on their interests, demographics, or other factors, and can include a variety of formats such as banner ads, video ads, and sponsored content.
HVOD: Hybrid on demand
A newly-minted term, HVOD is a combination of SVOD and AVOD. While it has yet to become widely available, this service would offer ad-free content at a certain monthly tier, ad-supported content at a lower tier, and potentially a free ad-supported base tier.
Key trends that have emerged in relation to Gen Z's consumption of internet-connected media: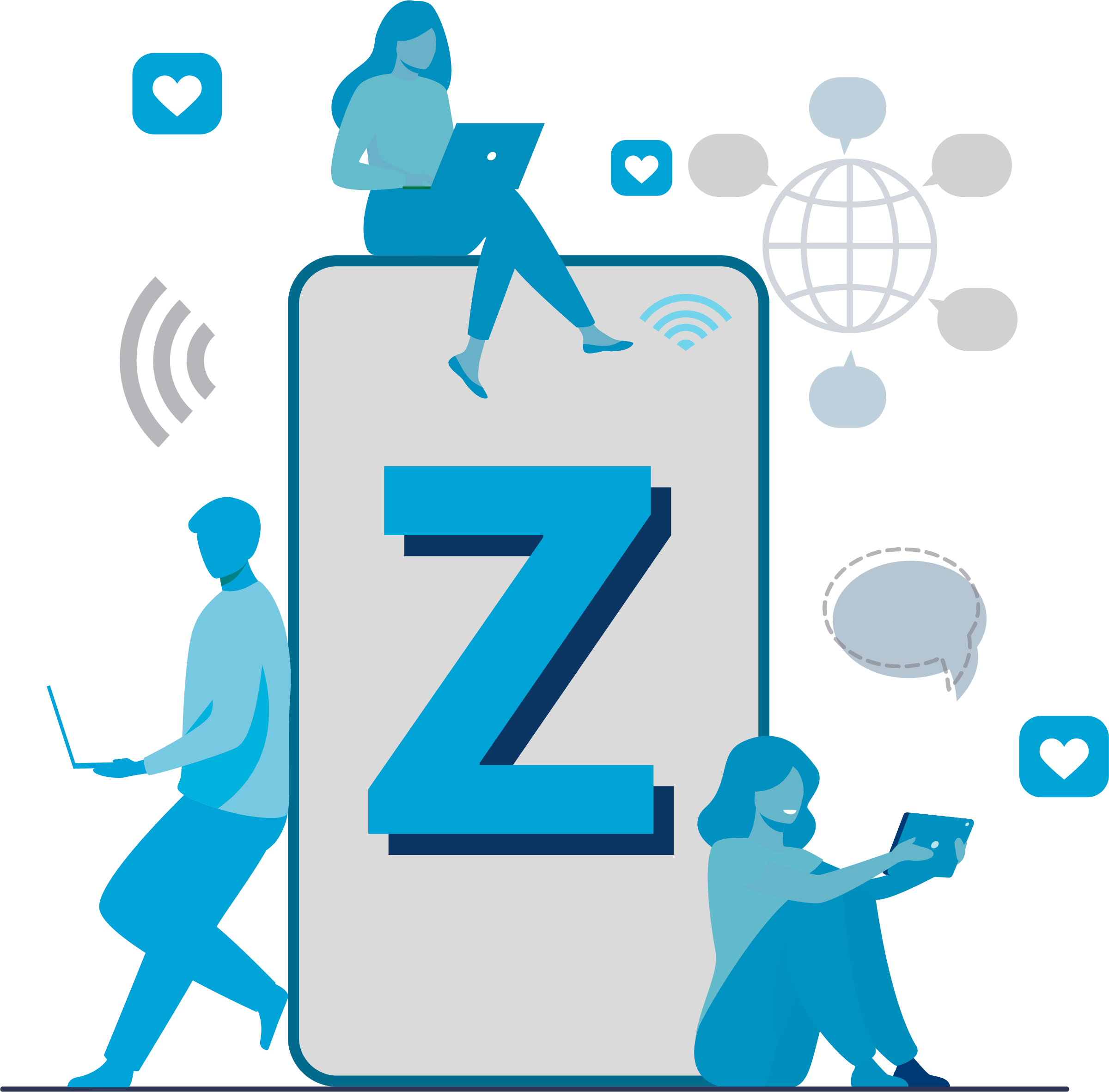 Streaming is preferred:

Many Gen Zers prefer to stream content rather than watch it on traditional TV or cable. This is likely due in part to the convenience and flexibility of streaming, as well as the wide range of content that is available through CTV and OTT platforms.

Social media integration:

Instagram, TikTok, and YouTube are popular venues for Gen Zers to discover and share new material. Many CTV and OTT systems offer social media integrations that enable viewers to share their watching habits with friends and followers quickly.

Personalization:

Many CTV and OTT platforms provide tailored suggestions and customization choices to fit the demands of Gen Zers, who are accustomed to having a high level of control over their media consumption.

Consumption on the go

: Many CTV and OTT platforms offer mobile applications or are designed for mobile viewing, as Gen Zers are increasingly inclined to watch media on their mobile devices.

Ad skipping:

Gen Zers are more likely to skip ads or use ad-blockers when watching content, which can be a challenge for advertisers looking to reach this demographic.
Overall, Generation Z is fueling a transition toward more OTT consumption over CTV. These trends are expected to continue as this generation becomes more connected and reliant on digital media.
Are you a streaming service that needs effective measurement for your users across connected devices? Or a marketer looking to activate and measure campaigns across OTT & CTV? We can help. To learn more, go to Kochava.com/OTT/.
Download our free guide, Over-the-top and Connected TV: An Introduction, for more in-depth information.